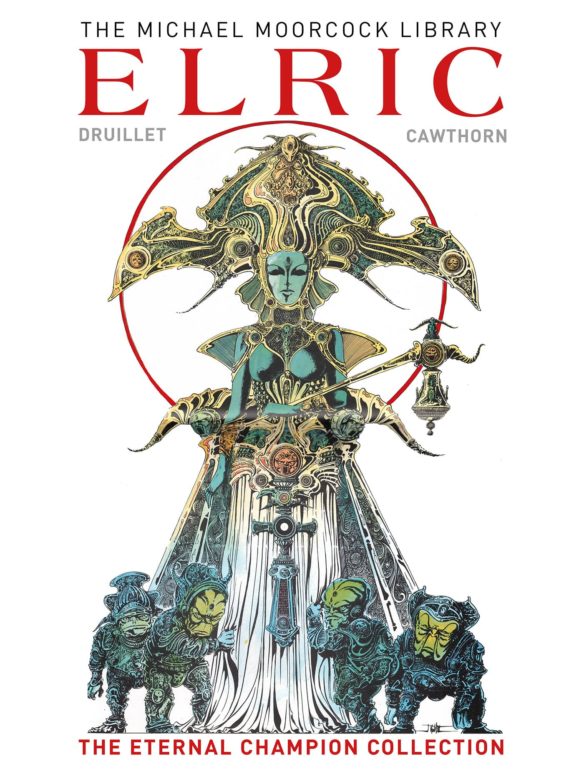 Titan Comics adds another volume to The Moorcock Library with its Elric The Eternal Champion Collection.
Iconic sword-and-sorcery author Michael Moorcock weaves magic, heroism, and wonder as his legendary Eternal Champion Elric features in two rarely seen adventures illustrated by French artist Phillippe Druillet and veteran Moorcock interpreter James Cawthorn.
In Druillet's "Return to Melniboné," Elric, armed with his sentient runeblade Stormbringer, returns to the Dragon isle of Melniboné and to his cousin and lover Cymoril. Unbeknown to Elric, dark forces are gathering and there is a sinister conspiracy to steal Stormbringer and bring chaos to Melniboné.
James Cawthorn's "Stormbringer" sees Elric's wife, Zarozinia, kidnapped by servants of Chaos and ransomed for the runeblades, Mournblade and Stormbringer. Elric must enter the World of Chaos and confront Chardros the Reaper, Mabelode the Faceless, and Slortar the Old – the three most powerful Lords in the Realm of Chaos – and fight not just for the life of Zarozinia, but for all of mankind.
Writer: Michael Moorcock
Artists: James Cawthorn, Philippe Druillet
Publisher: Titan Comics
Hardcover, 56pp, $19.99, £17.99; On sale January 2021; ISBN: 9781785869556
About the Creators:
Michael Moorcock is a prolific and award-winning writer with more than eighty works of fiction and non-fiction to his name. He is the creator of Elric, Jerry Cornelius and Colonel Pyat, amongst many other memorable characters. In 2008, The Times named Moorcock in their list of "The 50 greatest British writers since 1945".

Philippe Druillet is known for his innovative approach to visual design. Since the start of his career in 1966, Druillet has won multiple awards, including the European Sci-Fi award for comics in 1972, The Grand Prize for a Science Fiction Franchise in 1976, in 1990 he was inducted into the European Science Fiction Society Hall of Fame for his artistry, and in 1996 he won the National Art and Graphics Grand Prize.
James Cawthorn has had a long working relationship with Michael Moorcock, illustrating his prose serials, and the comic strip Planet Peril, and writing the three-part serial Handar the Red in Tarzan Adventures, and illustrating for the Sexton Blake Library. He drew graphic novels adaptations of Moorcock stories, including Stormbringer, The Jewel in the Skull, and The Crystal and the Amulet.
Seven pages of interior art follow the jump.
[Based on a press release.]