By John Hertz: (mostly reprinted from No Direction Home 43) Saturday 11:30 a.m. at Loscon XLVI, a panel discussion "The Asimov Centenary".
We were starting early, or maybe right; without birth records, he celebrated 3 Jan 1920 but it could have been in 1919. Moderator, pro author and interviewer Alvaro Zinos-Amaro, with Fan Guest of Honor Edie Stern, Joe Siclari of FANAC (Florida Association for Nucleation And Conventions, sponsor of the 50th World Science Fiction Convention [which Siclari chaired] at Orlando, Florida, and currently a fanhistory Website <fanac.org>, fanac our long-time slang for fan activity), Matthew Tepper the con chair and Asimov scholar, and me.
The panel was billed as discussing "his growth as a writer, and the impact that his writings have had on real life culture and science"; I thought, as Johnson said, those people have gone to milk the bull.
The work of Asimov the SF author was imagination; of Asimov the science writer – his four hundred science columns for The Magazine of Fantasy & Science Fiction, his six dozen popular-science books – was explanation. He said he strove for clarity; at both this was his talent, his skill, perhaps we may say his genius. Let us not turn away to having an impact (that wretched cant) on real life culture and science. His growth as a writer – alas, I thought he shrank. I could not think The Gods Themselves (1972) his best SF; on the contrary. Nevertheless he was a wonder.
Tepper said Asimov brought sweeping stories up close and personal. That also applied to his non-fiction. Stern said, he worked out a premiss (yes, that's how the logic kind is spelled, plural "premisses"; "premises" is the land kind). He showed how social forces shaped. Siclari said he could present complex science simply. He had a spirit of play; not only in his writing, he was active in Gilbert & Sullivan fandom. I said he was one of our best what if writers.
Zinos-Amaro asked, accusations of his mistreating women have emerged: does that complicate what we think of him? Stern reminded us these things were no news; everyone with a skirt, she said, knew he was grabby. She told of a woman in a shirt printed with six-finger outlines who retorted "Isaac, if your hands fit these, you can, otherwise no"; he stopped. Tepper said, we're faced with even greater creative personalities who were flawed – like Wagner. We can't minimize either side. A woman in the audience said "I ran a convention; he was very professional."
On yet another side, Stern told of a Boston collating session in the mimeograph days; just as a man declined to pitch in, saying "I'm a published author", Asimov stuck his head out of the collating room calling "Hey, Tony, we need more of Page 2."
Zinos-Amaro asked us each what one book we'd recommend. Stern said, Pebble in the Sky (1950). Siclari said, Foundation (1951). Tepper said, The Caves of Steel (1953). I said, The End of Eternity (1955). Look too for the collections of his short stories and of his science essays. With fiction and non-fiction he had published five hundred books – plus anthologies – plus founding Asimov's Science Fiction magazine.
In the Art Show the best for me was Elizabeth Berrien. This extraordinary wire-worker was famous among us for years. Her animals and other creations are in many of our homes. At Lonestarcon II, the 55th Worldcon, she won Best in Art Show. As her career grew, she found herself making things for airports, hotels, museums, offices, restaurants, television advertising, zoos.
Chris Marble said "It's been 21 years since she exhibited at Loscon." In 2019 she was in the Art Show at Spikecon, the combined Westercon (West Coast Science Fantasy Conference) and NASFiC (North America SF Con, held when the Worldcon is overseas), fifty miles from where the Final Spike completed the Transcontinental Railroad 150 years earlier; Marble had carried her work to and from the 77th Worldcon in Ireland.
When she's present, at a party or a panel discussion, you'll see her listening or contributing to the conversation, all the while twisting wire. She must carry the whole in her mind, like Michelangelo saying "I just get a block of marble and chip away anything that isn't a Madonna and Child." If you look at wire sculpture around the world, you'll see hers is distinctive. It may be unique.
We have fan tables. We don't know any better name for them. Along the traffic flow are people and displays on behalf of scheduled cons, bids to hold cons, contests, SF clubs, to answer questions and as may seem suitable.
At Loscon, the Orange County SF Club usually has a table. Their logograph is a Space ship taking off from an orange. To be friendly there's usually an orange-colored bowl with orange-flavored candy. I keep meaning to ask whether OCSFC is in touch with the Netherlands national football team.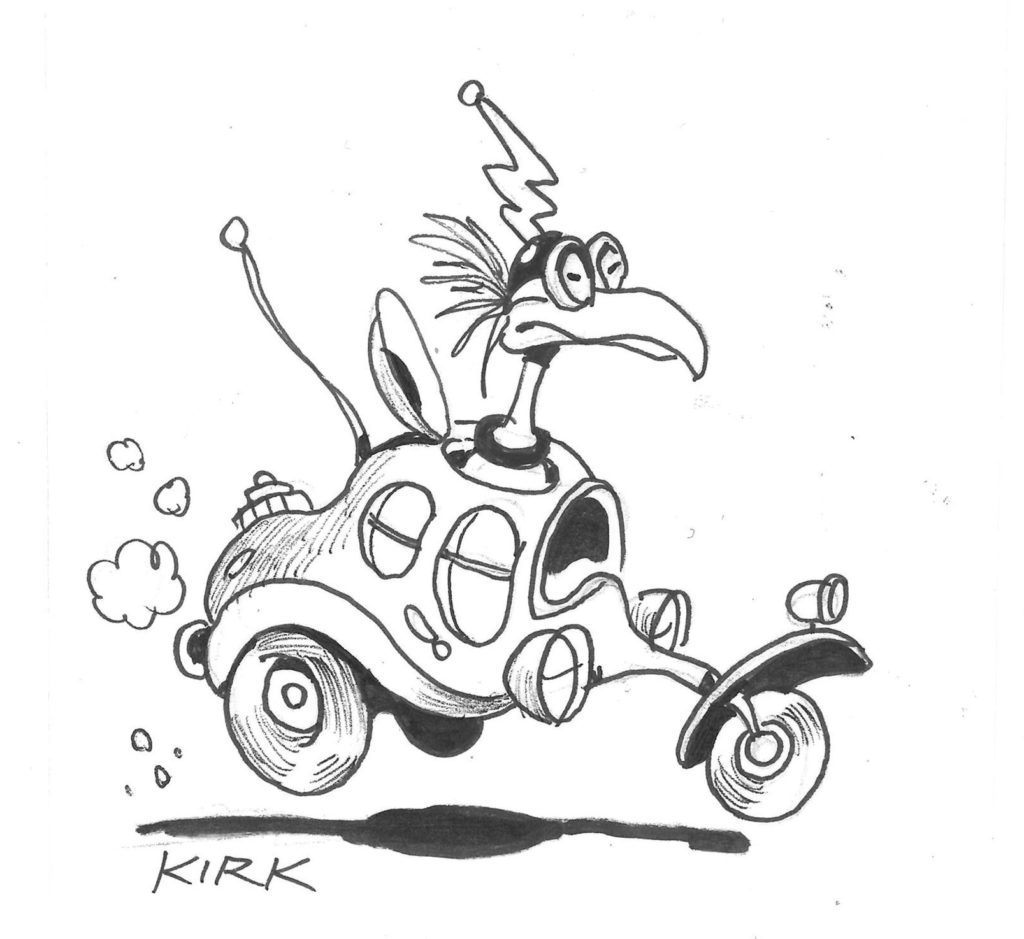 If you can't remember whether you have a membership in something or other there may well be someone at a table with a list paper or electronic who might, in case you don't and want one, offer you a do-it-now discount. Non-profit organizations have to get along somehow.
I had to go off-site three times for errands that took hours.  Half of one later proved needless.  Another could have been avoided, but Life is a continuing series of adventures in which you learn you'd have done better to think of something else in advance.
I saw I'd be late for the Saturday night Paul Turner memorial panel (1936-2019). High-tech folk helped me tell Operations. I arrived after 8:30, but I arrived. Neola Caveny moderated Greg Benford, Paul's son now known as the Wizard, Suzanne Vegas, and eventually me.
Paul was given the Evans-Freehafer Award for service to the LASFS in 1964. He was Fan Guest of Honor at Loscon XX. In our audience Bill Ellern said that while Paul is with some justice credited for inventing the LASFS Building Fund (Jerry Pournelle, "You're out of your mind"; Paul, "Sure I am"), by which LASFS indeed bought a clubhouse, Betty Knight as Treasurer in the 1950s kept saying we should start one but nobody listened. Paul held salons with SF authors, Jet Propulsion Lab scientists, and like that, for conversation and nourishment. His mind ranged wide.
Sunday 2:30 p.m., the second Classics of SF book talk, C.S. Lewis' Perelandra (1943; reached the Retro-Hugo ballot). I'll stay with "audience" although I invite and perhaps some would say drag in participation. Is it a classic? why? From the audience: the people – and the other characters – are genuine; I asked, how could we know; a woman said, "If we met them they'd be like that." She had hit on what Johnson said of Shakespeare (two geometric figures of the same shape are similar, regardless of differences in size):
He approximates the remote, and familiarizes the wonderful; the event which he represents will not happen, but if it were possible, its effects would probably be such as he has assigned; and it may be said, that he has not only shown human nature as it acts in real exigencies, but as it would be found in trials, to which it cannot be exposed. 
Another said the descriptions of landscape were almost as interesting as the plot. Another: the portrayal of Ransom's internal reactions. Another: Ransom isn't too perfect. Sean Smith said he wrestles with his moral dilemma. He asks "Why me?" and painfully answers. Father John Blaker said, Lewis takes these questions seriously – but not, ran our consensus, at the expense of his fiction.
Unfortunately sermonizing, which might ideally mean inspiring, has too often proved to mean oppressing; we thought Lewis avoided falling into that pit. Another said a truly loving person discusses.
If Perelandra had anything in common with our Friday book, Asimov's Second Foundation (1953) – gosh – it might be the centrality of dialogue. Look at the nearly impossible task of characterizing Ransom's adversary – and I don't mean Weston.
I bought Craig Miller's "Star Wars" Memories (2019) from his own self. Later, helping take down the Dealers' Room; dinner; I got to the Dead Dog Party (until the last dog is –) round about midnight. As it happens I'd helped to supply it – and the Staff Den; at length I'd been made Chief Hall-Costume Judge (the costumes some people build or assemble for strolling the halls; Marjii Ellers called them daily wear for alternative worlds) after all.
Some of us were still alive. Karl Lembke, chairman (the suffix -man is not masculine) of the LASFS Board and a refreshments wizard, was still on duty. A good thing, too.