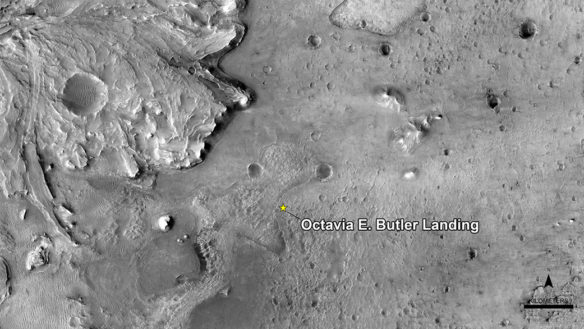 NASA has named the Perseverance rover's landing place on Mars the Octavia E. Butler Memorial Landing Site, just as they had earlier named the Curiosity site for Ray Bradbury (Bradbury Landing). The location is marked with a star in the above image from the High Resolution Imaging Experiment (HiRISE) camera aboard NASA's Mars Reconnaissance Orbiter (MRO).
It's a great choice, both for Butler's inspiring work as a science fiction writer, and that she did much of her writing while living in Pasadena only a few miles away from Jet Propulsion Laboratory, which built and manages operations of the Perseverance rover.
A key objective for Perseverance's mission on Mars is astrobiology, including the search for signs of ancient microbial life. The rover will characterize the planet's geology and past climate, pave the way for human exploration of the Red Planet, and be the first mission to collect and cache Martian rock and regolith (broken rock and dust).
Read more about Perseverance here.
[Based on a press release. Thanks to David Shallcross for the story.]