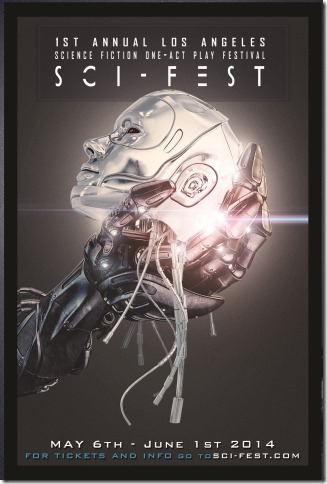 SCI-FEST, the 1st Annual Los Angeles Science Fiction One-Act Play Festival, is now offering $15.00 "NERD RUSH" tickets. Show up at the box office and if there are seats available, you can get in for $15. Early arrival is highly recommended.
SCI-FEST's performance schedule is Tuesday thru Saturday at 8 p.m., Sundays at 3 p.m. Complete info at the website.
The festival presents two rotating evenings of 15-minute sci-fi plays "performed LIVE ON STAGE and featuring actors from your favorite Iconic Sci-Fi shows!"
The shows have gotten great reviews – check them out .
ACTORS CURRENTLY APPEARING IN LIVE ON STAGE at SCI-FEST: Nelson Ascencio (The Hunger Games), David Blue (Stargate: Universe), David Dean Bottrell (True Blood), L. Scott Caldwell (Lost), Dean Haglund (The X-Files), James Kyson (Heroes), David H. Lawrence, XVII (Heroes), Madison McLaughlin (Supernatural), Julie McNiven (Stargate: Universe), Jasika Nicole (Fringe), Philip Anthony-Rodriguez (Grimm), Tim Russ (Star Trek: Voyager), Armin Shimerman (Star Trek: Deep Space Nine & Buffy the Vampire Slayer) and Patricia Tallman (Babylon 5). Pre-recorded appearance by Adrienne Wilkinson (Xena: Warrior Princess). Audio performance by Pauley Perrette (The Ring & NCIS).
Seating is limited.
[Thanks to John King Tarpinian for the story.]