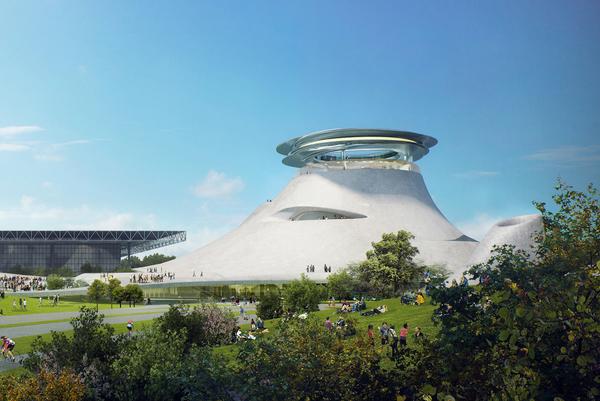 Changed lease terms and a new design for Chicago's Lucas Museum of Narrative Arts have prompted U.S. District Judge John Darrah to tell Friends of the Parks that, "in my judgment, you don't have a viable complaint." He gave the group three weeks to fine-tune their complaint against the project.
Friends of the Parks sued the city of Chicago in November to block plans to lease a 17-acre lakefront site where the museum could be constructed.
Friends of the Parks organized several decades ago to protect a decree by the 1836 Canal Commission that the area between Michigan Avenue and Lake Michigan, much of which was built on landfill be "Public Ground — Common to Remain Forever Open, Clear, and Free of Any Buildings, or Other Obstruction Whatever." Although several Illinois Supreme Court cases have supported the establishing legislation, buildings have been put up in opposition to it, such as New Soldier Field and McCormick Place.
According to the Chicago Sun-Times the new proposed lease agreement, introduced in court on September 10 —
…provides a 99-year lease of the land south of Soldier Field for $10 — [and] reveals plans for a parking structure on the west side of Lake Shore Drive; more green space; and up to 300,000 square feet of museum space — 100,000 less than originally planned for the seven-story structure. 

The parking structure would replace a lot that's popular with tail-gating Bears fans, which the museum is slated to be built on.

Plans also include nearly 5 acres of green space to be divided in a garden, an event prairie, an eco-park and a dune field "that reflects the natural landscape of the Lake Michigan shoreline," according to the proposed lease.
An attorney for Friends of the Park, Sean Morales-Doyle, says that despite the revision, their opposition argument will remain the same.
 "We see our lawsuit from the beginning as not being about the specifics of the document, but whether or not it's OK for the city and park district to sell public land to a private entity like the Lucas museum, and whether or not the deal the violates the public trust doctrine and its central principle that the public should be the beneficiary of this land."
Additional detail about the landscape design can be found in the Chicago Tribune.