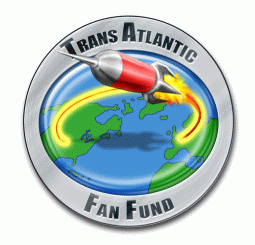 Trans-Atlantic Fan Fund administrators Johan Anglemark, Geri Sullivan and Mike Lowrey say "After much thought and consideration, [we] have come to the conclusion that we need to postpone the 2021 TAFF race due to the coronavirus pandemic."
The TAFF race for 2021 was intended to go East to West, from Europe to DisCon III. They will now wait until 2022, and instead have a race from Europe to Chicon 8, the 80th Worldcon.
The administrators explained the reasoning behind the delay:
The general expectation of expert epidemiologists is that the pandemic will continue to rage well into 2021. For example, the British government has announced that they expect severe restrictions, including the bans on public events, to be in place for another half year. We think that DisCon III likely will be one of the first large conventions after the pandemic has been successfully beaten back or we have learnt how to live with it. Our concern is with having a TAFF race in the midst of the pandemic, without any physical conventions to attend. It would be much more difficult to enthuse people and get them to vote and to donate.
Postponing the race reduces the uncertainty for the eventual westbound TAFF delegate, and it greatly increases the probability that Michael Lowrey — this year's TAFF winner — will get to take his postponed trip first.
"We don't want to increase the inventory of TAFF delegates waiting to travel," say the administrators. "And it's not just TAFF and Mike Lowrey. Fandom has two more fan fund delegates waiting to take their trips: Alison Scott (GUFF) and Erin Underwood (DUFF). We think there will be a lot more excitement for another race once we start having in-person conventions again."
[Based on a press release.]