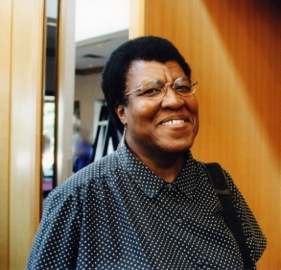 Author Octavia Butler was voted the 2022 Forrest J Ackerman Award for Lifetime Achievement by the members of the Los Angeles Science Fantasy Society at their October 6 meeting.
The Forrest J Ackerman or Forry Award has been given by the LASFS annually since 1966 for lifetime achievement in the SF field. Usually, it is presented at Loscon, the convention hosted each Thanksgiving Weekend by the club. Ackerman joined LASFS in the year the club was founded, 1934.
Renowned author Octavia E. Butler, winner of three Hugos and two Nebulas, was acclaimed for her lean prose, strong protagonists, and acute social observations in stories that range from the distant past to the near future. In 1995 she became the first science-fiction writer, and one of the first Black women, to receive a MacArthur "Genius" Fellowship grant. She was inducted into the Science Fiction Hall of Fame in 2010, and to the National Women's Hall of Fame in 2022. A Pasadena, CA middle school was recently renamed in her honor. Her Parable of the Sower, a New York Times 1993 Notable Book of the Year, won a Nebula in 2000, and the graphic novel adaptation won a 2021 Hugo. Her life and works have been highly influential on the science fiction field.
The names of all previous Forry Award winners can be seen here.
[Thanks to Charles Lee Jackson II for the story.]