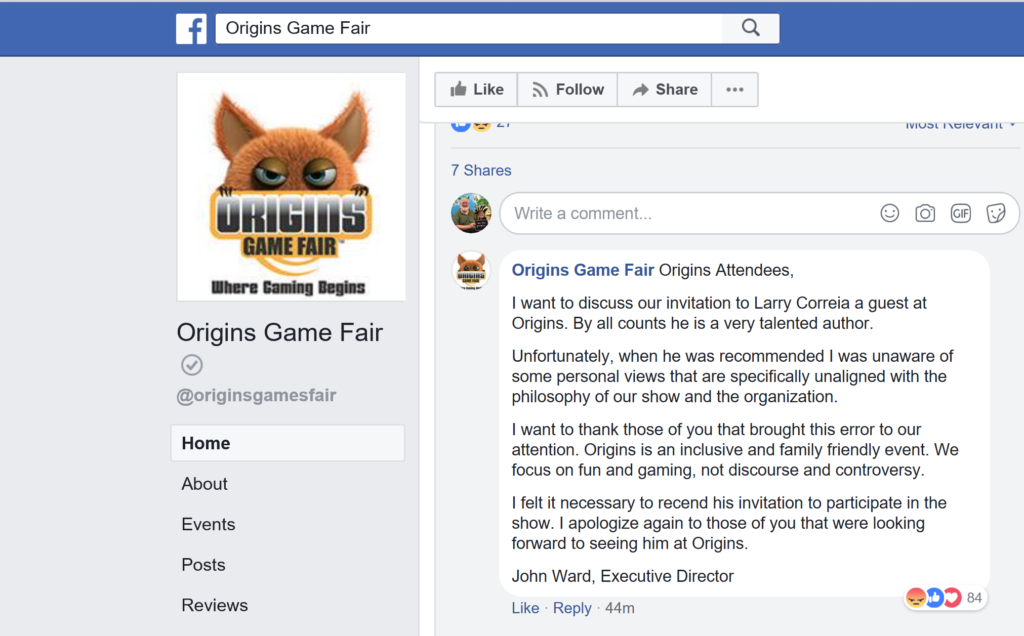 Larry Correia won't be one of the guests when the Origins Game Fair takes place June 13-17 in Columbus, OH. Shortly after publicizing that Correia had been added to the lineup, John Ward, the event's Executive Director, received so many negative social media comments (on Twitter, particularly) that he announced Correia's invitation has been rescinded.
Ward wrote on Facebook:
I want to discuss our invitation to Larry Correia a guest at Origins. By all counts he is a very talented author.

Unfortunately, when he was recommended I was unaware of some personal views that are specifically unaligned with the philosophy of our show and the organization.

I want to thank those of you that brought this error to our attention. Origins is an inclusive and family friendly event. We focus on fun and gaming, not discourse and controversy.

I felt it necessary to recend [sic] his invitation to participate in the show. I apologize again to those of you that were looking forward to seeing him at Origins.

John Ward, Executive Director
Many of the critical tweets mentioned Correia's history with Sad Puppies.
Correia subsequently responded on Facebook with a statement that begins:
So I'm no longer the writer guest of honor at origins. My invitation has been revoked. It was the usual nonsense. Right after I was announced as a guest some people started throwing a temper tantrum about my alleged racist/sexist/homophobic/whatever (of course, with zero proof or actual examples), and the guy in charge (John Ward) immediately folded. He didn't even talk to me first. He just accepted the slander and gave me the boot in an email that talked about how "inclusive" they are….
His statement also says "none of these people can ever find any actual examples of me being sexist, racist, or homophobic."
---
BEFORE AND AFTER:
---