(1) AVOIDING CALENDRICAL ROT. Odyssey Writing Workshop presents "Interview: Guest Lecturer Yoon Ha Lee".
You recently completed the Hugo Award-nominated Machineries of Empire trilogy. Did you know how the trilogy would end when you began writing the first book? Are you more of a planner, or more of a pantser?

I didn't know it was going to be a trilogy! I originally intended Ninefox Gambit to be a standalone. But after I finished drafting it, I had an idea for a sequel. And after I committed to Raven Stratagem, I had another idea, and that became Revenant Gun. I plan individual novels because I'm not smart enough to figure out the plots on the fly. But on the series level…well, I didn't plan to write a trilogy. It just happened.
(2) SOMTOW IN THE NEWS. Forward's Benjamin Ivry interviews Somtow Sucharitkul: "A new Holocaust opera premieres — in Thailand".
Thailand might not seem the most probable point of origin for a new opera about the Holocaust, but on January 16, the world premiere of "Helena Citrónová" by the composer Somtow Sucharitkul, 67, will be staged in Bangkok.

It is about a real-life Auschwitz survivor of Slovak Jewish origin who at a trial in 1972, testified that a Nazi officer had fallen in love with her and thereafter, saved her and her sister. Despite testimony from others attesting to his crimes, the Nazi was allowed to go free due to a statute of limitations.

Citrónová's story gained further currency in a 2005 BBC-TV documentary, "Auschwitz: The Nazis and the 'Final Solution'" in which she was interviewed.

It inspired a controversial romance novel about a Jewish prisoner at a Nazi concentration camp whose love for a Nazi commandant redeems him. As The Forward reported in August 2015, this book sparked objections, notably from Katherine Locke, a Jewish writer based in Philadelphia.

Far from Auschwitz and Philadelphia, Somtow Sucharitkul, who writes and composes under the name S.P. Somtow, published his libretto for Helena Citrónová in 2018….

Last October, you tweeted a response to those who wonder why you chose the subject of Helena Citrónová by citing lines from Yevgeny Yevtushenko's poem "Babi Yar," about Nazi atrocities in the USSR: "Today, I am as old/ As the entire Jewish race itself," adding "This story belongs to all of us." What did you mean by that?

Somtow Sucharitkul: People ask me all the time why should I talk about these things as if I were somehow schnorring in on someone else's life. I was born in Thailand, but left when I was six months old and lived in Europe for most of my childhood, so it feels like more of my past than what happened in Asian countries. The reason I started getting involved in Jewish issues in Thailand were that none of my students here knew whether Thailand had won or lost the Second World War. I was in the Terminal 21 Shopping Mall [in Bangkok] and saw a statue of Hitler dressed as Ronald McDonald. No one meant anything by it, but it was a terrible moment of disjunction, and I felt that I should explain to young people around me and those in a wider range.

You posted on Facebook in October that in the opera's final scene, when you set the heroine's words, "My father told me once, never forget you're a Jew," you chose to rework a melody from Wagner's "Die Walküre." You add that this was done "unconsciously," but using the notorious anti-Semite Wagner's music in this context was an "allusion so cogent and so trenchant that my unconscious must have intended it." So was it intentional or unconscious?

I imagine it was unconsciously intentional. At the time I wrote those notes, I thought to myself, this is Wagner, but I couldn't place it. That was an odd moment, I have to admit….
(3) A COMPLETE TRIUMPH. Edgar Allan Poe's "William Wilson" is Library of America's "Story of the Week." It's preceded by a long and interesting note about its reception.
Since returning from Europe in 1832, Irving had done much to help younger American writers, and he responded without hesitation as soon as the letter reached him at his home in Tarrytown. "I have read your little tale of 'William Wilson' with much pleasure," Irving wrote. "It is managed in a highly picturesque style, and the singular and mysterious interest is well sustained throughout. . . . I cannot but think a series of articles of like style and merit would be extremely well received by the public." Irving added that he much preferred this new work over Poe's previous story in the magazine, which suffered from "too much coloring." (That tale, incidentally, was "The Fall of the House of Usher.") While the endorsement might seem somewhat equivocal, Poe boasted to one editor that Irving's support represented "a complete triumph over those little critics who would endeavor to put me down by raising hue and cry of exaggeration in style, of Germanism & such twaddle." The quote from Irving was featured prominently in publicity for Poe's new book, Tales of the Grotesque and Arabesque.
(4) NISI SHAWL CLASS. Cat Rambo tweeted "Highlights from Nisi Shawl's A Taste of Writing the Other"
(5) AN ALLUSION, In The Village Voice, Thulani Davis recounts how "Black Women Writers Reclaim Their Past". Tagline: "Like a number of other black women writers, I have made it a point to speak of our 'tradition,' yet I know that no such tradition is assumed by the rest of the world, primarily because our books have not been read or taught"
…Imagine a John Coltrane who had only heard one 78 by Charlie Parker, one LP by Billie Holiday. Imagine a Cecil Taylor who did not grow up with the sounds of Art Tatum and Duke Ellington, and you have some idea how amazing it is that we have writers like Lorraine Hansberry and Toni Morrison.

Each generation of black women has cer­tainly taken ideas from known forms, yet in the matter of content — the telling of black women's stories — the same impulses appear time and again, with little revision over the decades. Only lately have we seen work that makes conscious nods to the past. And no wonder: Morrison, Alice Walker, Gayl Jones, Toni Cade Bambara, Gloria Naylor, Sherley Anne Williams, Ntozake Shange, and others are the first generation to have a body of work on the black woman's condi­tion readily at hand.
(6) TODAY IN HISTORY.
January 12, 1932 – In Mexico, Doctor X premiered. A pre-Code film, it was directed by Michael Curtiz and was headlined by Lionel Atwill and Fay Wray. Because it was pre-Code, murder, rape, cannibalism, and prostitution were part of the story. It's based on the play titled "The Terror" (New York, February 9, 1931) by Howard W. Comstock and Allen C. Miller. It was well received both by critics and at did very well at the box office. Warner Bros. followed up with Mystery of the Wax Museum, another pre-Code film.  Critics at Rotten Tomatoes rate it considerably higher (75%) than reviewers do (48%). 
January 12, 1940 — The Invisible Man Returns, the sequel to The Invisible Man, premiered. Directed by John May and produced by Ken Goldsmith, it starred Vincent Price in the title role. The screenplay was written by Lester Cole and Curt Siodmak (as Kurt Siodmak). Its success led to a third film, The Invisible Woman, a comedy billed as a sequel. Critics at Rotten Tomatoes love it giving a 82% rating while reviewers give a not so bad 58% rating.
January 12, 1966 — Batman made its television debut.
January 12, 1967 – Star Trek's "The Squire of Gothos" first aired on CBS. Starring William Campbell as Trelane, it was written by Paul Schneider, and directed by Don McDougall. Trelane Is considered by many Trekkies to be a possible Q. Critics loved it giving such comments as "one of TOS's most deservedly iconic hours" and voting the William Campbell performance as Trelane, as the fifth best guest star of the Trek series.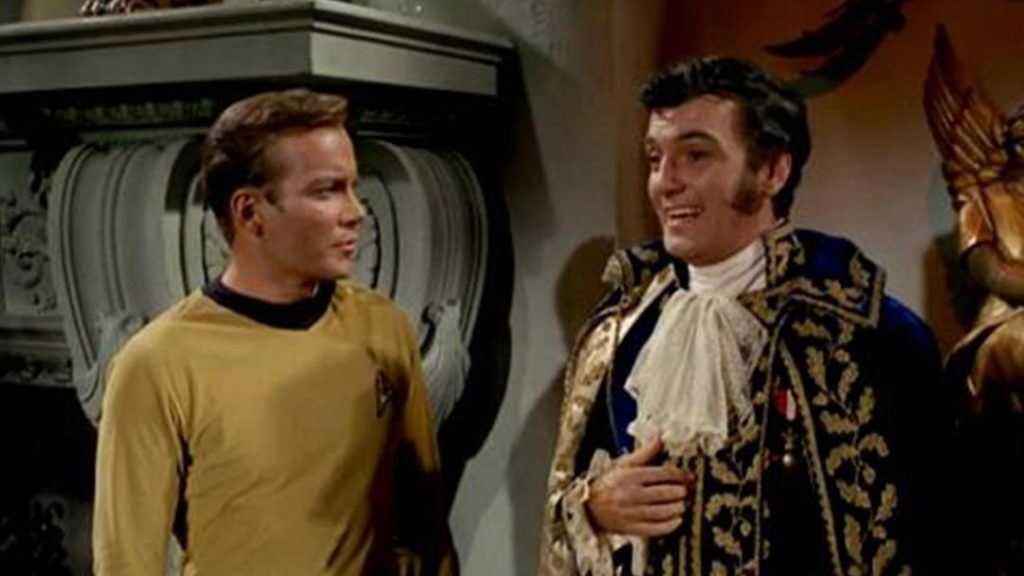 January 12, 2018 — Amazon dropped Philip K. Dick's Electric Dreams unto the public for viewing.  The first episode of the first season was titled "The Hood Maker".  It was originally published in the June 1955 issue of Imagination hich was born in the Fifties and ceased publishing in the the Fifties as well.The screenplay was by Matthew Graham. 
(6) TODAY'S BIRTHDAYS.
[Compiled by Cat Eldridge.]
Born January 12, 1916 — House Peters Jr. Though he's best remembered as Mr. Clean in the Procter and Gamble commercials of the Fifties and Sixties, he did appear in a fair amount of SFF including Flash Gordon, Batman and Robin, King of the Rocket Men, The Day The Earth Stood Still, Red Planet Mars, Target Earth and The Twilight Zone. (Died 2008.)
Born January 12, 1937 — Shirley Eaton, 83. Bond Girl Jill Masterson in Goldfinger, and yes, she got painted gold in it. She also shows up as the title character in The Million Eyes of Sumuru, the Sax Rohmer based film we just discussed. Her other significant role would be as Dr. Margaret E. 'Maggie' Hanford in Around the World Under the Sea. She retired from acting in 1969. 
Born January 12, 1948 — Tim Underwood, 72. Bibliographer with such works as Fantasy and Science Fiction by Jack Vance (done with Jack Miller), Shameless Art: Paintings of Dames, Dolls, Pin-ups, and Bad Girls (genre adjacent at the very least) and Stephen King Spills the Beans: Career-Spanning Interviews with America's Bestselling Author.  
Born January 12, 1951 — Kirstie Alley, 69. She's here for being Saavik on Star Trek II: The Wrath of Khan. It was, errr, interesting reading the various rumors why this was her only Trek film. Her SFF experience otherwise was brief limited to being an uncredited handmaiden on Quark, and being in the Village of the Damned as Dr. Susan Verner.
Born January 12, 1952 — Walter Mosley, 68. An odd one as I  have read his most excellent Ezekiel "Easy" Rawlins series but hadn't been aware that he wrote SF of which he has four novels to date, Blue Light, Futureland: Nine Stories of an Imminent Future, The Wave, and 47. There's a Jack Kirby art book called Maximum Fantastic Four that was conceived of and orchestrated by him.  Interestingly enough, he's got a writing credit for episode of Masters of Science Fiction called "Little Brother" where Stephen Hawking is the Host according to IMdB.
Born January 12, 1952 — Rockne S. O'Bannon, 68. He's The genius behind  Farscape, SeaQuest 2032, the Alien Nation series and Defiance. Only the latter couldn't I get interested in. 
(7) TAKE A RIDE ON THE READING. "For William Gibson, Seeing the Future Is Easy. But the Past?" – a New York Times interview.
Describe your ideal reading experience (when, where, what, how).

The ideal reading experience, for me, is wholly induced by the text, with a complete lack of interruption. My most memorable adult experience of this remains my initial reading of Cormac McCarthy's "Blood Meridian," which I began in the cab, in Vancouver, on my way to the airport, in 1991 or so, for my first visit to Berlin. I remember nothing of the journey, between my door in Vancouver and the hotel room in which I finished the book. Just the Judge and I, here to there. Leaving him (as much as any receptive reader ever can) I stepped to the window, blinking out at this city, whenever and wherever it was. I was late getting to the Kunsthalle, to greet Samuel Delany and Wim Wenders, though I was able to later.
(8) FARSIGHT. "Everybody talks about the weather," begins a Mark Twain quote. Now they'll have even more to talk about: "Aeolus: Weather forecasts start using space laser data".
Europe's novel wind-measuring satellite, Aeolus, has reached a key milestone in its mission.

The space laser's data is now being used in operational weather forecasts.

Aeolus monitors the wind by firing an ultraviolet beam down into the atmosphere and catching the light's reflection as it scatters off molecules and particles carried along in the air

The European Centre for Medium-Range Weather Forecasts says the information is now robust enough for routine use.

The Reading, UK-based organisation is ingesting the data into its numerical models that look from one to several days ahead.

Forecast improvements are most apparent for the tropics and the Southern Hemisphere.

…The European Space Agency's Aeolus satellite is regarded as a breakthrough concept.

Wind measurements have traditionally been very patchy.

You can get data from anemometers, weather balloons and aeroplanes – and even from satellites that infer air movements from the way clouds track across the sky or from how rough the sea surface appears at different locations.

But these are all limited indications that tell us what is happening in particular places or at particular heights.

Aeolus on the other hand gathers its wind data across the entire Earth, from the ground to the stratosphere (30km) above thick clouds.
(9) IF YOU'VE GOT IT… BBC reports that "The woman who paid $250,000 to go into space" may get there yet.
Ketty Maisonrouge has waited 15 years for a trip that she knows will be out of this world.

The 61-year-old business school professor signed up back in 2005 for the promise of five minutes in zero-gravity, paying $250,000 (£190,500) to travel beyond the earth's atmosphere.

Now the company that sold her the ticket, Virgin Galactic, says it will finally begin flights this year. Its founder, Sir Richard Branson, will be on the first trip, and Mrs Maisonrouge won't be far behind.

"Hopefully it will be as amazing as I think," says Mrs Maisonrouge.

If all goes to plan, Virgin Galactic will be the first private company to take tourists into space. The company says 600 people have already purchased tickets, including celebrities like Justin Bieber and Leonardo DiCaprio.

But rival firms are close behind. Blue Origin, started by Amazon founder Jeff Bezos, has also starting speaking to possible passengers for trips it hopes to start this year, while SpaceX, founded by Tesla's Elon Musk, announced in 2019 that a Japanese billionaire would be its first passenger for a trip around the moon.
(10) ANOTHER HITCHHIKER. Martin Plimmer lets us share a ride "In Roald Dahl's Car" in his essay for the New York Times.
…I told him I was a reporter on the local paper, The Bucks Herald. I needed to get back for work the next day. My first task every Monday morning, as the most junior reporter on the paper, was to call on the town's undertakers and compile a list of people who had died over the weekend. Then I had to phone or visit the next of kin. It was my job to populate the newspaper's obituary column.

He chuckled. "Sounds grim," he said.

"It's not really," I said. "Well, the undertakers are grim, but people are actually very happy to be approached for an obituary. And they're good stories too. Obituaries celebrate whole lives. It would be hard not to find a couple hundred interesting words to write about someone's whole life."

"I can see that," he said. "I also do a bit of writing."

I'd had a feeling this was coming. In my experience of conversations with people who stopped to give me lifts, it was quite common to be told that they were also "writers." Sometimes it would be a couple of articles in the parish magazine, or a half-finished novel in a bedroom drawer, or, more commonly, they would claim to have easily a book's worth of fascinating ideas in their heads, just itching to become a best seller. This man had the look of a gentleman tinkerer, someone who might do a bit of scribbling in his spare time. "What sort of writing?" I asked.

"Oh, plays, film screenplays, some TV. Children's novels seem to be taking up a lot of my time just lately. I suppose, though, that I'm best known for short stories. Stories with a macabre element — I've written quite a lot of them."

His answer surprised me. I asked him his name.

"Roald Dahl," he said.

It meant nothing to me. "I haven't come across your work," I said. "So … 'a macabre element' — are these horror stories?"

"Not exactly," he said, "though, unlike your jolly obituaries, they can be pretty horrible. They don't always end well; there's often a twist in the tail. Actually, I think I'm writing funny stories, because they can be very comical. There's such a narrow line between the macabre and laughter." I could sense him smiling as he said it….
(11) LONG REMEMBERED THUNDER. In "Samuel R. Delany: Portrait of the Artist as a Young Super-Nova", Jeet Heer rediscovers that the field's reception of this new author had its bright spots, too, despite the resistance of editors John W. Campbell and Michael Moorcock.
…It was only after his appearance at the 24th World Science Fiction Convention, held in Cleveland in 1966, that Delany's existence was recognized, which led to the quick consensus that he was a leading figure in the field. In 1967, the contentious editor Harlan Ellison wrote that Delany gave "an indefinable but commanding impression that this was a young man with great work in him." The following year, Algis Budrys, a respected novelist and at the time the sharpest critic in science fiction, hailed Nova by saying the novel proved that "right now, as of this book" Delany is "the best science-fiction writer in the world, at a time when competition for that status is intense." Delany was all of twenty-six years old when he earned that accolade.
[Thanks to Cat Eldridge, John King Tarpinian, JJ, Chip Hitchcock, Martin Morse Wooster, Michael Toman, Mike Kennedy, and Andrew Porter for some of these stories. Title credit goes to File 770 contributing editor of the day Bill.]