(1) GHOSTBUSTERS 3. Though few details seem to be available, it looks like there will be a fourth live-action Ghostbusters movie (Variety: "Jason Reitman to Direct Secret 'Ghostbusters' Movie"), with a new generation of Reitman taking over in the director's chair.
Sony Pictures is getting the wheels in motion for the next installment in the "Ghostbusters" franchise, and it knows who it's going to call to direct: Jason Reitman.

Sources tell Variety that Reitman, whose father, Ivan, directed the first two "Ghostbusters" movies, will direct the latest pic in the famous franchise.

Reitman has also co-written a screenplay with Gil Kenan and plans to shoot the film this summer, with Sony planning to release the latest sequel in summer 2020. Insiders say this film will be a continuation of the 1984 sequel and will not be connected to the 2016 film. Sources couldn't say if that means that the original cast members will be back, as exact story details are still being kept under wraps but sources say Reitman has begun testing teenagers for four mystery roles.
ScienceFiction.com quotes Reitman:
"I've always thought of myself as the first Ghostbusters fan when I was a 6-year-old visiting the set. I wanted to make a movie for all the other fans. This is the next chapter in the original franchise. It is not a reboot. What happened in the '80s happened in the '80s, and this is set in the present day."
(2) KOWAL DECLARES SFWA CANDIDACY. Mary Robinette Kowal announced on her blog: "Dear SFWA members: I'm running for the position of President."
…I believe that SFWA is an important organization and that volunteering for it is a way that we can each help to pay it forward by making the field stronger. As a group, we can improve things within the industry in ways that individuals cannot, but we are dependent on our volunteers. We are dependent on you. I would very much like to help SFWA move forward so that it can continue to inform, support, promote, defend and advocate for our members.

Besides health care, what else am I interested in accomplishing?
New opportunities to help our members diversify their income streams
Strengthening the Nebula Conference as a professional development conference
Protecting our rights for free speech
Outreach to underserved and underrepresented writers in the SFF community
Taking full advantage of our 501c3 status to apply for grants that will allow SFWA to be a more active and useful organization for our members
John Scalzi threw his support behind her in a post today at Whatever: "Mary Robinette Kowal is Running for SFWA President and I Endorse Her Candidacy".
…Some of you may recall that I was SFWA president once, from 2010 to 2013. Mary Robinette was my vice president for two of those years, 2010 through 2012, and was secretary of SFWA for two years before that. In my role as president, I got a chance to see her work for SFWA up close. She was, in a word, excellent. As my VP she gave me sound advice and counsel (up to and including telling me when I was wrong), she executed on policy and strategy in ways that were smart and effective, and she was my not-so-secret weapon in instances that required tact and delicacy. She was, in sum, the very best of vice-presidents….
(3) NEXT STAR WARS COMICS ON THE WAY. Marvel's "celebration of Star Wars characters" continues in April, with epic one-shots of heroes and villains of the original film trilogy in Age of Rebellion. For more information, visit StarWars.com.
Following the legendary sagas of the Jedi, the Sith, and more from AGE OF THE REPUBLIC, join writer Greg Pak (The Incredible Hulk, Weapon H) and artist Chris Sprouse (Black Panther) for new tales about some of the most iconic Star Wars heroes and artist Marc Laming (Beckett, Star Wars Annual) for new stories about the galaxy's most dangerous villains. With covers by Terry and Rachel Dodson, these are stories you don't want to miss!

Also in April, discover brand new sides of some of your favorite – and deadly – heroes and villains in AGE OF REBELLION SPECIAL #1, written by superstar team Marc Guggenheim (X-Men Gold), Jon Adams (The New Yorker, Love Romances), and Si Spurrier (Doctor Aphra), and drawn by Adams, Caspar Wijngaard (Doctor Aphra Annual), and Andrea Broccardo (Star Wars), with cover art by Giuseppe Camuncoli and Guru-eFX!
(4) SFWA READINGS. There are four SFWA readings coming up in the Seattle/Portland area: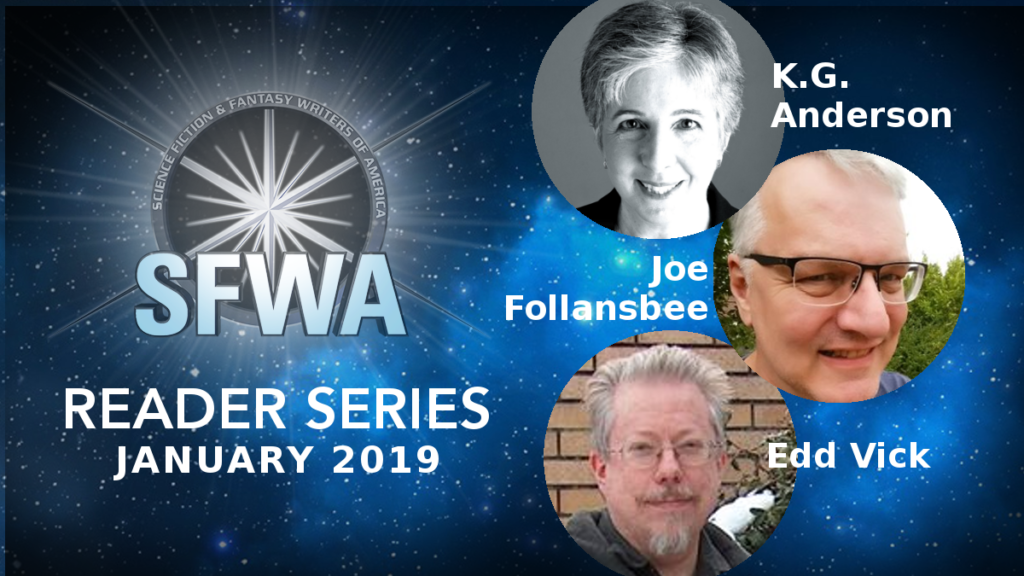 Seattle
Seattle events are held at the Wilde Rover Irish Pub and Restaurant, 111 Central Way, Kirkland, WA 98033. Phone: (425) 822-8940. Readings start at 7pm and go until 8:30
January 29, 2019. KG Anderson, Joe Follansbee, Edd Vick
April 23, 2019. Rebecca Roanhorse, Kari Maaren, Sam J. Miller
September 10, 2019. Ted Chiang, Jack Skillingstead, Daryl Gregory
November 12, 2019. Jeff Grubb, Shanna Germain, Caroline M. Yoachim
Portland
Portland events are held at Lucky Lab on Hawthorne. 915 SE Hawthorne Blvd. Portland, OR 97214. (503) 236-3555 Readings start at 7pm and go until 8:30
SFWA Link: https://www.sfwa.org/other-resources/for-readers/reading-series/sfwa-northwest-reading-series/
(5) OOPS. You could be forgiven for thinking that yesterday'sTor's promotional message contains a premature prediction, although I think it was just intended to be a list of the author's accomplishments. See if you can spot the issue. (Image comes from here.)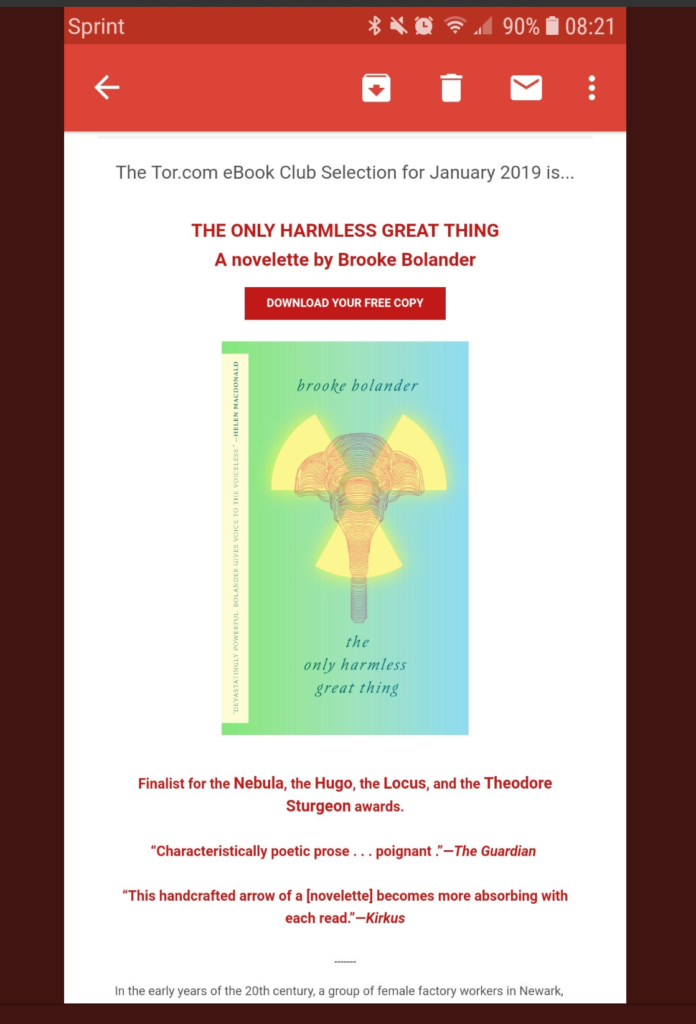 (6) TODAY'S BIRTHDAYS.
[Compiled by Cat Eldridge.]
Born January 16, 1903 – Harold A. Davis. Notable as another writer of the Doc Savage novels under the pseudonym Kenneth Robeson. He was the first ghostwriter to fill in for Lester Dent on Doc Savage.  Davis would create the character of  Ham's pet ape Chemistry in Dust of Death. (Died 1955.)
Born January 16, 1927 – Anne R. Dick. Author of Search for Philip K. Dick, 1928-1982: A Memoir and Biography of the Science Fiction Writer. Her importance to Philip despite their short marriage can be appreciated in this New York Times obit for her. (Died 2017.)
Born January 16, 1946 – Graham Masterton, 73. English horror writer with numerous titles to his credit. I want to to single out Rules of Duel, a short novel from the early 1970s that he wrote with William S. Burroughs. And The Manitou film based off his novel is a lot of bloody fun.
Born January 16, 1948 – John Carpenter, 71. My favorite films by him? Big Trouble in Little China and Escape from New York.  His films include the Halloween franchise, The Thing, Starman (simply wonderful), The Philadelphia Experiment, Ghosts of Mars and many other films. What do you consider him to do particularly well?
Born January 16, 1949 – Caroline Munro, 70.Active in SF and horror films in the Fifties and Sixties. Amongst her many  films are Hammer Horror films such as Captain Kronos – Vampire Hunter and Dracula A.D. 1972. Later films include Starcrash (Christopher Plummer is in it so it can't be that bad, can it?) and At the Earth's Core. She appeared also as Tammy, a nursing employee of a sinister health farm, in "The Angels of Death" of The New Avengers, a vastly underrated show in my opinion if only for the fact it had the young and quite sexy Joanna  Lumley on it .
Born January 16, 1980 – Lin-Manuel Miranda, 39. Sometimes I find that the Birthday honorees have the oddest genre credits but this is the first singer and composer I've run across.  His first genre credit is voicing Shag Kava in Star Wars: The Force Awakens but he also gets credited as special featured composer. Next up is as composer and singer for the animated Moana film. His most recent, and I've no idea if he sings in it but I assume he does, is in Mary Poppins Returns 
(7) THEY'RE DEAD JIM (OR WHATEVER YOUR NAME IS). Easy come, easy go? Newsweek lets us know that, "China's Moon Plants That Sprouted Are Already Dead." The experiment kicked off just before the mission's landing site on the back side of the Moon did its monthly thing and earned the otherwise misleading title Dark Side of the Moon, (No, not that Dark Side.)
Yesterday the Chinese National Space Administration (CNSA) announced that cotton seeds carried to the far side of the moon by its Chang'e 4 lander had sprouted, marking the first time that humans had successfully grown living material on the surface of another world.

But just a day later, it has emerged that the sprouting cotton buds died as night fell over the lunar far side, bringing the brief experiment to an end. The cotton seeds formed part of a "mini-biosphere" experiment aimed at understanding how plants and animals can grow and live on the moon.

The experiment involved a "mini-biosphere" consisting of a sealed metal canister filled with water, soil and air, which was designed to be its own self-sustaining ecosystem. To this mix, scientists added yeast, fruit fly eggs and the seeds of cotton, rapeseed, potato and rock cress—a flowering plant in the mustard family.

The biosphere was powered by natural light from the Sun, so the death of the sprouts as the canister entered the lunar night—where temperatures can dip to as low as -280 degrees Fahrenheit—was anticipated by mission planners.

"Life in the canister would not survive the lunar night," Xie Gengxin, leader of the experiment from Chongqing University, told Xinhua, China's state-run, English language news agency.
(8) DISSENTING OPINION. Don't count Abigail Nussbaum among the fans of Black Mirror's Bandersnatch: "The Illusion of Free Will: On 'Bandersnatch' and Interactive Fiction" at Asking the Wrong Question.
After seven years, four seasons, eighteen episodes and two specials, the conversation around Black Mirror seems to have settled itself into distinct camps. There are those who see it as a meaningful commentary on the growing role of technology in modern society and the pitfalls of our growing dependence on it. And there are those who decry it as a cynical, reflexively anti-tech exercise in nastiness. I tend to think of myself as falling between the two extremes—there are a lot of ideas in Black Mirror that I find interesting and unique, especially when it comes to the intersection of technology and capitalism; but I often feel as if many of them have happened largely by accident. The show's latest foray, however, the interactive movie "Bandersnatch", written by series creator Charlie Brooker and directed by David Slade, has shaken my indulgence. Not only does it revel in some of Black Mirror's worst excesses, it's also an extremely bad example of interactive fiction, at a moment when the form is enjoying a creative flowering.
(9) TODAY IN HISTORY.
January 16, 1939 — The comic strip Superman appeared. Robert Kerr writes:
80 years ago today the first Superman daily strip appeared in the Houston Chronicle. This was the first place Superman had appeared outside of Action Comics. His own solo comic book was still a couple of months away. The daily strip was where Krypton was first mentioned by name and the first place Superman got a more detailed origin. This was full circle for Superman creators Jerry Siegel and Joe Shuster. Before DC Comics bought Superman for Action Comics #1, Superman was rejected by every major newspaper syndicate in the country. Before Superman pretty much created the comic book industry, cartoonist wanted their strips to be in newspapers.
(10) IT'S NOT THE WESTERN. Digg has some graphs that show "How Movie Genres Have Changed In Popularity Since 1910, Visualized". Guess which genre is the perkiest?
The graph reveals several interesting trends. Some genres, for instance, have evidently fallen out of favor, such as musicals and westerns. In the 1930s, 15% of the movies released were musicals, while in 2018, the figure has fallen far below 5%. And although westerns saw a resurgence in the '70s after its decline in the '60s, the genre has had scant representation in recent years.
(11) TREK TRIVIA. ScienceFiction.com invites you to show your mastery of Star Trek and "Match The First Officer To The Starship". The quiz is at the link. It was tougher than I expected – I scored only 3/10!
The ships of the United Federation of Planets have a long history of service, exploration, and combat in the Star Trek Universe. While the Captains of these ships usually end up getting most of the glory, it takes many, many crew members to effectively maintain a starship's operations, and while the Captain is usually busy calling the shots, much of the administrative and personnel work falls to the First Officer.

This quiz will test your knowledge of those brave souls assigned to ships as the XOs. In some cases, these characters may have only served the First Officer role for a short while; in other cases, you may see names of officers whose adventures have squarely shown them in the second-in-command role. This will be no easy task, but hopefully you are up for the challenge. Engage!
(12) ST PHONE HOME. Do you want a better ST:TOS cosplay phone? Or do you miss your flip phone? Standing on the shoulder of the Wall Street Journal (whose story is behind their paywall), Mashable proclaims that, "A rebooted Razr with a foldable smartphone screen is coming in February, report says."
Hellooo, 2004 is calling, and it is STOKED!

The Wall Street Journal is reporting that Lenovo and Verizon are soon to reboot the iconic aughts Razr flip phone, with a 2019 twist — or should we say…. fold!!!

The report claims that Lenovo Group, Inc. has teamed up with Verizon as an exclusive partner to sell a new version of the Razr, based on the word of "people familiar with the matter."

The new Razr will be a smart phone, but it will be able to retain its flip phone form because the screen will be a foldable. It will reportedly become available as soon as February (!!!), and cost $1500. Which, ouch. But that's maybe worth it for retro foldable screen glory?
(13) WILL THE U.S. RETURN TO SPACE THIS YEAR? The Verge: "How SpaceX's first astronaut crew is preparing to take on a brand new spacecraft" — "If schedules hold, SpaceX could fly people this summer."
2019 may finally be the year when American astronauts launch to orbit from American soil again, ending an eight-year drought that started when NASA's Space Shuttle program shut down in 2011. The inaugural flights of NASA's Commercial Crew Program are slated to take place in the coming months, and the launches will see privately owned vehicles carrying space agency astronauts for the very first time. If the current schedules hold, California-based SpaceX may be the first one to send its vehicle to space with two NASA astronauts on board.

For this Verge Science video, we visited SpaceX headquarters in Hawthorne, California, to meet those astronauts and see what one possible future of American crewed spaceflight looks like.
(14) BUT THEN HE GETS GOOD REVIEWS. A paper in Maine will not be ditching its book reviews after all: "Stephen King persuades newspaper not to scrap its book reviews".
Author Stephen King – and his readers – have persuaded his local newspaper to reverse a decision to axe its book reviews.

The Portland Press Herald, based in his home state of Maine, had decided to stop running reviews of local books.

After King expressed dismay, the paper challenged him to get 100 followers to buy digital subscriptions.
His fans did not disappoint him, prompting the paper to pledge that "book reviews will return".
(15) DISNEY MUSIC. "A Place Called Slaughter Race" from Ralph Breaks the Internet. Performed by Sarah Silverman, Gal Gadot, and Cast Music by Alan Menken, Lyrics by Phil Johnston, and Tom MacDougall
[Thanks to Paul Weimer, Chip Hitchcock, JJ, Bill, Cat Eldridge, John King Tarpinian, Mike Kennedy, Martin Morse Wooster, Carl Slaughter, and Andrew Porter for some of these stories. Title credit goes to File 770 contributing Firesign reference editor of the day Kip Williams.]