(1) APOLLO 11 FIFTIETH ANNIVERSARY COINS. Today the U.S Mint began offering for sale coins from the "2019 Apollo 11 50th Anniversary Commemorative Coin Program".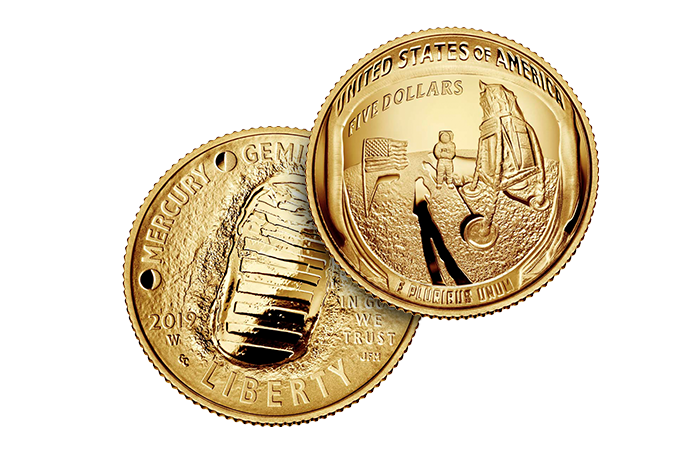 This year, we honor that historic achievement with the 2019 Apollo 11 50th Anniversary Commemorative Coin Program, a collection of coins as unique in construction as they are stunning to behold. The program comprises curved coins in gold, silver and clad. The design of the coins' obverse is a nod to the space missions that led up to the Moon landing, while the reverse features a representation of the famous "Buzz Aldrin on the Moon" photograph.
A collectSPACE article has the full list:
The 2019 Apollo 11 50th Anniversary commemorative coins are being offered in seven editions:
An uncirculated-quality clad metal half dollar, limited to 750,000, for $25.95.
A proof-quality clad metal half dollar, limited to 750,000, for $27.95.
An uncirculated-quality silver dollar, limited to 400,000, for $51.95, with an order limit of 100 per household.
A proof-quality silver dollar, limited to 400,000, for $54.95, with an order limit of 100 per household.
A 5-ounce proof-quality silver dollar, limited to 100,000, for $224.95, with an order limit of 5 per household.
An uncirculated-quality $5 gold coin, limited to 50,000, for $408.75, with an order limit of one per household.
A proof-quality $5 gold coin, limited to 50,000, for $418.75, with an order limit of one per household.
The U.S. Mint has also produced an Apollo 11 50th Anniversary 2019 proof half dollar set, which includes one Apollo 11 50th Anniversary proof half dollar and one Kennedy enhanced reverse proof half dollar, "to commemorate the enduring relationship between President Kennedy and the American space program." The set is a limited edition of 100,000 units and retails for $53.95.
The sale of the coins will benefit three foundations —
As authorized by Congress in 2016, proceeds from the sale of the U.S. Mint coins benefit three space-related organizations that preserve space history and promote science and engineering education: the Astronauts Memorial Foundation, the Astronaut Scholarship Foundation and the Smithsonian National Air and Space Museum's "Destination Moon" gallery, scheduled to open in 2022.

If all of the Apollo 11 commemorative coins are sold, then they will raise a total of $14.5 million, with half going to the Smithsonian and the remaining funds divided between the two foundations.
(2) ARISIA. The Monday edition of Arisia's daily newzine said the con's total registration was 3,190.
Last year's attendance was 3,930.
(3) HOPE. Leigh Alexander and John Scalzi did an Ask Us Anything session at Reddit today to promote The Verge's "Better Worlds" project. Here's an excerpt.
Q: Your most optimistic vision for the future comes true. What is it, and why is it actually awful in reality?
Leigh Alexander:
A: Optimism is biased data. Whatever I imagined as 'ideal' would have some kind of blind spot among the people I failed to consider. I don't even care to speculate aloud, lest some celestial monkey's paw shudders one more finger closed.

I really find Star Trek: The Next Generation soothing because you have Patrick Stewart, one of the world's most brilliant actors, taking this little cardboard set, these goofy prosthetic aliens, with just the utmost sincerity — and in so doing, he represents what we think of as the 'best' of humanity in space.

But then of course there are all these times that the optimistic 'ideals of the show reveal this provincial normativity that we wouldn't expect to still exist in the fully automated luxury space future — so many of the aliens just have the same gender binary, same hierarchical titles, same everything as "the humans". 

Whatever I can imagine would be good for us in the future won't be relevant to all of us by the time we get there. But I do hope that being good to each other is an ongoing part of our evolution, that with each generation we get better at that. That'd be the dream.
John Scalzi:
My most optimistic vision is that people treat other people decently, and also incorporate the idea the planet will be here after they are, so maybe don't trash the place. Neither of these require any SF concepts to be implemented, and honestly it's difficult to see what the downside of these would be in tandem. 
(4) ACADEMY OVERLOOKS ANNIHLATION. Jeff VanderMeer has some thoughts about Oscar snubs. To begin with, he linked to Slate — "The Oscars Have Snubbed the Weird Annihilation Noise".
For some unknown reason, voters chose to honor those movies and their music instead of Ben Salisbury and Geoff Barrow's score and its magnificently spooky centerpiece, "The Alien," home to a cluster of hypnotic notes that Slate has dubbed the weird Annihilation noise. (Listen at the 2:40 mark….)   
VanderMeer continues:
That was definitely a weird snub. But I really think the bigger snub is that Tessa Thompson wasn't up for anything–whether for Annihilation or her other films from last year. Really truly mindboggling. Also, I thought Gina Rodriguez in Annihilation should at least have been considered–the performance was great and without her the whole thing would've been so understated as to be ridiculous.
(5) STUMPING THE HOST. Bradley Walsh, host of UK game show The Chase, claimed he couldn't even understand this question. On the other hand, Filers should have no problem —
The 58-year-old presenter was hoping his team would be able to get through to the final chase, having already seen Richard the librarian go through with £6,000.

But as he read out the next question to Jo from Buckinghamshire, he could not make out what it was asking.

Baffled, he said: "In 2017, a special edition of what book was released that can only be read when the pages are burnt?

"What!? I don't understand!"

The tricky puzzle had answers of A. Fahrenheit 451, B. Frankenstein, or C. Fifty Shades Of Grey.
(6) MEKAS OBIT. Experimental filmmaker Jonas Mekas died January 23 – Gothamist has the story: "Jonas Mekas, Avant-Garde Film Auteur & Co-Founder Of Anthology Film Archives, Has Died At Age 96". Andrew Porter realized this is genre news because "Jonas and his brother Adolfas appeared on the cover of the April 1963 F&SF, as depicted by artist and fellow filmmaker Ed Emshwiller." The full story is online at Underground Film Journal.
To the moon, Jonas! The blog Potrzebie posted up this scan of the cover of a 1963 issue of The Magazine of Fantasy & Science-Fiction featuring a dashing young Adolfas Mekas piloting a rocketship while his skeletal brother Jonas Mekas looms in the background. Apparently the cover is illustrating a tale of a spaceman who starves himself so his brother can pilot their lost ship back to civilization.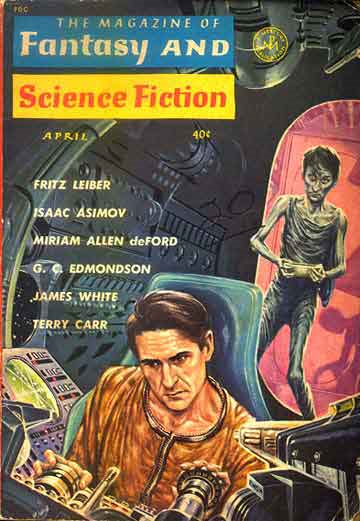 (7) PAVLOW OBIT. British actress Muriel Pavlow (1921-2019) died January 19, aged 97. Genre appearances included Hansel and Gretel in 1937, Project M7 in 1953 and one episode of R3 in 1965.
(8) TODAY'S BIRTHDAYS.
[Compiled by Cat Eldridge.]
Born January 24, 1911 – C.L. Moore.  Author, and wife of Henry Kuttner until his death in 1958. Their work was written as a collaborative undertaking, resulting in such delightful works as "Mimsy Were the Borogoves" and "Vintage Season", both of which were turned into films which weren't as good as the stories. She had a strong writing career prior to her marriage as well with such fiction as "Shambleau" which involves her most famous character Northwest Smith. I'd also single out "Nymph of Darkness" which she wrote with Forrest J Ackerman. I'll not overlook her Jirel of Joiry, one of the first female sword and sorcery characters, and the "Black God's Kiss" story is the first tale she wrote of her adventures. She retired from writing genre fiction after he died, writing only scripts for writing episodes of Sugarfoot, Maverick, The Alaskans and 77 Sunset Strip, in the late Fifties and early Sixties. Checking iBooks, Deversion Books offers a nearly eleven hundred page collection of their fiction for a mere three bucks. Is their works in the public domain now? (Died 1987.)
Born January 24, 1917 – Ernest Borgnine. I think his first genre role was Al Martin in Willard but if y'all know of something earlier I'm sure you'll tell me. He's Harry Booth in The Black Hole, a film whose charms escape me entirely. Next up for him is the cabbie in the superb Escape from New York. I'm  the same year, he's nominated for a Razzie Award for Worst Supporting Actor as Isaiah Schmidt in the horror film Deadly Blessing. A few years later, he's The Lion in a version of Alice in Wonderland. Merlin's Shop of Mystical Wonders is horror and his Grandfather isn't that kindly. He voices Kip Killigan in Small Soldiers which I liked, and I think his last role was voicing Command in Enemy Mind. Series wise let's see…  it's possible that his first SF role was as Nargola on Captain Video and His Video Rangers way back in 1951. After that he shows up in, and I'll just list the series for the sake of brevity, Get Smart, Future Cop, The Ghost of Flight 401, Airwolf where of course he's regular cast, Treasure Island in Outer Space and Touched by an Angel. (Died 2012.)
Born January 24, 1942 – Gary K. Wolf, 77. He is best known as the author of Who Censored Roger Rabbit? which was adapted into Who Framed Roger Rabbit. It bears very little resemblance to the film. Who P-P-P-Plugged Roger Rabbit? which was written later hews much closer to the characters and realties of the film. He has written a number of other novels such as Amityville House of Pancakes Vol 3 which I suggest you avoid at all costs. Yes they are that awful. 
Born January 24, 1944 – David Gerrold, 75. Let's see… He of course scripted "The Trouble With Tribbles" which I still love, wrote the amazing patch up novel When HARLIE Was One, has his ongoing War Against the Chtorr series and wrote, with Robert Sawyer, Boarding the Enterprise: Transporters, Tribbles, and the Vulcan Death Grip in Gene Roddenberry's Star Trek. Setting aside his work as a novel writer, he's been a screenwriter for Star Trek, Star Trek: The Animated Series, Land of the Lost, Logan's Run (the series), Superboy, Babylon 5, Star Trek: Deep Space Nine, Sliders, Star Trek New Voyages: Phase II, and Axanar. Very impressive.
Born January 24, 1967 – Phil LaMarr, 52. Best known I think for his voice work which, and this is a partial list, includes Young Justice (Aquaman among others), the lead role on Static Shock, John Stewart aka Green Lantern on Justice League Unlimited, Robbie Robertson on The Spectacular Spider-Man, various roles on Star Wars: The Clone Wars and T'Shan on Black Panther. Live roles include playing a Jazz singer in the  "Shoot Up the Charts" episode of Get Smart, a doctor on The Muppets in their "Generally Inhospitable" segment, a lawyer in the "Weaponizer" episode of Lucifer and the voice Rag Doll in the "All Rag Doll'd Up" episode of The Flash. Oh I've got to see that! 
Born January 24, 1978 – Kristen Schaal, 41. Best known as Carol on The Last Man on Earth, the post-apocalyptic comedy. Other genre creds includes her role as Gertha Teeth in Cirque du Freak: The Vampire's Assistant, an adaptation of Darren O'Shaughnessy's The Saga of Darren Shan, Miss Tree In Kate & Leopold, Pumpkin / Palace Witch in Shrek Forever After, Tricia in Toy Story 3 and Toy Story 4, The Moderator in The Muppets film and the Freak Show series.
(9) COMICS SECTION.
(10) MISSION POSSIBLE. The South FloridaSun Sentinel reported on January 18: "Holy heist, Batman! Thief drops through roof to nab $1.4 million in comics".
A fortune in Batman comics has been stolen from a West Boca man and he is reaching out to the comic-collecting community around the world in the hopes of getting nearly 450 prized books back.

In a letter posted on social media sites, Randy Lawrence said his registered collection was valued at $1.4 million and that it was stolen from an indoor air-conditioned, double-locked storage unit.
A later Sun Sentinel story says that some of the collection has since been recovered: "Comic book collector 'hopeful' after small part of his stolen $1.4 million collection is found".
It's only a few checks off his list of missing pieces, but Randy Lawrence is hopeful he'll get his $1.4 million in comic books back.

Police in Phoenix arrested a man who tried to sell four of Lawrence's nearly 450 missing comic books.
(11) TOLKIEN'S FELLOWSHIP. Extra Credits continues its new season with episode 2 of "Extra Sci Fi" – "Lord of the Rings: The Fellowship of the Ring."
J. R. R. Tolkien wasn't *just* a fantasy author–he was a mythology master. As a result, he ended up inventing some of the most popular genre tropes that science fiction heavily draws upon. Fellowship of the Ring introduces the theme of the "lessening of the world" and the decay of humanity.
(12) GERMAN CRIME FICTION AWARDS. The winners of the Deutscher Krimipreis, Germany's oldest crime fiction award, have been announced. Cora Buhlert, who sent the link, adds: "One of the runners-up in the national crime novel category, Finsterwalde by Max Annas, is actually sort of science fictional."
Winner national:
Mexikoring by Simone Buchholz
Runners-up national:
Tankstelle von Courcelles by Matthias Wittekindt
Finsterwalde by Max Annas
Winner international:
Runners-up international:
Krumme Type, Krumme Type (Crooked Letter, Crooked Letter) by Tom Franklin
Blut Salz Wasser (Blood, Salt, Water) by Denise Mina
(13) SPACE, THE FINAL FRONT EAR. Another day, another Star Trek opinion piece. Writing at FilmSchoolRejects.com, Charlie Brigden takes a turn "Ranking The 'Star Trek' Themes."
Music has always been a huge part of Star Trek, from 1966 and that fanfare to the modern stylings of Star Trek: Discovery, which begins its second season this week. Over the course of 13 movies and seven television series, not to mention a boatload of video games, various composers have tried their best to musically represent Gene Roddenberry's vision of gunboat diplomacy and utopian societies. But which theme reaches maximum warp first? Which of the many pieces of music can deal with the most phaser hits and deciphering technobabble? Let's find out.
Brigden says a good bit about each of the themes, but stripping it down to just the list:
15. Enterprise
14. The Animated Series
13. The Voyage Home
12. Deep Space Nine
11. Generations
10. Discovery
9. Nemesis
8. Star Trek '09
7. The Undiscovered Country
6. Insurrection
5. Voyager
4. The Wrath of Khan
3. First Contact
2. The Original Series
1. The Motion Picture
(14) GOING TO THE WELLS ONCE TOO OFTEN. "War of the Worlds – as explained by Timothy the Talking Cat" is on feature at Camestros Felapton. It's all amusing, and the ending is an especially droll bit of satire.
…Meanwhile, across the vast emptiness of space incredible minds were watching Earth and thinking "I know, let's invade Surrey". You have to remember that this wasn't the 1950s when invading aliens preferred to target sleepy small towns in America. This was the nineteenth century and if you were an alien and you were thinking of making a trip to Earth, your first thought was "Surrey". It's a case of a local tourist board being just a bit too successful with their promotion of local sights. "Visit Sunny Woking" said the brochure that a Martian advance scout had picked up at Waterloo Station in an extremely brief visit in 1885…
(15) JEOPARDY! PATROL. Andrew Porter saw it on tonight's Jeopardy!
Category: Potent Poe Tales

Answer: This Poe story's title is realized as the narrator flees the "House" as it cracks and is torn asunder.

Wrong question: "What is the house with a crack in its wall?"
(16) PITCH MEETING. ScreenRant adds to its series with "Glass Pitch Meeting: Shyamalan's Sequel To Split And Unbreakable."
(17) FLY BY NIGHT. Where's your flying car? Here's your flying car… if you have a license to fly experimental aircraft and if you can settle for a few feet up for a few seconds. At least so far. Yahoo! Finance has the story ("Boeing's flying car lifts off in race to revolutionize urban travel").
Boeing Co said on Wednesday its flying car prototype hovered briefly in the air during an inaugural test flight, a small but significant step as the world's largest planemaker bids to revolutionize urban transportation and parcel delivery services.

Boeing is competing with arch-rival Airbus SE and numerous other firms to introduce small self-flying vehicles capable of vertical takeoff and landing.

[…] Boeing's 30-foot-long (9 meter) aircraft – part helicopter, part drone and part fixed-wing plane – lifted a few feet off the ground and made a soft landing after less than a minute of being airborne on Tuesday at an airport in Manassas, Virginia, Boeing said.

Future flights will test forward, wing-borne flight.

"This is what revolution looks like, and it's because of autonomy," John Langford, president and chief executive officer of Boeing subsidiary Aurora Flight Sciences, said in a news release announcing the test flight.
(18) CHINA BLOCKS BING FOR A DAY. The BBC found "Microsoft's Bing search engine inaccessible in China" on Wednesday.

US tech giant Microsoft has confirmed that its search engine Bing is currently inaccessible in China.

Social media users have expressed concern that the search engine might be the latest foreign website to be blocked by censors.

Chinese authorities operate a firewall that blocks many US tech platforms, including Facebook and Twitter.

Microsoft hasn't said if the outage may be due to censorship, or is merely a technical problem.

"We've confirmed that Bing is currently inaccessible in China and are engaged to determine next steps," Microsoft spokesperson said in a statement.

A BBC correspondent in China attempted to visit the site, and was able to access it through a Chinese internet provider on a desktop, but not on a smartphone.

Many US tech companies are keen to tap into the Chinese market, but have a difficult relationship with the authorities in Beijing.

The government's internet censorship regime, often known as the "Great Firewall", uses a series of technical measures to block foreign platforms and controversial content.

Chinese authorities have also cracked down on Virtual Private Networks, which allow users to skirt around the firewall.
NPR reports Bing was accessible again in China on Thursday.
The Microsoft search engine, Bing, is back online in China after apparently being blocked on Wednesday, a company spokesperson told NPR.

"We can confirm that Bing was inaccessible in China, but service is now restored," the spokeswoman said in an emailed statement.

…Microsoft President and Chief Legal Counsel Brad Smith explained that it's not the first time the search engine has been blocked. "It happens periodically," he said in an interview with Fox Business News from Davos, Switzerland, on Thursday.
(19) SPIRITS IN THE VASTY WOODS. See video of "The giant trolls hidden in the woods of Denmark".
Cheeky trolls that tower over passers-by can be found in the Danish wilds. Constructed using wood found around the city, the sculptor behind them wants to bring people into nature.

Go for a walk in a Danish forest and you may spot a giant troll peeking out from behind a tree, or lounging luxuriously across the ground. These folkloric creatures are made by recycling artist, designer and activist Thomas Dambo, who sculpts the enormous beings from reclaimed wood.
(20) RED DWARF RETURNS. [Item by Mike Kennedy.] Red Dwarf is back, baby! Or anyway, it will be. Den of Geek had the story ("Red Dwarf Series 13 Confirmed") all the way back in April 2018.
The boys from the Dwarf will be back for a thirteenth series…

Red Dwarf XIII is happening! Dave has ordered a brand new series of our favourite space sitcom, as confirmed by Robert Llewellyn and Danny John-Jules at Thames Con, and then duly reported by British Comedy Guide shortly thereafter.

Baby Cow Productions are set to start filming series XIII in the first few months of 2019, and Doug Naylor will be back to write all the new episodes. Robert Llewellyn, Danny John-Jules, Craig Charles and Chris Barrie will, of course, all be along for the ride.
Now there's an update at Den of Geek ("Red Dwarf: the Dave era, Series XIII, and beyond") which considers history and possible future projects.
With more Red Dwarf on the way, [columnist] Mark [Harrison] ponders how the sci-fi sitcom's revival on Dave has secured its future…

For a show that's three million and 31 years into deep space, Red Dwarf is in pretty rude health. It's been just over a year since the programme came to the end of its 12th series, the second of a two-series production block shot in early 2016, on UK TV channel Dave, and it looks as if there's still plenty more to come from Lister, Rimmer, Kryten and the Cat.
(21) VIDEO OF THE DAY. In "Your Cocoon" on Vimeo, Jerry Paper explains why you can't have any fun if you're a detached head.
[Thanks to Andrew Porter, Carl Slaughter, Steve Green, John King Tarpinian, Mike Kennedy, JJ, Cat Eldridge, Chip Hitchcock, Cora Buhlert, Martin Morse Wooster, SF Concatenation's Jonathan Cowie, and Daniel Dern for some of these stories. Title credit goes to File 770 contributing editor of the day Anna Nimmhaus.]