(1) YOU WILL SCORE BETWEEN ZERO AND 2001. [Item by David Goldfarb.] LearnedLeague just had a One-Day Special quiz on the movie and novel 2001: A Space Odyssey. You can find the questions here. Be warned that if you haven't seen the movie and read the book recently, you'll find it pretty hard!
(2) STILL CHECKING IN. Publishers' suit against the Internet Archive over "Controlled Digital Lending" nearing final submission: "Publishers, Internet Archive Ready for Summary Judgment Hearing in Book Scanning Case" reports Publishers Weekly.
… In their third and final reply brief, attorneys for the publishers reiterate their position that, on both the facts and the law, there is no viable fair use defense for the IA's scanning and lending program, labeling the Internet Archive a "commercial" actor and CDL "a cynical branding exercise designed to repackage industrial-scale copyright infringement as a legitimate enterprise."

Furthermore, the publishers dismiss the IA's contention that CDL guards against publishers choosing not to make digital books available to libraries as a "delusion" and credits the publishers with "pioneering" a "thriving" licensed access library e-book market for just such a purpose, to make digital books available to libraries.

"In the end, Internet Archive asks this Court to adopt a radical proposition that would turn copyright law upside down by allowing IA to convert millions of physical books into e-book formats and distribute them worldwide without paying rights holders," the publisher brief states. "Since the purpose of copyright is to incentivize the creation of new works, authors and publishers—not IA—hold the exclusive right to publish their books in all formats and distribute them via select channels."

In their brief, Internet Archive lawyers reiterate their arguments that their scanning and lending program is fair use—and that the evidence will show no harm to the publishers market.

"All CDL does, and all it can ever do, is offer a limited, digital alternative to physically handing a book to a patron. Libraries deciding how to meet their patrons' needs for digital access to books are not making a choice between paying e-book licensing fees or getting books for free. Libraries pay publishers under either approach," the IA brief states. But with CDL as an option, "librarians can continue to maintain permanent collections of books, to preserve those books in their original form for future generations, and to lend them to patrons one at time, as they have always done," the brief adds, meaning that "librarians can continue to advance the ultimate purpose of copyright: 'the intellectual enrichment of the public.'"

And in a twist, the IA brief concludes by citing two recent headlines. First up, a controversial decision by Wiley—one of the plaintiffs in the case—to pull digital library access to its textbooks just before the start of the academic year.

"When they returned to campus this fall, students at Georgetown, George Washington University, and the other members of the Washington Research Library Consortium found 1,379 books published by Plaintiff Wiley could no longer be borrowed in electronic form from those institutions' libraries," IA lawyers told the court. "They disappeared from those libraries' virtual shelves because Wiley decided to stop licensing them to the academic library market as of August 31, 2022. And according to Plaintiffs' theory in this case, that means libraries could not loan them out digitally at all."

The brief notes that Wiley restored the titles for the academic year after a public backlash. "But the message was sent," IA lawyers state. "The ability of libraries to serve their patrons is subject to publishers' whims."

And tapping another recent headline, IA lawyers quoted a recent open letter organized by digital advocates Fight for the Future and signed by more than 400 authors that expressed fear of a world in which "libraries are reduced to a sort of Netflix or Spotify for books."

"That is what this case is about," IA lawyers conclude. "Whether the selection of books available from libraries digitally will be chosen by librarians, or instead determined by publishers' unilateral and unreviewable licensing choices. This Court is being asked to decide whether copyright law gives publishers the power to dictate which books in a library's collection can and cannot be loaned digitally."…
(3) AD ASTRA. The Space Review's Jeff Foust reviews a book by a NASA project manager about whether interstellar travel is possible."Review: A Traveler's Guide to the Stars".
Tucked away on the inside of the adapter that connects the Orion spacecraft to the upper stage of the Space Launch System are ten cubesats, patiently awaiting launch on the Artemis 1 mission. One of those ten is Near Earth Asteroid (NEA) Scout, a NASA cubesat that will, after deployment, unfurl a solar sail and use that to send the spacecraft on a flyby of a near Earth asteroid in two years. NEA Scout was intended as a technology demonstrator for larger solar sails, explained Les Johnson, principal investigator for the solar sail part of the mission at NASA Marshall, during a talk at the Conference on Small Satellites in Utah in August.

Johnson's vision, though, goes far beyond solar sails for cubesats. He has been involved for more than two decades on efforts related to interstellar travel, dating back to managing a short-lived NASA project on interstellar propulsion at the turn of the century. "I became a convert" to the field by that time NASA ended that project, he writes in the preface of his new book, A Traveler's Guide to the Stars. "I came to believe that going to the stars is something that can actually be done."…
(4) MEMORY LANE.
2017 – [By Cat Eldridge.] Just five years ago, Thor: Ragnarok premiered on this date. So why is it getting essayed tonight? Well y'all did nominate it for a Hugo at Worldcon 76. Anything that gets nominated is probably going to get written up here. And I like the Thor films. Still don't why they haven't made a film for Throg yet. He's so cool, isn't he?
Ok, back to the film now which had nothing to do with Throg. I hope. It is the sequel to Thor and Thor: The Dark World. And it was, may Odin have mercy on us, the seventeenth MCU film. There have been twenty-seven films to date with a run time of about two hours and a quarter. And yes this was in that ballpark.
It was directed by Taika Waititi, his first full length film for Marvel though he had done some shorter works including the Team Thor direct-to-video mockumentary short films. The script was written by Eric Pearson, Craig Kyle and Christopher Yost —all three not surprisingly are heavily involved in MCU film production undertakings.
I won't detail the cast or the story as y'all with impeccable taste nominated for a Hugo at WorldCon 76 though it lost out to Wonder Woman.
Though it was expensive production at one eighty million, partly due to being done entirely in Queensland, that in the end didn't matter as the box office was eight hundred and fifty million dollars. That of course doesn't count streaming and disc sales.
Critical reception was, shall we say, fantastic. They all liked the light, over-the-top feel, with Hollywood Reporter noting "even the story's central bad guys having silly fun, hammed to the hilt by Cate Blanchett and Jeff Goldblum." And the San Francisco Chronicle reviewer said that the film "has confidence in its characters and in its own invention, and so it avoids repetition and stays fresh."
Rotten Tomatoes gives it a thunderous eighty-seven rating among audience reviewers.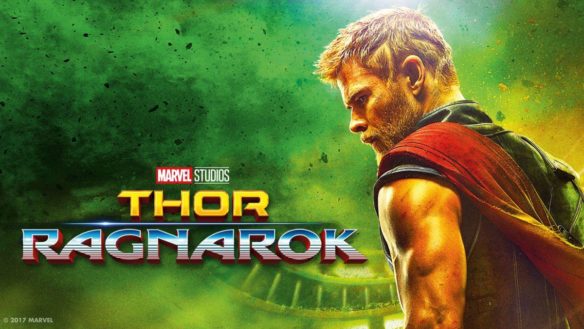 (5) TODAY'S BIRTHDAYS.
[Compiled by Cat Eldridge.]
Born October 11, 1944 — Patrick Parrinder, 78. I've a soft spot for the academics who plow our fields. This one settled upon H. G. Wells starting with H. G. Wells and H. G. Wells: The Critical Heritage nearly forty years ago all the way to H. G. Wells's Perennial Time Machine that he wrote with Danièle Chatelain and George E. Slusser. 
Born October 11, 1960 — Nicola Bryant, 62. Well known for her role as Perpugilliam "Peri" Brown, a companion to both the Fifth and Sixth Doctors. She also worked in "The Two Doctors" story so she appeared with the Second Doctor as well. Of course she's done Big Finish Doctor Who audio dramas. Not to mention Trek fan fic as Lana in Star Trek Continues.
Born October 11, 1964 — Michael J. Nelson, 58. Best known for his work on Mystery Science Theater. He was the head writer of the series for most of the show's original eleven-year run, and spent half of that time as the on-air host. Bad genre films were a favorite target of him and his companions. Not that they don't deserve it. 
Born October 11, 1965 — Sean Patrick Flanery, 57. I really do think that his best work was on The Young Indiana Jones Chronicles and the films that followed. It certainly wasn't as Bobby Dagen in Saw: The Final Chapter, a film best forgotten. (It gets a forty-one percent rating among audience reviewers at Rotten Tomatoes, much better than I expected.) He appeared as Jake Greyman in Demon Hunter, another low budget horror film, and as John in The Evil Within. I see a pattern…
Born October 11, 1972 — Nir Yaniv, 50. Author, editor, musician, and filmmaker. He founded a webzine for the Israeli Society for Science Fiction & Fantasy.  Currently, he's the chief editor of Chalomot Be'aspamia, Israel's only professionally printed genre magazine. His short fiction has appeared in Weird Tales, Apex Magazine and The Best of World SF. He co-wrote The Tel Aviv Dossier with Lavie Tidhar. 
Born October 11, 1972 — Claudia Black, 50 . Best known for being Aeryn Sun in Farscape, Vala Mal Doran in Stargate SG-1 and Sharon "Shazza" Montgomery in Pitch Black. She also had a recurring role as Dahlia in The Originals and starred as Dr. Sabine Lommers in The CW's Containment series.
Born October 11, 1976 — Emily Deschanel, 46. Temperance "Bones" Brennan in Bones which crossed over with Sleepy Hollow twice (she visited the latter once) and she had a bit part on Spider-Man 2. More notably she was Pam Asbury in Stephen King's Rose Red series. More notably she was Pam Asbury in Stephen King's Rose Red series. Actually the forensic science on Bones is genre, isn't it? 
(6) COMICS SECTION.
Eek! features a very catty comment.
(7) DC UPS THEIR STREAMING DIGITAL COMICS OFFERING. [Item by Daniel Dern.] Hot off the main web site.
—OK, here's the info from DC—
DC UNIVERSE INFINITE is getting even better with the introduction of the brand-new ULTRA tier launching today! DC UNIVERSE INFINITE ULTRA subscribers will be able to read the latest releases from DC just one month after they are available in comic shops. Starting today, ULTRA tier members can read titles like Black Adam #1-4, Batman: Beyond the White Knight #1-4, Flashpoint Beyond #1-5, The Nice House on the Lake #1-9, and much, much more!

Plus, starting in mid-November, ULTRA subscribers can also read more than 5,000 exclusive titles from Vertigo, DC Black Label and Collected Editions from DC including Sandman Presents: Dead Boy Detectives, 100 Bullets, and American Vampire, and more.

ULTRA tier is available for a special limited-time introductory price of $99.99 USD a year in the US, $119.99 CAN in Canada, $134.99 AUD in Australia, $134.99 NZD in New Zealand and £72.99 BPS in the U.K., plus applicable taxes. The introductory pricing rate is available until November 28, 2022, and remains valid as long as your ULTRA Annual  subscription is in good standing and you do not cancel. Current DC UNIVERSE INFINITE subscribers can upgrade their monthly and annual subscriptions to ULTRA.
— and here's the bullet-list version, via https://www.dc.com/ultra —
ENJOY THE BENEFITS OF YOUR DC UNIVERSE INFINITE ULTRA MEMBERSHIP!

• SPECIAL LIMITED-TIME INTRODUCTORY PRICE* ($99 a year in the US, $119.99 CAN in Canada, $134.99 AUD in Australia, $134.99 NZD in New Zealand and £72.99 BPS in the U.K.)

• Comics library expands from 27000 to 32000+ books by mid-November 2022 accessible anytime anywhere

• New comics available just 30 days after print release

• Expanded Vertigo and Black Label and DC Collected Edition catalogs available only with Ultra membership starting in mid-November 2022

• Free DC collectible comic exclusive to Ultra subscribers***

• Access to Ultra member-only events and discounts

• 7-day FREE trial**
Dern notes, the current DC Universe offering is $74.99/year or $7.99/month, so an affordable bump (particularly if I sign up soon.)
Dern also notes:
I've been on DCUniverse since it started (originally, to watch Doom Patrol and Titans, which are now instead on HBO Max). I continue to enjoy reading the not-quite-new comics (having an iPad Pro 12.9″ helps!).
That said, (a) there seems like a lot of DC comics that don't get ever get posted (I could be wrong), and (b) DC has, over the past year, like Marvel, gone to a lot of work to make search/back-issue much worse, grumble. Still, for (DC) comic readers, a deal that can't be beat.
IGN also says: "DC Universe Infinite Adds 'Ultra' Subscription Tier With 5000 More Comics".
DC is also making one addition to the service [including the existing level] that will be available to all subscription types. YA graphic novels like Teen Titans: Beast Boy Loves Raven and Nubia: Real One, as well as 100 classic issues of MAD Magazine, are live now on the app.
DPD comments, These YA graphic novels are quite good. (There's a bunch already available via HooplaDigita..com, so, free if you've got a card for a Hoopla-using public library.)
Also, there's a physical annual freebie. Via Graphic Policy: "NYCC 2022: DC announces DC Universe Infinite Ultra".
Ultra subscribers will be eligible to receive one free physical comic book (based on availability) when they subscribe, upgrade or renew their membership.

[more pricing deets]

The introductory pricing rate is available until November 28, 2022, and remains valid as long as your Ultra Annual subscription is in good standing and you do not cancel. Current DC Universe Infinite subscribers can upgrade their monthly and annual subscriptions to Ultra.
(8) READING RECOMMENDATIONS. In Joe Stech's latest "Compelling Science Fiction Newsletter" he ranks and reviews the top 5 out of the 26 stories he read that were published in August. Curious what is number one on his list? Click the link!
(9) TUNE IN. Otto Penzler of The Mysterious Bookshop in New York will be on ABC's Good Morning America on Thursday.
(10) LOVE IS LOVELIER THE FOURTH TIME AROUND. Camestros Felapton finds a few things to like in spite of it all: "Review: The Matrix Resurrections".
…There are no new big ideas in this fourth film and the signature effects and visual style have become cliches in the meantime. However, there are a number of things to like about the film. The first and most obvious is that it is fun to through Keanu Reeves and Carrie-Anne Moss back into their roles. Gen-X nostalgia is part of what the film is offering, a film made by mid-1960s babies for the same….
(11) POIROT AND COMPANY. It's not that Tina Fey can't act, it's that I've seen her in so many modern comedies that it will seem strange to see her in a period mystery. "Kenneth Branagh's Third Hercule Poirot Film 'A Haunting in Venice' Casts Tina Fey, Jamie Dornan, Michelle Yeoh and More" at Variety.
…Set in post-WWII Venice on All Hallows' Eve, the film follows another mystery featuring the celebrated sleuth Poirot. Inspired by Christie's "Hallowe'en Party," the now retired and living in self-imposed exile Poirot reluctantly attends a séance at a haunted palazzo when one of the guests is murdered, and the former detective must once again find out who did it….
(12) HANDMADE, GET IT? Food & Wine admires the results when "Martha Stewart Collaborates with Liquid Death Water on New Candle".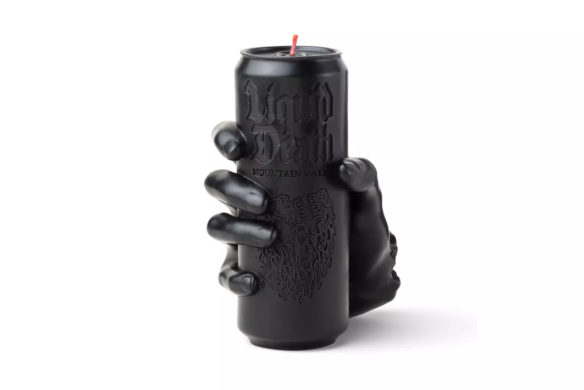 … "I recently heard about an interesting new beverage company called Liquid Death," Stewart says in a gleefully gory promo video. "Together we teamed up to create an utterly delightful candle. A lot of people are asking me how we made them so realistic. Well, it's not easy: each one is made by hand."…
(13) VIDEO OF THE DAY. [Item by Martin Morse Wooster.] In "Honest Game Trailers: Shovel Knight Dig," Fandom Games says this game is the latest in a retro franchise that tries to duplicate the 16-bt games of 30 years ago. But to help the guy finish his dig before he faces "the buzz saw of death" you'll have to buy lots of stuff–so much that this game has a "trickle-down economy." "You want A material, you'll have to pay for it," the narrator says.
[Thanks to Cat Eldridge, Mike Kennedy, Martin Morse Wooster, David Goldfarb, JJ, John King Tarpinian, Andrew Porter, Chris Barkley, and Michael Toman for some of these stories. Title credit belongs to File 770 contributing editor of the day Andrew (not Werdna).]