(1) ASU CSI PODCAST. The initial episode of the second season of The Imagination Desk podcast from the Center for Science and the Imagination at Arizona State University is live now, featuring an interview with Ytasha Womack, author of the book Afrofuturism: The World of Black Sci-Fi and Fantasy Culture. The next episode will be with sff author and editor Troy L. Wiggins
The Imagination Desk is a series of interviews with authors, scholars, and technologists about how we can harness creativity and imaginative thinking to inspire new work and build better futures. As this long, strange year wanes, we're launching new set of podcast episodes featuring deep conversations with fascinating collaborators to think about ways we can move forward together.

For the first installment of Season 2, we sat down with Ytasha L. Womack. Ytasha is a Chicago-based filmmaker, dancer, fiction writer, scholar, and the author of the 2013 book Afrofuturism: The World of Black Sci-Fi and Fantasy Culture. In this chat, CSI's Joey Eschrich and Ytasha discuss how culture, art, and storytelling help us to understand the complexity of Black life in the present, as well as transformative prospects for the future.

This conversation with Ytasha is part of our observance of Black Speculative Fiction Month, which takes place every October. Started by authors Balogun Ojetade and Milton Davis, Black Speculative Fiction Month honors the role that Black people have played in shaping the culture of speculative fiction and charting the course toward vibrant and equitable futures. We'll continue to explore these themes in future events and upcoming episodes of The Imagination Desk. Follow along on our website and subscribe to the show on Spotify, Apple Podcasts, or RadioPublic.
(2) SHOSHANA EDWARDS Q&A. Conducted by Cat Rambo:
I interviewed Shoshana Edwards, author of Death Lives in the Water: A Harper's Landing Story from Ring of Fire Press and A Roman Wilderness of Pain. We talk about her writing, neurolinguistics, and current political rhetoric. Shoshana Edwards was born in rural Oregon, attended Portland State University and California State University, Los Angeles. She later earned advanced degrees in English and Rhetoric. Now retired, she lives near Portland, Oregon where she continues to write.
(3) ADA PALMER'S EXOTERRA GAME CRITICIZED. Ashlyn Sparrow's op-ed "A Game that Threatens Student Intellectual Property", in the Chicago Maroon, the independent newspaper of the University of Chicago, contends "Ada Palmer's ExoTerra game has colonial themes and undermines students' creative freedom."
During the 2020 fall quarter, Ada Palmer (Associate Professor of History at the University of Chicago) launched ExoTerra. The WordPress website for this project describes ExoTerra as "an online collaborative research role-playing game (RPG) community, in which students from all disciplines, from physics to literature, pool their expertise to design a new world." The game incorporates students via several university courses, including "Self, Culture, and Society 1," "America in World Civilization I," and "Europe's Intellectual Transformations." What appears like a well-intentioned pedagogical experiment, however, turns out to make lazy narrative choices and, more importantly, undermines the creative labor and intellectual property of University of Chicago undergraduate students.
ExoTerra is a game where "participating students play the crew of a space colony ship traveling from Earth to a newly-terraformed exoplanet." Sparrow thinks narratives should focus on improving the Earth.
… But as I looked closer at ExoTerra and began to discuss it with colleagues, I grew increasingly concerned. Some of my initial concerns had to do with a narrative frame that focuses on a colonization narrative at a historical moment when Black and Brown people continue to be exploited in the aftermath of global empire in so many ways. In focusing on the creation of a "new civilization," this game rests on a colonization and Earth escape fantasy that is being celebrated by tech billionaires such as Elon Musk. Rather than improving the Earth, such a narrative takes us further from facing the ills of climate change, unprecedented income inequality, systemic racism, and global pandemic. This is problematic even at an allegorical level or via the cognitive estrangement characteristic of the science fiction genre. There are so many better narrative arcs and fresher sub-genres from which to choose, especially in our current world.
Sparrow points out that participants sign away to Palmer the rights to what they create in the game.
…Palmer (who is also a published science fiction novelist) reserves the right to take any intellectual property that students might contribute to this allegedly collective storytelling game and use it for her own purposes, including fiction she publishes in the future. To be clear, this is not a video game that students play. It is instead a roleplaying and world building game that they are creating together. Yet the material benefits of this shared effort return to a single person: Ada Palmer.
(4) WHAT SPACE LETS CREATORS DO. Dwayne Day reviews the second season of For All Mankind at The Space Review. "In the paler moonlight: the future's past in 'For All Mankind'".
…Setting a program in the near future restricts the writers and what they can do. In contrast, as Hale noted, setting a science fiction show in the far future (or, alternatively, "a long time ago, in a galaxy far, far away") can free up the writers from having to reference—and be limited by—historical or current events that the audience is familiar with. Setting a story in a far distant future can be liberating in terms of storytelling. But it also restricts the writers' ability to use the show to make social commentary, and their ability to use familiar historical and cultural reference points in their storytelling.

"For All Mankind" has a different set of challenges in terms of storytelling—it is both about our past, and our future, while also inevitably being a commentary about the present. The show's setting in the 1960s and, for season two, the 1980s, represents a time decades in our past, but still within the living memory of many people. Yet the stories depict a space program that never happened, but still might happen in some way. The Jamestown lunar base in the show is not that different from concepts NASA and its contractors are currently studying. Perhaps in the coming decades, NASA could build something that looks a lot like Jamestown….
(5) WALT WILLIS' TASFIC SPEECH. Fanac.org announced on FB that thanks to the fan history researches of Rob Hansen in Vince Clarke's papers, they can present the final draft typescript of Walt Willis's speech at the 1952 Worldcon, which Willis was able to attend because of the "WAW with the Crew in '52" fan fund started by Shelby Vick. Here is Joe Siclari's introduction to the speech:
Although Walt Willis was prolific, the quality of his writing remained very high because he was diligent. In several articles, Walt Willis described some of his writing procedures. Despite what so many people thought was his facile and relaxed style, he worried over pieces and rewrote them. See Warhoon 12, p 22.

Walt's quality writing was why Shelby Vick created the first really successful campaign to bring a foreign fan to a US Worldcon, "WAW with the Crew in '52". You can imagine the excitement when this was successful. You might also imagine the stress when Walt realized that he would have to speak at the TASFiC/Chicon II.

So it seems he wrote a speech beforehand. Not only did he work on it in advance and rewrite and edit it, but it seems he sent it to at least one friend. During his research into Vince Clarke's papers, Rob Hansen discovered this presentation that you are about to read. It's probably the closest we will get to what Walt Willis said at the TASFiC. As Rob indicated in a note: "What *isn't* included, obviously, is whatever off-the-cuff thanks he added after he'd finished reading."
Not seen in close to 70 years, here is what Rob has called: "The Harp Speaks"
(6) MEDIA ANNIVERSARY.
1987 — Thirty-three years ago, the Mythopoeic Award for Adult Novel went to Peter Beagle's The Folk of the Air which had been published that year by Ballantine Del Rey. The main character is Joe Farrell, who first appeared as the hero of a short story called "Lila the Werewolf", making a sequel of sorts to that story. The League for Archaic Pleasures, here described as a group dedicated to the pleasures of the medieval period, is very obviously modelled after the SCA. Thirteen years later, Tamsin would garner him a second Mythopoeic Award, and The New Voices of Fantasy anthology three years ago would get him his third. He also received their Lifetime Achievement Award as well.
(7) TODAY'S BIRTHDAYS.
[Compiled by Cat Eldridge and John Hertz.]
Born October 12, 1904 — Lester Dent. Pulp-fiction author who was best known as the creator and main author of the series of novels chronicling Doc Savage. Of the one hundred and eighty-one Doc Savage novels published by Street and Smith, one hundred and seventy-nine were credited to Kenneth Robeson; and all but twenty were written by Dent. (Died 1959.) (CE)
Born October 12, 1905 – William Kolliker. Moved from Switzerland to New York at 16. Illustrated for newspapers e.g. NY American, Baltimore News & American. Art director & editor of The American Weekly 25 years. Moved to Texas, resigned from business, taught at El Paso Museum of Art; Conquistador Award from El Paso 1963. A hundred twenty interiors for us. Here is an interior for "The Weapon Shop" (Astounding, Dec 42). Here is one for "Mimsy Were the Borogoves". Here is one for "The Sorcerer of Rhiannon". Here is a 1979 etching "The Graduate". Here is a mid-1970s abstract landscape. (Died 1995) [JH]
Born October 12, 1943 – Daphne Patai, Ph.D., 77. Feminist dissenter, see e.g. What Price Utopia? (2008); Oral History, Feminism, and Politics (2010, in Portuguese). Outstanding to us for discovering that the author of Swastika Night, published under a pseudonym 1930, was Englishwoman Katherine Burdekin. [JH]
Born October 12, 1949 – Barclay Shaw, 71. A hundred twenty covers, thirty interiors. Here is The Glass Teat; here is I Have No Mouth and I Must Scream. Here is The Shockwave Rider. Here is The Ringworld Throne. Here is the Mar 01 F&SF. Chesley for three-dimensional Wonderland. Artbooks The Art of Barclay Shaw; Electric Dreams. Website here (includes 3D animation). [JH]
Born October 12, 1951 – Taral Wayne, 69. Fanartist, pro artist, fanwriter. Many covers and interiors for fanzines; here is Torus 2; here is File 770 116 (PDF); see more in the cover gallery at his efanzines.com page. Here is his logograph for IguanaCon II the 36th Worldcon; Fan Guest of Honor at Anticipation the 67th. Co-founded Ditto (fanziners' convention, named for a brand of spirit-duplicator copying machine); Special Guest at Ditto 8. Toastmaster at Corflu 4 (fanziners' con, named for mimeograph correction fluid). CUFF (Canadian Unity Fan Fund) delegate; his CUFF history here. Numismatist. Collections Old Toys; The Great White Zine. Eleven-time Hugo finalist. FAAn (Fan Activity Achievement) award. Rotsler Award. [JH]
Born October 12, 1956 — Storm Constantine, 63. Writer with her longest-running series being the Wraeththu Universe which has at least four separate series within all of which are known for their themes of alternative sexuality and gender. She has also written a number of non-fiction (I think they are) works such as Sekhem Heka: A Natural Healing and Self Development System and The Grimoire of Deharan Magick: Kaimana. (CE)
Born October 12, 1961 – Susan Power, 59. Enrolled member of the Standing Rock Tribe (Dakota). Law degree from Harvard. Hemingway/PEN Award for first novel The Grass Dancer (ours); several more novels; shorter fiction in The Atlantic Monthly, Paris Review, Ploughshares, Story, a dozen for us in collection Roofwalker. Voices from the Gaps interview with her here (PDF). [JH]
Born October 12, 1965 — Dan Abnett, 55. His earlier work was actually on Doctor Who Magazine, but I'll single out his co-writing Guardians of the Galaxy #1–6 with Andy Lanning, The Authority: Rule Britannia and his Border Princes novel he did in the Tirchworch universe as great looks at him as a writer. (CE)
Born October 12, 1966 — Sandra McDonald, 54. Author of some sixty genre short stories, some of which are collected in Diana Comet and Other Improbable Stories (which won a Lambda Award for LGBT SF, Fantasy and Horror Works) and Lovely Little Planet: Stories of the Apocalypse. Outback Stars is her space opera-ish trilogy. (CE)
Born October 12, 1968 — Hugh Jackman, 52. Obviously Wolverine in the Marvel film franchise. He's also been the lead character in Van Helsing as well as voicing him in the animated prequel Van Helsing: The London Assignment. One of his most charming roles was voicing The Easter Bunny in The Rise of The Guardians. And he played Robert Angier in The Prestige based off the World Fantasy Award winning novel written by the real Christopher Priest. (CE)
Born October 12, 1974 — Kate Beahan, 46. Her best remembered role is as Sister Willow Woodward in the remake of The Wicker Man. In the same year, she was Michell in The Return, a horror film. She showed up on Farscape as Hubero in "Fractures", and on Lucifer as Justine Doble in "All About Her". (CE)
Born October 12, 1992 – Melanie Vogltanz, 28. Austrian author and translator. European SF Society Encouragement Award, 2016; shortlisted for several prizes e.g. Kurd Laßwitz. Five novels, plus six in a Black Blood series; shorter stories collected in On Dark Wings (in German). I have not yet found translations into English. [JH]
(8) COMICS SECTION.
(9) WHAT CHILD IS THIS. Disney released posters for season 2 of The Mandalorian, including a sad Baby Yoda!
(10) DISNEY DISAPPOINTS EURO MOVIE HOUSES. Naman Ramachandran, in the Variety story "Disney's 'Soul' Decision Upsets European Cinemas" says the European trade association the International Union of Cinemas is mad at Disney because they say they operate safe cinemas and would love to have exhibited Soul.
…"There is compelling evidence that where audiences have returned, they have found the experience both safe and enjoyable," the UNIC statement said. "But it is also clear that it is the release of new films that will make all the difference in encouraging people back to the big screen."

"Indeed, across Europe, many cinemas have — since re-opening successfully — screened countless local releases, underlining that first-run titles are now more important than ever."
(11) SAINTHOOD FOR J.R.R.? Daniel Cote Davis, a promoter of J.R.R. Tolkien Cause for Canonization, will speak in New Zealand on October 31 reports the Tolkien sainthood Facebook group. (See more information about the movement in "Tolkien: An Unexpected Sainthood".)
Should J.R.R. Tolkien be made a Saint? In this film we explore the Catholic virtue of one of England's most renowned authors and look beyond the trolls and goblins at what the Lord of the Rings is really trying to say.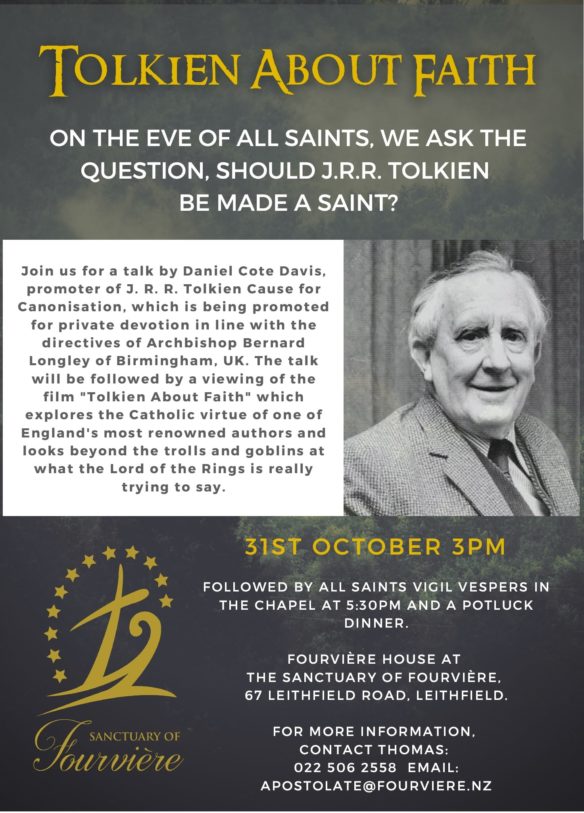 (12) IT ALL GOES AROUND. CrowdScience answers the question "Why do planets spin?" in an episode available at the BBC Sounds archive.
Crowdscience solves a range of listeners' cosmic mysteries, from the reason we only ever see one side of the moon, to why planets spin, and discover the answer can be found in the formation of the solar system. We talk to astronomer Dr Carolin Crawford to understand how stars are made, and investigate the art of astronomy with journalist Jo Marchant, hearing how the ancient Greeks came up with a zodiac long before the invention of a telescope, revealing an intimate relationship between humans and the night sky.
(13) WOMEN OF SFF IN THE SIXTIES. Fanac.org has posted to its YouTube channel a recording from Boskone 6 in 1969, "The Feminine Viewpoint," moderated by Hal Clement, with Anne McCaffrey, Marion Zimmer Bradley, and Larry Niven. NESFA and Rick Kovalcik provided the recording.
Moderated by Hal Clement, this audio recording (illustrated with dozens of images) is a 1960s view of feminism and the female viewpoint in SF by two of SF's most successful women writers of the day. It is uncomfortable in parts by today's standards, with comments like "you can't be a feminist if you like being a woman", and remarks about fanzines that discount female writers solely because of their sex. Hal Clement is the neutral moderator, and Larry Niven provides a male perspective. This panel is dominated by MZB and Anne McCaffrey, who express their views on women in the field, on the differences in fiction written by woman and men, and on the disadvantages attendant on being a female science fiction writer. Remember, Anne McCaffrey was born in 1926 and MZB in 1930. Their opinions were shaped by the times. It's a fascinating snapshot of the times.
The audio recording is accompanied by contemporary photos, including one of Walter Breen and MZB, just so you know.
[Thanks to JJ, Cat Eldridge, John King Tarpinian, Michael Toman, Martin Morse Wooster, John Hertz, Mike Kennedy, Joey Eschrich, and Andrew Porter for some of these stories. Title credit goes to File 770 contributing editor of the day Daniel Dern.]