(1) GALAXY QUEST. See the trailer for Never Surrender: A Galaxy Quest Documentary, which will be distributed through Fathom Events.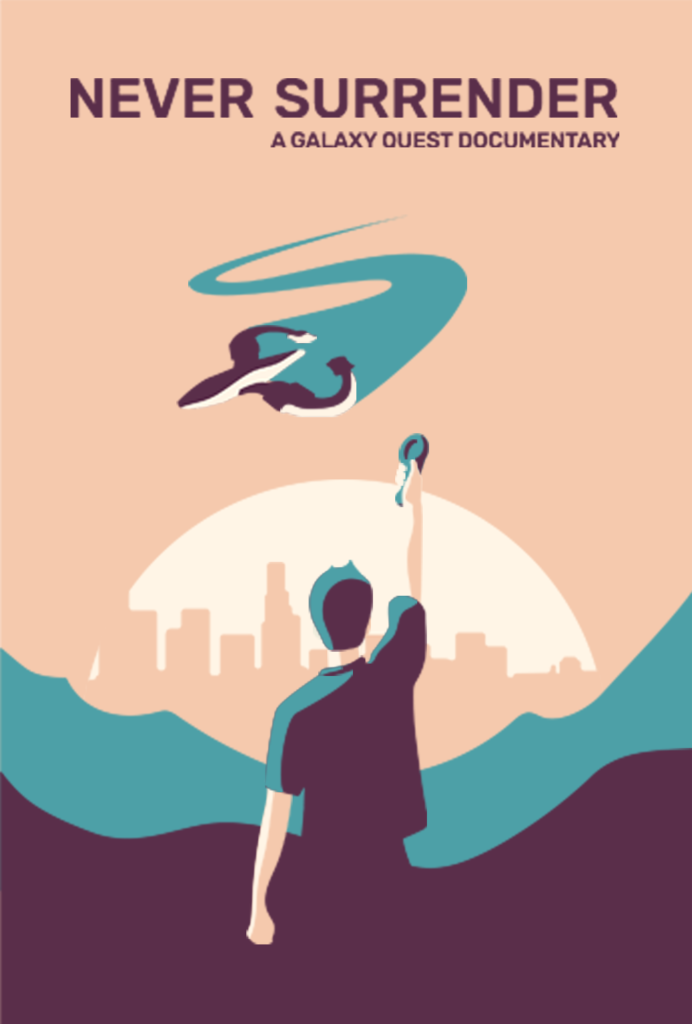 By all accounts, it was a movie that beat all odds: Surviving a set fire, the loss of a powerful director, and a studio that didn't understand what it had, "Galaxy Quest" turned into a pop-culture phenomenon that would "never give up, never surrender." As the cult classic nears its 20th anniversary – premiering on December 25, 1999 – "Never Surrender: A Galaxy Quest Documentary" explores how the science-fiction comedy became an enduring fan favorite, a movie that helped launch the sci-fi- and fantasy-driven movie and TV industry that dominates global entertainment today.
(2) WILL THIS THREAT ACTUALLY WORK? It would be interesting to know the terms of the original gift, and whether a Weisinger descendant can revoke it: "University may lose Superman papers over Liz Cheney comments".
The University of Wyoming could lose the papers of a longtime "Superman" comic book editor after his son took offense to comments by Congresswoman Liz Cheney.

The Casper Star-Tribune reports Hank Weisinger contacted the university's American Heritage Center Tuesday demanding the return of the collected papers of Mort Weisinger.

The elder Weisinger spent three decades as the story editor of the "Superman" series published by DC Comics Inc.

Hank Weisinger says his action was prompted by comments the Wyoming Republican representative made Monday placing blame for Turkey's Oct. 9 invasion of Syria on presidential impeachment proceedings by Democrats.

Weisinger says he does not want his father's papers at a university represented by a member of Congress he perceives as opposing Superman's values of "truth, justice and the American way."
The University of Wyoming's Comic Book Industry holdings include the Mort Weisinger Papers which cover his work on Superman and other publications:
Collection contains materials relating to Weisinger's work as a writer and editor from 1928-1978. Collection includes correspondence (1932-1978) mostly regarding his work as a writer and editor for "This Week" and other magazines and with companies who were included in "1001 Valuable Things"; the galleys and manuscripts for "The Contest," "The Complete Alibi Handbook" and "1001 Valuable Things"; the manuscript for an unpublished novel about a U.S. President (ca. 1975); legal agreements between Weisinger and "This Week" and Bantam Books (1954-1978); and photographs of Weisinger, the Weisinger family and various celebrities.
(3) WATCHMEN IN TIME. NPR's Eric Deggans asks and answers: "Who Watches This 'Watchmen?' I Will, And You Should".
The classic graphic novel Watchmen – an explicit, realistic take on what the world might be like if people actually put on costumes and masks to fight crime — tackled many social and political issues: American imperialism. Nuclear tensions with the Soviet Union. The corruption of a President Nixon who stayed in office for five terms.

But there's one subject the book — hailed by Time magazine as one of the 100 best English-language novels of the last century – didn't really approach.

Race.

So it makes a certain kind of sense that, when superstar TV producer Damon Lindelof (Lost, The Leftovers) decided to build an HBO series around a modern continuation of the 1980s-era novel – okay, comic book — racial tension would be the first thing he tackled.

The result is a visually stunning, energetically complex series that digs into the hottest social issue of our time. But it's done in a way that may leave viewers unsure exactly what Lindelof is saying about it all.
(4) COMICS IN SCHOOL. "'Comic Book Libraries' for Ypsilanti students blows past fundraising goal" — MLive's story covers the successful initiative.
A program led by two Eastern Michigan University alums aims to encourage area students to read by giving them access to "Comic Book Libraries" at community schools.

And a recent GoFundMe campaign to help expand the program has blown past its fundraising goal twice in a week.
The GoFundMe appeal "Providing Comic Book Libraries for local students!" has raised over $3,000.
Comic Book Libraries is a Hero Nation initiative that seeks to improve youth literacy by providing high-interest reading material to classrooms throughout our community.

We currently have educators at five different schools throughout our community hosting Comic Book Libraries and checking books out to eager students.

Graphic novels and comic books are excellent resources that help engage students with literature and art. From phenomenal fantasy adventures, to riveting retellings of historical events, there's a graphic novel for everyone!
(5) MUSH! NPR's Scott Simon interviews the author and asks the obligatory question in "George R.R. Martin Really Does Know You Want Him To Write Faster".
On whether it's difficult to have millions of people waiting for The Winds of Winter, the next volume of A Song of Ice and Fire

Yes, especially because a certain portion of them are really impatient and snarky about it. You know, you can get one person who posts 150 messages in three days, all of which is "Where is Winds of Winter?" If any of you go home and post on your Twitter account, "Hey I was just at the Chicago Public Library Sandburg Award dinner and George R.R. Martin was there," you know by the third message someone will say, well, "What the hell is he doing there? Where is Winds of Winter?" So at this point, it is what it is. And, you know, I should probably leave right now and go back [to] writing Winds of Winter.
It's very important me to finish A Song of Ice and Fire. I want to finish it. I still have two more books to do, and I want to finish it strong. So people look at it and say, you know, this entire thing is an important work, not a half-finished or broken work. I know some of the more cynical people out there don't believe that, but it is true.
(6) TODAY IN HISTORY.
October 19, 1979 — Meteor premiered. Starring Natalie Wood, Sean Connery, and Karl Malden, it was inspired by the 1967 Project Icarus from MIT. The film was a box office failure and received a 12% rating at Rotten Tomatoes.
October 19, 2010 — The BBC's adaptation of H.G. Wells' The First Men In The Moon was first aired. Written by Mark Gatiss, it also stars Gatiss as Cavor and Rory Kinnear as Bedford.
(7) TODAY'S BIRTHDAYS.
[Compiled by Cat Eldridge.]
Born October 19, 1903 — Tor Johnson. He acted in a lot of really bad films starting with Bride of the Monster and  The Unearthly with the next being Plan 9 from Outer Space followed by The Beast of Yucca Flats and finishing with The Night of The Ghouls. Three of these are directed by Ed Wood. He appears on in genre tv just once as Naboro in the "Inferno in Space" episode of Rocky Jones, Space Ranger. (Died 1971.)
Born October 19, 1909 — Robert Beatty. He's best known for being in 2001: A Space Odyssey as Dr. Ralph Halvorsen. He played General Cutler in "The Tenth Planet", a First Doctor story, and was General Halstead in The Martian Chronicles. He was in Superman III and Superman IV, respectively playing a tanker captain and the U.S. President. (Died 1992.)
Born October 19, 1921 — George Nader. In 1953, he was Roy, the leading man in Robot Monster (a.k.a. Monster from Mars and Monsters from the Moon) acknowledged by him and others to be the one of the worst SF films ever made. He showed up in some decidedly low budget other SF films such as The Human Duplicators, Beyond Atlantis  and The Great Space Adventure. (Died 2002.)
Born October 19, 1940 — Michael Gambon, 79. He's best known for playing Dumbledore in the final six Potter films after the death of Richard Harris who had previously played the role. He also shows up in the 2010 Christmas Special of Doctor Who, "A Christmas Carol", an Eleventh Doctor story, playing Kazran/Elliot Sardick.
Born October 19, 1945 — John Lithgow, 74. He enters SF fame as Dr. Emilio Lizardo / Lord John Whorfin in The Adventures of Buckaroo Banzai Across the 8th Dimension. He'll later be in Santa Claus: The Movie, Harry and the Hendersons, Shrek, Rise of the Planet of the Apes, Interstellar and the remake of Pet Sematary. Oh and he voiced The White Rabbit on the Once Upon a Time in Wonderland series! 
Born October 19, 1946 — ?Philip Pullman, 73. I'll confess that I like his Sally Lockhart mysteries far more than I enjoy the Dark Materials series as there's a freshness and imagination at work there I don't see in the latter. Oh, some of the latter is quite good — I quite enjoyed Lyra's Oxford and Once Upon a Time in The North.
Born October 19, 1969 — Vanessa Marshall, 50. Voice actress who's Hera Syndulla on Star Wars: Rebels, a series I've been enjoying immensely. She's gave voice to myriad characters from Poison Ivy to Black Widow. 
Born October 19, 1990 — ?Ciara Renée, 29. She was Kendra Saunders / Hawkgirl in Legends of Tomorrow in the Arrowverse which means she showed up on Arrow and The Flash as well.
(8) SOMETIMES IN SPITE OF POPULAR DEMAND. Trae Dorn of Nerd & Tie discusses why reporting issue-focused fan news is a hazardous occupation. Thread starts here.
(9) RIIIGHT. It's all a misunderstanding, you see: "Nobel Literature Prize judges defend controversial award for Peter Handke".
Nobel Prize for Literature panel members have defended their decision to give this year's award to controversial Austrian author Peter Handke.

The choice has been criticised because of Handke's vocal support for the Serbs during the 1990s Yugoslav war.

Nobel committee member Henrik Petersen said Handke was "radically unpolitical" in his writing and that his support for the Serbs had been misunderstood.
(10) THEY'RE GOING AT NIGHT. (Yeah, I know, but I've always loved that joke.) BBC says probe will watch the Sun: "European SolO probe ready to take on audacious mission". (Embedded video is just audio, but adds info about connection to US solar satellite.)
The European spacecraft that aims to take the closest ever pictures of the Sun is built and ready for launch.

The Solar Orbiter, or SolO, probe will put itself inside the orbit of Planet Mercury to train its telescopes on the surface of our star.

Other instruments will sense the constant outflow of particles and their embedded magnetic fields.

Scientists hope the detailed observations can help them understand better what drives the Sun's activity.

This goes up and down on an 11-year cycle. It's sure to be a fascinating endeavour but it's one that has direct relevance to everyone on Earth.

The energetic outbursts from our star have the ability to damage satellites, harm astronauts, degrade radio communications, and even knock power grids offline.

"We're doing this not just for the sake of increasing our knowledge but also for being able to take precautions, for example by putting satellites in safe mode when we know big solar storms are coming or letting astronauts not leave the space station on these days," said Daniel Müller, the European Space Agency (Esa) project scientist on SolO.
(11) DAWN OF FANDOM. John L. Coker III, President of First Fandom, introduced members to David Ritter's First Fandom Experience project late last year:
…David is seeking material for an ambitious project: the First Fandom Experience (FFE). The purpose of the FFE is to "honor, preserve and bring to life the experience of the first fans – the pioneering fans who were instrumental in defining, driving, growing and supporting science fiction and fantasy in the 1930s and beyond."

David's primary initial focus for FFE will be to "publish fan-created content from the SF and fantasy fields dating from the 1930s, in facsimile form, from the rarest to the most prominent fanzines of the period. FFE will also seek to find and republish other related ephemera of the period, especially content relating to the fan club activities and conventions held through the 1930s. In addition, FFE will publish new content authored by current fans and historians reflecting on their experience and knowledge of the genres in the 1930s."
Two recent posts from Ritter's First Fandom Experience site are:

"They're Grand, But… " is the story of a late-night adventure in 1938, and its consequences, scanned from Sam Moskowitz' fanzine.
In some ways, early science fiction fandom was like a family. Think Leave It To Beaver meets Jersey Shore. The love and hate in the complex web of relationships often played out both in person and in fanzines. A shining example: a 1938 late-night road trip worthy of Scorsese's After Hours.

In February 1938, Samuel A. Moskowitz penned a saccharin homage to his brothers and occasional sister in the fan community. "They're Grand" appeared in The Science Fiction Fan (v2n6).
"Dessert of the Day: The Science Fiction Special" documents an eofannish obsession with ice cream, with a recipe by Frederik Pohl in the The International Observer (v2n7, January 1937), later refined by Donald A. Wollheim and John B. Michel in The Science Fiction Bugle, May 1937. (Scans of both items at the link.)
(12) NO TIPS, PLEASE. "LEONARDO Bipedal Robot With Thrusters" on YouTube is a robot developed at Caltech with a really good sense of balance.
[Thanks to Cat Eldridge, Chip Hitchcock, John King Tarpinian, JJ, Martin Morse Wooster, Mike Kennedy, and Andrew Porter for some of these stories. Title credit goes to File 770 contributing editor of the day Patrick Morris Miller.]