(1) AS THE DAYS DWINDLE DOWN. Is it the end of the year so soon? Publishers Weekly has announced its selection of 150 "Best Books 2022". Here's what they picked in the "SF/Fantasy/Horror" category.
The Golden Enclaves by Naomi Novik (Del Rey)
The Hacienda by Isabel Cañas (Berkley)
Leech by Hiron Ennes (Tordotcom)
Lonely Castle in the Mirror by Mizuki Tsujimura, trans. from the Japanese by Philip Gabriel (Erewhon)
Moon Witch, Spider King by Marlon James (Riverhead)
The Mountain in the Sea by Ray Nayler (MCD)
Ocean's Echo by Everina Maxwell (Tor)
(2) WHAT'S SAUCE FOR THE GOOSE? Aja Romano's article for Vox, "Xi Jinping's crackdown on fandom and social media, explained", primarily discusses China's pop music fans, especially fans of Kpop, however it's still instructive.
…Fans, locally and abroad, are motivated by deeply personal, often byzantine motivations that no amount of outside interference — even from the Chinese government — can moderate. If anything, its attempts to do so only remind us how universal the problem of controlling uncontrollable social media has become. In a way, it's as though the Chinese government has engaged in a game of whack-a-mole: The more it attempts to crack down on extreme fandom behavior, the more creative fans get at dodging its regulations and the more extreme that behavior becomes.

In a strange twist, the very fandom communities the CCP [Chinese Communist Party] is most concerned about may also be the ones that are unexpectedly helping to spread its political agenda. A recently published study from researchers at Concordia University and York University, conducted between January 2020 and October 2021, looked at the way danmei fans online interacted with the CCP's restrictions. They found that in the absence of clarity around many of the restrictions, the fans themselves, through a mix of speculation and "accusatory reporting" — that is, reporting or threatening to report each other to authorities for perceived transgressions — were doing a more efficient job policing themselves than the government ever could. In essence, the fans who tried to conduct their subversive fandoms within the parameters of the regime "strengthened the political authority's practice and narrative."

Ultimately, the biggest irony of the Qinglang campaign is that it may have ensured the communities the government wanted to "clean and clear" are messier than ever. "In my friend circle, we often say the only people 'cleaned' are the normal fans," one fan told me. "The toxics are completely unaffected."
(3) EATING THE FANTASTIC. Scott Edelman invites listeners to dig into dim sum with the Nebula Award-winning Eileen Gunn in episode 193 of the Eating the Fantastic podcast.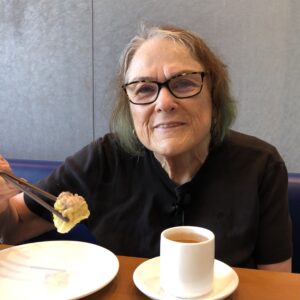 My guest this time around is Eileen Gunn, who received the Nebula Award in 2005 for "Coming to Terms," a story inspired, in part, by her friendship with Avram Davidson, about whom she's working on a biography. She also won Japan's Sense of Gender Award, and has been nominated for the Hugo, Philip K. Dick, Locus, and Tiptree awards. Her short story collections include Stable Strategies and Others (2004), Questionable Practices (2014), and most recently Night Shift Plus … , out earlier this year as part of the PM Press Outspoken Authors Series. From 2001-2008, she was editor and publisher of the influential webzine The Infinite Matrix. She served for 22 years on the board of directors for Clarion West, and taught there and at numerous other creative writing workshops. She also had a lengthy career in technical advertising and website management in Boston, Seattle, and New York.

We discussed how it's possible to write when you always have writers block, the Ursula K. Le Guin story which convinced her she could have a career in science fiction, the two most important things she wants aspiring writers to know, her early advertising career writing funny ads for shoes she didn't like, the reason she believes "I don't decide what the story is until after I've finished it," which famous science fiction writer wrote the box copy for Screaming Yellow Zonkers, the question Kate Wilhelm asked her at Clarion which unlocked the unknown ending of a story in progress, the way her years in the ad business helped her become a better writer, how Carol Emshwiller made her a person of interest with a sheriff's department, what she said on a Worldcon panel which was so outrageous the audience had to be told she was joking, how Psychology Day magazine was almost sued over Frankenstein because they didn't listen listen to my advice, and much more.
(4) IN DYSON'S SPHERE. Jeremy Bernstein recounts his half-century friendship with the renowned scientist and visionary in "Freeman Dyson and Me" at the MIT Press Reader.
…That summer he went off to the General Atomic division of the large firm General Dynamics in La Jolla to consult, and I went to the RAND Corporation in Santa Monica to do likewise. It was not a success.

Although RAND had the superficial atmosphere of a college campus, it was devoted to the strategy of nuclear war. The Falstaffian figure of Herman Kahn was assuring everyone that a few megadeaths in an exchange with the Soviets would be quite tolerable. I recall once going into a room with the other RAND physicists where a seismograph had been set up. We watched while it registered the quavers from a hydrogen bomb test in the Pacific. I found the whole atmosphere very depressing. In the meanwhile, the secretary we had in our building at the Institute was forwarding mail along with the gossip. I learned that Dyson was designing a spaceship, that he had been to a bullfight, and had been bitten by a dog. I wrote a note to him saying that if any of these three things were true, he was having a better time than I was. Much to my surprise, a day or so later the phone rang, and it was Dyson inviting me to come down to La Jolla. I jumped at the chance.

It turned out that all three of these things were true, and the spaceship, which was supposed to be powered by the exploding atomic bombs, was called the "Orion." It is not an accident that this was the name of a spaceship in Kubrick's "2001." There was more. He had been stopped by the police for walking. They had some reason: he had broken his glasses and was wearing scuba diving goggles to assist his vision. When asked for identification, he produced a card with his picture and fingerprints on it from the Department of Defense. It said that the bearer of this card was entitled to receive top-secret information. One can only wonder what went through the police officer's mind….
(5) TROLLING. [Item by Danny Sichel.] Sakeina Syed's article for The Walrus, "The Rings of Power Has a Troll Problem", is about the outsize effect of online racists, and how the productions try to deal with them.
…Beneath assertions of fandom pride and purity seethes a maelstrom of abject racism. The now-deleted YouTube comment barrage is one strand in a much larger web of backlash, diligently stoked by subgroups of fans that seem hell-bent on tanking the series.

While it's long been present, the racism in groups of pop culture fans online has rapidly gained coordination and sophistication in recent years. Behind-the-scenes planning has allowed relatively small minorities of users to flood online spaces. These campaigns go beyond seemingly trivial internet chatter and have the power to shape the future of projects, the careers of BIPOC actors, and the film and TV industry as a whole.
…FOR THE FANS who don't subscribe to the racist and misogynistic rhetoric, those clamouring voices are a source of dismay, antithetical to the works they know and love. Anna María is a UK-based actor, community organizer, and self-described armchair Tolkien expert who was first introduced to the series at the age of seven. "Bigotry hurts more when it comes from a space you once associated only with joy," she writes in an email.

"Seeing racist comments (and facing some myself) from fellow Tolkien fans . . . is infinitely more personal and hurtful. I know it makes me—and many of my friends—feel decidedly unwelcome in the fandom."…
(6) CATCHING UP WITH CHICON. Read Morgan Hazelwood's notes about the Chicon 8 panel "Fairytales & Folklore in Urban Fantasy" or view the video commentary at Morgan Hazelwood: Writer in Progress.
As humans, we look for patterns everywhere. So, when we see a new story, draped in the shape of a well-known fairytale, the vibrant mix of the familiar with the new and strange can be irresistible to many of us as readers. There's a reason that wrapping fairytales and folklore in urban fantasies has proven so popular.

In 1987, Charles de Lint published Jack, the Giant Killer, a retelling of a fairytale set in 1980s Ottawa. This novel, along with Terri Windling's Borderlands, became part of the foundation of the urban fantasy subgenre. How was utilizing folktales in contemporary settings revolutionary in the 1970s and 80s? How have fairy and folk tales influenced urban fantasy since then? Join us as we explore the roots of one of the most influential subgenres of the early 21st century.

The titular panel at ChiCon8/WorldCon 80 was moderated by Alma Alexander and featured Adam Stemple, Sharon Sheffield, and C.L. Polk. The insightful discussion wandered a ways from the given description but stayed on topic….
(7) MEMORY LANE.
1972 — [By Cat Eldridge.] Ray Bradbury's The Halloween Tree
Tom Skelton shivered. Anyone could see that the wind was a special wind this night, and the darkness took on a special feel because it was All Hallows' Eve. Everything seemed cut from soft black velvet or gold or orange velvet. Smoke panted up out of a thousand chimneys like the plumes of funeral parades. From kitchen windows drifted two pumpkin smells: gourds being cut, pies being baked. — The Halloween Tree
I love everything that he wrote unreservedly. Now I am not saying that everything was great but I go into reading something by him knowing that there's a very good chance that I'll enjoy it. And I really like him as, well, himself.
Now we come to this book. I'm assuming that being from the upper Midwest that he was well-versed, indeed deep in the bone, in the ways of Halloween. So it was rather appropriate that he'd write this novel fifty years ago with illustrations by Joseph Mugnaini who worked extensively with Bradbury. You can hear him here talking about working with Bradbury.
Doubleday published the first edition in June 1972 within Mugnaini doing all the art.
IF YOU'VE HAVEN'T READ OR, YES, SEEN IT, GO HIDE UNDER BED FOR NOW. [SPOILERS]
Bradbury is stellar here. Truly brilliant.
Lifelong friends do what such boys always do on this day: trick-or-treating. However, they discover that a ninth friend has been whisked away on a journey, a really fantastic journey, that could in the end say whether he lives or dies.
Through the help of a mysterious character named Carapace Clavicle Moundshroud (and doesn't our author have a way with names?) they pursue their friend across the universe through the old civilizations of Egypt, Greece, and Rome, learn what Celtic Druids are like, visit the Cathedral Notre Dame in Medieval Paris, and finish their journey at Mexican Day of the Dead.
Like an overstuffed goose, they consume and hopefully digest a lot of stuff on this fantastic night. (They are young kids after all.) Bradbury speaking through Moundshroud as the narrator is rather a good guide here.
We are made aware that the Halloween Tree itself, with its myriad branches oh so heavy with jack-o'-lanterns, is Bradbury's metaphor for the historical confluence of all these traditions.
COME OUT NOW. MOTHER'S BAKING CHOCOLATE CHIP COOKIES AND MAKING COCOA IN THE KITCHEN.
Hanna-Barbera nineteen years later would make it into an animated film. Bradbury serves as the narrator of the film, which also has Nimoy as Moundshroud. Bradbury also wrote the film's Emmy Award winning screenplay.
Now here's where we loop oddly enough back to the children's book. That work originated five years before it was published as a screenplay as an unproduced collaboration with animator Chuck Jones. Now think about that being actually done! No idea if the illustrated screenplay exists as a published work but I wanted it really badly.
The Halloween Tree is shown on the Cartoon pretty much continuously during this month. It enjoys an eighty-eight percent rating at Rotten Tomatoes among audience reviewers.
The children's book is available at the usual suspects for a very reasonable price.
(8) TODAY'S BIRTHDAYS.
[Compiled by Cat Eldridge.]
Born October 21, 1929 — Ursula K. Le Guin. Ursula K. Le Guin: Writer, Artist, Editor, Poet, and Translator. She called herself a "Narrative American". And she most emphatically did not consider herself to be a genre writer – instead preferring to be known as an "American novelist". Oh, she wrote genre fiction with quite some brillance, be it the Earthsea sequence, The Left Hand of Darkness, The Dispossessed, or Always Coming Home. Her upbringing as the daughter of two academics, one who was an anthropologist and the other who had a graduate degree in psychology, with a home library full of SF, showed in her writing. She wrote reviews and forewards for others' books, gave academic talks, and did translations as well. Without counting reader's choice awards, her works received more than 100 nominations for pretty much every genre award in existence, winning most of them at least once; she is one of a very small group of people who have won Hugo Awards in all four fiction length categories. She was Guest of Honor at the 1975 Worldcon; was the second woman to be named SFWA Grand Master; was given a World Fantasy Award for Life Achievement; and was awarded the National Book Foundation Medal for Distinguished Contribution to American Letters. In later years, she took up internet blogging with great delight, writing essays and poems, and posting pictures and stories of her cat Pard; these were compiled into a non-fiction collection, No Time to Spare: Thinking About What Matters, which won a posthumous Hugo for Best Related Work. Her last Hugo was at Dublin 2019 for The Books of Earthsea: The Complete Illustrated Edition which was illustrated by Charles Vess. (Died 2018.)
Born October 21, 1937 — Richard Meredith. writer, graphic designer and illustrator who's best remembered for the most excellent We All Died at Breakaway Station and his Timeliner Trilogy. He wasn't prolific in his shorter works, producing only eleven total novellas, novelettes and short stories. His only Award was the Phoenix, the lifetime achievement award for a science fiction professional who has done a great deal for Southern Fandom. He died when he was only forty-one, following a stroke. Awakening, his last novel, was published by St. Martin's Press after his death. (Died 1979.)
Born October 21, 1945 — Vicki Ann Heydron, 77. Wife of Randall Garrett with whom she wrote almost all of her fiction. Her first work, "Keepersmith" was published in Asimov's in 1979. I recommend the Gandalara Cycle beginning with The Steel of Raithskar with her husband that ended seven books later with The River Wall.
Born October 21, 1952 — Robin McKinley, 70. Beauty: A Retelling of the Story of Beauty and the Beast was her first book. It was considered a superb work and was named an American Library Association Notable Children's Book and an ALA Best Book for Young Adults. Rose Daughter is another version of that folktale, whereas Spindle's End is the story of Sleeping Beauty, and Deerskin and two of the stories that you can find in The Door in the Hedge are based on other folktales. She does a superb telling of the Robin Hood legend in The Outlaws of Sherwood. Among her novels that are not based on folktales are Sunshine, Chalice and Dragonhaven. Her 1984 The Hero and the Crown won the Newbery Medal as that year's best new American children's book. She was married to Peter Dickinson from 1991 to his death in 2015; they lived together in Hampshire, England where she still lives. They co-wrote two splendid collections, Water: Tales of Elemental Spirits and Fire: Tales of Elemental Spirits. I'd be very remiss not to note her Awards, to wit a Newbery Honor for The Blue Sword, then a Newbery Medal for The Hero and the Crown, a World Fantasy Award for Anthology/Collection for Imaginary Lands, as editor, a Phoenix Award Honor Book for Beauty and a Mythopoeic Fantasy Award for Adult Literature for Sunshine. Impressive indeed!
Born October 21, 1952 — Candas Jane Dorsey, 70. Canadian writer who's the winner of the Prix Aurora Award and the Otherwise Award for gender bending SF for her Black Wine novel. She's also won a Prix Aurora Award for her short story, "Sleeping in a Box". She's one of the founders of SF Canada was founded as an authors collective in the late Eighties as Canada's National Association of Speculative Fiction Professionals. At the present time, she appears to have little available from the usual digital suspects save two mysteries about her "queer, nameless, amateur detective."
Born October 21, 1976 — Lavie Tidhar, 46. The first work I read by him was Central Station which won a John W. Campbell Memorial Award for Best Science Fiction Novel. It certainly deserved that accolade! The next work by him I experienced was The Bookman Histories in which Mycroft Holmes is murdered and, well, everything of a pulp nature gets tossed into alternate history England. Both absolutely brilliant and completely annoying at the same time. I've just read Unholy Land, his telling of the founding of a Jewish homeland long ago in Africa, and I'm now reading Neom, his sequel to Central Station. It's quite, quite stellar.
(9) CAPE FEAR. Steve Vertlieb, seeing yesterday's mention of the star's birthday, invites all to read "Vertlieb's Views: Bela Lugosi" at The Thunder Child.
Lugosi. The very name struck palpable terror into the hearts of film goers throughout the nineteen thirties. With his iconic voice, hypnotic gaze, and nightmarish persona, Lugosi became the very embodiment of vampiric decadence and mortal decay. A fallen aristocrat, the Transylvanian Count was the symbolic reflection of sexual repression and the abduction of innocence. Like the haunted character whom he most famously portrayed, Bela Lugosi has long ago passed both into memory and legend.

Born Béla Ferenc Dezső Blaskó on October 20th, 1882, no single individual has ever been as closely or indelibly associated with Bram stoker's immortal "Dracula" as this aristocratic, ultimately tragic Hungarian actor.

Here, then, is my affectionate Halloween Birthday tribute to Bela Lugosi…his "horrific" career ascension, as well as its poignant decline…as we remember The Man Behind Dracula's Cape.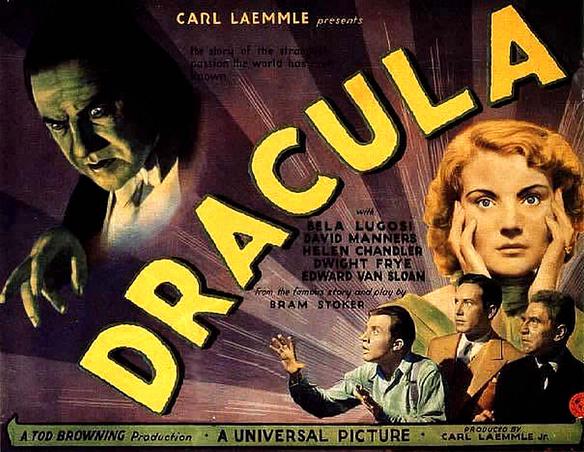 (10) CELEBRATE THE SEASON. The Root recommends "15 Scary Ass Books By Black Authors That Are Perfect for Halloween"
… If you're looking for a spooky story to sink your teeth into this Halloween, check out some of these haunting novels by Black authors. Just be sure to read them with the lights on….
First on the list:
In "The Good House" [by Tananarive Due], Angela Toussaint comes back to the house where her son committed suicide looking for the truth about his death. And what she finds is an invisible, evil force that is inciting acts of violence from the locals.
(11) TALKING ABOUT THE FIFTY WAYS. Ted Gioia continues his praise of "non-realist fiction" in "The 50 Best Works of Non-Realist Fiction of the 21st Century (Part 2 of 5)" at The Honest Broker. You'll definitely recognize several of these titles.
Below is the second installment of my guide to the 50 best works of non-realist fiction published since 2000. For part one of the survey, click here.

I'm sharing the entire list in five installments (because of email length constraints).

To be eligible for the list, a book must be either science fiction, fantasy, horror, magical realism, alternate history, or some other genre that violates our notions of everyday reality. As I've written elsewhere, I believe that much of the best contemporary fiction falls into these categories—and is often unfairly neglected because of its genre origins….
(12) PALETTE CLEANSER. Meanwhile, Screen Rant is taking a count of its own. "10 Things Only Marvel Comics Fans Know About The Incredible Hulk".
10/10 Gray Hulk

Most Marvel Comics fans know Hulk becomes gray for a period in the 1980s. They may not know he started out that way. In his comic book debut in The Incredible Hulk #1 in 1962, the Hulk appears gray. Co-creators Stan Lee and Jack Kirby intended Hulk to be gray, but coloring limitations at the time left him looking more green.
(13) RECONSIDERING SOLAR ENERGY SATELLITES. Science investigates the question, "Has a new dawn arrived for space-based solar power?" "Better technology and falling launch costs revive interest in a science-fiction technology."
…NASA first investigated the concept of space solar power during the mid-1970s fuel crisis. But a proposed space demonstration mission—with '70s technology lofted in the Space Shuttle and assembled by astronauts—would have cost about $1 trillion. The idea was shelved and, according to Mankins, remains a taboo subject for many at the agency.

Today, both space and so-lar power technology have changed beyond recognition. The efficiency of photo-voltaic (PV) solar cells has increased 25% over the past decade, Jones says, while costs have plummeted….
(14) LAUNDRY DAY. UPI invites you to "Watch: Researchers unveil world's fastest clothes-folding robot".
…The robot uses a neural network called BiManual Manipulation Network to interpret input from machine vision and manipulates the clothing using a pair of industrial robot arms.

The researchers detailed the robot's creation and capabilities in a paper submitted for presentation at the International Conference on Intelligent Robots and Systems 2022 next week in Kyoto, Japan….
[Thanks to Martin Morse Wooster, JJ, John King Tarpinian, Andrew Porter, Danny Sichel, SF Concatenation's Jonathan Cowie, Chris Barkley, Michael Toman, Cat Eldridge, and Mike Kennedy for some of these stories. Title credit belongs to File 770 contributing editor of the day Daniel Dern.]