(1) I'D LIKE TO MEET HIS TAILOR. James Davis Nicoll is "Asking the Tough Questions About Superheroes and Public Nudity" at Tor.com. Don't tell me this hasn't troubled you, too!
…If [the superhero is] prone to turning into living flame? Clothes go up in flame. Super-cold? Cloth turns brittle when frozen. Change size? Clothing shreds. Or a teeny-tiny size-changer can slip between the weave of the cloth. Then change back to normal human and oops, no clothes.

In the old days, the Comics Code Authority guaranteed a certain level of protection from power-induced nudity. The Hulk's pants size might go from M to XXXXXXXL but somehow his trousers always stretched enough to provide him with shorts. Similarly, Doctor Phosphorus' skin incinerated everything it touched, despite which he somehow always had enough of his trousers left to avoid being charged with indecent exposure (well, in addition to terrorism and murder)….
(2) RECLAMATION 2022 VENUE ANNOUNCEMENT. The Reclamation 2022 committee today announced that next year's UK Eastercon venue will be the Radisson Hotel & Conference Centre London Heathrow. The con will run April 15-18, 2022.
The hotel, formerly known as the Park Inn, is a venue that will be familiar to regular science fiction convention goers and is easily accessed via various transport links. In addition to the hotel, there are local pubs and restaurants and central London is a tube ride away.

The committee would like to thank the community for their enormous patience. The current global situation made the process far more difficult than we'd hoped. It has taken over two years of searching to find a suitable venue for a convention of our size that will accommodate non-corporate gatherings.

We did want to announce the venue much earlier in the year. We had hoped to bring Eastercon to Brighton for 2022. Sadly, the venue required more extensive renovations than they, and we, first anticipated and it's no longer available at this time. We hope to see an Eastercon there in the future.

To attend Reclamation, the 72nd Eastercon, you need to purchase membership for the convention. All information can be found on the website at https://reclamation2022.co.uk/membership/ . Membership can also be purchased at Eastercon fan tables, which can be found at various forthcoming fan conventions….
(3) MISSING CREDITS. The Irish Times' John Connolly contends women writers of genre fiction are doubly ignored: "Pulp friction: Irish women's place in genre writing should be rescued from ignominy".
… The assault on genre writing in Ireland began as early as 1892, when Douglas Hyde, eventually to become the first president of the Irish Free State, gave a speech to the Irish National Literary Society in Dublin in which he urged his listeners to set their faces "sternly against penny dreadfuls, shilling shockers". To Hyde, genre writing was not only "garbage" and "vulgar", it was also "English", which made it undesirable in the extreme. It had no relevance to his conception of Irishness, which was limited to everything "most smacking of the soil, most Gaelic". If it was genre fiction, it wasn't Irish literature. In fact, it probably wasn't literature at all….
(4) PODCASTER Q&A. Cora Buhlert has posted a new "Fancast Spotlight" for Light On Light Through, a podcast by Paul Levinson: "Fancast Spotlight: Light On Light Through".
… Today, I'm pleased to feature Light On Light Through, a podcast run by Paul Levinson, who's a science fiction author, singer/songwriter, media critic and professor of communications and media studies at Fordham University.

Paul Levinson is clearly a very busy man, so I'm thrilled to welcome him to my blog today to talk about Light On Light Through….
(5) SUBGENRE CHALLENGES. Cora Buhlert, who sent this link, notes she's not the only one who's interviewing semiprozine editors. Bobby Derie just interviewed Erica Ciko Campbell and Desmond Rhae Harris, editors of the new magazine of Starward Shadows Quarterly: "Editor Spotlight: Interview with Erica Ciko Campbell and Desmond Rhae Harris of Starward Shadows Quarterly".
"We're interested in exploring the wicked, strange places that walk the line between reality and nightmare—the alien, the absurd, and above all else, the weird." —Starward Shadows Quarterly Submissions page

… Aside from Lovecraft, other thematic inspirations cited for Starward Shadows Quarterly include J. R. R. Tolkien and Robert E. Howard. How do you handle the historical racism and colonialist tropes inherent in fantasy and sword & sorcery?

DRH: This is a tricky topic. The best I can explain it is that we always look for ways to bring fresh, modern insight on those topics, and we deliberately seek out authors who provide that. If a story doesn't have a new, enlightened viewpoint that shatters racism and colonialism and instead falls back on addressing those grief-ridden topics in the same, tired, old ways, then we simply won't publish the story—no matter how good it is otherwise. It isn't enough for something to be "not that problematic." It needs to actively counteract the social impact that previous authors have had in these difficult areas in order for us to accept it….
(6) THE DUNES ARE ALIVE WITH THE SOUND OF MUSIC. The New York Times tells "How Hans Zimmer Conjured the Otherworldly Sounds of 'Dune'".
…For "Dune," by contrast, Zimmer wanted to conjure sounds that nobody had ever heard before.

"I felt like there was a freedom to get away from a Western orchestra," he said recently, speaking in the Warner Bros. offices overlooking Hudson Yards in New York. "I can spend days making up sounds."

The resulting soundtrack might be one of Zimmer's most unorthodox and most provocative. Along with synthesizers, you can hear scraping metal, Indian bamboo flutes, Irish whistles, a juddering drum phrase that Zimmer calls an "anti-groove," seismic rumbles of distorted guitar, a war horn that is actually a cello and singing that defies Western musical notation — just to name a few of its disparate elements.

The score combines the gigantic, chest-thumping sound of Zimmer's best known work of the last decade with the spirit of radical sonic experimentation. The weirdness is entirely befitting the saga of a futuristic, intergalactic civilization whose denizens are stalked by giant sandworms and revere a hallucinogenic substance called spice….
(7) IT'S NOT JUST A SURPRISING IDEA – IT'S THE LAW! "Pablo Escobar's Cocaine Hippos Are Legally People, Court Rules" – Gizmodo has the story.
Pablo Escobar's hippos have a lawyer. And a good one at that. In a U.S. first, a court recognized the animals as legal persons. That could be the hippos' salvation in the ongoing fight about what to do with one of the world's most rotund and dangerous invasive species.

… Now, there are up to 120 hippos roaming around Colombia, and they are considered one of the top invasive species in the world. Authorities have weighed a plan to kill the hippos off and on since 2009, and its recently gained steam.

Last July, Colombian attorney Luis Domingo Gómez Maldonado filed a lawsuit on the hippos' behalf to save them from being euthanized. Instead, the case recommends sterilization. Colombian officials announced a plan to use a chemical contraceptive developed by the U.S. Agriculture Department to sterilize "the main group" of the hippos, and the region's environmental agency Cornare began to implement the plan on Friday, darting 24 hippos.

… "The Colombian legal system can't compel someone in the U.S. to provide testimony or to produce documents, but we have this federal law that allows interested persons in Colombia to go to the U.S. and obtain that ability to obtain documents and testimony." Christopher Berry, the attorney overseeing the U.S. case who also serves as managing director at the Animal Legal Defense Fund, said. "So we applied for the hippos' rights to compel their testimony in order to support the Colombian litigation, and now the [U.S. District Court for the Southern District of Ohio] has granted that application, recognizing that the hippos are interested persons."…
(8) MEDIA BIRTHDAY.
1968 – Fifty-three years this evening on NBC, Star Trek's "Spectre of the Gun" first aired. It was written by former producer Gene L. Coon (under the name of Lee Cronin) and directed by Vincent McEveety. It had one of the larger guest casts — Ron Soble as Wyatt Earp, Bonnie Beecher as Sylvia, Charles Maxwell as Virgil Earp, Rex Holman as Morgan Earp, Sam Gilman as Doc Holliday, Charles Seel as Ed the bartender, Bill Zuckert as Johnny Behan, Abraham Sofaer as the Melkotian Voice and Ed McCready as Barber. You know the premise, so I won't detail it here. I will note that the budget wasn't available to shoot on location on a full set, so instead a Western street of false building fronts and no sides was used. It's considered one of the finest episodes of the original though Keith R.A. DeCandido of Tor.com inexplicably decided to criticize the episode for its historical inaccuracies. Huh? And I'll note that the First Doctor had done an Old West story two years previously, "The Gunfighters" and the Eleventh Doctor will have his own such story as well, "A Town Called Mercy".
(9) TODAY'S BIRTHDAYS.
[Compiled by Cat Eldridge.]
Born October 25, 1909 — Whit Bissell. You most likely know him as Station Manager Lurry on "The Trouble With Tribbles", but his major contribution to the SFF genre was being in all thirty episodes of The Time Tunnel as Lt. Gen. Heywood Kirk. He also did one-offs on The Invaders, I Dream of Jeannie, The Man from U.N.C.L.E., Voyage to the Bottom of the Sea, Science Fiction Theater, The Incredible Hulk and The Outer Limits. And yes, in the Time Machine film. (Died 1996.)
Born October 25, 1940 — Janet Fox. Author whose stories appeared in countless genre zines and anthologies between the Seventies and mid-Nineties. Her long fiction, mostly the Scorpio Rising series, was done as Alex McDonough. She's also know for the Scavenger's Newsletter which featured a number of noted writers during its long including Linda Sherman, Jeff VanderMeer and Jim Lee. (Died 2009.)
Born October 25, 1955 — Gale Anne Hurd, 66. Her first genre work was as Corman's production manager on Battle beyond the Stars. (A decent forty-two percent among audience reviewers at Rotten Tomatoes.) From there, we've such films as Æon Flux, the Terminator franchise, Aliens, Alien Nation, Tremors, Hulk and two of the Punisher films to name just some of her genre work. We'll forgive her for the latter.
Born October 25, 1955 — Glynis Barber, 66. Soolin on Blake's 7 for a series. She also appeared in The Hound of the Baskervilles (Ian Richard and Donald Churchill were Holmes and Watson) and a Sherlock Holmes series I didn't know about, Sherlock Holmes and Doctor Watson starring Geoffrey Whitehead and Donald Pickering.
Born October 25, 1963 — John Gregory Betancourt, 58. Writer best known most likely for his work In Zelazny's Amber universe but who has written quite a bit of other franchise fiction including works in the Star Trek, Hercules, Robert Silverberg's Time Tours, Dr. Bones and The New Adventures of Superman. Most of his original fiction was early in his career. He's also edited in a number of magazines including Weird Tales, Amazing Stories, H. P. Lovecraft's Magazine of Horror, Adventure Tales and Cat Tales. He even co-edited with Anne McCaffrey, Serve It Forth: Cooking with Anne McCaffrey. His Wildpress Press has been nominated three times for World Fantasy Awards.
Born October 25, 1971 — Marko Kloos, 50. Author of two MilSF series, Frontlines and The Palladium Wards. His Lines of Departure was nominated for Hugo Award for Best Novel at Sasquan on a slate organized by the Sad Puppies. In reaction to this, Kloos withdrew the novel from consideration for the award. He was subsequently honored by George R. R. Martin for this decision. And that gets him Birthday Honors. Four of his books have been Dragon Awards nominees in the Best Military SF or Fantasy category.
Born October 25, 1971 — Elif Safak, 50. Turkish writer not currently under arrest though considered an opponent of Recep Tayyip Erdogan as she's lived in the U.K. for eight years. She's got three genre novels, one written originally in Turkish (Mahrem), The Gaze in its English translation, and two written in English, The Architect's Apprentice (which was translated into Turkish as Ustam ve Ben) and 10 Minutes 38 Seconds in This Strange World.
Born October 25, 1989 — Mia Wasikowska, 32. She's Alice in Tim Burton's creepy Alice in Wonderland and equally creepy Alice Through the Looking Glass. Rotten Tomatoes gave the first a fifty-three percent rating and the second a twenty-nine percent rating.
(10) COMICS SECTION.
Mutts warns us about what can go wrong with your magic spells. (A re-run of an earlier strip, but fans of puns won't mind seeing it again.)
Frank and Ernest find out the Tooth Fairy has issues.
Off the Mark shows a truly terrifying Halloween costume for dinosaurs.
Batch Rejection demonstrates an efficient pet's name.
And for the record, the current Dick Tracy team did a sign-off strip, as in, the current creative team is (apparently) moving on.
(11) A LEGEND IN HER OWN TIME. In the Washington Post, Michael Cavna has an appreciation of Ruthie Tompson, who met Walt Disney in 1918, worked for Disney animation for nearly 50 years, became a Disney Legend in 2000, and passed away recently at 111. "Ruthie Tompson, who died at age 111, was a Disney trailblazer in 'a man's world'".
Ruthie Tompson, whose hand helped paint early Mickey Mouse, was the very picture of humility — even as she turned 110.

Tompson became an animation trailblazer in 1937, working among the scores of other young women in Disney's famed Ink & Paint department — for long hours, relatively low pay and no screen credit — on the landmark feature "Snow White and the Seven Dwarfs.""We worked into the night, day after day, until we got it exactly right!" she told the Hollywood Reporter last year, from the Motion Picture and Television Fund's retirement community in Woodland Hills, Calif., while enduring the second global pandemic of her lifetime….
(12) SOMETHING TO DREAD. [Item by Martin Morse Wooster.] In the Financial Times behind a paywall, Tom Faber discusses the lasting appeal of Nintendo's sf game Metroid, whose 2021 extension, Metroid Dread, was recently released.
I can't help thinking that perhaps in 2021, Metroid has been a victim of its own success. Back in 1997, a game called Castlevania: Symphony of the Night borrowed elements from Super Metroid and set the mould for a genre unimaginatively dubbed the 'metroidvania.' These are titles united by their contiguous 2D maps and gameplay that juggles tense combat with exploration. In recent years indie developers have followed in Metroid's footsteps to create modern classics such as the graceful Ori series, the haunting Hollow Knight, or the pixel art gauntlets of Dead Cells and Axiom Verge….

…These games have innovated to thoughtfully elevate Metroid's blueprint. Hollow Knight and Ori And The Will Of The Wisps are among the most beautiful games I've played in years; Metroid Dread doesn't quite deliver the same charm. It's certainly taut, engrossing, and slick, but I can't help wondering if it might feel more revelatory if the original Metroid not been quite so influential in the first place.
(13) KEEPING UP WITH MILTON DAVIS. Oliver Brackenbury, whose podcast So I'm Writing a Novel… Cora Buhlert featured awhile ago, interviews Milton J. Davis in episode 20: "Interview with Milton Davis about Sword & Soul".
Milton J. Davis also has an interesting Kickstarter for an animated movie based on his Steamfunk novel From Here to Timbuktu: "From Here to Timbuktu: A Steamfunk Action Adventure by MVmedia, LLC".
… MVmedia has teamed up with Avaloy Studios to bring you this story as an animated series. Milton Davis, the novel author, will write the script, with animation duties done by Avaloy Studios. The pledges from this Kickstarter will allow us to create the first five episodes of the series….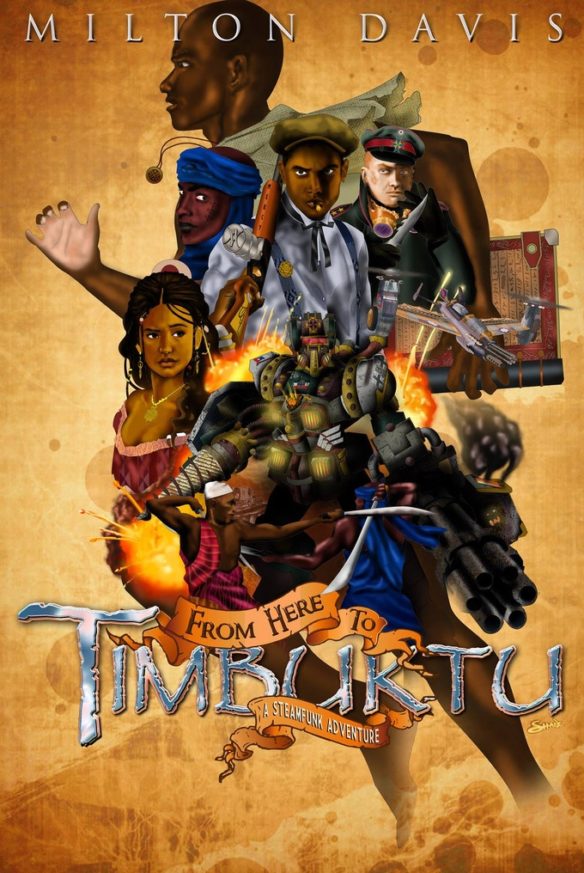 (14) GET AN EARFUL. The Cromcast posts its annual Halloween episode, where they discuss three vampire stories by Robert E. Howard, Clark Ashton Smith and Bram Stoker: "A Weird Fiction Podcast: Cromtober 2021 – A Trio of Vampire Tales".
Listen here as we discuss 'Dracula's Guest' by Bram Stoker, 'A Rendezvous in Averoigne' by Clark Ashton Smith, and 'The Horror from the Mound' by Robert E. Howard!
(15) KITCHEN APPLIANCE. [Item by Daniel Dern.] First there is a credential, then there is no credential, then there is. The Schrödinger Drawer, or, the credential that walks through credenzas. (Via Steven J Vaughan-Nichol's Facebook page.)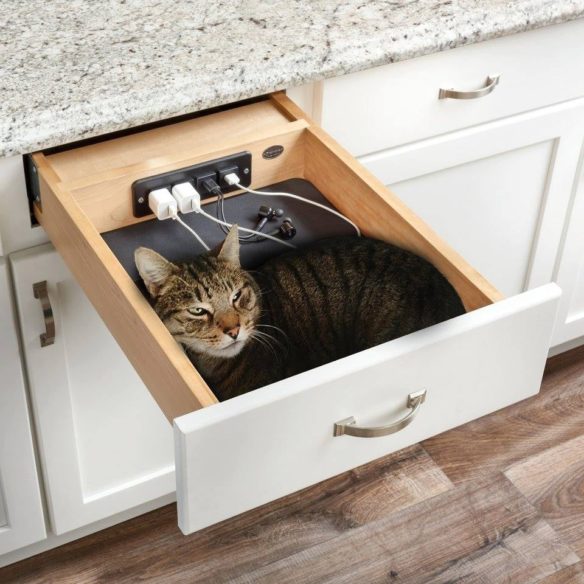 (16) WHAT'S UP D&DOC? Boing Boing reminds us "Bugs Bunny's Official D&D Character Sheet Is A 15th-level Illusionist".
Dragon Magazine #41 was published in April 1981. And it was in the pages of this official Dungeons & Dragons tome that the immortal deity known as Bugs Bunny was finally given its due as a playable character in the game, along with several other cartoon characters — or rather, "Saturday morning monsters."…
(17) BLUE SKY. Space.com reports "Blue Origin unveils plans to build a private space station called Orbital Reef by 2030".
Blue Origin, Boeing, Sierra Space and several other partners announced today (Oct. 25) that they plan to build a commercial off-Earth outpost called Orbital Reef, which is scheduled to be up and running by the late 2020s.

Orbital Reef's envisioned customers include national governments, private industry and space tourists, project team members said. The outpost will initially complement but eventually take the baton from the International Space Station (ISS), which is expected to be retired in the 2028 to 2030 timeframe….
(18) MONEY IS THE CUBE ROOT OF ALL EVIL. "Star Trek beams up 2021 advent calendar themed to iconic villains" – Digital Spy tells where you can buy one.
Star Trek is assimilating its 2021 advent calendar.

The iconic sci-fi franchise is turning to the dark side this festive season for an advent calendar designed to look just like the Cube ship used by the Borg alien race.

Any Stark Trek fan knows that a Borg Cube on the radar means serious trouble for the Federation because the cybernetic alien race will stop at nothing to conquer and assimilate their enemies….
Digital Spy will also tell you where to buy the Doctor Who 2021 advent calendar shaped like the TARDIS.
(19) VIDEO OF THE DAY. [Item by Martin Morse Wooster.] A guy who watched Star Trek IV too many times asks: Can you really fit two humpback whales on a Klingon ship? To answer that, first you have to deduce the size of a Bird of Prey.
[Thanks to Michael Toman, Cat Eldridge, Mike Kennedy, Michael J. Lowrey, Cora Buhlert, Dan'l, Chris Barkley, Darrah Chavey, Rob Thornton, Daniel Dern, Martin Morse Wooster, JJ, John King Tarpinian, and Andrew Porter for some of these stories. Title credit belongs to File 770 contributing editor of the day Jack Lint.]