(1) PENRIC IS BACK. Lois McMaster Bujold told readers on Facebook "Penric 9 impending".
I am pleased to report that I've finished the first draft of a new Penric & Desdemona novella. The title will be "Masquerade in Lodi". The final editing pass/es are still to go, and will take the usual unknown amount of time, but artist Ron Miller is beforehand with the cover art.

It's a sort of pocket prequel, a small-scale tale taking place over one day, set during the period Penric spent working for the archdivine of Adria about a year before his big Cedonian adventure. So in terms of internal chronology, it falls between "Penric's Fox" and "Penric's Mission". It is at the moment a mid-sized novella, about 33k words.
She also said the release of Baen's mass market paperback edition of the first collection Penric's Progress is set for February 2021 (with "Penric's Demon", "Penric and the Shaman" and "Penric's Fox".)
(2) ISFIC WRITERS CONTEST. [Item by Steven H Silver.] Although Windycon will not take place as an in-person convention this year (and a further announcement about that is coming this week), we will be running the ISFiC Writers Contest. Updated rules and timeline at located here.
The contest is open to anyone who was a member of Windycon 46, Windycon 47 in 2020, or Windycon 47 in 2021, as well as anyone resident in Illinois, Indiana, Minnesota, Iowa, Missouri, Kentucky, Ohio, Michigan, or Wisconsin.

First Prize
 $300.00
 Windycon 47 in 2021 Membership
 Double Room for Windycon 47 in 2021
 The winning story will be included in the Windycon 47 in 2021 program book and archived on the ISFiC Website.
Honorable Mentions (Up to 2)
 American 1 oz. Silver Coin
(3) HEAR IGUANACON II. Audio recordings of 19 panels/events at Iguanacon II, the 1978 World Science Fiction Convention have been posted by Hal C. F. Astell on the AZ Fandom website. Some of the panels available are —
Unexplored Archetypes and Mythologies (Octavia Butler, William Wu, Diana Paxson, Paul Edwin Zimmer) (1:14:39, 179 MB)
Life on a Neutron Star (Dr. Robert L. Forward) (1:28:18, 212 MB)
Art as an Outlet for Changemakers (Jeanne Gomoll, D. C. Fontana, Virginia Aalko, CJ Cherryh) (1:07:09, 161 MB)
Critic's Circle (Bill Patterson, Avedon Carol, Mike Glyer, Gary Farber, Tom Perry, Ted White) (1:04:03, 154 MB)
Dialogue (Samuel R. Delany, Robert Silverberg) (44:39, 107 MB)
(4) A TRIO OF MENTORS. From the Odyssey Writing Workshops come three Odyssey Podcasts — #129 (Holly Black), #130 (E.C. Ambrose) & #131 (Scott H. Andrews)
Holly Black was a guest lecturer at the 2019 Odyssey Writing Workshop. In this excerpt from her question-and-answer session, Holly answers questions about writing young adult and middle grade fiction. One student points out that some people think fantastic creatures must be a certain way. How do you deal with those expectations? Holly says that when writing in a tradition, you're adding to a conversation. Bring your own perspective into the conversation based on who you are….
E. C. Ambrose was a guest lecturer at Odyssey 2020. In this excerpt from her lecture on generating plot from the heart of your story, Elaine talks about "How to Middle," how to use plot turns to avoid getting mired in the muddy middle. Many writers get stuck after the opening section of their novel or story. Once the characters and situation have been introduced, we need to start playing with those elements, using plot turns and plotting tools. Plot turns change the trajectory of a plot or change the meaning of the story in the mind of the reader. Elaine explains different types of plot turns: the time bomb, the time trap, the crucible, the dilemma, the reversal, the revelation, the confrontation, and natural elements. A lot of flash fiction has a single plot turn, usually a reversal or a revelation. Plot turns can be presented in different ways: through dialogue, action, thought, or narration. The rate of plot turns is a significant factor in the pace of a story.
In Winter 2019, Scott H. Andrews, editor and publisher of Beneath Ceaseless Skies, taught the Odyssey Online course Emotional Truth: Making Character Emotions Real, Powerful, and Immediate to Readers, and he'll be teaching an expanded version of the class this winter. In this excerpt from the first class, Scott shares an example from Angela Hunt, in which she describes how reading the sequel to Gone with the Wind had her in tears after a few pages. A character died, one that she had a strong attachment to from the first book. The sequel tapped into the well of emotion she already had. That's what stories need to do; they need to make the reader feel something by leveraging readers' past experiences. For writers, this task breaks into two parts. First, the writer needs to get the emotion into the story so the reader understands it. That means making the emotion clear and obvious enough that the reader picks it up. Many writers tend to be overly subtle or oblique about emotion, so it doesn't come through. Second, the writer needs to make the reader feel the emotion. This involves using concrete images, using the physical rather than the cerebral, and conveying emotion through the prose. Common weaknesses include lack of specificity, ambiguity, and lack of honesty. Writers may flinch from what something really feels like.
(5) THERE'S NO FIGHTING IN THE WAR ROOM. Nor in the utopian Federation of th 24th century.The Hollywood Reporter interviews Ronald D. Moore about "The Classic 'Star Trek' Episode Gene Roddenberry 'Hated'".
…"Family," which debuted Oct. 1, 1990, is an outlier among Star Trek: The Next Generation episodes; it's the only episode with no scenes set on the Enterprise-D bridge or to not feature Data (Brent Spinter). It's also special in that there is no sci-fi B-plot. It's an off-premise character drama exploring the lives of Picard, Lt. Worf (Michael Dorn) and Wesley Crusher (Wil Wheaton) as the Enterprise undergoes repairs post-Borg attack while orbiting Earth. What may seem dull on paper is a compelling and, at times, heartstrings-tugging affair that adds much necessary depth and emotion to three of sci-fi's most memorable characters.

It's ironic that an episode loved by so many fans was met with disdain by Star Trek creator Gene Roddenberry.

"Gene really hated it," recalls Moore of his initial story meeting with Roddenberry…. 
(6) MEDIA ANNIVERSARY.
Twenty-five years ago, the Mythopiec Award for Adult Fantasy went to Patricia A. McKillip for her Something Rich and Strange novel. It was written for Brian Froud's Faerielands series under the creative impulse of Froud's art. It was published by Bantam Spectra in 1994. It would be her second major award, her first being the World Fantasy Award for The Forgotten Beasts of Eld.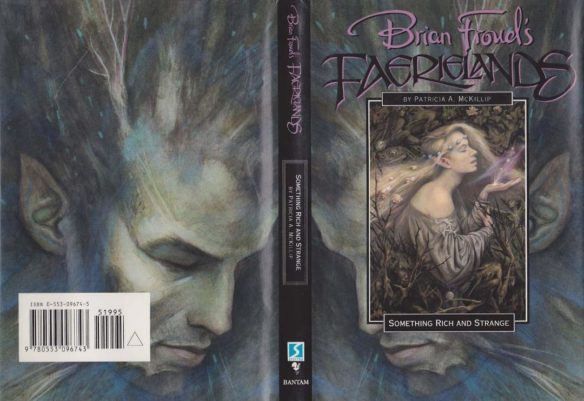 (7) TODAY'S BIRTHDAYS.
[Compiled by Cat Eldridge and John Hertz.]
Born October 3, 1862 – Alice Woodward.  Prolific illustrator.  For us, children's books e.g. Adventures in Toyland, The Peter Pan Picture Book, Alice in Wonderland; also Bon Mots of the Eighteenth Century; Gilbert & Sullivan; science.  Here are Peter Pan and Wendy flying.  Here are Alice and the Caterpillar.  Here is Robert Browning's Pied Piper.  Here is a fairy opening a book.  (Died 1951) [JH]
Born October 3, 1874 — Charles Middleton. He is no doubt best remembered for his role as the Emperor Ming the Merciless in the three Flash Gordon serials made between 1936 and 1940 which is only genre production he appeared in save three chapters of a Forties Batman serial in which he played Ken Colton. (Died 1949) (CE) 
Born October 3, 1924 – Harvey Kurtzman.  Founding editor of Mad.  Earned more money by getting Playboy to include Little Annie Fanny which, let's face it, was exquisitely designed for its market – and satirized its readers.  Taught ("Satirical Cartooning") at the NY School of Visual Arts.  European Acad. Comic Book Art Lifetime Achievement Award.  Harvey Award named for him.  (Died 1993) [JH]
Born October 3, 1931 – Ray Nelson, 89.  Eight novels, a score of shorter stories (notably "Eight O'Clock in the Morning"); famed and distinctive as a fanartist, not least for inventing the propeller beanie: the direct connection from Ray to Time for Beany and Beany & Cecil on one tentacle, and numberless drawings in fanzines on another, is known.  Rotsler Award.  First Fandom Hall of Fame.  [JH]
Born October 3, 1935 — Madlyn Rhue. She was in "Space Seed" as Lt. Marla McGivers, Khan Noonien Singh's (Ricardo Montalbán) love interest. Other genre appearances included being on the original Fantasy Island as Lillie Langtry in "Legends",  nd Maria in the "Firefall" episode of Kolchak: The Night Stalker. (Died 2003.) (CE)
Born October 3, 1948 – Marilyn Singer, 72.  Over a hundred children's and young adults' books; fantasies, realistic novels, nonfiction, poetry.  Cybil Award for Mirror, Mirror (reversible verse).  Here is Turtle in July.  Here is Sky Words.  Here is The Dog Who Insisted He Wasn't (her first).  Here is The Circus Lunicus.  See her in Wikipedia.  [JH]
Born October 3, 1964 — Clive Owen, 56. First role I saw him in was the title role of Stephen Crane in the Chancer series. Not genre, but fascinating none the less. He's been King Arthur in the film of the same name where Keira Knightley was Guinevere. He also was in Sin City as Dwight McCarthy, and in The Pink Panther (though weirdly uncredited) as Nigel Boswell/Agent 006. I'll also single him out for being Commander Arun Filitt in Valerian and the City of a Thousand Planets. (CE) 
Born October 3, 1969 – Colleen Houck, 51.  After 17 years a sign-language interpreter she self-published Tiger's Curse which became a NY Times Best Seller; five sequels.  Reawakened and three sequels another best-seller.  Recently The Lantern's Ember.  "Indian mythology is very complex … the same god or goddess can have … incarnations with different names, appearances, and personality traits.  My Indian mythology is 'westernized'…. don't try to pass a test … based on my version … I hoped to make it … real enough that if you happened to visit Hampi you'd look for the statue and the entrance to Kishkindha."  Don't miss her husband's caption glasses.  [JH]
Born October 3, 1973 — Lena Headey, 47. Many of you will know her as Cersei Lannister on Game of Thrones but I liked her sociopathic Madeline "Ma-Ma" Madrigal on the most awesome Dredd much better. She was also Angelika in The Brothers Grimm, a film I'm sure I've seen but remember nothing about even though Heath Ledger was in it. (CE) 
Born October 3, 1984 — Jessica Parker Kennedy, 36. She played Melissa Glaser on The Secret Circle, and was Nora West-Allen / XS on The Flash; on Smallville, she had the recurring role of Bette Sans Souci / Plastique. Next she was in the principal cast of Black Sails as Max but I'll leave it to you to judge if that show was genre. (CE) 
Born October 3, 1987 – Katsuie Shibata, 33.  (Pen name of Shôta Watatani; the original 1522-1583 was a trusted general of Nobunaga Oda 1534-1582 famous in song and story; in Japanese style these are all reversed, with personal name e.g. Nobunaga last)  Won the second Hayakawa SF Contest with Niruya Island.  Since then, World Insurance (3 vols.), "Southern Cross", "Princess Diary", "Quarantine Officer".  Here he is imagining education in 2036 for Ricoh.  [JH]
Born October 3, 1988 — Alicia Vikander, 32.She was Ava, an artificial intelligence, in Ex Machina, spooky film it was. Several years later, she starred as Lara Croft in the rebooted Tomb Raider. In The Man from U.N.C.L.E., she plays Gaby Teller. Finally she's The Lady / Esel in The Green Knight, a retelling of the story of Sir Gawain. It's listed as forthcoming this year.  (CE) 
(8) COMICS SECTION.
Heathcliff has a new physical fatness program.
The Flying McCoys is amusing if you get the reference. And how could you not?
Lio discovers just what his jack-o'-lantern needs.
(9) SUPER FOR SOME. LAist celebrates a milestone anniversary: "Somewhere In Time: How A Time Travel Romance Starring Superman Found Its Fans".
Saturday, Oct. 3 marks the 40th anniversary of Somewhere in Time, a film that took one of the longest, weirdest journeys to popularity. It was savaged at the box office for being stodgy, overly romantic, and out of touch. But today, it's a cult favorite, beloved for the very qualities it was panned for. Its fan base includes retired 4-star General Colin Powell, a couple of FilmWeek critics, and me.

… Christopher Reeve, fresh from Superman, is the playwright. Jane Seymour, then of Battlestar Galactica, is the actress. And Christopher Plummer, who had just killed as Sherlock Holmes in Murder by Decree, is her controlling manager. The bestselling score was by John Barry, and it was directed by Jeannot Szwarc — who had just saved Universal's butt by taking over Jaws 2….
(10) SLF SCORES ILLINOIS GRANT. Speculative Literature Foundation director Mary Anne Mohanraj announced the Illinois Arts Council has awarded the SLF a grant for $1700, "which will be a big help as we continue to build out the Portolan Project." She extended thanks to their Development Director Cee Gee, and to UIC spring interns Darius Vinesar and Emmanuel Henderson "who helped us research and build out a database of grants we should be applying for."
[Thanks to JJ, Cat Eldridge, Gary Farber, Andrew Porter, Steven H Silver, Michael Toman, Martin Morse Wooster, Mike Kennedy, John King Tarpinian, and John Hertz for some of these stories. Title credit goes to File 770 contributing editor of the day Daniel Dern.]