Already a full day writing the Lou Antonelli obituary and the Luis Rondon murder conviction, so we'll have to take it easy on the Scroll as we continue catching up with everything Filers have been sending.
(1) LET'S NOT BE PREMATURE. "Jodie Whittaker isn't ready to let go of Doctor Who quite yet", as she tells Radio Times.
Speaking to Shaun Keaveny for The Line-Up podcast, Whittaker said she hadn't had time to process leaving Doctor Who yet since filming was still underway.

"Well, it's strange because, like, announcing you're the Doctor, it always happens at a very strange time. So you announce that you're going to play the Doctor and it happens before, essentially, you've stepped foot on set.

"So that's one big announcement and the very emotionally, kind of contradicting thing is you announce you're leaving, but you haven't left.

"So I am still knee deep in shooting. So to me this hasn't finished," she added. "You're just in it, but I can be in it. So the good thing now is being announced that these are my last episodes that I'm shooting doesn't mean I have to let go yet."
(2) ESSENCE OF WONDER. "Mermaids Monthly and the Panther Anti-Racist Union on Why Representation Matters!" will be the topic of the next Essence of Wonder with Gadi Evron.
We will be speaking with the kids who organized the protests against the Racist and homophobic book ban that was just overturned in Pennsylvania, and with the incoming publishing team for Mermaids Monthly (Cental York School District).
This Saturday, October 9t at 3:00 p.m. US Eastern Time. Streaming on YouTube, Facebook Live, and Twitch.
(3) MARVELOUS CUISINE. [Item by Daniel Dern.] "What Do Marvel Characters Eat? Pop-Culture Cookbooks Have Answers, and Rapt Audiences." The article begins:
Chelsea Monroe-Cassel is currently developing a recipe for a dish whose traditional version she'll never be able to taste, and whose place of origin she'll never be able to visit: Plomeek soup, a staple on the fictional planet Vulcan. In writing "The Star Trek Cookbook," out next March, she has spent hours watching old episodes and movies from her home in West Windsor, Vt., trying to deduce what might be in the reddish soup.

"We know shockingly little about Vulcan cuisine, given how much of a fan favorite Spock is," she said. Some people believe that Vulcans are vegetarian, as their strong morals and fear of their own capacity for violence would mean they avoid food that requires slaughtering. But do those arguments hold up, she wondered, in a universe where meat can be replicated with machines?

The result: "A cold gazpacho with tomato and strawberry and a little bit of balsamic."…
DPD notes: While this article does passingly note that books like this have been happening for a few decades, it talks about one current author, Chelsea Monroe-Cassel, working on The Star Trek Cookbook without acknowledging, say, Star Trek Cookbook by Ethan Phillips and William J. Birnes from 1999 (info which took me all of 0.73 mintues to web-suss out).
Tsk.
(4) NEW DELANY FELLOWSHIP. CatStone Books is taking applications for its inaugural Samuel R. Delany Fellowship through October 31. It will be awarded "to one author from a community that has traditionally been marginalized in speculative fiction. This can include authors of color, LGBT+ authors, female authors, authors with disabilities, and authors living an immigrant experience."
The fellowship will award the selected author with:
a $10,000 stipend
mentorship from a member of the Advisory Board
additional resources as requested
in order to help the recipient set aside time to work on and complete a speculative fiction project.

Applications for the Samuel R. Delany Fellowship begin annually May 1 and must be submitted by October 31. The recipient of the fellowship will be announced on December 15. The application process is outlined in the application packet, which can be downloaded below.

To apply, please visit catstonebooks.moksha.io and select the Delany Fellowship option.

(5) MEDIA BIRTHDAY.
1998 – Twenty-three years ago this evening on The WB, Charmed first aired. Created by Constance M. Burge, who had no genre background at all having been responsible for Ally McBeal, it first starred the trio of Shannen Doherty, Holly Marie Combs and Alyssa Milano. (Rose McGowan joined in season four.) The pilot episode, "Something Wicca This Way Comes" played rather nicely off the title of the Bradbury novel. The early seasons of Charmed got generally excellent reviews but the latter seasons are considered a mixed bag among both critics and viewers alike. The overall rating at Rotten Tomatoes currently is a stellar ninety-five percent. I was surprised that it didn't get any Hugo nominations. And yes, I immensely enjoyed most of it.
No, I've not see the recent reboot which at least one of the original cast has been very, very unhappy about. Any Filers care to comment upon it?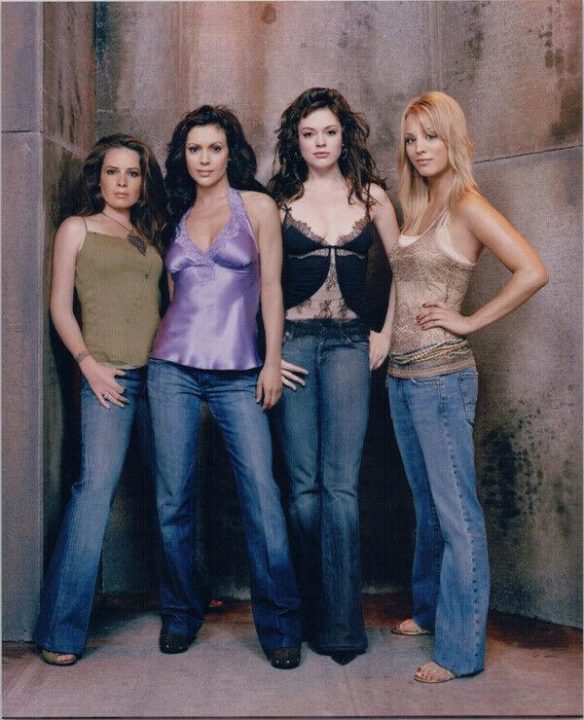 (6) TODAY'S BIRTHDAYS.
[Compiled by Cat Eldridge.]
Born October 7, 1926 — Ken Krueger. Krueger co-founded and organized the first San Diego Comic-Con International convention in 1970, originally called "San Diego's Golden State Comic-Con". He attended the first Worldcon in 1939. I'll leave it up to y'all to discuss his activities as a fan and as a pro as they won't fit here! (Died 2009.)
Born October 7, 1938 — Jane Gallion (Ellern), 83. Writer, Poet, and Fan who was one of the members of the Los Angeles Science Fiction Society subgroup The Blackguards, which hosted many parties and tournaments. She edited the fanzines Karuna, and Topaze (etc.), contributed to many other fanzines over the years, and was known for her three post-apocalyptic novels which were very early examples of feminist works involving explicit sex.
Born October 7, 1942 — Lee Gold, 79. She's a member of LAFA, the Los Angeles organization for filkers, and a writer and editor in the role-playing game and filk music communities. She's published Xenofilkia, a bi-monthly compilation of filk songs since 1988, four issues of the Filker Up anthology; and has published for forty-four years, Alarums and Excursions, a monthly gaming zine. She's edited more fanzines than I care to list here, and is a member of the Filk Hall of Fame along with Barry Gold, her husband. 
Born October 7, 1945 — Hal Colebatch. Lawyer, Journalist, Editor, and Writer from Australia who has written, singly or in collaboration, two novels and at least two dozen shorter pieces set in Larry Niven's The Man-Kzin Wars series. However, his main body of work is non-genre, including six books of poetry, short stories, and radio dramas and adaptations. His non-fiction books include social commentary, biography and history, and he has published many hundreds of articles and reviews in various news and critical venues. (Died 2019.)
Born October 7, 1950 — Howard Chaykin, 71. Comic book artist and writer. His first major work was for DC Comics drawing "The Price of Pain Ease" which was an adaptation of author Fritz Leiber's characters Fafhrd and the Gray Mouser in Sword of Sorcery #1. He would illustrate damn near everything else from Batman and The Legion of Super-Heroes for DC to Hulk and Iron-Man for Marvel (to name but a few series) but I think his best genre work was his own American Flagg! series which I've enjoyed more than a times. It's available from the usual digital suspects.
Born October 7, 1958 — Rosalyn Landor, 63. She played Guinevere in Arthur the King, and Helen Stoner in "The Speckled Band" of Jeremy Brett's Sherlock Holmes. She was the red headed colleen Brenna Odell in the "Up the Long Ladder" episode of Next Generation which has this choice dialogue with Riker:
Will, is something wrong?"
"What do you mean?"
"Do you not like girls?"
"Of course I do. Oh, is there a certain technique to this foot washing?"
"You generally start at the top and work your way down."
"I think I could get used to that."
Born October 7, 1959 — Steven Erikson, 62. He's definitely most known for his Malazan Book of the Fallen series, which began with the publication of Gardens of the Moon and was completed with the publication of The Crippled God, ten novels later. Though I've not read it, and didn't know it existed until now, he's written the Willful Child trilogy, a spoof on Star Trek and other tropes common in the genre.
Born October 7, 1962 — Rick Foss, 59. Historian, Writer, Food Connoisseur, Conrunner, and Fan who has had around a dozen short fiction works published, mostly in Analog, some of which are in his Probability Zero universe. He is also a food writer, maintains a blog of interesting and little-known stories about food and cooking, has published the book Food in the Air and Space: The Surprising History of Food and Drink in the Skies about the history of airline food, and has had occasional food-related contributions on File 770. He is a member of LASFS and SCIFI, has worked many Loscons and other conventions, and chaired Loscon Sixteen in 1990. Along with his twin brother Wolf Foss, he was Fan Guest of Honor and Toastmaster at Windycon 19 in 1992.
(7) COMICS SECTION.
Curtis tells what you should read now that it's October.
(8) JEOPARDY! Andrew Porter witnessed a couple of Jeopardy! contestants strike out in a surprising way on tonight's episode.
Category: character development

Answer: He tinkers with history at the Ministry of Truth, gets a girlfriend & has a very bad year.

Wrong questions: Who is Snape? and Who is Harry Potter?

Right question: Who is Winston Smith in 1984?
(9) PUNCH, BROTHERS, PUNCH WITH CARE. James Davis Nicoll tells Tor.com readers to have their tickets out: "All Aboard! Five SFF Stories About Trains and Railways". The second stop on this trip is —
Inverted World by Christopher Priest (1974)

The City of Earth creeps across a surrealistic landscape under a distorted sun at a snail's pace: one mile in ten days. Forever pursuing the enigmatic optimum, the City's population is organized around the task of keeping the City moving. Track creates the rails on which the City moves, Traction propels the City, the Militia guards the City from the barbarians around it, and surveyors like Helward Mann scout the path Earth will follow.

It's a difficult existence. Work is burdensome and constant. The women of the City bear few children; the City must draft barbarian women to bear children. Nevertheless, Helward and people like him do their bit to keep their home crawling westward. Now, however, the journey may be at its end. Ahead of the City is an ocean, vast and unbridgeable…
(10) VIDEO OF THE DAY. The people who did "Libertarian Game of Thrones" have now come out with "LIbertarian James Bond!" — "A spy with a license to stop requiring licenses."
[Thanks to Martin Morse Wooster, JJ, Cat Eldridge, Michael J. Walsh, Andrew Porter, John King Tarpinian, Michael Toman, and Mike Kennedy for some of these stories. Title credit goes to File 770 contributing editor of the day Jack Lint.]