(1) If today is The Martian's birthday remember that…
…in nine days Marty McFly arrives from the past …
(2) Can you pass HowStuffWorks' "Real Tech or Star Trek?" quiz?
Confession: I bombed.
(3) Jeffro Johnson has completed his Appendix N survey. Keep reading and he'll explain what that means —
So it's all up now.

With this piece on Tolkien going up, I've done forty-three posts on Appendix N now. I read every book Gygax mentioned by name, at least the first book of each series, and I picked out one representative work for each of the entries that consisted of an author's name alone. I also wrote about two thousand words on each book.
(4) A bit more from 2013 on how journalists exploited Gravatar to identify online commenters.
"Crypto weakness in Web comment system exposes hate-mongering politicians"
Investigative journalists have exploited a cryptographic weakness in a third-party website commenting service to expose politicians and other Swedish public figures who left highly offensive remarks on right-wing blogs, according to published reports.

People have been warning of the privacy risk posed by Gravatar, short for Globally Recognized Avatar, since at least 2009. That's when a blogger showed he was able to crack the cryptographic hashes the behind-the-scenes service uses to uniquely identify its users. The Gravatar hashes, which are typically embedded in any comment left on millions of sites that use the avatar service, are generated by passing a user's e-mail address through the MD5 cryptographic function. By running guessed e-mail addresses through the same algorithm and waiting for output that matches those found in comments, it's possible to identify the authors, many of whom believe they are posting anonymously.
"Disqus scrambles after leak fuels Swedish tabloid expose"
Disqus is updating its widely-used comments platform after a Swedish tabloid exposed politicians and other public figures for allegedly making highly offensive comments on right-wing websites.

The Swedish daily Expressen, working with an investigative journalism group, said it uncovered the identity of hundreds of people who left offensive comments at four right-wing websites through their email addresses. It then confronted the authors of the comments, many of whom freely admitted to writing them.
(5) "Dinner and a Movie with Vincent Price featuring Victoria Price" is in Toronto on November 18 and 19. The event at the Gladstone Hotel features a four course meal created by Gladstone Chef Katie Lloyd and inspired by the late actor's 1965 cookbook, A Treasury of Great Recipes. Tickets are available.
And for nostalgia's sake, here is a video of Vincent Price guesting on a cooking show with Wolfgang Puck.
(6) Jerry Pournelle reports that the new There Will Be War collection, volume 10, is filling faster than expected:
There are still a few fiction slots open, and we are looking for serious previously published non-fiction on future war; previous publication in a military journal preferred but not a requirement.
Oddly, some of the aspiring contributors don't seem to understand what the collection is about. Publisher Vox Day warned —
PLEASE STOP SUBMITTING straight SF, urban fantasy, SF romance, and anything that is not clearly MILITARY SCIENCE FICTION. A submission will be rejected out of hand as soon as it becomes apparent that it is not mil-SF. We've received a startling number of submissions that are not even remotely relevant to one of the most famous anthology series in science fiction.
(7) Mascots meet under the Hugo at Octocon.
@Teddysteves meeting @CSharpWords wombat to admire the Hugo Award on display @Octocon #octocon2015 pic.twitter.com/VwiilOvMcs

— Gwen (@Frazerdennison) October 11, 2015
Admiring a Hugo award with George the duck pic.twitter.com/8Zt9IY7Kt9

— Teddysteve (@Teddysteves) October 9, 2015
(8) Ah, Sweet Marketing!
https://twitter.com/APiusManNovel/status/653544755507372032
(9) Nathan Barnhart's review of Ancillary Mercy for Speculative Herald is touted as its "first 10 star rating":
Along the way we get a few surprises. Most noticeable for me is the humor that is present more than at any other point of the series. Breq herself gives us some lighter moments; including padding a report with results of radish growing competitions. But most of the humor comes from the translator to the mysterious Presger (an alien group that once treated humans as their own ant farm but is now confined by a treaty). Zeiat, while acting as a translator between two races provides the humor by some humorous cultural misunderstandings. In lesser hands Zeiat could have been nothing more than a cheap form of comic relief but here she serves a very real purpose within the story.   Beneath the humor of the misunderstandings is the constant reminder that even a culture as expansive as the Radch are at risk. The Presger are held in check only by a treaty they signed; a treaty the Radch still doesn't completely understand the implications of.
(10) Io9 posted a detailed infographic "Get To Know The Incredible Starships of Ann Leckie's Ancillary Trilogy" a couple of weeks ago, which is even more fun now that I have read the third book.
(11) Screen Rant presents "10 Movie Outtakes That Made It To The Big Screen."
(12) And here is my Get Out Of Literary Jail Free card, sent by somebody who thinks I will need it, because of the way I phrase Frankenstein stories in the Scroll.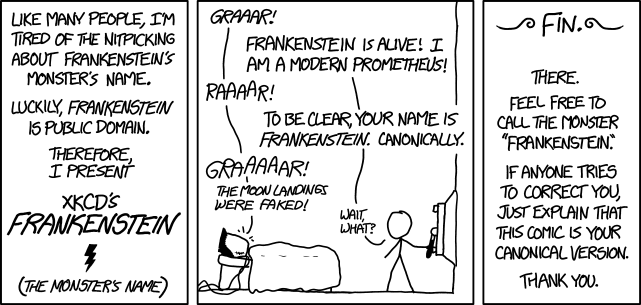 [Thanks to Will R., Brian Z., and John King Tarpinian for some of these stories. Title credit goes to File 770 contributing editor of the day ULTRAGOTHA.]