(1) While I missed the story when this was done for the 70th anniversary of The Wizard of Oz movie, the image is still good for a laugh.
Super-sized version of the infamous Witch's legs, complete with sparkling red ruby slippers, replicating an iconic scene from the movie 'The Wizard of OZ' in central London on December 1, 2009. As part of the Wizard of Oz Christmas season at Harrods.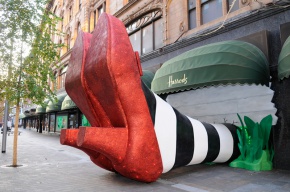 (2) "The Last Voyage of the Starship Enterprise" is one of the iconic skits from Saturday Night Live's first season in 1976. A.V. Club writer Phil Dyess-Nugent discussed it in a 2013 retrospective:
The acknowledged sketch-comedy masterpiece in these episodes is "The Last Voyage Of The Starship Enterprise," a marvelously detailed Star Trek parody with a very fan-geek sensibility—which is a surprise coming from the writer, O'Donoghue, who you might not think of as the kind of person who would declare fealty to a cult sci-fi TV show. Maybe that, too, is in indication of how much the world has changed. Here's another: The network suit played by Gould who appears on the deck of the Enterprise to explain the show's cancellation has nothing to say about demographics or desirable marketing niches, but simply "low Nielsen ratings." Chevy Chase's Mr. Spock explains to his captain that Nielsen ratings "were a primitive system of estimating television viewers, once used in the mid-twentieth century."
(3) Another Lovecraft-inspired brew from Naragansett Beer will be released at a party October 10 in Providence, RI.
Back from the dead just in time for the spookiest month of the year, our beloved Bock has morphed into the Reanimator Helles Lager. At 6.5% ABV and 35 IBUs, we've reanimated our classic Bock by dry-hopping it with Czech Saaz to boost its hop presence with a sophisticated and spicy twist. You won't want to miss this Lovecraft inspired brew and you can be one of the first try it on Saturday, October 10th at the Columbus Theatre! The party starts at 8PM and a special screening of Re-animator starts at 9PM to celebrate the film's 30th Anniversary and the release of our latest beer!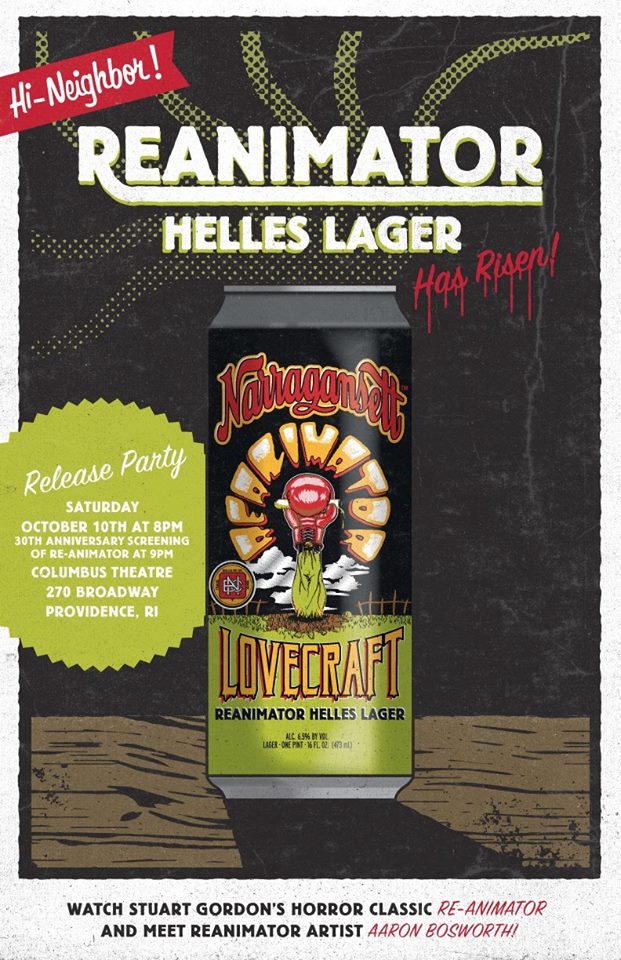 (4) Charles Stross is worried that low Earth orbit will eventually become as trash-strewn as an LA freeway onramp, which will make it nearly impossible to use it for satellites and navigation.
Here's a technological question with philosophical side-effects that's been bugging me for the past few days …

Today, the commercial exploitation of outer space appears to be a growth area. Barely a week goes by without a satellite launch somewhere on the planet. SpaceX has a gigantic order book and a contract to ferry astronauts to the ISS, probably starting in 2018; United Launch Alliance have a similar manned space taxi under development, and there are multiple competing projects under way to fill low earth orbit with constellations of hundreds of small data relay satellites to bring internet connectivity to the entire planet. For the first time since the 1960s it's beginning to look as if human activity beyond low earth orbit is a distinct possibility within the next decade.

But there's a fly in the ointment.

Kessler Syndrome, or collisional cascading, is a nightmare scenario for space activity. Proposed by NASA scientist Donald Kessler in 1978, it proposes that at a certain critical density, orbiting debris shed by satellites and launch vehicles will begin to impact on and shatter other satellites, producing a cascade of more debris, so that the probability of any given satellite being hit rises, leading to a chain reaction that effectively renders access to low earth orbit unacceptably hazardous…..
(5) In the meantime, space exploration continues unimpeded by junk in the sky, as they will be happy to explain tomorrow at JPL's annual Open House.
Saturday, October 10 and Sunday, October 11, 2015

9:00 a.m. – 4:00 p.m.

No tickets or reservations required

NASA's Jet Propulsion Laboratory, Pasadena, California, invites the public to its annual Open House on October 10-11,2015. The event is free of charge and takes visitors on a "ride" through the wonders of space. Highlights include a life-size model of Mars Science Laboratory, demonstrations from numerous space missions, JPL's machine shop, where robotic spacecraft parts are built, and the Microdevices Lab, where engineers and scientists use tiny technology to revolutionize space exploration.
(6) The work of composer John Williams is synonymous with science fiction media. He will be honored with the AFI Life Achievement Award on June 9, 2016. Williams is the 44th winner, but the first composer to receive the award.
John Williams' storied career as the composer behind many of the greatest American films and television series of all time boasts over 150 credits across seven decades. Perhaps best known for his enduring collaboration with director Steven Spielberg, his scores are among the most iconic and recognizable in film history, from the edge-of-your-seat Jaws (1975) motif to the emotional swell of E.T. The Extra-Terrestrial (1982) and the haunting elegies of Schindler's List (1993). Always epic in scale, his music has helped define over half a century of the motion picture medium. Three of Williams' scores landed on AFI's 100 Years of Film Scores — a list of the 25 greatest American film scores of all time — including the unforgettable Star Wars (1977) soundtrack, at number one. With five Academy Award wins and 49 nominations in total, Williams holds the record for the most Oscar nominations of any living person.
Besides Star Wars, he's written themes for TV's The Time Tunnel, Lost In Space, Land of the Giants, and movies like Close Encounters of the Third Kind and Superman.
(7) Lela E. Buis tries to fathom what kept Michael A. Burstein from winning any of the Hugos he's been nominated for —
More today on Michael A. Burstein, who's been nominated 10 times for a Hugo but never won. Just achieving the nomination shows he was a very popular author during these years. His nominations include the short story category, which requires at least 5% of the cast nominations in order to appear on the ballot. So what's the problem? What was he missing that would have put him over the top?
(8) The third installment of Superversive Blog's interview with Ruth Johnston, author of Re-modeling the Mind: Personality in Balance, is titled "If You Had Introverted Intuition, My Dinosaur".
L. Jagi Lamplighter poses the questions in this series described as "Speculative Fiction meets Jung." Rachel Swirsky's now-famous story is the subject of analysis this time.
[Ruth Johnson] A: I think this story is a wonderful example of the hardest to explain, most mysterious mental function we can observe in personality: Introverted Intuition. Both kinds of Intuition are involved in a search for meaning, but Introverted Intuition is particularly intent on finding cloaked, disguised, suppressed truth.

I think that's what this story is about. Of course, it isn't really a story; it's a scene that poses questions about meaning. There isn't any movement in plot, rather the motion consists of a gradual revealing of the speaker's state of mind. The scene: A woman sits by a hospital bed, where her fiancé, an archeologist, is in a coma. He was beaten by five drunken men for unknown reasons. The only dinosaur in the story is in her imagination, of course, as she envisions what would have been different if he had been even a small carnivore. The title poses the question: what if, instead of being who you are, you had been something else?

I think the key to the story is that she feels a small Tyrannosaurus Rex would have been a truer form for the soul of the man she loves. It would reveal his true nature, whereas his powerless natural appearance forms a kind of mask that makes him look like he ought to be a victim. The exercise in imagining is pointless if being a dinosaur wasn't somehow a truer truth than the natural one; otherwise we could ask what if he were a Mack truck or an onion. By emphasizing that the dinosaur would be the same size as the human, she is making it clear that she sees the transformation as revelation, not random change. "If you actually looked like your true inner nature, my love, then people would see that you are strong and this would be a deterrent to getting hurt."

When you posit that the appearance of a human being might be a disguise, a false archetype that covers truth, you are deep into Introverted Intuition's territory.
(8) Disney and Lucasfilm will hold a massive world premiere for Star Wars: The Force Awakens in Los Angeles on Dec. 14, The Hollywood Reporter has learned. A premiere in London immediately follows.
(9) See the trading card with the most explicit Star Wars photo of all time.
The final chapter in the story of the biggest boner in Topps' history.

The year was 1977 and the U.S. was caught in the throes of a pop culture phenomenon unlike anything it had seen before, all because of a little movie called Star Wars. The Topps Company, known for making pocket-sized stacks of popular baseball players since the 1930s, lucked out when Kenner's subsidiary Donruss passed on the Star Wars license. What followed was one of the most successful series of trading cards ever created.

Five sets of cards and stickers were produced over the course of two years. In a time before the Wookiepedia, these were one of the few ways to get in-depth information about the beloved soon-to-be franchise. But the original editor of those cards, Gary Gerani, and his team made one small mistake that will go down in history.
(10) Today in History
Is the anniversary literally today? I don't know, but Prague's astronomical clock is 605 years old, and Google has marked the occasion today, October 9, with a Google Doodle.
The ornate clock, known as the Orloj, is one of Prague's most recognised touristic spectacles, and is located in the Old Town Square in the centre of the city. Its hourly shows draw curious visitors from all over the world, where 12 apostles emerge from two windows to nod at the crowds below.
https://instagram.com/p/8GZCYnGeVg/
(11) Creature Features presents The Monster Squad on October 11:
1PM – Sun Oct 11, 2015

$15 – $65 – The Theatre at Ace Hotel, Los Angeles

Creature Features haunts The Theatre at Ace Hotel with this special cast & crew reunion screening of THE MONSTER SQUAD, the epic 1987 smackdown between an intrepid band of middle schoolers and five of horrordom's most fearsome beasties, led by Count Dracula himself!

This spook-tacular matinee showing will include two panel discussions before and after the film, hosted by Eric "Quint" Vespe of Aint It Cool News. Guests include: actors Andre Gower, Ryan Lambert, Ashley Bank and Stephen Macht, make-up FX artists Alec Gillis and Tom Woodruff, and composer Bruce Broughton, who will be on hand to premiere the brand new deluxe CD release of his score to the film, courtesy of La-La Land Records.
(12) This brings back memories. The cartoon commercial for Bonomo Turkish Taffy
(13) A Gamera remake is on the way. There was a trailer shown at this weekend's New York Comic Con.
(14) I know that people who live in glass houses shouldn't throw stones, so I will remain silent about "The Competitive World of AOL Disc Collecting".
The discs came like a swarm of locusts, burrowing into post boxes and sliding through mail slots. They popped out of cereal boxes and appeared on meal trays during airline flights. They fell out of magazines and Happy Meals. They were stocked at the checkout counters of Best Buy, near the popcorn at Blockbuster, on bookshelves at Barnes & Noble. The ubiquity of AOL discs—those free marketing materials sent by American Online in the 90s to entice people to sign up for internet service—could be likened to world domination….

Of the bunch, Sloan Cline is arguably the most prolific collector. By her estimates, she has over 4,000 unique AOL discs stored in the basement of her home in Kansas. Every CD in her collection is different: There are discs in every color, ones in plastic cases or shrink-wrap packaging, ones promising various hours on the free trial. Versions one through three came on floppy disk, and some of the early ones came in metal tins—Sloan Cline has those kinds, too. There were also branded AOL discs, like her prized Marvel Spider-Man disc, and foreign AOL discs, which she got from her friends in Canada and Argentina.
(15) The National Toy Hall of Fame in Rochester, NY has announced the shortlist for 2015 induction. The selection will be revealed November 5. The Hall of Fame typically inducts three toys each year, with last year's honors going to miniature green army men, the Rubik's Cube and bubbles.
The 2015 finalists are: American Girl dolls, Teenage Mutant Ninja Turtles, spinning tops, Twister, Wiffle Ball, Battleship, puppets, Jenga, coloring books, Playmobil, Super Soaker and scooters.

The National Hall of Fame said the toys are judged based on icon status, longevity, discovery and innovation.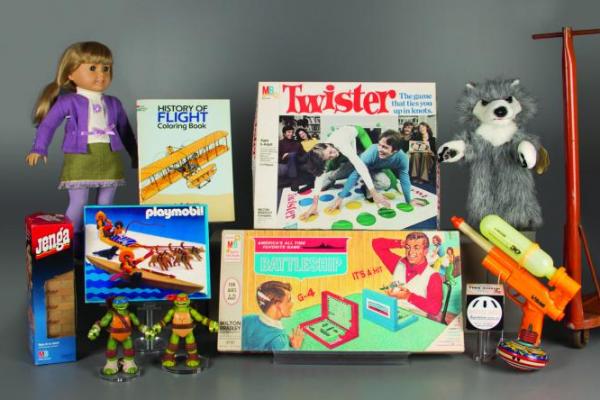 (16) Today's Birthday Boys
Born 1950 – David Brin

Born 1954 — Scott Bakula, famed for Quantum Leap and as Captain Jonathan Archer on Enterprise.

Born 1964 – Guillermo del Toro, acclaimed movie director.
(17) Guillermo del Toro talked about his second house/man cave which is filled with all sorts of horror movie memorabilia on Jimmy Kimmel Live.
And he graciously worked the crowd outside.
[Thanks to Iphinome, Will R., Andrew Porter, Martin Morse Wooster, and John King Tarpinian for some of these stories. Title credit goes to File 770 contributing editor of the day Sylvia Sotomayor.]