(1) THE NEXT GENERATION. James Davis Nicoll's Young People Read Old SFF panel took a look at "'No Trading Voyage' by Doris Pitkin Buck". What did they think of this 1963 poem?
This month's entry is from Doris Pitkin Buck, a Science Fiction Writers of America founder. Buck was mainly associated with The Magazine of Fantasy & Science Fiction, which for various stupid reason was not a magazine I followed closely back in the day. Accordingly, I was not familiar with her work when I encountered this example of it way, way back in 2019. I see I carefully side-stepped my issues with poetry in my review. Let's see what my Young People made of her poem.
(2) FREE MARS? In "Elon Musk's Martian Way (Empire Not Included)" on National Review Online, Texas Tech economist Alexander William Salter says a curious clause in Musk's Starlink satellite contracts doesn't mean Musk quietly wants to conquer Mars.
…But a much more exotic charge against Starlink, and Elon Musk himself, has recently come to light. A curious clause in Starlink's terms and conditions suggests SpaceX's future plans for a Martian settlement will result in SpaceX becoming a law unto itself. As the service agreement reads:

"For Services provided on Mars, or in transit to Mars via Starship or other colonization spacecraft, the parties recognize Mars as a free planet and that no Earth-based government has authority or sovereignty over Martian activities. Accordingly, Disputes will be settled through self-governing principles, established in good faith, at the time of Martian settlement."

Nefarious! Or is it? We need some context.

Clearly, the clause doesn't pose any immediate legal concerns. This is a long-term issue. One of Musk's ambitions is to create a settlement on Mars. In Musk's vision, much of the infrastructure for the settlement, including Internet via Starlink, will be supplied by SpaceX itself. That includes governance: the rules dictating how the intrepid Martian explorers will live together. In fact, SpaceX's legal team is currently working on a Martian constitution.

This science-fiction-esque plan predictably led observers to decry the prospect of corporate domination of space. "Elon Musk plans to get to Mars first, and that means he can quickly establish a fiefdom where he makes his own rules by a first-come, first-serve system," complains Caroline Delbert at Popular Mechanics. Legal experts weighed in soon after, claiming that this language violates international law. The smart set seems more than happy to cast Musk in the role of Hugo Drax, the tech-savvy Bond villain who sought space power to control humanity….
(3) ISFIC WRITERS CONTEST EXTENSION. Steven H Silver brings word that the ISFiC Writers Contest for unpublished writers of science fiction and fantasy has extended its deadline for submissions to November 27. Guidelines for entries are at the link.
(4) HOW CAN THE SAME THING HAPPEN TO THE SAME GUY TWICE? "Bruce Willis returns to space to kick some alien derriere in Breach trailer" – Ars Technica sets the frame.
…Originally titled Anti-Life, the film's premise is that a devastating plague has wiped out much of Earth's population, and the survivors are being evacuated via an interstellar ark to "New Earth." Willis plays Clay Young, described as a hardened mechanic who is part of the crew selected to stay awake and maintain the ark for the six-month journey. But then he discovers a shape-shifting alien (or "a malevolent cosmic terror," per the early press materials) has also stowed away on the ark, and it seems to be intent on killing everyone on board…
(5) FIRST FANDOM SALUTE TO MADLE. First Fandom Annual 2020 has just been published with the theme "Celebrating Robert A. Madle."
This is a tribute to legendary fan Bob Madle, who just recently celebrated his one hundredth birthday. In a long article featuring rare photographs and illustrations, Bob recounts his involvement in science fiction fandom over the course of ten decades. He also reflects on the early days of Amazing Stories, the origins of FAPA, and the genesis of First Fandom.

Among the highlights: appreciations of Bob by some of his long-time friends, including a poem from 1968 by Robert Bloch; a gallery of First Fandom photos and a Robert A. Madle bibliography prepared by Christopher M. O'Brien.

Edited by John L. Coker III and Jon D. Swartz. 60 pages, limited edition (26 copies); Laser printed on good quality paper; Photographs and interior illustrations; Gloss covers, 8½ x 11, saddle-stitched.
This will soon be out-of-print, so order your copy today by sending a check or money order for $30 payable to John L. Coker III to 4813 Lighthouse Road, Orlando, FL 32808.
(6) COVID DELAYS ANOTHER CON. The Chicago Comics and Entertainment Expo has been pushed back: "C2E2 Postpones Next Convention to December 2021" at Comicbook.com.
The convention circuit has been profoundly impacted by the ongoing COVID-19 pandemic, as social distancing guidelines and fluctuating positivity numbers have thrown out the possibility of large scale events. As a result, many high-profile events have been forced to move into a digital format, or delay their dates well into next year. The Chicago Comics and Entertainment Expo, or C2E2, is the latest to do so, announcing on Tuesday that its next convention will be held from December 10th through December 12th of 2021. This delays the 2021 convention pretty significantly, as it was originally set to occur March 26-28, 2021.
(7) MCCAULEY OBIT. Literary agent Kay McCauley died on Sunday. Melinda Snodgrass paid tribute in "Living Life On Your Own Terms — Kay McCauley".
I met Kay McCauley at the World Science Fiction Convention in Toronto back in 2003. I was in desperate need of a new literary agent, and George offered to introduce me to his agent. Kay was there to support George who was the GoH, but wasn't much into the convention scene so I took a taxi and met her for lunch at her hotel.

The woman I met was a bit taller than me with elegantly coifed brunette hair, elegant gold jewelry, a chic pantsuit and a perfect manicure. Kay alternated between being charming, brusque, funny, judgmental, demanding. She pushed me — what are your goals? Why do you do this? What do you want to write? I could tell she was sizing me up in every way possible. I guess I managed to do something right because she became my agent a few months later.

She worked tirelessly for me for nearly twenty years. But this wasn't just a professional relationship. Kay became my dear friend and confidant and it was a two way street. I could call her when I was sad or upset and she knew she could lean on me whenever life dealt her a blow. We always kept each other's confidences. We had each other's backs….
(8) LAFARGE OBIT. Tom LaFarge (1947-2020) died on October 22. He is survived by Wendy Walker and his son Paul La Farge. Tom had recently completed The Enchantments, a series of three novels published 2015-18. Author Henry Wessells wrote an essay on his writings for NYRSF, "Ticket to Bargeton".
(9) MEDIA ANNIVERSARY.
1975 – Forty-five years ago, Poul Anderson's A Midsummer Tempest would win the Mythopoeic Fantasy Award and be nominated for the Locus, Nebula and World Fantasy awards as well. Set in a world where Shakespeare was the Great Historian, all the events depicted within his plays were historical fact. Lester Del Rey in his August 1974 If review said that it is "a fantasy I can recommend with pleasure." Tom Lewis is the cover artist. It is available in print and digital editions. (CE)
(10) TODAY'S BIRTHDAYS.
[Compiled by Cat Eldridge and John Hertz.]
Born November 12, 1877 – John R. Neill.  Starting with the second Oz book, illustrated the rest of Baum's, all of Thompson's, three of his own.  Before, worked on newspapers; around the time of Baum's death, became a free lance, drawing for e.g. Boy's Life, Ladies' Home Journal, Vanity Fair, Saturday Evening Post, Argosy.  Here is The Lost Princess of Oz.  Here is The Magic of Oz.  Here is Scraps, the Patchwork Girl.  Here is an interior from the Dec 19 Everybody's.  Here is "Beyond the Dark Nebula" from the 4 Apr 31 Argosy.  A granddaughter maintains a Website.  (Died 1943) [JH]
Born November 12, 1929 — Michael Ende. German author best known for The Neverending Story which is far better than the film which only covers part of the novel.  Momo, or the strange story of the time-thieves is a charming if strange novel worth your time.   The rest of his children's literature has been translated from German into English mostly by small specialist presses down the years. Unlike The Neverending Story and Momo which I've encountered, I've not read any of these. (Died 1995.)  (CE)
Born November 12, 1930 – Irma Chilton.  Ten novels, a few shorter stories.  Wrote in English and Welsh.  Tir na n-Og Award.  Crown for prose at 1989 Nat'l Eisteddfod.  Welsh Arts Council's Irma Chilton Bursary prize named for her.  (Died 1990) [JH]
Born November 12, 1943 — Wallace Shawn, 77. Probably best remembered as the ferengi Grand Nagus Zek on Deep Space Nine, a role he only played seven times. He was also Vizzini in the beloved Princess Bride, and he played Dr. Elliott Coleye in the My Favorite Martian film.(CE)
Born November 12, 1943 — Julie Ege. A Bond Girl On Her Majesty's Secret Service as Helen, the Scandinavian girl. She also appeared  in Hammer's Creatures the World Forgot and The Legend of the 7 Golden Vampires. And in The Mutations which got released under the alternative title of The Freakmaker. She had a role in De Dwaze Lotgevallen Von Sherlock Jones which got dubbed into English as The Crazy Adventures of Sherlock Jones. (Died 2008.) (CE) 
Born November 12, 1943 — Valerie Leon, 77. She appeared in two Bond films, Never Say Never Again and The Spy Who Loved Me, and in the horror flick Blood from the Mummy's Tomb as Margaret Fuchs / Queen Tera. She was also Tanya in Revenge of the Pink Panther, and had one-offs in The Avengers, Space:1999 and Randall and Hopkirk (Deceased). (CE) 
Born November 12, 1945 – Michael Bishop, 75.  A dozen novels, a hundred thirty shorter stories, fifty poems; a dozen "Pitching Pennies Against the Starboard Bulkhead" essays, many others e.g. Introductions to Nebula Awards 23-25, "Forty Years with Asimov's SF" (Jul-Aug 17 Asimov's), letters in Locus, NY Rev SF, Riverside Quarterly, SF Commentary; a dozen collections, recently The Sacerdotal Owl.  Reflections, Reverie for Mister Ray.  M.A. thesis on Dylan Thomas.  Two Nebulas, a Rhysling, a Shirley Jackson.  Website here.  [JH]
Born November 12, 1950 – Michael Capobianco, 70.  Two novels and a shorter story; four more novels, two shorter stories, with William Barton.  Two (non-consecutive) terms as SFWA (Science Fiction & Fantasy Writers of America) President; Service to SFWA Award.  MC & WB interviewed in SF Eye.  [JH]
Born November 12, 1952 — Max Grodenchik, 68. He's best known for his role as Rom, a recurring character on Deep Space Nine. He has a long genre history with appearances in The Rocketeer, Here Come The Munsters, Rumpelstiltskin, Star Trek: Insurrection (scenes as a Trill were deleted alas), Tales from The Crypt, Sliders, Wienerland, The Adventures of Rocky and Bullwinkle and Bruce Almighty. (CE)
Born November 12, 1969 – Olivia Grey, 51.  Three novels, four more under another name; half a dozen shorter stories.  Muse of the Fair at 2011 Steampunk World's Fair.  Avalon Revisited won Steampunk Chronicle's 2012 Reader's Choice for Best Fiction.  M.A. thesis on Le Morte d'Arthur.  [JH]
Born November 12, 1976 — Richelle Mead, 44. Best known for her Georgina Kincaid series, the Vampire Academy franchize and its spin-off series Bloodlines, and the Dark Swan series. I've only read Succubus Blues by her but it's a truly great read and I recommend it strongly. Spirit Bound won a Good Reads Award.  (CE)
Born November 12, 1984 – Benjamin Martin, 36.  Moved to Okinawa from Arizona.  Two fantastic samurai novels (Samurai Awakening won a Crystal Kite Award), one shorter story.  Karumi Tengo photography prize.  [JH]
(11) COMICS SECTION.
(12) THE FIRST. James Davis Nicoll digs into "Science Fiction's Very First 'Year's Best' Anthology" at Tor.com.
… This 314-page hardcover, published by Frederick Fell, with a cover by Frank McCarthy (1924–2002) collected twelve stories from 1948. It sold for $2.95, which in today's currency is about $30.

What did the best of 1948 look like, you wonder? I am so happy you asked.

The table of contents is dominated by men. One of the two women included, Catherine Moore, was concealed behind her husband's byline effectively enough that an editorial comment makes it clear the editors believed the story was by Kuttner alone. Women were active in the field at the time, but as documented by Lisa Yaszek, the editors crafting SF canon were not much interested in acknowledging women. Who else, one wonders, was overlooked?

Still, one has to review the Best SF anthology one has, not the Best SF anthology you might want or wish to have at a later time….
(13) HOW SOME WRITERS GET PAID. "BYU Vending Machines Dispense Short Stories" reports KSL TV.
They are far from the typical vending machines found on college campuses.

At Brigham Young University, two new dispensers are offering a different kind of fare — short stories.

"I thought, 'what a brilliant way to not be staring at your phone all the time!'" said Leslee Thorne-Murphy, an English professor and associate dean at the BYU College of Humanities.

Thorne-Murphy said she first saw the Short Edition dispensers in an urban mall in London and helped bring the idea to BYU as part of an initiative launched by the College of Humanities.

Three contactless buttons allow a student to select either a 1, 3, or 5-minute read, and the machine prints out a story selected at random from its database.

Stories range from famous works to student-submitted stories that have been added through writing contests.
(14) MAKE IT SO. SYFY Wire is there when "The Star Trek Cocktails book arrives with a bounty of libations to enjoy…for medicinal purposes".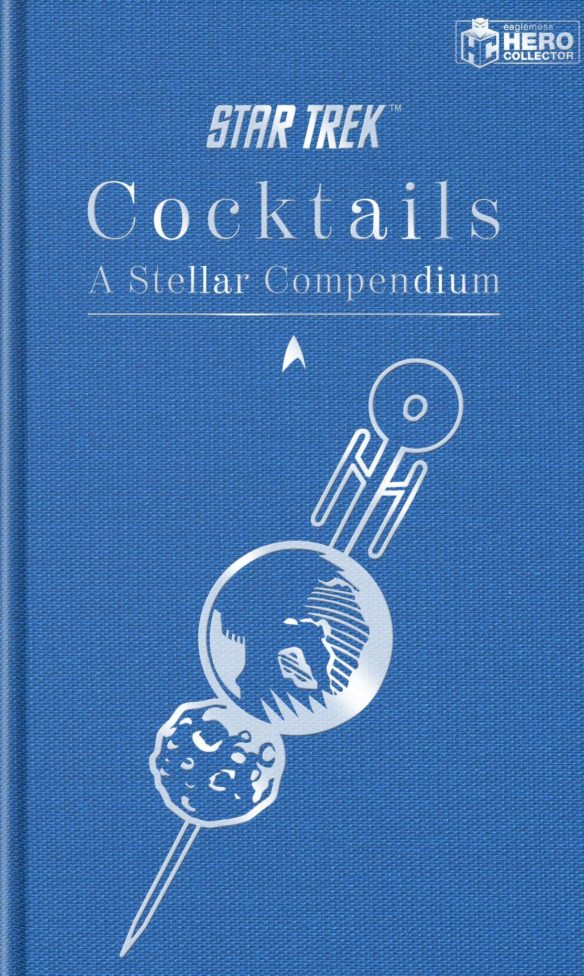 Relaxing from the universe's withering stresses has always been an important part of the Star Trek universe. For some, that included imbibing alcoholic drinks. Be it solemnly inside their quarters to mark a moment, or collecting with peers in a bar like Ten-Forward, Trek has given us plenty of tantalizing visual cocktails in all of its various film and television iterations that audiences have long wished to taste at home.

Luckily, you can now give almost 40 different Star Trek inspired alcoholic drinks a spin at home with the release today of Hero Collector's Star Trek Cocktails: A Stellar Compendium. Written by Glenn Dakin with drinks curated by mixologists by Simon Pellet and Adrian Calderbank, the coffee table book features photos and illustrations of the drinks, the characters, and the events that inspired their creation.
(15) SPACEX IS GO. SPACEX but it's THUNDERBIRDS! by Psyclonyx.
(16) BE KIND TO YOUR WEBFOOTED FRIENDS. "Who Would Rig This Vote? The Fraud Was Real (and Feathers Were Ruffled)" – the New York Times has the story. Tagline: "More than 1,500 fake votes were slipped into New Zealand's Bird of the Year 2020 contest in favor of the kiwi pukupuku."
…The scandal has roiled Bird of the Year 2020, an online popularity contest among the native birds of New Zealand, and made headlines in the remote Pacific Island nation, which takes its avian biodiversity seriously.
"It's kind of disappointing that people decide to try their little tech tricks on Bird of the Year," Laura Keown, the spokeswoman for the competition, told Radio New Zealand on Tuesday. "I'm not sure what kind of person could do it, but I like to assume that it's somebody who just really loved native birds."
No one has claimed responsibility, and no one is expected to.
The contest, which began on Nov. 2 and ends on Sunday, is conducted through an instant-runoff system that allows voters to rank their favorite birds — just as New Zealanders do when they elect humans to office. The organizer, a New Zealand-based advocacy group called Forest & Bird, has said that the contest is designed to raise awareness about the plight of the country's more than 200 species of native birds, many of which are threatened or at risk of extinction.
(17) HONEST TRAILERS. In "Honest Trailers: The Evil Dead Movies," the Screen Junkies say the three "Evil Dead" movies are "as light on substance as they are heavy on style" and contain "enough red-dye corn syrup to flood the Eastern Seaboard."
[Thanks to Andrew Porter, JJ, Michael Toman, John King Tarpinian, John Hertz, Mike Kennedy, Cat Eldridge, James Davis Nicoll, David Doering, and Martin Morse Wooster for some of these stories. Title credit goes to File 770 contributing editor of the day Patrick Morris Miller.]