(1) KEENE BUILDING HIS OWN TOWN SQUARE. Twitter developments have inspired leading horror author Brian Keene to reopen his Blog and revive his forums ("The Keenedom").
…I'm done with social media. I loathed Facebook from day one. Instagram was okay for a little while, but the novelty wore off. Tumblr and TikTok are maddening in their functionality. I have used these platforms because I needed to reach the audience who buys my books, but I never enjoyed it. I quite liked Twitter, and had a lot of fun there, but it is the Titanic barreling toward the Hindenburg right now, and if you doubt that, then you're not old enough to remember MySpace or Xanga or Geocities, and if you are old enough and still doubt it, then you weren't paying attention.

What I forgot is that back in the day, the audience who buys my books came to me. They came to my Blog and to the message board, because there was content there that appealed to them. That's my idea this time around, as I dial back to the past in an effort to move forward. The message board isn't just for me and readers of my books. It's for everyone in this genre — fan, reader, aspiring creator, or professional — who is sick of using 20 different social media apps, and just wants a big circus tent under which to find each other, and have real conversations again about things that we love with other people who love them, free from all the incessant toxic bullshit that comes with social media.

If that sounds like something you might dig, then join us there. It's free. I'm there. So are Paul Tremblay, Josh Malerman, Mary, Edward Lee, Hailey Piper, David J. Schow, Jed Shepherd, Carver Pike, Wesley Southard, Jamie Flanagan, Samantha Kolesnik, and pretty much everyone else.
And when he says he's "done", this is what he really means —
…I'm not "done" with social media. I recognize that it is a necessary evil, and that I need to keep my presence in such places in order to sell books. But going forward, my social media accounts are pretty much just going to mirror whatever news item is on my website….
(2) SNEAK PEEK OF SEASON TWO. Dave Chappelle's guest appearance on Saturday Night Live included a sendup of "House of the Dragon".
Allies (Dave Chappelle, Kenan Thompson, Ego Nwodim, Punkie Johnson) of Rhaenyra Targaryen (Chloe Fineman) and Daemon Targaryen (Michael Longfellow) visit the couple at Dragonstone.
(3) ELDER CARE. Nicola Griffith updates blog followers about her "Aestas horribilis".
…It's been difficult. Kelley and I are both exhausted and stressed and working hard on taking care of an old and fragile woman with dementia (and forgets she's just had her hip replaced and is wearing a cast and tries to walk) and her old and confused husband. We have no time, we have no bandwidth, we don't know how long this will last or what the future holds. Those of you who have had to manage this kind of thing don't need telling; those of you who haven't, well, I hope you never do.

One of the things that adds to the stress is having to renege on promises and cancel things. So let me be clear here: if you ask me a favour3 in the next three months you will not even get the courtesy of a no. Until late winter/early spring, my focus will be very close to home….
(4) CATHARTIC HORROR. Erika T. Wurth discusses on CrimeReads how her Native American background influenced her horror fiction. "Erika T. Wurth on Writing Native Horror During a Horror Renaissance".
…As for myself, growing up on the outskirts of Denver with a mother of multi-tribal descent and an alcoholic, often abusive white father, my desire for the macabre took root fast. As horror author Grady Hendrix notes, this was perfect timing: the 80's were part of the golden era of horror fiction. And Stephen King's novel, The Shining, so mirrored my own experience—of running from an alcoholic dad who sometimes read Louis L'Amour to me—but other times held us at gunpoint in his underwear, that it became a compulsive go-to for the rest of my life. Neither my boyfriend nor my therapist understand this compulsion, but research shows that a lot of us love horror because it helps us to process our trauma. There's something about the mirroring of our own childhood and/or current traumas—and the way in which they resolve at the end that's cathartic, as author Stephen Graham Jones notes. For me, horror is the only genre, when the stuff in my head becomes too intense, that distracts me. I often fall asleep while reading or watching it….
(5) MEMORY LANE.
1995 — [By Cat Eldridge.] Deep Space Nine's "Little Green Men"
We have come gather on this wet, cold Autumn evening to speak of little green men, specifically Deep Space Nine's "Little Green Men" which first aired twenty-seven years ago this night in syndication.
It was from a story by Toni Marberry and Jack Trevino with the actual script by Ira Steven Behr and Robert Hewitt Wolfe. Behr was the showrunner and executive producer here.
NATURALLY WE HAVE SPOILERS. WHAT DID YOU EXPECT? CHOCOLATE?
Quark and Rom are bringing Nog to Earth to enroll in Starfleet Academy, but they are accidentally sent back in time to 1947 after the shuttle is sabotaged and become, oopps!, the supposed alien invaders in the Roswell event.
Americans think they're Martians. Quark attempts to sell technology that of course alter the timeline , but fortunately Odo shapeshifted came along because he knew Quark intended to make the trip profitable by smuggling an banned cargo of highly dangerous kemocite.
Rom, intelligent and more clever than Quark by quantum levels, uses a nuclear weapon to get them back to the proper time. Once he's off to Starfleet Academy, they head back to DS9 where Quark sells the damaged shuttle thereby losing money, and embarrassing him as Ferengi, and getting arrested by Odo for the kemocite smuggling.
I DO HAVE HOT CHOCOLATE IF YOU ARE STILL AROUND.
Reception of it by critics was absolutely wonderful. UKSciNow said "was a joy". Very impressive.
Of course it's streaming on Paramount +.
One last note: Charles Napier, who here was General Denning, previously appeared on Star Trek's "The Way to Eden" as Adam. He had told the Trek casting people that he would only play a military character after having portrayed that "space hippie" in his last appearance. And here he is in his preferred role.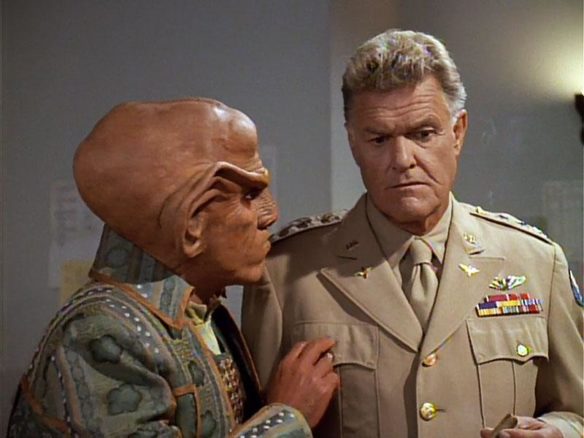 (6) TODAY'S BIRTHDAYS.
[Compiled by Cat Eldridge.]
Born November 13, 1850 — Robert Louis Stevenson. Author of for Treasure Island, Strange Case of Dr Jekyll and Mr Hyde and the New Arabian Nights collection of short stories. (Died 1894.)
Born November 13, 1888 — Philip Francis Nowlan. He's best known as the creator of Buck Rogers. The character first appeared in Nowlan's 1928 novella Armageddon 2419 A.D. as Anthony Rogers. Nowlan and the syndicate John F. Dille Company, later known as the National Newspaper Service syndicate, contracted to adapt the story into a comic strip illustrated by Dick Calkins. The strip made its first newspaper appearance on January 7, 1929. (Died 1940.)
Born November 13, 1935 — Keith Roberts. Author of Pavane, an amazing novel. I've also read his collection of ghost stories, Winterwood and Other Hauntings, with an introduction by Robert Holdstock. Interestingly he has four BSFA Awards including ones for the artwork for the cover of his own first edition of Kaeti & Company. (Died 2000.)
Born November 13, 1950 — James Blaylock, 72. One of my favorite writers. I'd recommend the Ghosts trilogy, the Christian trilogy and The Adventures of Langdon St. Ives which collects all of the Langdon St. Ives adventures together as his best writing, but anything by him is worth reading. I see the usual suspects don't have much by him but they do have two Langdon St. Ives tales, Homunclus and Beneath London.
Born November 13, 1955 — Brenda Clough, 67. She was nominated for a Hugo at ConJosé for her "May Be Some Time" novella. I'm very fond of her fantasy Averidan series. Though very much not genre, I recommend her A Most Dangerous Woman, a sequel to The Woman in White by Wilkie Collin. It's a serial on Realm and the usual suspects.
Born November 13, 1957 — Stephen Baxter, 65. Ok I'm going to confess that the only thing I've read that he's written is the Long Earth series with Terry Pratchett. I've only read the first three but they are quite great SF! Ok I really, really need your help to figure out what else of his that I should consider reading. To say he's been a prolific writer is somewhat of an understatement and he's gotten a bonnie bunch of awards as well though no Hugos. It's worth noting that Baxter's story "Last Contact" was nominated for a Hugo for best short story at Denvention 3 as were The Time Ships as L.A. Con III, "Moon Six" novellette at BucConeer, "On the Orion Line" novellette and "The Gravity Mine" short story at the Millennium Philcon, and finally "The Ghost Pit" short story at ConJosé.
Born November 13, 1974 — Owen Sheers, 48. His first novel, Resistance, tells the story of the inhabitants of a valley near Abergavenny in Wales in the Forties shortly after the failure of Operation Overlord and a successful German takeover of Britain. It's been made into a film. He also wrote the "White Ravens", a contemporary take off the myth of Branwen Daughter of Llyr, found in the New Stories from the Mabinogion series.
(7) COMICS SECTION.
Bizarro points out a super-guy thing.
Tom Gauld goes to the book of the year awards:
(8) INSPIRED ART. [Item by Ben Bird Person.] Horror illustrator Marisa Bruno (@MarisasHorror) did this parody of Ron Walotsky's cover art for Barry N. Malzberg's Tactics of Conquest (1974):
(9) REOPENING PANDORA. Here's the official trailer for Avatar: The Way of Water. Coming on December 16.
(10) NINETEENTH CENTURY SCARES. Open Culture invites you to "Watch the First Horror Film, George Méliès' The Haunted Castle (1896)". It runs about four minutes.
… So how far back do we have to go to find the first horror movie? Almost as far back as the very origins of film, it seems—to 1896, when French special-effects genius Georges Méliès made the three plus minute short above, Le Manoir du Diable (The Haunted Castle, or the Manor of the Devil). Méliès, known for his silent sci-fi fantasy A Trip to the Moon—and for the tribute paid to him in Martin Scorsese's Hugo—used his innovative methods to tell a story, writes Maurice Babbis at Emerson University journal Latent Image, of "a large bat that flies into a room and transforms into Mephistopheles. He then stands over a cauldron and conjures up a girl along with some phantoms and skeletons and witches, but then one of them pulls out a crucifix and the demon disappears." Not much of a story, granted, and it's not particularly scary, but it is an excellent example of a technique Méliès supposedly discovered that very year….
(11) VIDEO OF THE DAY. [Item by Martin Morse Wooster.] Adam Savage goes to London and faunches after a starship model from Star Trek: The Next Generation that was recently auctioned in London.
[Thanks to Mike Kennedy, Martin Morse Wooster, JJ, John King Tarpinian, Ben Bird Person, Chris Barkley, Andrew Porter, Michael Toman, and Cat Eldridge for some of these stories. Title credit belongs to File 770 contributing editor of the day Cat Eldridge, who wanted to show he's equally capable of contributing a short title.]