(1) NEXT TIME, JUST WALK THERE IN THE BAT-SHOES. No more BIFF! or POW! Looks like Batman and The Joker are getting involved in the UK general election campaign in this ad from the Labour Party-supporting Momentum organization:
(2) THE DEAD BODY PROBLEM. "The Supernova Era by Cixin Liu review – a world without adults" – the Guardian's Steven Poole weighs in on Liu's book (translated by Joel Martinsen).
…Admirers of that sensational triptych [The Three-Body Problem and sequels] will find something rather different in The Supernova Era, which Liu actually wrote in 2003, before the first Chinese edition of The Three-Body Problem in 2007. Though it is adorned with the colourful nebulae of space-opera art, it is primarily a work of speculative sociology.
That only becomes clear, though, after a masterful opening sequence detailing the death of a star. Liu is superb at creating drama from technical description (before becoming a writer, he worked as an engineer at a power plant), and he ramps up slowly to the moment of a supernova with exquisite tension. Why should we care about another supernova? Because this one is happening all too close to us: a mere eight light years away, a star that had been hidden from human eyes behind a dust cloud is now exploding.

Eight years later, the radiation arrives at Earth, lighting up the atmosphere and wrecking DNA in all the life forms on the planet. The authorities soon realise that everyone will die in a matter of months, except for children aged 13 and under: they are young enough, it is discovered, that their bodies can repair the DNA damage. In the time remaining, the adults have somehow to train the children in the disciplines required to keep agriculture and technological civilisation going, and select national leaders to take over when they die. The novel focuses on the three 13-year-old Chinese children who are to rule the country, and later on their American counterparts….
(3) TREK PARALLELS. Slate has an article in which Carmen Maria Machado talks about the influence an episode of Star Trek: The Next Generation had on her while she was working on her memoir In the Dream House: "How an Episode of Star Trek: The Next Generation Wound Up in a Memoir About Domestic Abuse".
…The episode is widely regarded as one of the series' best, in large part thanks to Stewart's performance. But "Chain of Command, Pt. II" struck a chord with Machado for another reason: She saw parallels between the torture of Picard and her own experiences with domestic abuse.

"It feels like a weird comparison to make because it's literally an episode about physical torture. I was not physically tortured," she said. "But on the other hand, it's this sense that there's something else happening underneath […] I kept thinking, this feels so on the nose. Like, as I'm working on this memoir, this episode just happens to be in the queue."

Madred's gaslighting technique reminded Machado of elements from her own relationship. "My ex-girlfriend would play these bizarre, possessive games. If I talked about anyone or looked anyone in any way, she would accuse me of wanting to sleep with them. She would call me and leave me voicemails if I didn't pick up right away and be like, 'Who are you sleeping with? What are you doing? Where've you been? Why haven't you picked the phone up?' And I came to believe that I was really a problem," Machado said. "I think it took me a long time to figure out that it actually wasn't about any of those things. It was about this need to exert control."
(4) BRIAN KEENE. The episode people have waited for all week is now online: "THE RISE AND FALL OF CHIZINE – The Horror Show With Brian Keene – Ep 244". I haven't listened to it yet – maybe you can fill me in about what I'm missing.
Brian, Mary and Matt cover the disturbing facts, allegations, and opinions surrounding ChiZine Publications. Plus, editor Stephen Jones declares war on logic!
(5) ANOTHER CZP WITHDRAWAL. Add co-editors Mark Shainblum and Andrea D. Lobel to the list of people who have pulled their book from ChiZine:
Hello everyone. We are taking this opportunity to inform you that we have pulled our anthology, Other Covenants: Alternate Histories of the Jewish People, from ChiZine Publications. It was originally scheduled to be published in spring 2020.

This was a difficult, but absolutely necessary decision. We could make no other.

Other Covenants is a labour of love that we have been working on for more than two years, and its story does not end here. We are in ongoing discussions to find a new home for the book.

We would like to thank our wonderful contributors for all their patience and trust.
(6) NEW STARTING TIME FOR AMAZING TORONTO READINGS. Steve Davidson sends an update that the starting time for the Toronto readings from Amazing Stories has been changed to 6:30 p.m. from 5 p.m. The dates, readers, and location all remain the same.
(7) ON SECOND THAWED. The BBC's Nicholas Barber says Frozen II is an avalanche of half-formed ideas.
Disney has produced a few hit films in its time, but Frozen stands as one of the most staggering successes in the studio's nine-decade history. Released in November 2013, the animation became the highest-grossing film of the year – and that was just the beginning. In 2014, every car with children in the back seat – and some without – had the hit single Let It Go on the stereo.

Inevitably, a sequel was made. And, almost inevitably, it's nowhere near as good. Like the first film, this one is directed by Chris Buck and Jennifer Lee, scripted by Lee, and punctuated with songs by Robert Lopez and Kristen Anderson-Lopez. But the catchy Broadway show-stoppers have been replaced by thudding rock-opera power ballads; the glacial clarity of the coming-of-age theme has been replaced by a flurry of mythological codswallop; and the urgency of Anna's journey to bring her sister home has been replaced by the apathy of Elsa's wish to learn about her past….
(8) CLYDE KONG. BBC says the "Secrets of the largest ape that ever lived" include that it was related to the orangutan.
A fossilised tooth left behind by the largest ape that ever lived is shedding new light on the evolution of apes.

Gigantopithecus blacki was thought to stand nearly three metres tall and tip the scales at 600kg.

In an astonishing advance, scientists have obtained molecular evidence from a two-million-year-old fossil molar tooth found in a Chinese cave.

The mystery ape is a distant relative of orangutans, sharing a common ancestor around 12 million years ago.

"It would have been a distant cousin (of orangutans), in the sense that its closest living relatives are orangutans, compared to other living great apes such as gorillas or chimpanzees or us," said Dr Frido Welker, from the University of Copenhagen.
(9) BOOKSTORE CALLS FOR HELP. A new owner is needed to save San Diego's Mysterious Galaxy Bookstore from closing its doors.? In a message sent to the store's distribution list they said:
The staff of Mysterious Galaxy just received notice that they are losing their lease for their Balboa Avenue storefront, and will need to move in 60 days. It is with heavy hearts that we share that unless a new buyer and new location are found immediately, Mysterious Galaxy will be forced to close its doors.

For nearly 27 years, Mysterious Galaxy Bookstore has been a vibrant part of the book community in San Diego, and a safe and welcoming place for those with a passion for books. The past several years have seen 5-10% growth in sales and increasing profits. The store's participation in regional and industry conventions, and its stellar in-store events, have earned it a special place in the hearts of authors and readers alike, and created a well-respected brand in Science Fiction, Fantasy, Horror, and Mystery praised throughout the publishing and bookselling industry.

The purchase of Mysterious Galaxy is expected to be a turn-key sale, retaining the staff and mission of Mysterious Galaxy to grow and expand the already established brand. We eagerly hope to find the right buyer, who will focus on the future success and growth of Mysterious Galaxy, and consider the best interests of its expert staff

…For serious inquiries about purchasing the store, please contact current Mysterious Galaxy Store Owner Terry Gilman ([email protected]) by November 20.
(10) MAIN SQUEEZE. Paramount dropped a trailer for The Spongebob Movie: Sponge on the Run. It splashed.
(11) TODAY IN HISTORY.
November 14, 1991 — Dark Season, a six-part UK YA series, premiered. It lasted for a single season and it starred Victoria Lambert, Ben Chandler and Kate Winslet. It's noteworthy for being Winslet's first major television role. And it was created by Russell T Davies, then a BBC staff producer working for the children's department at BBC Manchester who sent His story proposal in on spec.
(12) TODAY'S BIRTHDAYS.
[Compiled by Cat Eldridge.]
Born November 14, 1907 — Astrid Lindgren. Creator of the Pippi Longstocking series and, at least in the States, lesser known Emil i Lönneberga, Karlsson-on-the-Roof, and the Six Bullerby Children series as well. In January 2017, she was calculated to be the world's 18th most-translated author, and the fourth most-translated children's writer after Enid Blyton, H. C. Andersen and the Brothers Grimm. There have been at least forty video adaptations of her works over the decades mostly in Swedish but Ronja, the Robber's Daughter as an animated series in Japan recently. (Died 2002.)
Born November 14, 1928 — Kathleen Hughes, 91. She was Jane in It Came From Outer Space. Released on May 27 from the original story treatment of Ray Bradbury. It was Universal's first entry into the 3D-film medium. She would also be in Cult of the Cobra, Swamp Women Kissing Booth and Where the Sidewalk Ends, adaptation of the Silverstein book.
Born November 14, 1948 — John de Lancie, 71. Best known for his role as Q in the Trek multiverse. He also was Jack O'Neill enemy Frank Simmons in Stargate SG-1. He has an impressive number of one-offs on genre shows including The Six Million Dollar Man, and Battlestar Galactica (1978 version), The New Twilight Zone, MacGyver, Mission: Impossible (Australian edition), Get Smart, Again!, Batman: The Animated Series, Legend (if you've not seen it, go now and watch it) and I'm going to stop there. 
Born November 14, 1951 — Beth Meacham, 68. In 1984 she became an editor for Tor Books, where she rose to the position of editor-in-chief. After her 1989 move to the west coast, she continued working for Tor as an executive editor. She does have one novel, co-written with Tappan King, entitled Nightshade Book One: Terror, Inc. and a handful of short fiction. 
Born November 14, 1959 — Paul McGann, 60. Yes, he only did one film as the eighth incarnation of the Doctor in the 1996 Doctor Who television film, but that role he has reprised in more than seventy audio dramas and the 2013 short film entitled "The Night of the Doctor". Other genre appearances include Alien 3, FairyTale: A True Story, Queen of the Damned and Lesbian Vampire Killers.
Born November 14, 1963 — Cat Rambo, 56. All around great person. Really. Just finished up a term as SWFA President. She was editor of Fantasy Magazine for four years which earned her a 2012 World Fantasy Special Award: Non-Professional nomination. A story of hers, "Five Ways to Fall in Love on Planet Porcelain", was a Nebula Award finalist. Her first novel, Beasts of Tabat, is the beginning of what I suspect will be an impressive fantasy quartet. Hearts Of Tabat came this year. She also writes amazing short fiction as well. The Rambo Academy for Wayward Writers is her long-standing school for writers that provides her excellent assistance in learning proper writing skills both live and on demand as well. You can get details here.
Born November 14, 1976 — Christopher Demetral, 43. He also played the title character on the oh, so excellent The Secret Adventures of Jules Verne series. He shows up in the "Future Imperfect" episode of Next Gen, and had the recurring role of Jack on Lois & Clark: The New Adventures of Superman.
Born November 14, 1978 — Michala Banas, 41. Australian actress whose main genre acting has been the Nowhere Boys series and the film, Nowhere Boys: The Book of Shadows. She has a lot of other genre appearances, to wit in the Mirror, Mirror time travel series, the Scooby-Doo film, The Lost World series and the BeastMaster series as well.
(13) GETTING EVEN. NPR's Jason Heller finds that "'Queen Of The Conquered' Serves Revenge With Delicacy And Savagery".
Revenge is the most primal of motivations, and as such, it's the basis of much fantasy literature. In Queen of the Conquered, Kacen Callender's debut novel for adults, the author wields revenge with supernatural skill. But that's not all they do: Callender also weaves a vast, fictional backdrop that's based on the colonial history of the Caribbean, a refreshing break from the stereotypical, pseudo-European setting of most epic fantasy. But rather than scatter its narrative across numerous characters and points of view, Queen of the Conquered effectively concentrates its entire focus on one character, Sigourney Rose — a black woman and deposed noble with strange abilities who has the most profound of axes to grind against her island's Norse-like conquerors.
(14) NEW COMIC FEATURES THANOS' DAUGHTER. Marvel's Nebula will get her first series in February, created by by Vita Ayala and Claire Roe.
This February, follow the exploits of one of the most feared women in the galaxy in NEBULA, an all-new six-issue series from rising Marvel star Vita Ayala with art by Claire Roe! In NEBULA, the daughter of Thanos and sister of Gamora will finally get her time in the spotlight — and she has her eye on a very secret device. But will one of the galaxy's most notorious bounty hunters get to it first? Marvel fans know that Nebula rarely lets anyone get in her way…
"[Since] the movies kind of reinvigorated interest in her, we've gotten to see her pop up more and more in the comics. And now, here's her solo title where all we do is really dive deep and explore who she is and why she does what she does. That's kind of my jam," Ayala said in an exclusive interview with Refinery29. "I really want to kind of showcase how cool Nebula is even though she's a bad guy, and how much more complex she is than what we might assume….it was my mission to try and show who she is on a kind of two-dimensional level. Being able to be in her head and fill out all the corners is really given me an appreciation for her, and I want other people to also love her and want her to do her best."
(15) YOUR FISH IS READY, SIR. Gollum is Alfred? Yes, if ScienceFiction.com is to be believed: "Andy Serkis Is The Alfred To Robert Pattinson's 'The Batman'".
…Rumors were swirling earlier this week that Serkis was being eyed for the role. The actor previously played Ulysses Klaue in 'Avengers: Age of Ultron' and 'Black Panther' and while he could likely return to the MCU to do motion capture work down the line, for now, his live-action work will be confined to cleaning up after Batman.

… Serkis is joining a long line of Alfreds from Alan Napier on the iconic 1966 television series to Sean Pertwee on 'Gotham' and Jack Bannon on 'Pennyworth.' In feature films, Michael Gough played Alfred in the Tim Burton film, Michael Caine in "The Dark Knight" trilogy, and Jeremy Irons in the more recent films.
(16) ORANGE YOU GLAD? The Drum shares Sainsbury's Christmas 2019 ad, sparkling with fantastic touches.
In celebration of its 150th anniversary, Sainsbury's has travelled back in time to Victorian London in a spot that highlight's the supermarket's humble origins.

Nicholas, a poor orphan, is banished from the city after being falsely accused of stealing an orange from the original Sainsbury's stall.

After being sent to the North Pole as punishment, he is rescued by Mrs Sainsbury who knows of his innocence and gifts him a bag of oranges saying "If you can't do something special for someone at Christmas, then when can you?"

Nicholas then passes the kindness forward, gifting oranges to all the children in the orphanage before donning a red hat a cape – alluding that he will grow up to be Father Christmas himself.
(17) FORTEAN CONNECTION. Crimereads has an interesting article by Curtis Evans about the 1937 murder of publisher Claude Kendall — "The Playboy and the Publisher: A Murder Story". "Claude Kendall" (the company name) was best known for spicy, controversial books, many with a gay subtext (sometimes not very "sub" at all), and for mystery novels. But Kendall was also the original publisher of Charles Fort's Lo! and Wild Talents.
The most notorious and successful of the Claude Kendall books were four novels authored by Tiffany Ellsworth Thayer, aka "Tiffany Thayer." With several hundred thousand copies sold during the early 1930s, the Tiffany Thayer novels, particularly Thirteen Men and Thirteen Women, earned Claude Kendall a great deal of publicity. Other controversial books from the early 1930s that bore the Kendall name include: the first American edition of Octave Mirbeau's Torture Garden, a primary text of the Decadent Movement originally published in France in 1899, of which pulp writer Jack Woodford expressed his amazement that Claude Kendall had been able to publish its "splendid" edition ("I don't see how it would be possible to write a more 'dangerous' book [from the standpoint of the censor] yet it was published."); Mademoiselle de Maupin, an American edition of Théophile Gautier's gender-bending 1835 novel about a real-life French cross-dresser; G. Sheila Donisthorpe's Loveliest of Friends, a novel dealing with lesbianism; Cecil De Lenoir's seedy The Hundredth Man: Confessions of a Drug Addict; Beth Brown's Man and Wife, about prostitution and the divorce racket; Lionel Houser's Lake of Fire, described as a "bizarre tale of identity theft, mutilation, lust and murder, provocatively illustrated with strikingly explicit woodcuts"; R. T. M. Scott's, The Mad Monk, purportedly about the early life of Rasputin; Lo! and Wild Talents, two of Charles Fort's bizarre collections of "anomalous phenomena"; and, last but not least, Frank Walford's Twisted Clay, a lurid tale, recently reprinted, about a psychopathic, patricidal bisexual female serial killer that was banned by government authorities in both Canada and Australia. ("She loved…and killed…both men and women," promised Twisted Clay's salacious jacket blurb.)
Ever eager where controversy was concerned, Kendall also unsuccessfully attempted to secure the American publication rights for James Joyce's Ulysses, which had been banned in the United States on obscenity grounds since 1920.
(18) WHAT IF? ScienceFiction.com invites fans to "Get A First Look At 'What If Peggy Carter Took The Super Soldier Serum?'" Concept art at the link.
In addition to the live-action MCU-based on the movies, Disney+ is offering the animated 'What If…?' series, which borrows its name from the popular comic book that told stories set in hypothetic realities where things went very differently from the mainstream Marvel Universe. The 'What If…?' animated series will be based on the MCU, so all of the stories will reinvent events from the hit films. The first will imagine a reality where it was Peggy Carter who became the Super Soldier, not Steve Rogers. Instead, skinny weakling Rogers will make his contribution to the Allies' World War II efforts with the help of Howard Stark, who suits him up with a bulky suit of armor, reminiscent of Tony Stark's Mark I armor. Together, the pair resemble DC's 'Stars and S.T.R.I.P.E.' duo of Courtney Whitmore and her stepfather Pat or "Stripesy," with Peggy flying to battle while essentially riding Steve's armor like a steed.
(19) FOOD WITH AN EDGE. If you're in the need of a blue condiment, step right up! "Star Wars: Galaxy's Edge Cookbook" is a $34.99 deal at BigBadToyStore (and doubtless other places.)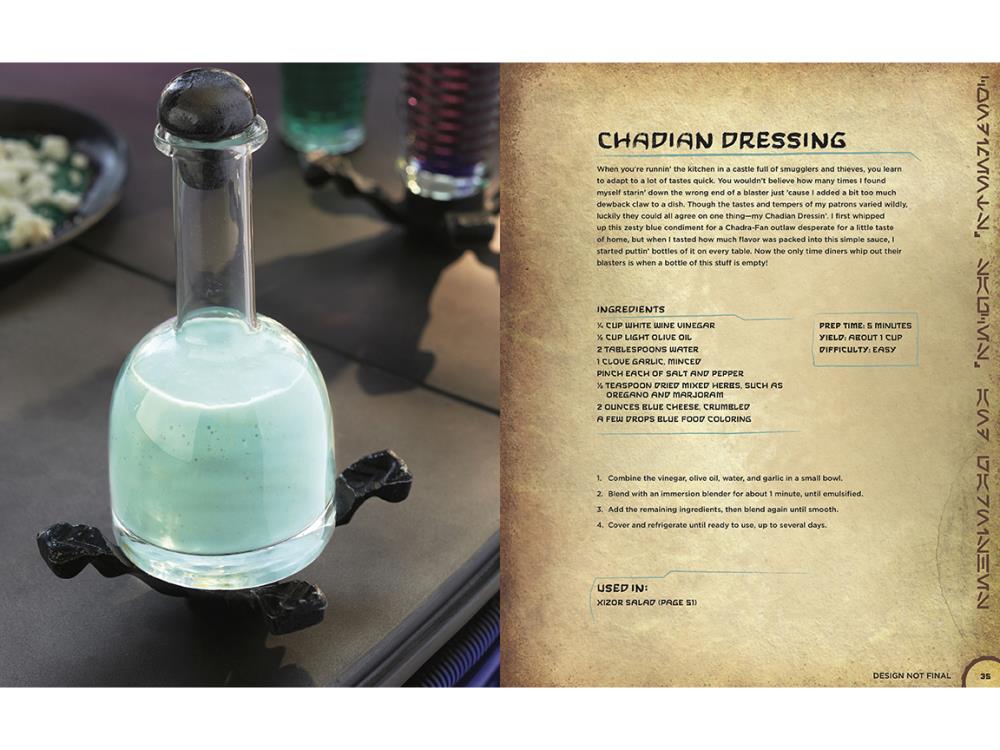 Inspired by the cuisine from the exciting new Walt Disney World and Disneyland Star Wars: Galaxy's Edge-themed lands, this cookbook is the ultimate source for creating out-of-this-world meals and treats from a galaxy far, far away!

Featuring delicious delicacies found in Black Spire Outpost on the planet Batuu, this cookbook provides Star Wars fans with a wealth of delicious intergalactic recipes.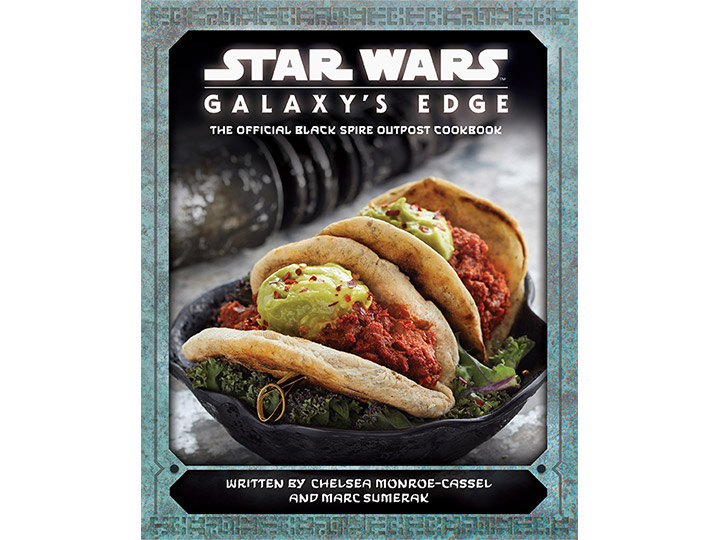 [Thanks to Michael O'Donnell, JJ, John King Tarpinian, Nina Shepardson, Cat Eldridge, Chip Hitchcock, Martin Morse Wooster, Mike Kennedy, and Andrew Porter for some of these stories. Title credit goes to File 770 contributing editor of the day Soon Lee.]