(1) THE NEXT DAY. That's got to smart. No sooner did Arisia announce its move to the Boston Park than the strike that forced the change came to an end. Boston's CBS affiliate reports "Marriott Hotel Workers In Boston Reach Deal To End Strike".
The union representing them, Unite Here Local 26, confirmed Saturday they "reached a tentative agreement" on a new contract. A few hours later, a ratification vote at Hynes Convention Center officially ended the strike.

"We can confirm we have a tentative agreement. We look forward to welcoming our associates back to work," a Marriott International spokesperson said in an e-mail.
(2) WFC 2019 FALLOUT. Adam-Troy Castro is arguing that critics of Robert Silverberg, in trouble for his disdainful remark about N.K. Jemisin's Hugo acceptance speech, should pull their punches:
This is how much a racially charged statement can affect status: the World Fantasy Convention is making public apologies for, among other things, inviting Robert Silverberg. Close to seventy years a fixture of the field, hundreds of novels and nonfiction books and short stories, an influence and footprint that cannot be denied; really, a giant, or the word "giant" doesn't mean anything and never has. (DYING INSIDE, alone.) And now he's in danger of having this become his entire legacy in eyes of the next generation, and…damn.

I understand why people are mad at him. I really do. I believe they should be. I am, whether you believe me or not….

… I have given the only reply that makes sense to me: that someday, your splendid, woke, brilliantly sensitive perfect generation will have this happen to you too. The attitudes you think natural will seem neanderthalic to those who come after you. The icons of your current cultural starscape will someday be torn down, for missteps or beliefs central to their work. Maybe it should happen, but when it does happen, it will hurt and you will protest and you will be condemned for any affection you still possess for those figures.
However, in Marta Randall's comment there (screencapped by rcade), she casts doubt on this being a one-time lapse.
Robert Silverberg edited 10 editions of the acclaimed SF anthology New Dimensions. When he handed the reins to Marta Randall in the early 1980s, she said he told her "if my title page had only women's names on it, he'd remove his name from the anthology." https://t.co/gZCqLXryi4 pic.twitter.com/H5d0xQJXAc

— Rogers Cadenhead (@rcade) November 17, 2018
(3) NOT SO BAD. Today's the 40th anniversary of the airing of one of TV's negative icons – but The Hollywood Reporter had nice things to say about it at the time: "'The Star Wars Holiday Special': THR's 1978 Review".
If the prospect of a two-hour Star Wars Holiday Special conjured up visions of "May the force be with you" repeated ad nauseam in your head, this show on CBS was a welcome surprise….

For the most part the special was [an] inventive diversion that stood on its own merits.
(4) INFO DUMPSTER FIRE. Slate's Dan Kois isn't nearly as forgiving of this movie's flaws s other critics: "The New Fantastic Beasts Is So Bad It Actually Makes the Other Books and Movies Worse".
…Instead of building upon the story, characters, and conflicts that Fantastic Beasts torturously established, The Crimes of Grindelwald layers on further exposition and introduces yet more new characters. Even a character I thought was safely dead is once again alive! Remember poor Credence (Ezra Miller), the moody teen who sometimes turns into a screaming cloud of smoke? I swear he got disintegrated in the New York City subway at the end of the previous movie, but now here he is moping around Paris rooftops, trying to find his mom. In my opinion he should chill out; he's got cheekbones to die for and a hot girlfriend who's also a huge snake, which seems like a scenario out of any goth teen's dreams….
(5) NO WRITER, NO SERIES. Funny how that works. Knock-on effects of Chuck Wendig's exit from Marvel are still happening. Gizmodo's io9 says that "Marvel Comics Scraps New Darth Vader Series After Chuck Wendig's Controversial Exit".
Almost a month and a half after it was first announced at New York Comic-Con, Marvel has pulled the plug on its latest Star Wars miniseries, Shadow of Vader, bringing an awkward end to the saga the publisher created by booting writer Chuck Wendig from the book in the first place.

Wendig made waves last month when he explained in a lengthy series of tweets that he had been fired from the Shadow of Vader title—at that point mere days after the series had been publicly unveiled—with the writer pinning the reasoning as allegedly down to an editor citing Wendig's coarse language on social media, combined with the writer's discussion of U.S. politics online. When initially asked, a Marvel Comics representative would not confirm why Wendig was suddenly off the book. It was the latest in a line of recent incidents in the pop culture space over hollow calls for civil discourse in the wake of targeted campaigns of harassment.
(6) IN TIMES TO COME. Congratulations to WIndycon 2019's guests!
Windycon 46 will be held November 15-17 in Westin Lombard, IL. The guests are:

Author GoH: Elizabeth Moon
Artist GoH: Mitchell Bentley
Fan GoH: Chris Barkley
Toastmistress: Lee Martindale

Next year's theme is "Space Opera"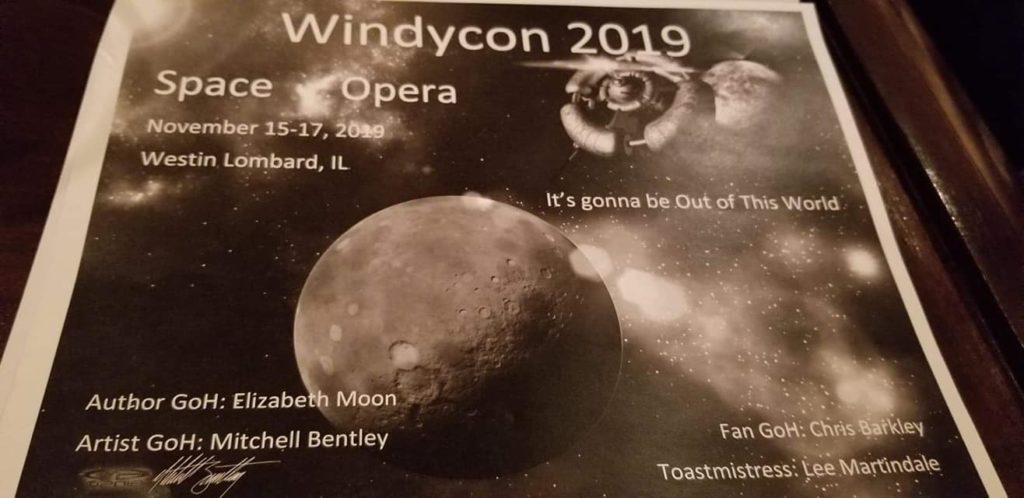 (7) TODAY'S BIRTHDAYS.
[Compiled by Cat Eldridge and JJ.]
Born November 17, 1915 – Raymond F. Jones, Writer who is best remembered for his novel This Island Earth, which was made into a movie which was then skewered in Mystery Science Theatre 3000: The Movie. However, he produced a significant number of science fiction novels and short stories which were published in magazines such as Thrilling Wonder Stories, Astounding Stories, and Galaxy, including "Rat Race" and "Correspondence Course", which respectively earned Hugo and Retro Hugo nominations. (Died 1994.)
Born November 17, 1925 – Rock Hudson, Oscar-nominated Actor whose best-known genre role was in The Martian Chronicles miniseries; he also played the President in the alt-history miniseries World War III. Other roles included The Golden Blade, based on a One Thousand and One Nights folktale; Embryo, about artificial gestational chambers in a much less benign scenario than Bujold's; and Seconds, about transplanting the minds of wealthy elderly people into fresh young bodies. (Died 1985.)
Born November 17, 1931 – Dennis McHaney, Writer and Critic. Pulp writers in particular seem to attract scholars, both amateur and professional. Robert E. Howard was not an exception. So I give you this individual who, between 1974 and 2008, published The Howard Review and The Robert E. Howard Newsletter. Oh, but that was hardly all he did, as he created reference works such as The Fiction of Robert E. Howard – A Pocket Checklist, Robert E. Howard in Oriental Stories, Magic Carpet and The Souk, and The Fiction of Robert E. Howard: A Quick Reference Guide. A listing of his essays and other works would take an entire page. It has intriguing entries such as Frazetta Trading Cards, The Short, Sweet Life and Slow Agonizing Death of a Fan's Magazine, and The Films of Steve Reeves. Fascinating… (Died 2011.)
Born November 17, 1944 – Danny DeVito, 74, Oscar-nominated Actor, Director, and Producer whose best-known genre role was as The Penguin in Batman Returns (for which he received a Saturn nomination), but he also had roles in Matilda (which he directed, and which was based on the Roald Dahl novel of the same name), Mars Attacks!, Men in Black, Big Fish, Junior, and the black comedy cult film Death to Smoochy, about an anthropomorphic character actor, which JJ thought was hilarious. He provided the voice for the credential detective Whiskers in Last Action Hero, as well as for characters in Look Who's Talking Now, Space Jam, the My Little Pony movie, Hercules, The Lorax, Animal Crackers, and the forthcoming Dumbo.
Born November 17, 1966 – Ed Brubaker, 52, Writer and Artist of comic boooks and graphic novels. Sandman Presents: Dead Boy Detectives, I'd consider his first genre work. Later work for DC and Marvel included The Authority, Batman, Captain America, Daredevil, Catwoman, and The Uncanny X-Men. If I may single out but one series, it'd be the one he did with writer Greg Rucka which was Gotham Central. It's Gotham largely without Batman, but with the villains, so the Gotham Police Department has to deal with them by themselves; grim and well done. In 2016, he joined the writing staff for the Saturn-winning Westworld series, where he co-wrote the episode "Dissonance Theory" with Jonathan Nolan. He's had numerous nominations and wins for Harvey and Eisner Awards, as well as a Stoker nomination for Superior Achievement in a Graphic Novel.
Born November 17, 1971 – David Ramsey, 47, Actor and Martial Artist, who is best known for his role in the the Arrowverse (Flash, Arrow and Legends of Tomorrow) as John Diggle/Spartan, but he also had roles in The Nutty Professor and the pandemic film Fatal Contact, and has appeared in episodes of Ghost Whisperer, Space: Above and Beyond, Journeyman, and Charmed.
Born November 17, 1978 – Tom Ellis, 40, Actor from Wales who is currently playing Lucifer Morningstar in the Lucifer TV series based on the character from Neil Gaiman's The Sandman. It's quite good. He's also had roles in Doctor Who, Once Upon a Time, Messiah, The Strain, and Merlin.
Born November 17, 1978 – Rachel McAdams, 40, Oscar-nominated Actor from Canada who played the titular character in the The Time Traveler's Wife, a film based on the Clarke- and Campbell-nominated novel of the same name, which she followed up genre-wise by earning Saturn nominations for playing Irene Adler in Guy Ritchie's Sherlock Holmes films and the terrorists' target in the creepy Red Eye. She also had lead roles in Dr. Strange, Midnight in Paris, and another time-travel movie, About Time. Her sole series work is apparently in an episode of Earth: Final Conflict, and she had a voice role as The Mother in an animated version of The Little Prince.
Born November 17, 1983 – Christopher Paolini, 35, Writer known for the Inheritance Cycle, which consists of the books Eragon, Eldest, Brisingr, and Inheritance, the first of which was made into a Saturn-nominated film and a videogame of the same name. In December of this year, The Fork, the Witch, and the Worm, the first book in a series called Tales of Alagaësia, will be published.
(8) BY BIRTHDAY CANDLELIGHT. Rich Horton, in "Birthday Review: Stories of Raymond F. Jones", gives reasons that name should not be forgotten.
Raymond F. Jones would have been 103 today. He's not much remembered these days, but he was an interesting writer of the Golden Age of Science Fiction. His career continued into the 1970s — his last story appeared in Ted White's Fantastic in 1978.  In his memory I've compiled this set of reviews of his stories, that I wrote based on reading several old magazines in my collection.
(9) TRIMBLES TAKE THE HIGH ROAD. Bjo and John Trimble responded on Facebook to Steve Davidson withdrawing Amazing Stories sponsorship of their GoH expenses at the 2019 NASFiC after they decided to continue as Arisia 2019 GoHs.
This is Steve Davidson's reaction to our decision to attend Arisia. He makes some assumptions that we don't agree with, but we're not about to get into a "he said" "they said" conversation here. Suffice it to say that we feel strongly that Arisia is making an attempt to deal with their former transgressions, including offering space at the 2019 con to discuss this with people willing to do so. We look forward to that meeting. It may be a worthwhile contribution to something that has not yet been openly addressed in fandom.
(10) JOURNEY PLANET CALLING. Chuck Serface says the Journey Planet theme issue he's working on is  looking for contributors:
A reminder to all that Christopher J Garcia and I are co-editing an issue of Journey Planet dedicated to Silicon Valley. We're looking for articles, creative writing, and art based on anything related to this part of the world — technology, history, the arts, cultures, peoples, politics, stories, poetry, whatever strikes your interest. Our deadline for submissions is December 10, 2018, and we'll get the issue out before the end of the calendar year. Send your entries to [email protected]!
(11) ACE SEXTET. That's what you get when Galactic Journey reviews three fresh-off-the-shelf (in 1963) Ace Doubles. In the first book, Leigh Brackett is on one side, and on the other –
Legend of Lost Earth, by G. McDonald Wallis

It's common practice in SFF for women to initialize their first names (or flat-out take on male pseudonyms).  I have been told vociferously by one of my readers that this practice has nothing to do with any bias against women in the genre; nevertheless, it is puzzling that men don't seem to do it.  In any event, the "G." stands for Geraldine, and this is her second Ace Double, the first being The Light of Lilith, which I have not read.
(12) SUBSTANDARD COMPENSATION FOR SUBWAY ARTISTS. The ghost of Harlan Ellison was invoked by Toronto columnist Cliff Goldstein in "Drawing the line on a sketchy TTC ad campaign".
I was on the subway recently, enjoying some of the lovely art created by local artists as part of the TTC's Sketching The Line campaign. Curious to find out if the artists were paid for their contributions, I submitted a query through the artintransit.ca website listed on the posters and got a timely answer from Antonina MacDonald, sponsorships and events specialist for Pattison, the outdoor advertising giant.

"They are not compensated… in the form of money. It [compensation] is provided in the form of exposure on our subways and buses."

This was not the answer I had expected from Canada's largest outdoor advertising company that's part of an international corporation with 39,000 employees worldwide and annual sales that have grown to $8.4 billion annually.

…One of my favourite authors, Harlan Ellison, said it best in the documentary Dreams With Sharp Teeth: there is no value in publicity for starving artists.
(13) WRITE MYSELF A LETTER. Cool idea — "Shrinking Swiss glacier hosts world's largest postcard".
Laid out on the shrinking Aletsch Glacier, this huge mosaic is actually made from 125,000 drawings and messages about climate change.

They measure 2,500 sq m (26,910 sq ft), and were created by children from all over the world.

"WE ARE THE FUTURE GIVE US A CHANCE," urged one poster, standing out against the snow.

Seen from above, the whole picture read: "STOP GLOBAL WARMING #1.5 DEGREES C"
(14) HWA YA. The Horror Writers Association announced the Table of Contents for its next anthology for young readers, New Scary Stories to Tell in the Dark edited by Jonathan Maberry
Contents:
1. "The Funeral Portrait" by Laurent Linn
2. "The Carved Bear" by Brendan Reichs
3. "Don't You See the Cat?" by Gaby Triana
4. "The Golden Peacock" by Alethea Kontis
5. "Strange Music" by Joanna Parypinski
6. "Copy and Paste Kill" by Barry Lyga
7. "The House on the Hill" by Micol Ostow
8. "Jingle Jangle: by Kim Ventrella
9. "The Knock-Knock Man" by Brenna Yovanoff
10. "The Weeping Woman" by Courtney Alameda
11. "The Neighbor" by Amy Lukavics
12. "Tag, You're It" by Nancy Lambert
13. "The Painted Skin" by Jamie Ford
14. "Lost to the World" by John Dixon
15. "The Bargain" by Aric Cushing
16. "Lint Trap" by Jonathan Auxier
17. "Cries of the Cat" by Josh Malerman
18. "The Open Window" by Christopher Golden
19. "The Skelly Horse by Trisha Wooldridge
20. "The Umbrella Man by Gary N. Braunbeck
21. "The Green Grabber" by D.J. MacHale
22. "Brain Spiders" by Luis Alberto Urrea and Rosario Urrea
23. "Hachishakusama" by Catherine Jordan
24. "Light as a Feather, Stiff as a Board" by Margaret Stohl
25. "In Stitches" by Michael Northrop
26. "The Bottle Tree" by Kami Garcia
27. "The Ghost in Sam's Closet: by R. L. Stine
28. "Rap Tap" by Sherrilyn Kenyon
29. "The Garage" by Tananarive Due
30. "Don't Go into the Pumpkin Patch at Night" by Sheri White
31. "Pretty Girls Make Graves" by Tonya Hurley
32. "Whistle Past the Graveyard" by Zac Brewer
33. Title TBD by James A. Moore
34. "Mud" by Linda Addison
35. "The Tall Ones" by Madeleine Roux
(15) CALLING SANTA. Congratulations to Juniper Books for finding a way to make Harry Potter even more expensive to buy! These Harry Potter Sets in a luxurious traveling case sell for $275.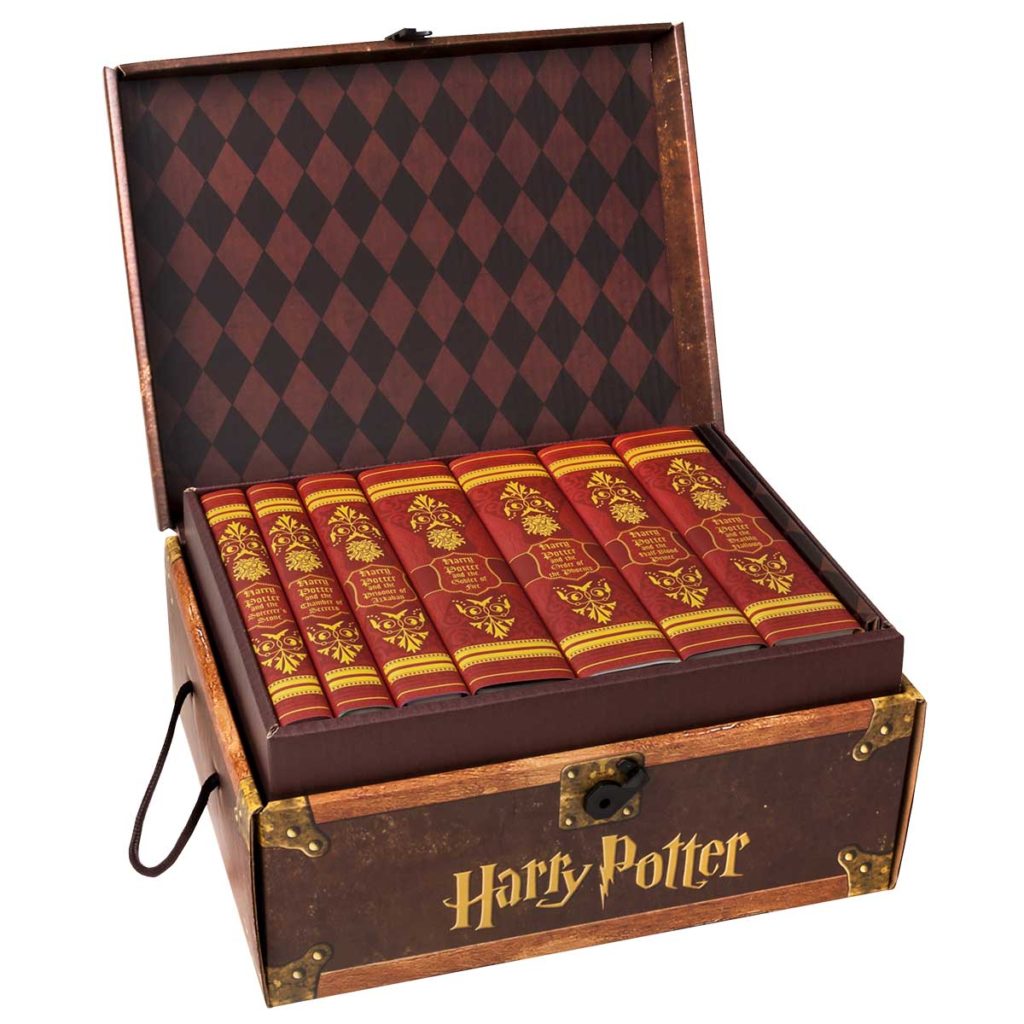 (16) A KIND OF SHREK QUILT. [Item by Mike Kennedy.] Movie remakes, right? Gotta love 'em, right? (Or maybe I was looking for a different word.) Well, apparently someone loves them; about 200 someones in the case of Shrek Retold—a retelling of the first movie by a large group of artists, each using her or his own style. The Verge ( "Over 200 artists got together to remake Shrek") has the story and the Retold trailer. The release is coming 29 November on on the 3GI website.
The internet's favorite ogre may already be headed for another Hollywood-backed installment, but fans of the fantasy parody aren't waiting around for its release. Instead, hundreds of artists have collaborated on their own scene-by-scene retelling of the first Shrek movie. Produced by Wisconsin comedy group 3GI, each artist brings their own style into the mix, meaning there's everything from live-action bits to CGI and pixel art thrown into the same film. The project looks absurd in the best possible way, like a viral eBaum's World video for 2018.
(17) HISTORIC PARK MAKES RECOVERY PLAN. These sets were on National Park land, and new ones may take their place: "Paramount Ranch, Western Town, will rise from the Woolsey fire's ashes, officials vow" — Daily News has the story.
Friday's media event also announced the launch of The Paramount Project to rebuild the ranch's Western Town. The 24-month projected rebuilding effort is organized by the Park Service's nonprofit partner the Santa Monica Mountains Fund. You can get more information on the Project and contribute at www.samofund.org/2018/11/15/the-paramount-project/.

"This was a very emotional, iconic place, it captured history of the area and of Los Angeles," Fund board president Sara Horner noted. "It's globally significant, it is locally significant and culturally significant.

"Park Services, as you can imagine, is reeling from the losses," she added. "So they will put together an assessment of their losses, and then we will refine the direction of the plan in place – which will probably change. But there is a plan of what we would like and a schedule for how it will get built, and the Santa Monica Mountains Fund will spearhead the fundraising for that."

Horner said several movie studios have already called the fund inquiring about how they can help. Her organization is also planning meetings with location managers and other industry professionals to do informal surveys of what they would like to see in the rebuilt Western Town. Due to rigorous Park Service guidelines on what can and cannot be built on their land, she can't say exactly, but Horner expects a combination of the setting looking somewhat like it did before the fire and new facilities to help the film industry to be up two years from now
LAist has a gallery of photos of the fire damage.
Today, the National Parks Service gave LAist a tour of the ranch post-fire. Little except smoldering piles of wood and cleared land remained of what was once a backdrop to legendary TV shows like The Cisco Kid and Dr. Quinn, Medicine Woman.
[Thanks to Cat Eldridge, rcade, Chip Hitchcock, Mike Kennedy, JJ, John King Tarpinian, Martin Morse Wooster, Carl Slaughter, and Andrew Porter for some of these stories. Title credit goes to File 770 contributing editor of the day Rick Moen.]