(1) EVER THE TWAIN SHALL MEET. A genre novel, The Only Good Indians by Stephen Graham Jones, has won the 2021 Mark Twain American Voice in Literature Award. The award ceremony will be held in person December 1 at the Mark Twain House & Museum in Hartford, CT. The novel also won a Bram Stoker Award this year.
(2) ROOT AND BRANCH. The New Yorker's Raffi Khatchadourian's exploration of "How Your Family Tree Could Catch a Killer" ends with a genetic genealogist's efforts to find the rest of the story about George R.R. Martin's ancestors which was first explored on the PBS series Finding Your Roots.
…[CeCe] Moore had first encountered the case years earlier, through "Finding Your Roots." She began working on the show in 2013, after Henry Louis Gates, Jr., heard her speak in Burbank and hired her on the spot. At first, his producers were skeptical, but within a few episodes Moore had established herself as a force. "We have five geneticists who vet her work," Gates told me. "There were a couple of things she found that were so astonishing to me—I was, like, 'We're going to triple-check this,' and each of the geneticists said, 'No, CeCe is absolutely right.' "

George R. R. Martin had come on the show hoping to learn more about the family of his father, Raymond….

The genetics indicated that Raymond's father was not Louie [Martin] but another man, an unknown Ashkenazi Jew.

For Martin, the news was wrenching. "It's uprooting my world here!" he told Gates on the set. "It doesn't make any sense! So I am descended from mystery?" After the taping, Martin followed the show's production crew to a local restaurant, wanting to talk more about what they knew. In the years that followed, he and his sisters strove to solve the mystery, to no avail.

It upset Moore that her work, intended to give people a sense of ancestral belonging, had left Martin with only disconnection. She continued to work the case….
And she thinks that she found the answer, which is revealed in the article.
(3) VINDICATED. Nicholas Whyte has been vindicated. It's about a professional matter, but comes with a little genre-related highlight. Twitter thread starts here. Some excerpts:
 In April and October last year, the Spanish online newspaper OK Diario published two stories including completely false statements about me, in particular about my alleged contacts with Spanish prime minister Pedro Sanchez, who I have never met or even communicated with….

I complained to the Spanish Comisión de Arbitraje, Quejas y Deontología, which has now published its official decision on the matter, finding completely in my favour and against OK Diario. Sometimes it's worth pushing back to set the record straight….

OK Diario then complained that they had not had a chance to respond….

Now the Comisión de Arbitraje, Quejas y Deontología del Periodismo reports that in fact OK Diario submitted no evidence whatsoever to support their story, and the Comisión has reinstated its original decision vindicating me. (With a quote from Carl Sagan.)
That quote in the RESOLUCIÓN WHYTE is:
Aunque, siguiendo la conocida máxima del pensador Carl Sagan, "la ausencia de 6 pruebas no es prueba de ausencia", no es posible pedir al señor Whyte que justifique documentalmente una aseveración negativa.
In English: "The absence of proof is not the proof of absence."
(4) NATIONAL BOOK AWARD. The National Book Award winners were announced today. None of the works of genre interest won. The full list of winners is here. They will receive $10,000 and a bronze sculpture. See the online video ceremony here.
(5) IN TRANSLATION. Tove Jansson's Notes From An Island has just been translated into English by Thomas Teal. Read an excerpt at Granta.
… Failing to wait when what you're waiting for is your own majestic goal, that's just unforgivable.

What was I thinking that time at Vesuvius? I'd really like to know. I mean, there he was, acting up a bit, and I was there! I was nineteen years old, and I'd waited all my life to see a mountain spitting fire. The moon was out, fireflies too; the earth was aglow – and what did I do? I dutifully took the tourist bus back to the hotel in order to drink my tea and go to bed! Who takes the time to sleep when a thing is finally happening? I could have stayed there all night and had Vesuvius all to myself….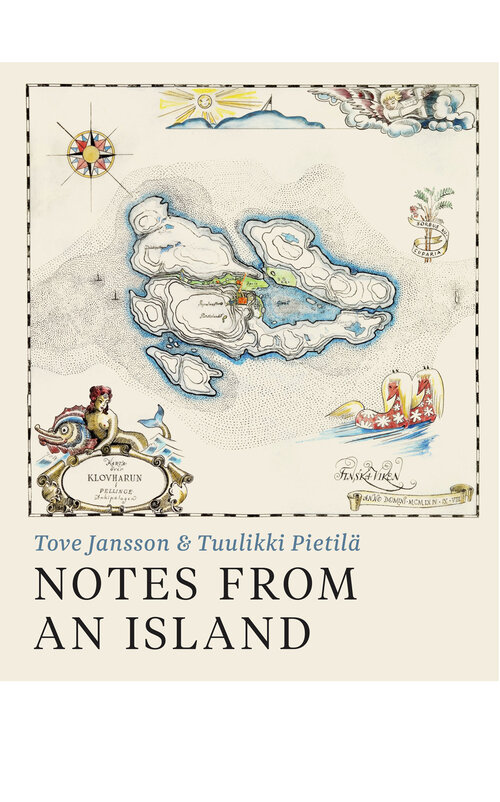 (6) SOCIAL IMMEDIATELY. Don't Look Up arrives in select theaters December 10 and on Netflix December 24.
Based on real events that haven't happened – yet. DON'T LOOK UP tells the story of two low-level astronomers who must go on a giant media tour to warn mankind of an approaching comet that will destroy planet Earth.
(7) BIG BIRD ALMOST EATS MOON. "A partial lunar eclipse, the longest in 580 years, is coming Thursday night" – MSN.com has details.
Skywatchers on Thursday night will be treated to a near-total lunar eclipse as the full moon is plunged into the blood-red light cast by Earth's shadow. The spectacle will be visible from all of North America, with the exception of eastern Greenland, including the entire Lower 48, Alaska and Hawaii, as well as parts of South America and Russia.

Though it's technically not a total lunar eclipse, it's about as close as one can get to totality without actually being there. At peak, 97 percent of the moon will be covered by the umbra, or the darkest part of Earth's shadow. Only a sliver on the bottom left of the moon will remain faintly illuminated.

A striking element of Thursday night's eclipse will be its duration — 3 hours, 28 minutes and 24 seconds, according to Space.com, which it says makes it the longest partial eclipse in 580 years….
(8) HAVE FUN STORMING THE CASTLE. Going under the hammer in Heritage Auctions' Books Signature Auction on December 9-10 is this "Princess Bride Production Sign. Circa 1987". The current bid is $500. Feel free to spend more – as you wish!
(9) ANGRY ROBOT BOOKS PRESENTS. Dan Hanks has been busy celebrating the release of his action-packed, humorous, fantasy adventure, Swashbucklers on November 9 — "a Ghostbusters meets The Goonies tale of nostalgia for childhood, parenthood, British folklore, and Christmas…but make it less Santa, more Gremlins!"
On November 18 Dan will be hosted by Adam Simcox, author of The Dying Squad a fantasy and crime mash-up, with a spectral police force made up of the recently deceased. See their conversation on YouTube or Facebook beginning 8:00 p.m. GMT / 3:00 p.m. Eastern
Celebrate the long-awaited release of Ghostbusters: Afterlife as they talk about their favourite movies in the series, lots of other 80s gems, the supernatural beings in their books, and general mayhem I suspect! Join the Live Chat on either platform to submit your own favourite Ghostbusters movie, or scene, or indeed any other cult classic from the era you loved!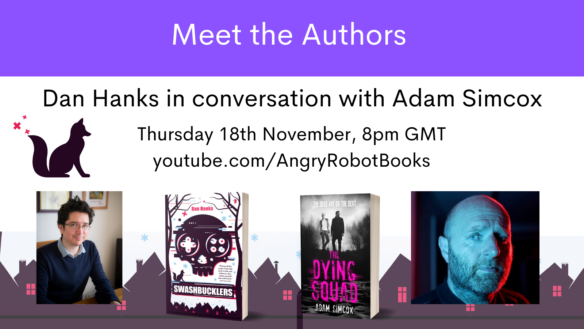 (10) GET READY FOR WEIRD TALES CENTENARY. Publishers Weekly reports "Weird Tales Partners with Blackstone Publishing".
Blackstone Publishing has inked a deal with horror, sci-fi, and fantasy brand Weird Tales and its flagship publication of the same name. Under the agreement, Blackstone will publish 50 books under the Weird Tales Presents brand over the course of five years, including original novels, anthologies, and compilations. Blackstone will publish the books in print, e-book, and audiobook editions.

Blackstone will also distribute the digital and audio versions of the Weird Tales magazine. The first novel under the new partnership is set to be released in fall 2022, followed by 100 Year Weird Tales Commemorative Anthology, which reimagines original works from the 1920s and 30s, in fall 2023. 
(11) MEDIA BIRTHDAY.
2001 — Twenty years ago the Justice League animated series premiered on the Cartoon Network. It was the seventh series of the DC Animated Universe. The series ended after just two seasons, but was followed by the Justice League Unlimited, another series which aired for an additional three seasons.  It's largely based off the Justice League created by editor Sheldon Mayer and writer Gardner Fox in the Sixties.  
It has a stellar primary voice cast of George Newbern as Superman / Clark Kent, Kevin Conroy as Batman / Bruce Wayne, Michael Rosenbaum as The Flash / Wally West, Phil LaMarr as Green Lantern / John Stewart, Susan Eisenberg as Maria Canals-Barrera as Hawkgirl / Shayera Hol, Carl Lumbly as Martian Manhunter / John Jones and Susan Eisenberg as Wonder Woman / Princess Diana. In a neat piece of later casting, Lumbly will be J'onn J'onnz's father, M'yrnn in the Arrowverse and on Supergirl.
It lasted for fifty-two episodes and featured scripts from such writers as John Ridley, Dwayne McDuffie, Pail Dini, Butch Lukic and Ernie Altbacker.
It received universal acclaim and IGN lists it among the best animated series ever done. Audience reviewers at Rotten Tomatoes currently give it a near perfect ninety-eight percent rating. 
(12) TODAY'S BIRTHDAYS.
[Compiled by Cat Eldridge.]
Born November 17, 1925 — Raymond Jones. Best remembered for This Island Earth, which of course became the basis of the Fifties film. He didn't win any Hugos but was nominated for two — the first at NyCon 3 for "Rat Race" and the second, a Retro Hugo, for "Correspondence Course" at L.A.con III. SFE calls Renaissance: A Science Fiction Novel of Two Human Worlds his best novel. (Died 1994.)
Born November 17, 1931 — Dennis McHaney. Pulp writers in particular seem to attract scholars, both amateur and professional. Robert E. Howard was not an exception. So I give you this individual who between 1974 and 2008 published The Howard Review and The Howard Newsletter. Oh, but that was hardly all he did as he created such pubs as The Fiction of Robert E. Howard – A Pocket Checklist, Robert E. Howard in Oriental Stories, Magic Carpet and The Souk and The Fiction of Robert E. Howard: A Quick Reference Guide. A listing of his essays and other works would take an entire page. It has intriguing listings such as Frazetta Trading Cards, The Short, Sweet Life and Slow Agonizing Death of a Fan's Magazine and The Films of Steve Reeves. (Died 2011.)
Born November 17, 1936 — John Trimble, 85. Husband of Bjo Trimble. He has assisted her in almost all of her SF work, including Project Art Show. They were GoHs at ConJose, the 2002 Worldcon. He's a member of LASFS. He's been involved in far too many fanzines and APAs too list here.
Born November 17, 1943 — Danny DeVito, 78. Oscar-nominated Actor, Director, and Producer whose best-known genre role was as The Penguin in Batman Returns (for which he received a Saturn nomination), but he also had roles in Matilda (which he directed, and which was based on the Roald Dahl novel of the same name), Mars Attacks!, Men in Black, Big Fish, Junior, and the black comedy cult film Death to Smoochy, about an anthropomorphic character actor, which JJ thought was hilarious. He provided the voice for the credential detective Whiskers in Last Action Hero, as well as for characters in Look Who's Talking Now, Space Jam, the My Little Pony movie, Hercules, The Lorax, Animal Crackers, and  Dumbo.
Born November 17, 1966 — Ed Brubaker, 55. Comic book writer and artist. Sandman Presents: Dead Boy Detectives I'd consider his first genre work. Later work for DC and Marvel included The Authority, Batman, Captain America, Daredevil, Catwoman and the Uncanny X-Men. If I may single out but one series, it'd be the one he did with writer Greg Rucka which was the Gotham Central series which has been rumored to be in development for TV. It's Gotham largely without Batman but with the villains so GPD has to deal with them by themselves. Grim and well-done. He's a member of the writing staff for the Westworld series where he co-wrote the episode "Dissonance Theory" with Jonathan Nolan. 
Born November 17, 1978 — Rachael McAdams, 43. Primary cast as Clare Abshire in the The Time Traveler's Wife which was she followed up genre wise by being Irene Adler in Sherlock Holmes: A Game of Shadows. She also plays Christine Palmer in Dr. Strange. Her sole series work is apparently as Christine Bickwell in the "Atavus High" episode of the Earth: Final Conflict series.
Born November 17, 1978 — Tom Ellis, 43. Currently playing Lucifer Morningstar in the rather excellent Lucifer series created by Neil Gaiman, Sam Kieth, and Mike Dringenberg from The Sandman series. It's quite good. Also had roles in Doctor Who as Tom Milligan in the Tenth Doctor story, "Last of the Time Lords", Once Upon a Time, Messiah, The Strain and Merlin. 
Born November 17, 1983 — Christopher Paolini, 38. He is the author of the Inheritance Cycle, which consists of the books Eragon, Eldest, Brisingr, and Inheritance. In December of last year, The Fork, the Witch, and the Worm, the first book in a series called Tales of Alagaësia, was published. A film version of the first novel came out in 2006.
(13) WATERSTONES. The 2021 Waterstones Book of Year shortlist includes some titles of genre interest. See the titles in The Guardian: "Cosy crime and Greek myth retellings: the Waterstones book of the year shortlist".
(14) VOTE FOR AN IRISH BOOK AWARD. The shortlists for the 2021 An Post Irish Book Awards has been announced and the awards are open for voting by anybody with an e-mail address: "An Post Irish Book Awards 2021 shortlists revealed". There is no SFF category, but they have a crime and thriller category. Plus, Noel King, a poet with whom Cora Buhlert shared a TOC many years ago, is nominated in the poetry category.
(15) THE HUMAN RACES. "Mystery and Prehistory: PW Talks with Jeff Smith" at Publishers Weekly.
Smith returns with Tuki: Fight for Fire (Cartoon Books, Dec.), a comics series that combines research and fantasy, and is set during the period in prehistory when multiple humanoid species coexisted.

… Were there places where you had to guess about the science?

The biggest leap I had to make was: Could Tuki talk? There's debate on either side, scientifically. But when you look at the underside of our ancestors' skulls, a few million years ago, they had a voice box long enough to modulate sound. Also, molds from inside the skull show they had Broca's areas, which is a major speech center in the brain. So, if they didn't have speech, they were the first ones with all the equipment…
(16) IN PLAIN SIGHT. You're not surprised to learn that Jon Del Arroz is evading his Twitter ban (with more than one account, actually) by posting as "The Real JDA" at the @LeadingHispanic, are you?
(17) AND THE HORSE HE RODE IN ON. Cora Buhlert has penned "The Tale of Declan, Disruptor of Doors", the misadventures of Declan Finn in Italy retold as a sword and sorcery tale. It harkens back to an indignant rant from that Sad Puppy about his travels abroad during the pandemic.
In an age undreamt of, after the Supreme Lord of Darkness descended from his mountain to lead the Hounds of Sadness in their assault against the sinful cities on the coast, but before the scarlet plague swept the land, there lived in a barbaric country a young bard named Declan.

Declan was a rising star among the bards of his land. His name was spoken with admiration in the taverns and around the camp fires. Last year, he had even been runner-up in the bardic contest of the Great Dragon Atalanta, losing only to Bryan, the Grand Hunter of Witches. Declan was still sore about that…..
(18) HELLO, MASTER CHIEF. A teaser dropped for Halo the Series which is coming to Paramount+ next year.
(19) GHOST-FILL-IN-THE-BLANKERS. Bill Murray, Dan Aykroyd, and Ernie Hudson showed up on Fallon last night and chatted about Ghostbusters and even showed outtakes from the original movie before they secured the rights to use "Ghostbusters" in the title.
(20) HOW IT SHOULD HAVE ENDED. The How It Should Have Ended gang, including Superman, Batman, and Wonder Woman, takes on Shang-Chi in this video which dropped today.
[Thanks to Mike Kennedy, Martin Morse Wooster, JJ, Nicholas Whyte, Cora Buhlert, John King Tarpinian, Andrew Porter, Michael Toman, and Cat Eldridge for some of these stories. Title credit belongs to File 770 contributing editor of the day Joe H.]