(1) REAL LIFE RULES. Aliette de Bodard has come forward with her own rules for writing. Thread starts here.
5. It is not selfish to want to write
6. Try not to postpone the writing to the end of the evening because I will have no energy left then.
7. Sometimes stuff just happens and there's no writing: it's ok.
8. Balls will be dropped. My job is making sure they're not spiky ones

— Aliette de Bodard (@aliettedb) November 23, 2018
(2) TOM BAKER WRITES DOCTOR WHO NOVEL. [Item by Mike Kennedy.] RadioTimes.com tells us that "Tom Baker has written a brand-new Doctor Who novel" based on a script idea he and Ian Marter had during the Fourth Doctor era. The book will be published by BBC Books (in the Penguin Random House family) with a publication date of January 24, 2019. It is already available for pre-order.
Just over a year after he made an unexpected comeback as the Fourth Doctor in a Doctor Who DVD project, iconic star Tom Baker has made another surprise return to the world of the BBC sci-fi series by penning a new novel starring the Time Lord.

Called Scratchman, the book began life in the 1970s during Baker's tenure as the beloved Fourth Doctor, when between scenes he kicked around ideas for a new story for the series alongside Ian Marter (who played Harry Sullivan in Doctor Who), later writing them up into a script.
Gizmodo/io9 also chimes in on the book ("Tom Baker Is Turning His Wild Idea For a Doctor Who Movie Into a Novel"):
Back in the '70s, Tom Baker and Ian Marter—who played the Fourth Doctor's companion Harry Sullivan—had a truly bonkers idea for a Doctor Who movie. They even wrote a script for it, but it never got made. Now, Baker himself is taking what could've been and turning it into a new novel.
The official synopsis of the novel has been made available:
What are you afraid of?

The Doctor, Harry and Sarah Jane Smith arrive at a remote Scottish island, when their holiday is cut short by the appearance of strange creatures – hideous scarecrows, preying on the local population. The islanders are living in fear, and the Doctor vows to save them all. But it doesn't go to plan – the time travellers have fallen into a trap, and Scratchman is coming for them.

With the fate of the universe hanging in the balance, the Doctor must battle an ancient force from another dimension, one who claims to be the Devil.

Scratchman wants to know what the Doctor is most afraid of. And the Doctor's worst nightmares are coming out to play…
(3) GOT TO READ. It's time for "6 Books with Sarah Chorn" at Nerds of a Feather.
Is there a book you're currently itching to re-read?I've had a bit of a hankering to re-read K.J. Parker's Engineer Trilogy recently. Parker is one of my all-time favorite authors. I love his prose, how he plays with words, and how smart his books are. The Engineer Trilogy were my first Parker books I came across, and I fell in love with them. I haven't read them for some time, but I've got an itch for some smart, morally gray characters and he seems to fit the bill.
(4) STRAIGHT FROM WALTER CRONKITE. Yesterday Galactic Journey, which follows the history of the field day-by-day 55 years in the past, reached November 22, 1963 and the assassination of President Kennedy. Its contributors did a series of reaction posts, beginning with "[November 22, 1963] President Kennedy has been assassinated]".
(5) THE GAME OF SOCIAL LIFE. "The Black Mirror Episode 'Nosedive' Has Become A Board Game" and ScienceFiction.com explains how it works.
Fans of 'Black Mirror' now have a new way to enjoy the show with their friends in the form of a board game! The social media nightmare is known as "Nosedive" is now something you can experience first hand with your friends! If you don't remember the episode off the top of your head it was a satire of social media which had Bryce Dallas Howard as Lacie in the third season premiere episode. The goal of the board game is just like that of the episode, to "get the highest Social Score possible" but here you'll be competing with 3-6 players.

In the game, you'll be collecting Lifestyle cards to try and create a perfect life. It isn't all going to be luck though as your competitors will be rating their experiences in a way that can have an impact on your social score. You'll also all need to have your smartphones handy in a gameplay element that requires you to download the app to play.
(6) A HUNK OF BURNING. Mad Genius Club's Peter Grant, after reading about fire-devastated Paradise, California, outlines "A lesson re-learned from disaster".
I've been taking the time to read reports of how computer and document backups were, or were not, adequate to safeguard important records during and after the fire.  Most of the reports are dismal, to say the least.  From online conversations and other sources, here are just some of the incidents that have been discussed:

Computer data backed up on thumb drives, stored in a "fireproof" box, were indeed protected from the flames;  but the heat inside the box rose so high that the drives simply melted, becoming unusable.
Documents in a similarly "fireproof" file container were charred into unrecognizable black ash, even though the container remained nominally intact.
In many cases, fireproof safes and filing cabinets were badly warped by the heat, rendering them incapable of opening.  Many people have not yet been able to return home to see what survived the flames, but some who have claim that they had to use angle grinders with cutting wheels, the "jaws of life", or other heavy-duty equipment to open them….
(7) THIS LAND IS HERLAND. Adri Joy's commentary is a very good survey of the topic, though members of the patriarchy should be sure to fasten their seatbelts — "Feminist Futures: Feminist Separatism in Science Fiction" at Nerds of a Feather
Content Warning: This essay tackles multiple texts which conflate sex and gender, and erase trans and intersex people.

Men, eh. What a mess they make. What a bother it is, to have this whole category of people on the planet who march around like they own the place yet mess it up at every opportunity, can't change a baby, can't do their own laundry, can't even get in touch with their own emotions unless it involves some form of anger or violence. What trouble they cause for the rest of us – especially if you fit into that other big category of "women". Why, wouldn't it just be better if they weren't around us any more? Wouldn't it make our lives, those of us in that other big category of "women", just so much easier and safer and nicer if we could put that category of "men" to one side, to do whatever it is they are compelled to do without getting in our way. Wouldn't that be lovely. If only it were possible.

Fear not, beleaguered sufferer of the patriarchy: feminist speculative fiction has got your back. As long as you are from the category of "women". And were recognised as such when you were born….
(8) TODAY IN HISTORY
November 23, 1963 — Doctor Who first aired on this day.
(9) TODAY'S BIRTHDAYS.
[Compiled by Cat Eldridge and JJ.]
November 23, 1887 – Boris Karloff, Actor famous for horror movies, whose real name was William Henry Pratt. His first genre role was when he portrayed Frankenstein's monster in the 1931 Frankenstein, a part which he played twice more, in Bride of Frankenstein (1935), and Son of Frankenstein (1939). Without listing all of his genre roles, I will single out his superb work as Dr. Fu Manchu in The Mask of Fu Manchu, which benefited from being pre-Hayes-code, and as Baron Victor von Frankenstein in the 1970 Frankenstein, which is terribly campy. His greatest role is no doubt as The Narrator in How the Grinch Stole Christmas – indeed, he received a Grammy Award in the Spoken Word category for the album, which Is the only major performing award of his career! (Died 1969.)
November 23, 1908 – Nelson S. Bond, Writer, Editor, Critic, and Member of First Fandom who also wrote for radio, television, and the stage, but whose published fiction work was mainly in the pulp magazines in the 1930s and 1940s. He's remembered today mainly for his Lancelot Biggs series and for his Meg the Priestess tales, which introduced one of the first strong female characters in SF back in 1939. As a fan, he attended the very first Worldcon, and he famously advised Isaac Asimov, who kept arguing with fans about his works in the letter columns of magazines, "You're a writer now, Isaac. Let the readers have their opinions." He was named a Nebula Author Emeritus by SFWA in 1998. (Died 2006.)
November 23, 1914 – Wilson "Bob" Tucker, Movie Projectionist and Theater Technician, Writer, and Member of First Fandom. He became involved in fandom in 1932, publishing two fanzines: The Planetoid, and, from 1938 to 2001, Le Zombie, which lasted for more than 60 issues over the course of 60+ years, and was later revived as a webzine, and won a Retro Hugo in 2018. (The title came from the fact that, on several occasions, false reports of his death were made). He also won a Hugo and a Retro Hugo as Best Fan Writer. In 1941, Tucker's first professional short story, "Interstellar Way Station", was published by Frederik Pohl in the May issue of Super Science Stories. His most productive period for fiction was in the early 1940s and early 1950s, when he published around 20 short works; during the latter part of that period, he also produced several novels. His most well-known novel is considered to be be The Year of the Quiet Sun; it was a finalist for the Hugo and the Nebula Awards, and later received a special retrospective Campbell Memorial Award. From 1955 to 1996, he was responsible for eight separate editions of The Neo-Fan's Guide To Science Fiction Fandom, which covered the first five decades of fandom and the evolution of fan slang; the eighth and final edition remains in print under the auspices of the Kansas City Science Fiction and Fantasy Society. He was honored with the Edward E. Smith Memorial Award for Imaginative Fiction, two Phoenix Awards, and a special Nebula Author Emeritus Award. He is credited with creating the term "space opera", and his custom of using the names of friends for minor characters in his fiction led to the term "Tuckerization". (And yes, I've been been tuckerized: you'll find a Cat Eldridge, an ethnomusicologist, in Jane Yolen's The One-Armed Queen, which is the conclusion to her Great Alta Trilogy. I found her a folklore book she wanted, and that was my reward.) (Died 2006.)
November 23, 1916 – Michael Gough, Actor from England who is best known for his roles in Hammer Horror Films from the late 1950s, and for his recurring role as Alfred Pennyworth in all four films of the Tim Burton / Joel Schumacher Batman series from 1989 to 1997. Hammer usually cast him as the evil villain, and I mean EVIL! Not to mention SLIMY, in such films as Horrors of the Black Museum, The Phantom of the Opera, The Corpse, Horror Hospital, and Satan's Slave. Gough appeared on Doctor Who as the villain in "The Celestial Toymaker" in 1966, and again as Councillor Hedin in "Arc of Infinity" in 1983. In the mid 1960s, he also played Dr. Armstrong in "The Cybernauts" in The Avengers, returning the very next season as the Russian spymaster Nutski in "The Correct Way to Kill". A favorite of Burton's, his last roles were in Sleepy Hollow and as character voices in Corpse Bride and Alice in Wonderland. (Died 2011.)
November 23, 1955 – Steven Brust, 63, Writer of Hungarian descent, something that figures into his fiction, which he says is neither fantasy nor SF. He is perhaps best known for his series of novels about the assassin Vlad Taltos, one of a scorned group of humans living on a world called Dragaera. All are great reads. His recent novels also include The Incrementalists and its sequel The Skill of Our Hands, with co-author Skyler White. Both are superb. His finest novel? The Dragearan prequel Brokedown Palace. Oh, just go read it. It's amazing. And no, I don't love everything he's done. I wrote a scathing – scathing! – review of Cowboy Feng's Space Bar and Grille; he told us at Green Man Review that he might be the only person who liked the novel. Freedom & Necessity, with Emma Bull, is decidedly different but good nonetheless, and his unofficial Firefly novel, My Own Kind of Freedom, stays true to the characters in that series. He's quite the musician too, with two albums with Cats Laughing, a band that includes Emma Bull, Jane Yolen (lyrics), and others. The band, in turn, shows up in Marvel comics. A Rose For Iconoclastes is his solo album, and he says "The title, for those who don't know, is a play off the brilliant story by Roger Zelazny, "A Rose For Ecclesiastes," which you should read if you haven't yet." Quoting him again, "Songs From The Gypsy is the recording of a cycle of songs I wrote with ex-Boiled-in-Lead guitarist Adam Stemple, which cycle turned into a novel I wrote with Megan Lindholm, one of my favorite writers." The album and book are quite amazing!
November 23, 1951 – David Rappaport, Actor from England. I remember him best as Randall, the leader of the gang of comically-inept dwarves in Time Bandits who steal the map to Universe. I'm reasonably sure that it's the only thing of a genre nature for which he'll be remembered, having looked up his other works and found them to be decidedly minor in nature. Most of them, such as The Bride, a low-budget horror film, were artistic and commercial disasters. It is said that his death by suicide in 1990 is one of the reasons cited by Gilliam for there not being a sequel to Time Bandits.
November 23, 1966 – Michelle Gomez, 52, Actor from Scotland who is best known to genre fans as Missy, a female version of The Master, on Doctor Who from 2014 to 2017, for which she was nominated for a BAFTA TV Award for Best Supporting Actress. I admit, having grown up with Roger Delgado as The Master, that later performers playing this role took a bit of getting used to, but she made a fine one. Other guest roles were in episodes of Gotham and the short-lived spinoff Highlander: The Raven. She is currently playing a main role as Mary Wardwell in The Chilling Adventures of Sabrina.
November 23, 1967 – Salli Richardson-Whitfield, 51, Actor, Director, and Producer whose best-known genre role is as Dr. Allison Blake on Eureka (which is apparently in syndication now as A Town Called Eureka… H'h?). Her first genre roles were in the fantasy film Prelude to a Kiss and in the "Second Sight" episode of Star Trek: Deep Space Nine, but she also charmingly voiced the main human character on the animated Gargoyles series! Other appearances included parts in episodes of Stargate SG-1, The Pretender, and the short-lived Secret Agent Man. She had a main role as Maggie Baptiste in Stitchers, a series that, against all odds, lasted through three seasons. Her most recent work has included directing episodes of Agents of S.H.I.E.L.D., Luke Cage, and Black Lightning.
November 23, 1970 – Oded Fehr, 48, Actor from Israel whose most well-known genre roles are as the mysterious warrior Ardeth Bay in The Mummy and The Mummy Returns, and as Carlos Oliveira (or his clone) in three of the Resident Evil films: Apocalypse, Extinction, and Retribution. (His Mummy roles no doubt led to his casting in voice roles in Scooby-Doo in Where's My Mummy? and as The Living Mummy in the animated Ultimate Spider-Man and Hulk and the Agents of S.M.A.S.H.) On Charmed, he played the demon Zankou, the main villain of the show's seventh season. He's had an impressively long list of appearances on TV series, including recurring roles on Once Upon A Time, Stitchers, V, and The First, a series about the first mission to Mars, which just premiered in September. He has also voiced characters on numerous other animated features and series.
(11) COMICS SECTION.
(12) LAST NIGHT ON JEOPARDY! Andrew Porter had his eye on the tube:
Answer: Roger Ebert: This film "works as science fiction, it's sometimes as scary as a monster movie & at the end…not a dry eye in the house."
Wrong questions: "What is "2001"? What is "Alien"?
Correct response: What is "E.T."?
(13) #NOTME. New research says "Humans 'off the hook' for African mammal extinction", contradicting theories that we ate them…
Today, only elephants, hippos, giraffes and white and black rhinos fall into this category.

But the three-million-year-old human relative "Lucy" (Australopithecus afarensis) shared her East African habitat with three species of giraffe, two species of rhino, a hippo and four elephant-like species.

The results of the analysis showed that over the last seven million years, some 28 lineages of large mammal went extinct in Africa.

Furthermore, the onset of the herbivore decline began roughly 4.6 million years ago, and the rate of decline did not change following the appearance of Homo erectus, one of the earliest human ancestors that could have contributed to the extinctions.
(14) THE MARS SHOW. Here's your reminder that the next Mars lander is scheduled to touch down Monday and you can watch it "live" (Vox: "NASA is landing InSight, a robot geologist, on Mars"). The current time delay for radio communications from Mars to Earth is about 8 minutes, so "live" will be delayed by at least that long.
A major feat of interplanetary space travel is about to take place on Monday, November 26. That's when NASA's InSight lander is expected to land on Mars and begin its two-year study of our neighboring planet's core. It will be the first NASA Mars landing since the Curiosity rover touched down in 2012.

The lander is expected to touch Mars around 3 pm Eastern time, and you can watch the live stream in the NASA link below. But because it's so far away, NASA's mission scientists at the Jet Propulsion Laboratory in California won't get to pilot it. Their radio transitions to the lander are delayed by several minutes. Like the Curiosity rover, InSight will have to land itself in only 6.5 minutes.

The live programming from NASA TV will begin at 2 pm Eastern Monday.
(15) VESS AND GAIMAN. Titan Comics has issued Charles Vess' Book of Ballads and Sagas —
Beautifully illustrated by Charles Vess and featuring adaptations by Neil Gaiman – Vess' collaborator on the hugely successful Stardust – and a host of famous fantasy writers, this new edition also boasts never-before-seen art and an amazing gallery of sketches!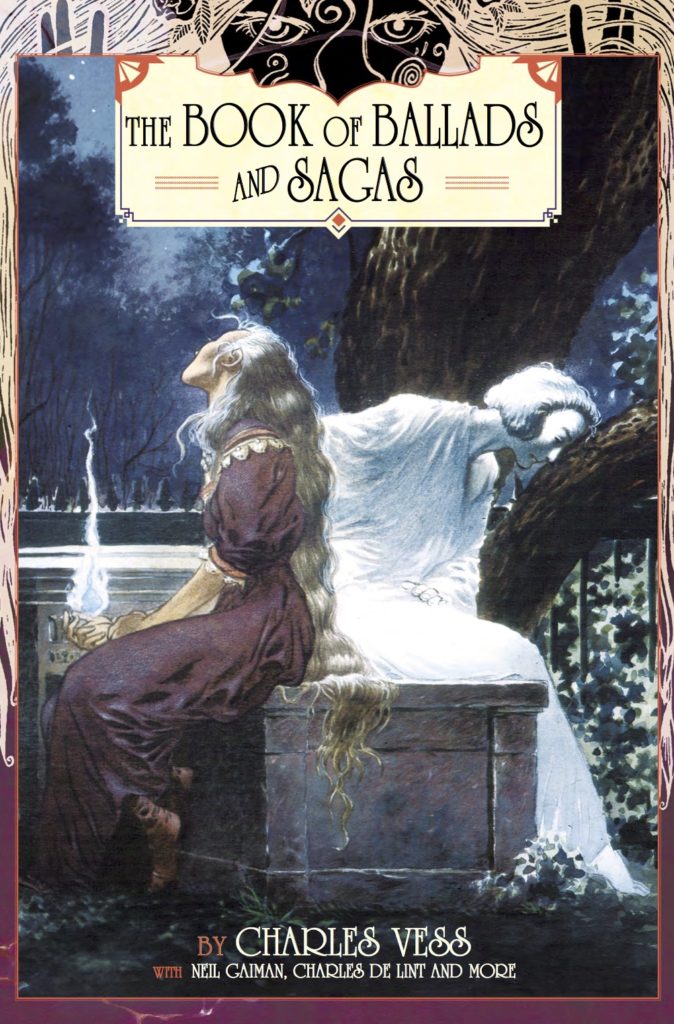 (16) VIEW FROM THE ISS. [Item by Mike Kennedy.] The European Space Agency has posted a time-lapse video—taken from the ISS—showing a Russian Progress capsule loaded with supplies for the ISS rising above the limb of the Earth as background stars arc behind it. You can even see what appears to be the blazing reentry of one of the rocket stages. (Motherboard: "Watch a Spaceship Leave Earth in Stunning ISS Video")
This is an especially significant launch since it uses essential the same rocket stack as the crewed Soyuz launch that aborted earlier this year and the Progress launch took off from the Baikonur cosmodrome, also the same as the Soyuz. This, then, would appear to represent concrete progress toward getting a new Soyuz launch off in time to relieve the current ISS crew.
We're so used to seeing perfectly-rendered CGI depictions of outer space in movies and video games that seeing the real thing can sometimes feel underwhelming. This is not one of those times.

On Thursday, the European Space Agency (ESA) published a video taken from the International Space Station (ISS) by astronaut Alexander Gerst. The video shows time-lapse footage of the Russian Progress MS-10 cargo spacecraft that launched from the Baikonur cosmodrome in Kazakhstan on November 16. The footage is almost unbelievable as it shows the spacecraft, on a resupply mission to the ISS, arcing into orbit. The camera pans slowly and follows the unmanned Russian craft, revealing Earth's curvature in epic scale.
(17) SATANIC SETTLEMENT. The New York Times reports the infringement suit is over: "Satanic Temple Settles Lawsuit Over Goat-Headed Statue in 'Sabrina'".
The Satanic Temple said on Wednesday that it had settled its lawsuit accusing Warner Bros. and Netflix of copying the temple's goat-headed statue in their new "Sabrina" series.

The lawsuit was "amicably settled," Lucien Greaves, a co-founder of the temple, wrote in a blog post on the Patheos religion-themed website.

The temple will be acknowledged in the credits for episodes of "The Chilling Adventures of Sabrina" that have already been filmed, Mr. Greaves wrote. The rest of the settlement, including details on what will happen in future episodes of the show, is confidential, according to Bruce Lederman, the temple's lawyer.
(18) TIME MARCHES BACKWARDS. As a trufannish site we try not to discuss science fiction here but sometimes it creeps in. Like when Camestros Felapton explains that "I thought of a different form of time travel". It started when he was reading Gregory Benford's Timescape.
… That message from the future got me thinking. Practically there's obviously no way to send an electrical signal down a wire into the past (i.e. this I'm engaging with fiction here not an actual proposal). I suppose that information arriving at a destination before it left its starting point violates the speed of light but looked at just in terms of distance traveled over elapsed time it doesn't….
(19) USE CASE. Nothing could possibly go wrong with an AI being developed to run planetary outposts and assist astronauts, right? (Space.com: "This HAL 9000-Inspired AI Simulation Kept Its Virtual Astronauts Alive"; paywalled source material at Science Robotics: "CASE: A HAL 9000 for 2021") CASE ("cognitive architecture for space agents")—developed by Pete Bonasso, et al., at TRACLabs Inc.—has already run a simulated planetary base and is moving along to testing on analogs.
"Our colleagues and NASA counterparts are not concerned that our HAL might get out of control," Bonasso told Space.com. "That's because it can't do anything it's not programmed to do."

In experiments, CASE managed a simulated planetary base for about 4 hours. However, the researchers stressed more work is needed before it can run an actual base.

Moreover, "though CASE is impressive, it's not the fully realized HAL from '2001: A Space Odyssey,' nor is it Lt. Commander Data from 'Star Trek: The Next Generation,'" Bonasso said. "Its capability is very narrow, focused on events occurring on a planetary base. While it can keep the life support systems running, it has no idea who won the last presidential election."

The scientists are now working with what NASA calls analogs — places where volunteers pretend they are living on a distant world. In the long term, the aim is to incorporate CASE into the analogs to see how the software can help improve future space expeditions.
(20) TWO GUYS IN THE CAST. Patrick Stewart makes a great anecdote from the gaffes he committed the first time he met Sting.
Patrick Stewart explains how he really had no idea who Sting was when meeting him on set on David Lynch's Dune.
[Thanks to John King Tarpinian, JJ, Cat Eldridge, Chip Hitchcock, Olav Rokne, Mike Kennedy, Martin Morse Wooster, Carl Slaughter, and Andrew Porter for some of these stories. Title credit goes to File 770 contributing editor of the day Jayn.]