(1) SCIENCE THROUGH ANOTHER EYE. Jenny Uglow, in "Beauty in Ingenuity: The Art of Science", leads readers through "The Art of Innovation: From Enlightenment to Dark Matter" exhibit on view at London's Science Museum through January 26, 2020.
… Across the room, the quest for new materials continues, with a wafting terylene dress from 1941, and a screening of the exuberant 1951 Ealing comedy The Man in the White Suit, with Alec Guinness as the naïve inventor of an indestructible textile fleeing from angry industrialists and workers, saved only when his magic material disintegrates around him. There's a lot of fun, as well as science, in this show—and some joyous artistic accidents, like David Hockney's encounter with a polaroid camera, which he used for the dazzling grid of Sun on the Pool, Los Angeles (1982). "Drawing with a camera," he called it.

In the next section, "Human Machines," the note of fear enters fully with the trauma of mechanized carnage in World War I. A case holds pioneering artificial limbs from the 1920s, and in Otto Dix's Card Players (1920), three disfigured soldiers sit round a table, their torn limbs and missing jaws replaced by fantastical prosthetics. The destructive technology of warfare and the constructive skill of limb-makers have turned Dix's men into monsters. Have they, perhaps, become machines themselves?…
(2) KGB. Ellen Datlow has posted photos from the November 20 Fantastic Fiction at KGB event where David Mack and Max Gladstone read from their novels, entertaining a full house.
(3) TOOLBOX 2020. Applications for Taos Toolbox will be taken beginning December 1. The two-week Master Class in Science Fiction and Fantasy will be taught by Walter Jon Williams and Nancy Kress, with special guest George R.R. Martin and special lecturer E.M. Tippetts. The class runs June 7-20, 2020.
The Terran Award full attending Scholarship is available again this year, sponsored by George R.R. Martin, to bring an aspiring SF writer from a non-English-speaking country to the Taos Toolbox. The award covers all tuition and fees to the Toolbox (but not meals or travel). Applicants will need to speak and write in English, but must be from from a country where English is not the primary language. WJW and the Toolbox staff will select the winner.
(4) SHELF SHRINKAGE. Brenda Clough tells how she downsized in "Curating the Bookshelves" at Book View Café.
Seven years ago, my house had 20 floor-to-ceiling bookcases, and about the same number of half-sized bookcases — about 5000 books, excluding the comics. The house was essentially full of books and comic books. Today I have ten tall bookcases, and a couple short ones. What follows is the road map from here to there — halving the number of books in my life. I have been hearing of many friends having to smallify their space, and maybe this will help!…
(5) ROAR OF THE GREASEPAINT. It's The Joker vs Pennywise in the latest round of Epic Rap Battles Of History.
The Joker and Pennywise clown around in the eighth battle of ERB Season 6! Who won? Who's next? You decide!
(6) TODAY IN HISTORY.
November 24, 1958 — Devil Girl From Mars premiered in Swedish theaters. It starred Patricia Laffan and Hazel Court, reviewers called this UK film delightfully bad. It however is considered just bad at Rotten Tomatoes with a 23% rating.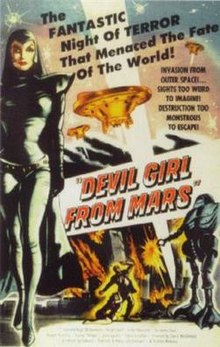 November 24, 1985 — Ewoks: The Battle for Endor premieredon ABC. Starring Wilford Brimley, Warwick Davis, Aubree Miller, Paul Gleason and Carel Struycken, the critics found it mostly harmless. It holds a 51% rating at Rotten Tomatoes.
(7) TODAY'S BIRTHDAYS.
[Compiled by Cat Eldridge.]
Born November 24, 1882 — E. R. Eddison. Writer whose most well-known work by far is The Worm Ouroboros. It's slightly connected to his much lesser known later Zimiamvian Trilogy. I'm reasonably that sure I've read The Worm Ouroboros but way too long ago to remember anything about it. Silverberg in the Millenium Fantasy Masterworks Series edition of this novel said he considered it to be "the greatest high fantasy of them all". (Died 1945.)
Born November 24, 1907 — Evangeline Walton. Her best-known work, the Mabinogion tetralogy, was written during the late 1930s and early 1940s, and her Theseus trilogy was produced during the late 1940s. It's worth stressing Walton is best known for her four novels retelling the Welsh Mabinogi. She published her first volume in 1936 under the publisher's title of The Virgin and the Swine which is inarguably a terrible title. Although receiving glowing praise from John Cowper Powys, the book sold quite awfully and none of the other novels in the series were published at that time. Granted a second chance by Ballantine's Adult Fantasy series in 1970, it was reissued with a much better title of The Island of the Mighty. The other three volumes followed quickly. Witch House is an occult horror story set in New England and She Walks in Darkness which came out on Tachyon Press is genre as well. I think that is the extent of her genre work but I'd be delighted to be corrected. She has won a number of Awards including the Mythopoeic Award for Adult Literature, Best Novel along with The Fritz Leiber Fantasy Award, World Fantasy Award, Convention Award and the World Fantasy Award for Life Achievement. (Died 1996.)
Born November 24, 1916 — Forrest J. Ackerman. It's no wonder that he got a a Hugo forfor #1 Fan Personality in 1953 and equally telling that when he was handed the trophy at Philcon II (by Asimov), he physically declined saying it should go to Ken Slater to whom the trophy was later given by the con committee. That's a nice summation of him. You want more? As a literary agent, he represented some two hundred writers, and he served as agent of record for many long-lost authors, thereby allowing their work to be reprinted. Hell. he represented Ed Wood! He was a prolific writer, more than fifty stories to his credit, and he named Vampirella and wrote the origin story for her. Speaking of things pulp which she assuredly is, He appeared in several hundred films which I'll not list here and even wrote lesbian erotica. Eclectic doesn't begin to describe him. His non-fiction writings are wonderful as well. I'll just single out Forrest J Ackerman's Worlds of Science Fiction, A Reference Guide to American Science Fiction Films and a work he did with Brad Linaweaver, Worlds of Tomorrow: The Amazing Universe of Science Fiction Art. Did I mention he collected everything? Well he did. Just one location of his collection contained some three hundred thousand books, film, SF material objects and writings. The other was eighteen rooms in extent. Damn if anyone needed their own TARDIS, it was him. In his later years, he was a board member of the Seattle Science Fiction Museum and Hall of Fame who now have possession of many items of his collection. (Died 2008.)
Born November 24, 1948 — Spider Robinson, 71. His first story, "The Guy with the Eyes," was published in Analog (February 1973). It was set in a bar called Callahan's Place, a setting for much of his later fiction. His first published novel, Telempath in 1976 was an expansion of his Hugo award-winning novella "By Any Other Name". The Stardance trilogywas co-written with his wife Jeanne Robinson. In 2004, he began working on a seven-page 1955 novel outline by the late Heinlein to expand it into a novel. The resulting novel would be called Variable Star. Who's read it? Oh, he's certainly won Awards. More than can be comfortably listed here.
Born November 24, 1957 — Denise Crosby, 62. Tasha Yar on Next Gen who got a meaningful death in "Yesterday's Enterprise". In other genre work, she was on The X-Files as a doctor who examined Agent Scully's baby. And I really like it that she was in two Pink Panther films, Trail of the Pink Panther and Curse of the Pink Panther, as Denise, Bruno's Moll. And she's yet another Trek performer who's done what I call Trek video fanfic. She's Dr. Jenna Yar in "Blood and Fire: Part 2", an episode of the only season of Star Trek: New Voyages.
Born November 24, 1957 — John Zakour, 62. For sheer pulp pleasure, I wholeheartedly recommend his Zachary Nixon Johnson PI series which he co-wrote with Larry Ganem. Popcorn reading at its very best. It's the only series of his I've read, anyone else read his other books?
Born November 24, 1957 — Jeff Noon, 62. Novelist and playwright. Prior to his relocation in 2000 to Brighton, his stories reflected in some way his native though not birth city of Manchester. The Vurt sequence is a very odd riff off Alice in Wonderland that Noon describes as a sequel to those works.
Born November 24, 1965 — Shirley Henderson, 54. She was Moaning Myrtle in Harry Potter and the Chamber of Secrets and Harry Potter and the Goblet of Fire. She was Ursula Blake in " Love & Monsters!", a Tenth Doctor story, and played Susannah in Tristram Shandy: A Cock and Bull Story, a film that's if because of the metanarrative aspect.
(8) GAHAN WILSON IN HIS PRIME. Andrew Porter shared three photos of cartoonist Gahan Wilson from the Eighties and Nineties.
Color photo of Gahan Wilson in 1992. Photo by & copyright © Andrew Porter.
Wilson enjoying his tea in 1989.Photo by & copyright © Andrew Porter
Gahan Wilson with Ellen Datlow, center, and agent Merilee Heifetz, 1980s – Photo by & copyright © Andrew Porter.
(9) IDEA TRIPPING. And John Hertz would like to direct you to his favorite cartoon by Gahan Wilson (1930-2019).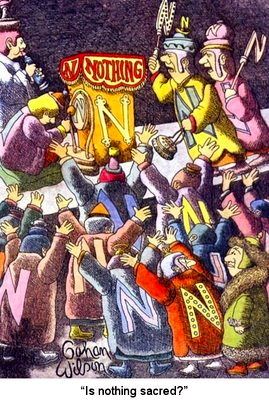 If you're hip to fanziner jokes – maybe I should've said hep, many of them started in the 1940s and 1950s – and the Cosmic Joker just now led me to mistype started with a v instead of the second t – you know we send poctsarcds. If you don't, you can look it up here. Or it's a good occasion to consult A Wealth of Fable (H. Warner, Jr., rev. 1992; see here).

Once in my fanzine Vanamonde I sleepily let stand the mistyping – or mis-mistyping – "poctsacrd". Jack Speer promptly sent a letter of comment "Nothing is sacrd."
(10) WISHLIST DESTINATIONS. Paul Weimer got a huge response to his tweet – here are two examples.
(11) DOUBLE FEATURE. Abigail Nussbaum starts in the Guardian — "The Rosewater Redemption by Tade Thompson review – stunning conclusion" – and finishes in a post at her blog Asking the Wrong Questions.
Since I have more space (and fewer limitations on things like spoilers) on my own blog, I'd like to elaborate a little on the review, and particularly the sense I got that the Wormwood trilogy changed as it expanded from a standalone to a series. When I first read Rosewater (and even more so when I reread it last month, in preparation for writing this review) I was struck by how clearly it belonged to the subgenre of "zone" science fiction. Originating with the Strugatsky brothers' 1972 novel Roadside Picnic (and the 1979 Tarkovsky film, Stalker, inspired by it), "zone" novels imagine that some segment of normal space has erupted into strangeness, a zone where the normal rules of physics, biology, and causality no longer apply, and whose residents–or anyone who wanders in–are irretrievably altered in some fundamental way. The zone also represents a disruption to existing power structures, and the plots of zone novels often revolve around characters who have been dispatched by the state to infiltrate the zone in an attempt to control or at least understand it–an effort that is doomed to failure. Recent examples of zone novels include Jeff VanderMeer's Area X trilogy and M. John Harrison's Kefahuchi Tract trilogy (and particularly the middle volume, Nova Swing). I've even seen a persuasive argument that the HBO miniseries Chernobyl can be read as zone science fiction, because of its unreal, heightened depiction of the region around the exploded reactor, and because the effects that the unseen radiation it spews have on people, animals, and plant life in the surrounding areas track so closely with the subgenre's central trope of cellular-level change.
(12) CRYSTAL CLEAR. Nussbaum also dives deep beneath the ice in "Make the Next Wrong Choice – Some Spoilery Frozen II Thoughts" on Tumblr.
I saw Frozen II last night. It's an OK movie – I didn't love the first one very much, but I do appreciate the attempt to expand the story into a broader fantasy epic (even if it seems to borrow shamelessly from Avatar: The Last Airbender with barely even a fraction of that show's skill at constructing plot and themes). But I've been thinking about the film's handling of the theme of ancestral wrongs and making reparations for them, and the more I do the angrier I get, so here are some spoilery observations.
(13) NO THANKS. I was wrong – better for CNN to run more impeachment coverage than this news: "Pringles unveils turducken-flavored chips for an even crispier Thanksgiving feast".
Pringles has unveiled a seasonal food-flavored chip feast, and it's poised to replace the whole Thanksgiving spread.

Two words: Turducken. Pringles.

No, no, it isn't a chicken chip stuffed inside of a duck chip crammed inside of a turkey chip. There are three individual flavors, so it's up to the snacker to determine the order.
(14) ORIGIN STORY. "Copy of First Marvel Comic Ever Made Sells for a Record $1.26M: 'This Is the Granddaddy'" – Yahoo! Entertainment has the story.
An extremely rare and nearly perfect copy of the first comic book to feature the now-iconic "Marvel Comics" name was sold for a record amount at a Texas auction on Thursday.

The issue, Marvel Comics No. 1 — published in October 1939 by Timely Comics, which would later become Marvel in the 1960s — sold for $1.26 million, the highest price ever at public auction for a comic made by the company, according to a Heritage Auctions press release.

The comic was given a 9.4 rating out of 10 by Certified Guaranty Company, and is the highest-rated copy of the issue in existence.
(15) THE ENEMY OF MY ENEMY. BBC reports "Bacterial allies make dengue fever cases dive".
Recruiting a bacterial ally that infects mosquitoes has led to huge reductions in cases of dengue fever, trials around the world show.

Wolbachia bacteria make it harder for the insects to spread the virus, rather than kill them off.

Researchers say the findings are a "big deal" with cases falling by more than 70% in field trials.

New ways of controlling dengue are urgently needed as cases have exploded worldwide in the past 50 years.
See also NPR's "Infecting Mosquitoes With Bacteria Could Have A Big Payoff".
(16) RAINBOW CONNECTION. "Cinema Classics: The Wizard of Oz" on Saturday Night Live provides an alternate ending to the 1938 film.
[Thanks to Martin Morse Wooster, Chip Hitchcock, John Hertz, Michael Toman, Cat Eldridge, JJ, John King Tarpinian, N., Mike Kennedy, Ellen Datlow, and Andrew Porter for some of these stories. Title credit goes to File 770 contributing editor of the day Kurt Busiek.]