(1) BOOKSHELF ART. An amazing idea – "Clever Wooden Bookends Mimic Tokyo's Narrow Back Alleys Lit Up at Night" at My Modern Met.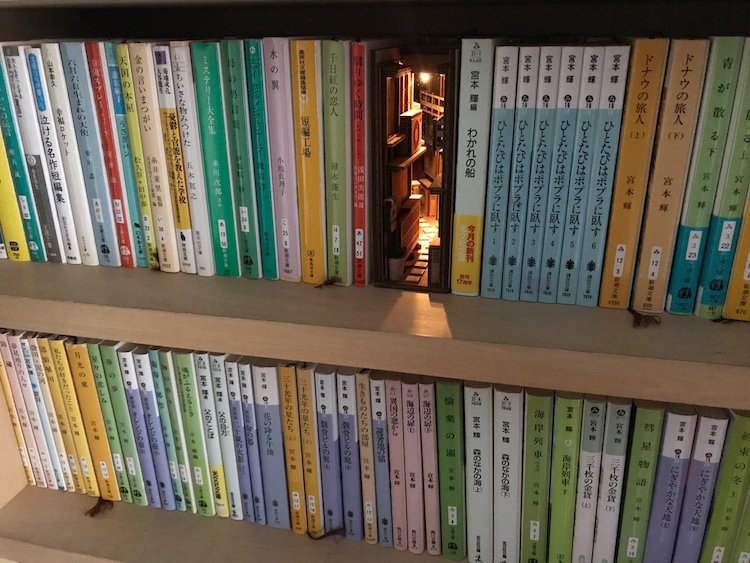 Based in Tokyo, Japanese designer monde has created a new category of art and design—bookshelf dioramas. His wood inserts transform ordinary bookshelves into something magical and bring the feel of a Japanese back alley into your home. Monde's "back alley bookshelves" first caused a stir when the designer debuted them at the arts and crafts event Design Festa.

…Inspired by Tokyo, his work carefully mirrors the dizzying feeling of wandering the city's back alleys. Monde has been working on the project for two years, using different materials to create the look and feel of the city. He's even added lights to some models, which give a soft glow that emanates from the bookshelf. This newer model is also sized perfectly to sit between paperback novels.
???bookshelf ??????
???????
??????????????????????????
????????????????

??2018? ?? ?#design #art #bookend #???#?? pic.twitter.com/PlW3mtmLiv

— monde (@monde55212068) November 17, 2018
(2) KGB. Ellen Datlow has posted her photos from the Fantastic Fiction at KGB Readings for November 19:
Cat Rambo and Leanna Renee Hieber read from their recent or forthcoming novels to a surprisingly almost full house (surprisingly, because it was Thanksgiving Eve and we were worried no one would show up).
(3) DIVE INTO FANZINES. The Science Fiction Fanzine Reader: Focal Points 1930-1960 edited by Luis Ortiz includes more than fifty articles and many illustrations by most of the major fan writers of the period. It's available from Nonstop Press. The Table of Contents is in the Fancyclopedia. I pre-ordered a copy today.
(4) BRACKETT. Cinephilia prefaces "Leigh Brackett: A Terrific Writer Ahead of Her Time just as She Was Ahead of Her Colleagues", its repost of Starlog's 1974 interview, with this introduction:
The name Leigh Brackett, already surely familiar to every true fan of the literary genre of science fiction, is a name that should be celebrated by every film lover as well. Born exactly 101 years ago and often referred to as The Queen of Space Opera, she started writing and publishing her stories in various science ficiton pulp magazines at the beginning of the 1940s and soon established herself as one of the leading representatives of the space opera subgenre, but continued to work in various different genres with equal skill and success. Her 1944 novel 'No Good from a Corpse,' a hard-boiled mystery novel in the style of Raymond Chandler or Dashiell Hammett, not only introduced her to a wider audience, but steered her career towards the movie business, another field where she would become a prominent figure. Howard Hawks was so impressed by this novel that he asked his assistant to call "this guy Brackett." In fact, this statement basically sums up the challenges and obstacles Brackett had to face on her way to becoming one of the most important writers of the century. She succeeded at distinguishing herself as a highly competent, original and strong voice in a field practically reserved for men, and in the early stages of her career she had to put up with a lot of skepticism and outright criticism for being a female writer of science fiction. Moreover, the nickname The Queen of Space Opera was mostly used as a degrading term, not a compliment: the subgenre she found most interesting and inspiring was then regarded as a lesser form of writing, some sort of an ugly child of science fiction and fantasy. But she stuck with it, defended it, becoming its champion and claiming science fiction should never be put into drawers and confined with labels.
(5) WFC GOHS. Jim C. Hines, in "World Fantasy Con Guest of Honor Policies", presents data and analysis that show an inconsistent record when it comes to certain criteria that supposedly govern WFC GoH choices, criteria used to explain the lack of PoC among them.
There's a lot to unpack in the full letter, but I wanted to focus on this particular idea, that guests of honor had to have decades of experience in the field. So I went through the list of WFC guests of honor and pulled together the year of the con and the year of the guest's first published book. It's not a perfect way to measure years in the field, but I think it works pretty well….

…The WFC Board said, "Convention committees select Special Guests and especially Guests of Honor in order to recognize and pay tribute to their body of work within the genre over a significant period of time, usually consisting of decades in the field." I've seen others, people not necessarily affiliated with the con, argue that WFC author guests of honor should have at least 30 years in the field.

The latter is obviously untrue. Only a quarter of all guests have been active SF/F professionals for three decades or more.
(6) MY GOD, IT'S FULL OF FLOPPIES. The Verge reminds us what we probably should have already known had we thought about it, "The International Space Station is full of floppy disks".
The International Space Station is apparently in need of a garage sale. European Space Agency astronaut Alexander Gerst, currently in residence up in, well, space, discovered a treasure trove of floppy disks tucked away in one of the lockers on-board.

The ISS recently celebrated its 20th anniversary on November 20th. As spotted by CNET,Gerst tweeted a picture of his ancient tech find, adding "I found a locker on the @Space_Station that probably hasn't been opened for a while." In addition to a Norton's Utilities for Windows 95 / 98, the folder also includes a few disks labeled "Crew Personal Support Data Disk." The most likely candidates for who they refer to are former astronauts William Shepherd and Sergei Krikalev, who were notable crew members in 2000 during the first manned ISS mission, Expedition 1.
I found a locker on the @Space_Station that probably hasn't been opened for a while… / Ich habe hier auf der #ISS ein Fach gefunden, das vermutlich schon seit einer Weile nicht mehr geöffnet wurde… #SpaceStation20th pic.twitter.com/XOc3FS8tMm

— Alexander Gerst (@Astro_Alex) November 20, 2018
(7) TODAY'S BIRTHDAYS.
[Compiled by Cat Eldridge and JJ.]
November 25, 1920 – Ricardo Montalban, Actor who became famous to genre fans for reprising his original Star Trek series role as the "genetically-superior" Khan Noonien Singh in Star Trek II: The Wrath of Khan. But do you remember that he played the circus owner Armando, who saves Corneilius and Zira's son Caesar, in the Escape and Conquest versions of Planet of the Apes? He also played two different characters in episodes of The Man from U.N.C.L.E., had a part in an episode of Mission: Impossible, and appeared in the pilot episode for Lynda Carter's Wonder Woman series in 1974. His last roles included playing the grandfather in Spy Kids 2 and 3, and as character voices in animated series, among them the villain Vartkes on Buzz Lightyear of Star Command and as a cow on Family Guy. (Died 2009.)
November 25, 1926 – Poul Anderson, Writer whose first genre works were published in Astounding while he was at university. After getting a degree in physics – with honors – instead of pursuing that profession, he continued to write stories for the early magazines, and later standalone novels. My favorite ones by him? Orion Shall Rise, for the mix of personal scale story with his usual grand political themes, and all of the Flandry stories, though they can often be sexist, are quite fun. His works won numerous Hugo and Nebula Awards, he was Guest of Honor at the 1959 Worldcon, and he was named SFWA Grand Master and inducted into the Science Fiction and Fantasy Hall of Fame. (Died 2001.)
November 25, 1926 – Jeffrey Hunter, Actor best known for his 1965 role as Captain Christopher Pike in the original pilot episode of Star Trek, which was later framed into the Hugo Award-winning two-part episode "The Menagerie". Other genre work included Dimension 5, A Witch Without A Broom, Strange Portrait (never released, and no print exists), The Alfred Hitchcock Hour, Journey into Fear, and The Green Hornet. On the afternoon of May 26, 1969, he fell and suffered a skull fracture while at home and, despite surgical intervention, died the following morning at age 42.
November 25, 1930 – Jacqueline Simpson, 88, Writer and Research of folklore and legends. Consider that any reasonably-long fiction series creates its own history and folklore over the time that series unfolds. Now consider Jacqueline Simpson, a British folklorist who met Terry Pratchett at a book signing one day, and was able to answer at length his query about how many magpie rhymes she knew. This started a friendship which led to The Folklore of Discworld: Legends, Myths and Customs from the Discworld with Helpful Hints from Planet Earth. It lovingly details the folklore of the Discworld novels, and draws parallels with Earth's folklore, particularly the British folklore Pratchett used. Nice!
November 25, 1951 – Charlaine Harris, 67, Writer of more than 30 novels in her interlinked metaverse, the most well-known probably being the massively-popular Sookie Stackhouse series, which was made into the TV series True Blood, and the Midnight, Texas trilogy, which is currently a TV series of the same name. She received a Compton Crook Award nomination for her debut novel, the first in the Stackhouse series, and the first volume of the Cemetery Girl graphic novel series, The Pretenders, earned her and co-author Christopher Golden a World Fantasy Award nomination.
November 25, 1953 – Michael J. "Orange Mike" Lowrey, 65, Bookseller, Civil Service Employee, Writer, Editor, Fan, and Filer, who is best known in fandom for always appearing in ensembles which are entirely in shades of orange. He has been a member of Nashville and Milwaukee fandom clubs and the Society for Creative Anachronism, as well as producing his own fanzine, Vojo de Vivo, and participating in APAs. He has attended every single Chattacon – 43 at last count! – and more than 40 Wiscons, and was Fan Guest of Honor at ICon 25. He was a TAFF candidate in 2003, and is a candidate again this year to travel to the Dublin Worldcon. He and fan C. Kay Hinchliffe were married at X-Con 5 in 1981, and their child Kelly is a fan writer and artist as well.
November 25, 1974 – Sarah Monette, 44, Writer who was a Campbell finalist two years in a row, based on the strength of the first two novels in her Doctrine of Labyrinths series, Mélusine and The Virtu, which are quite wonderful and feature a magician and a thief in magical realism setting. I'm hard to impress, but this impressed me: under the pen name of Katherine Addison, she published The Goblin Emperor, which garnered the Locus Award for Best Fantasy Novel and was nominated for the Hugo, Nebula, and World Fantasy Awards. Damn, that's good! She won the Spectrum Award in 2003 for her short story "Three Letters from the Queen of Elfland". I also highly recommend the Iskryne series, which she co-wrote with Elizabeth Bear. The Bone Key is a collection of all but the most recent short works in The Necromantic Mysteries of Kyle Murchison Booth, about a paranormal investigator.
(8) COMICS SECTION.
(9) FIRST SCOTTISH SFF BOOK FESTIVAL. Happens in June, and The Herald says there hasn't been one before — "Scotland's first book festival dedicated to fantasy, science fiction and horror is launched".
The Cymera festival is to launch next year in Edinburgh, and will run for three days in June.

Scotland already has successful book festivals that feature various genres, including the Edinburgh International Book Festival, Glasgow's Aye Write! and the Wigtown Book Festival, while Bloody Scotland, in Stirling, is firmly established as a leading crime writing festival.

Cymera, to be staged at the Pleasance venue in Edinburgh, hopes to do the same for the popular fantastical genres.

The full line up for the festival is to be announced in the new year, but so far writers inlcuding Samantha Shannon, author of the Bone Season series, Ken MacLeod, the noted Scottish sci-fi writer, Charles Stross, the prolific horror writer, and Claire McFall and Cassandra Khaw have been confirmed as attendees.
(10) BACK TO MEOW. George R.R. Martin wears his braces of death for the photo that adorns the print edition of his LA Times interview, unfortunately they didn't use it in the online version — "Why 'Game of Thrones' scribe George R.R. Martin took a chance on Meow Wolf".
What led famed "Game of Thrones" author George R.R. Martin to invest millions of dollars in the Santa Fe-based art collective Meow Wolf was his intuition….

Investing in Meow Wolf was a generous gesture, but while money can be a great facilitator, it can also have a corrosive effect on art.

There's a danger that you can lose your soul or you can lose the thing that inspired you to start. But Meow Wolf hasn't done that. What's it going to be 20 years from now? I don't know. We'll have to see. You can go online and you'll read a lot of good press about Meow Wolf, but you will also come across certain sites or reviews that are basically, "Well, it's OK. It's fun, but it's not art," from people who have a very narrow view of what art is.
(11) THE BLACK SCREEN OF DEATH. At Galactic Journey, Cora Buhlert tells about the West German reaction to the Kennedy assassination in "[November 24, 1963] Mourning on two continents".
Like most West Germans, news of the terrible events in Dallas reached me at home, just settling onto the sofa for an evening of TV. Like some ninety percent of West German television owners, I had my set tuned to the eight o'clock evening news tagesschau. But instead of the familiar tagesschau fanfare, the screen remained dark for a minute or two, something which has never happened before in the eleven years the program has been on the air. When the image finally returned, the visibly shaken news anchor Karl-Heinz Köpcke reported that John F. Kennedy had been shot in Dallas, Texas, and was rushed to hospital. By the end of the program, we knew that Kennedy had not survived….
(12) PROVENANCE. Somebody reading this would probably like to own an autographed copy of Ray Bradbury's Fahrenheit 451 that used to belong to Hugh Hefner. Here's your chance.
A signed and inscribed copy of the 40th Anniversary Edition of Bradbury's Fahrenheit 451 (New York: Simon & Schuster, 1993). Together with an illustrated edition from 1982 in a slipcover case.

Larger, 11 by 7 1/4 inches

PROVENANCE From the Collection of Hugh M. Hefner
(13) THAT'S SOME JOHNSON. [Item by Mike Kennedy.] The DorkSideOfTheForce wonders, "Obi-Wan spin-off movie is apparently happening?" Well, according to a speech by British politician Boris Johnson to Northern Ireland's Democratic Unionist Party, it is. In one snippet, he said:
We have more Nobel prizes from one Cambridge college than from Russia and china combined. By far the most dynamic creative culture and media industries. Which was the biggest grossing movie last year? Star Wars and where does George Lucas propose to make a follow up about Obi-Wan Kenobi? Northern Ireland.

But what is the name of the weapon wielded by Obi-Wan. The glowing throbbing rod with its enigmatic hum. A light sabre – and where did they make the first light sabre?
Apparently this is somehow part of his anti-Theresa May but pro-Brexit reasoning.
(14) WATER WORLD? A new paper in The Astrophysical Journal ("Evolved Climates and Observational Discriminants for the TRAPPIST-1 Planetary System") strikes a more optimistic tone than several past articles about the chances for liquid water on at least one of the TRAPPIST-1 planets. As the popsci review at BGR.com ("One of the TRAPPIST-1 exoplanets might have an ocean, researchers now say") puts it:
Ever since astronomers announced the discovery of seven exoplanets around the star called TRAPPIST-1, researchers have been diving into the data in an attempt to determine what the planets are like. Early on, the prospects for potentially habitable worlds seemed good, but subsequent models suggested that the star at the heart of the system may have burned off any atmosphere the planets once had.

Now, a new study claims to offer a slightly more optimistic scenario that gives at least one of the planets, TRAPPIST-1e, the chance at sustaining an ocean on its surface. The research was published in The Astrophysical Journal.

The TRAPPIST-1 system is incredibly special because it's packed with seven planets, and three of them are near what we consider to be the habitable zone of the central star. However, scientists think the star had an extremely intense early phase that would likely have scorched the planets, stripping their atmosphere and moisture away long ago.

In studying each of the individual planets, the fourth most distant from the star caught the attention of scientists. Using advanced models to predict the fate of each world, the research team arrived at the conclusion that TRAPPIST-1e may have escaped the fate of its peers and could still support an ocean on its surface.
(15) FREE READ. Motherboard.com has posted a short story ("In the Forests of Memory," E. Lily Yu) free on their site. A note from the editor says:
Especially after a week given to celebrating a holiday of thanks and remembrance, perhaps it is worth thinking about who gets remembered and why. Here, the great E. Lily Yu imagines a future where cemeteries have been upgraded, but so many other things have not. Enjoy
(16) FOCUS ON THE WILD. BBC brings you the winners of "The Comedy Wildlife Photography Awards 2018".
A shocked squirrel has scooped the overall prize in this year's Comedy Wildlife Photography Awards.

Out of thousands of entries from around the world, Mary McGowan, from Tampa, Florida, won the overall prize with her photo titled Caught in the Act.
[Thanks to JJ, John King Tarpinian, Bill, Chip Hitchcock, Martin Morse Wooster, Cat Eldridge, Mike Kennedy, Carl Slaughter, and Andrew Porter for some of these stories. Title credit goes to File 770 contributing editor of the day Daniel Dern.]