(1) POUNDING AWAY AT IT. Although I'll never carry this much British cash, I'm interested in the story: "New £50 note scientist nominations released".
 On the list are computing pioneers Alan Turing and Ada Lovelace, telephone inventor Alexander Graham Bell and astronomer Patrick Moore.

The Bank received 174,112 nominations, of which 114,000 met the eligibility criteria.

To be on the list, the individual must be real, deceased and have contributed to the field of science in the UK.

The list, which includes more than 600 men and almost 200 women, includes black holes expert Stephen Hawking, penicillin discoverer Alexander Fleming, father of modern epidemiology John Snow, naturalist and zookeeper Gerald Durrell, fossil pioneer Mary Anning, British-Jamaican business woman and nursing pioneer Mary Seacole and Margaret Thatcher, who was a scientist before becoming prime minister.
Here's the Bank of England's eligibility list [PDF file]. Fred Hoyle is on it. (Don't you think he looks darling in the mockup below?) Keep looking, probably lots more sf writer/scientists. And I see other unexpected names – like Jethro Tull….
The BBC story notes that there are a lot of women and minorities on the list, but not whether the bank intends to pick someone ignored rather than someone obviously famous. Hawking is the favorite of bookmakers, but women are #2, #3 (tied) and #6 on that list.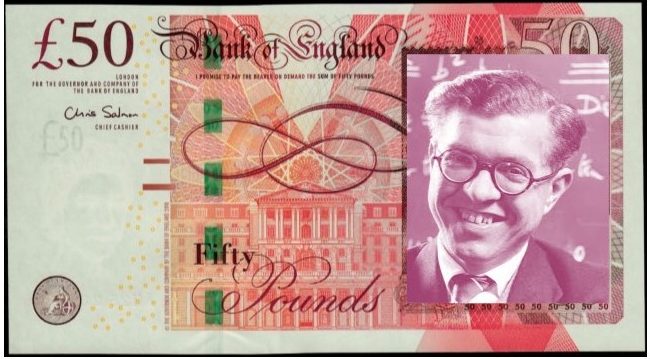 (2) EARLY START ON NEBULA WEEKEND PROGRAM. I'm hungry already.
Looking at Nebula and Worldcon program surveys and tbh what I really want is a @scalzi @ChuckWendig @SamSykesSwears panel called "best writing snacks" where they sit there w a bunch of ingredients, assembling and eating their infamous creations while telling funny writing stories

— Peng Shepherd (@pengshepherd) November 26, 2018
Genre Snackdown: Every writer knows that you need appropriate fuel in order to be productive, but what is the perfect brain food. Join [number] award-winning authors as they assemble their snack food of choice and explain why it is the Perfect Writing Food.

— Mary Robinette Kowal (@MaryRobinette) November 26, 2018
(3) INSIGHT REACHES THE SURFACE OF MARS. CNN follows the headline with a full retrospective of the mission: "NASA's InSight lander has touched down on Mars".
After seven months of traveling through space, the NASA InSight mission has landed on Mars. A few minutes after landing, InSight sent the official "beep" to NASA to signal that it was alive and well, including a photo of the Martian surface where it landed.

Mission Control at NASA's Jet Propulsion Laboratory exploded into celebratory applause and cheers after the touchdown was confirmed. The landing was watched around the world and even broadcast live on the Nasdaq Stock Market tower in New York City's Times Square.
(4) OUTASIGHT. Satirical Canadian news site The Beaverton suggests that the lander must be glad to be away from humans: "Mars probe glad to leave doomed Earth behind".
"After the atmospheric entry procedure, InSight reported that it was 'functioning normally, unlike your ill-fated Earth-bound governments,'" said NASA's Jet Propulsion Laboratory in a press release…
(5) SLOSHING ON THE RED CARPET. Elle's R. Eric Thomas wasn't a big fan of the stars' red carpet outfits: "I Don't Really Understand the 'Aquaman' Premiere's Dress Code".
Look, I don't want to rain on the parade here. I'm not trying to dampen anyone's spirits. I don't want to be a wet blanket. I'm not trying to be a drip. But, what was the dress code for this event?

Amber Heard is going very literal with an Esther Williams realness water ballet lewk, complete with an embroidered cap. Loves it. She is giving me 1970s country club loungewear vibes. She just got a perm and she's just trying to get some sun and maybe stick her feet in the pool. That all tracks.

But what is is Jason Momoa doing in this scenario? This look says less Son of Atlanna and more Son of Anarchy. Whereas Amber is giving us Busby Berkley balletics, Jason is serving Rizzo from Grease.
(6) LAST GEEKWIRE. Frank Catalano reports, "I've decided to end my GeekWire podcast series on science fiction, pop culture, and the arts. Or at least take a long pause that, hopefully, refreshes –"
After 18 stories and 14 episodes over about a year and a half, the "popcast" I hosted has run the gamut for now. GeekWire generally is rethinking its podcast strategy, so the timing is right. The episodes were great fun, and not only were the podcasts distributed through Google Play and Apple Podcasts, but they also aired in Seattle on KIRO-FM on the weekends.

Among the science fiction episodes were interviews with Greg Bear, Cat Rambo and Ramez Naam, a look at the history of Clarion West, how Seattle's Museum of Pop Culture looks for and preserves science fiction and fantasy artifacts, and how the SF and science fact site Scout uses science fiction as a business planning tool.

All episodes were recorded in real time and not heavily produced, on purpose, to make the guests and topics the star, not the production. However, the audio quality was always excellent.

I will continue to cover science fiction for GeekWire, but just not necessarily in audio form. (Unless Brian Herbert finally gives me that interview I've been pestering him about for 18 months, if he ever makes it into Seattle proper.)

All the episodes and stories can be found at this link: https://www.geekwire.com/tag/popcast
(7) JAY OBIT. Magician and actor Ricky Jay died November 24 reports Variety. BravoLimaPoppa3 notes: "For genre related works, he was in The Prestige, Mystery Men and an episode of the X-Files. Plus he could pull off stunts that made magic look real – as close to a real life wizard as you could get. He will be missed."
(8) TODAY IN HISTORY.
November 26, 1986 — Star Trek IV: The Voyage Home had a whale of a time
(9) TODAY'S BIRTHDAYS.
[Compiled by Cat Eldridge and JJ.]
Born November 26, 1919 – Frederik Pohl, Writer, Editor, and Member of First Fandom, who was active for more seventy-five years from his first published work, the 1937 poem "Elegy to a Dead Satellite: Luna" to his final novel All the Lives He Led. He edited Astounding Stories, Galaxy Science Fiction and Galaxy Science Fiction UK, If, Star Science Fiction Magazine (which I've never heard of), Super Science Stories which were a companion to Astounding Stories, and the list goes on. As a writer, he was amazing. My favorite was the Heechee series, though I confess some novels were far better than others; Gateway won Hugo Nebula, Campbell, Prix Apollo, and Locus Awards for Best Novel. Man Plus, I think, is phenomenal, the sequel less so. Your opinion, of course, will no doubt vary. The Space Merchants, co-written with Cyril M. Kornbluth in 1952, is damn fun. He wrote a lot of short fiction, some I think brilliant and some not – but that was true of most SF writers of the time. That he was great, and that he was honoured for being great, is beyond doubt — he won seven Hugo Awards (three as editor, three as author, and one as fan writer!) and two Nebula Awards; and for his 1979 novel Jem, he won a U.S. National Book Award in the special one-off category Science Fiction. SWFA made him its 12th recipient of their Grand Master Award in 1993, and he was inducted into the Science Fiction and Fantasy Hall of Fame in 1998. (Died 2013.)
Born November 26, 1936 – Shusei Nagaoka, Artist and Illustrator from Japan who is best known for his music album cover art in the 1970s and 1980s. He designed covers for many of Earth, Wind and Fire's albums, and many of his covers were very distinctively SFFnal; especially notable are Out of the Blue, by Electric Light Orchestra and When We Rock, We Rock, and When We Roll, We Roll by Deep Purple. His art also graced numerous genre books, including Tepper's After Long Silence, Attanasio's The Last Legends of Earth, and Reed's Down the Bright Way. He helped to design the 1970 Osaka World's Fair Expo, and had one of the first artworks which was launched into outer space and attained orbit, via the Russian Mir Space Station, in 1991. He won a Seiun Award for Best Artist in 1982. (Died 2015.)
Born November 26, 1939 – Tina Turner, 79, Grammy-winning Actor, Composer, Singer, and Dancer. She rates being mentioned just for being the oh-so-over-the-top Aunty Entity in Mad Max: Beyond Thunderdome, but let's not forget her as The Acid Queen in the musical Tommy, and a cameo as The Mayor in The Last Action Hero.
Born November 26, 1940 – Paul J. Nahin, 78, Engineer and Writer of numerous non-fiction works, some of genre interest, and at least 20 SF short fiction works. Time travel is certainly one of the intrinsic tropes of SF, so certainly there should be at least one academic that specializes in studying it. Oh, there is: I present this Professor Emeritus of electrical engineering at the University of New Hampshire who has written not one, but three, works on the subject, to wit: Time Machines: Time Travel in Physics, Metaphysics, and Science Fiction, Time Travel: A Writer's Guide to the Real Science of Plausible Time Travel, and Time Machine Tales: The Science Fiction Adventures and Philosophical Puzzles of Time Travel. No mere dry academic is he, as he's also had stories published in genre venues which include Analog, Omni, and Rod Serling's The Twilight Zone Magazine.
Born November 26, 1949 – Victoria Poyser-Lisi, 69, Artist, Illustrator, Teacher, and Fan who was inspired at the 1979 World Fantasy Convention to become a genre artist. She did more than a hundred covers and interior illustrations for fanzines, magazines, and books, and won two of her three Hugo Award nominations for Best Fan Artist. She now works in collaborative children's book illustration and instructional painting books, and teaches drawing and painting courses in Colorado.
Born November 26, 1961 – Steve MacDonald, 57, Musician, Writer, Singer, Filker, and Fan. He served for several years as the Evangelista for the Pegasus Awards (the Filkers' most prestigious awards, given out by the Ohio Valley Filk Fest), and was responsible for many changes in the award process that led to greater participation among the voting base. In 2001, he attended ten filk conventions around the world and recorded filkers singing "Many Hearts, One Voice", a song he had composed; the tracks were merged electronically for the WorlDream project to celebrate the new millennium. He has won six Pegasus Awards, for Best Performer, Writer/Composer, Filk Song, Adapted Song, Dorsai Song, and Myth Song. He has been Filk Guest of Honor at numerous conventions, and was inducted into the Filk Hall of Fame in 2006, after which he emigrated to Germany to marry fellow filker Katy Droge, whom he had met eight years before at OVFF.
Born November 26, 1966 – Garcelle Beauvais, 52, Actor and Producer born in Haiti, whose first role was in Manhunter, the original adaptation of Thomas Harris' Red Dragon featuring Hannibal Lector. She has also appeared in Spider-Man: Homecoming, I Know Who Killed Me, and the steampunk Wild Wild West film, had a main role in the cybertech TV series Eyes, and played recurring roles in Grimm and The Magicians.
Born November 26, 1973 – Peter Facinelli, 45, Actor, Director, and Producer whose genre appearances include a main role in all of the Twilight movies, the first season of Supergirl, parts in The Scorpion King, The Damned, Angela, and Hollow Man 2, and as the oh-so-creepy villain in Supernova.
(10) TRUMP TREK. Reason's Jonathan Rauch wastes no subtlety on "How Star Trek Explains Donald Trump" —
Sociopaths have haunted fiction since fiction began, and no wonder. Sociopathy is civilization's greatest challenge. Richard III and Iago; Raskolnikov, Kurtz, Willie Stark, and Humbert Humbert; J.R. Ewing, Frank Underwood, and even HAL 9000. How do we understand the narcissist, the demagogue, the liar, the manipulator, the person without scruples or conscience? The creative imagination can probe dark places that psychology and medicine can't reach. So I am not being cute when I say that Star Trek is a source of insight into the universe of President Donald Trump.

….In "Mirror, Mirror," the normal Kirk, realizing he has entered a barbaric parallel world, is able to impersonate a barbarian long enough to save himself and his shipmates. In our own universe, meanwhile, Kirk's corrupt counterpart cannot fake values like empathy, trust, and fair play, and quickly finds himself locked in the brig. The sociopath may be charismatic, wily, and manipulative, but he lacks the moral depth and imagination to fool people who do not wish to be fooled….
This did not go over well with Reason readers, however, you need to register to read the comments. If you're not willing, just think of a lot of comments that sound like Tank Marmot wrote them…
(11) FACE THE MUSIC. [Item by Mike Kennedy.] Apropos item (6) ("Negative Feedback") from the Pixel Scroll of this past Saturday (11/24), Gizmodo brings us news that "Facial Recognition Flags Woman on Bus Ad for 'Jaywalking' in China". A businesswoman whose visage appeared in ads on busses was publicly shamed for jaywalking, before the authorities had to pull an Emily Litella.
China's surveillance system is becoming increasingly omnipresent, with an estimated 200 million cameras and counting. While this state of existence alone is unsettling, it's even more troubling that the machines are fucking up even the simplest task.

Last week, the face of Dong Mingzhu—the chairwoman of a leading air conditioner manufacturer in China—was displayed on a giant Billboard-sized screen in Ningbo, a major port city in east China's Zhejiang province, to publicly shame her for breaking a traffic law. Zhejiang is one of the provinces that last year deployed facial recognition technology that humiliates citizens who jaywalk by putting their photos on massive LED screens. But the cameras didn't catch Mingzhu jaywalking—they identified a photo of her in a bus ad, South China Morning Post reported.
The error was caught, acknowledged, and corrected and the police were even thanked by Dong Mingzhu's company (Gree Electric Appliances) "for their hard work" in a blog post. One may be forgiven for wondering if the error would have been caught, acknowledged, or corrected had the citizen offended been of a less lofty station.
(12) CYBER MONDAY. Via KinjaDeals, "ThinkGeek's Cyber Monday Sale Is a Bonkers 50% Off Sitewide".
for Cyber Monday, ThinkGeek is taking 50% off sitewide via coupon code DOTCOM. Combined with the lowered free shipping threshold (today you have to spend only $35 pre-discount, rather than the usual $75)
Daniel Dern suggests: "If nothing else, grab a 'Bag of Holding – Con-Survival Edition' — here's an image — It quickly became my favorite day bag, not just for cons but also trade shows and general carrying of stuff during a day."
(13) ROAR OF SKY. Jana Nyman praises Beth Cato's trilogy-ending book in "Roar of Sky: A solid conclusion to this magical alternate-history trilogy" at Fantasy Literature. (Beware spoilers.)
…However, I do love everything about the magic system, and Cato's exploration of geomancy and its potential uses for good and ill is thoughtful and feels sturdy, like it could actually exist. Madam Pele is literally awesome. The sylphs are fun without becoming twee….
(14) MALKA OLDER'S SERIES. Abigail Nussbaum looks over "A Political History of the Future: State Tectonics by Malka Older" for Lawyers, Guns & Money.
The point of the Centennal Cycle books, as I see it, is not to offer a plausible alternative to our current democratic system, but to encourage us to ask questions about how that system is organized, and whether we could make different choices that could lead to better outcomes. The idea of a non-contiguous political entity, for example, one that is united by shared policy preferences rather than ethnic or national identity, is an intriguing one. So is the notion of expanding the concept of political parties past national lines (though on a darker note, it also has its echoes in discussions we've had on this site about the trans-national nature of many far-right, supremacist movements). It's not so much that you'd want to pursue any of these ideas in the real world, as that they provide an interesting thought experiment with which to expand your understanding of what government is and can be.
(15) REFINER'S FIRE. This is a hell of a story from the LA Times coverage of the Northern California fires: "As deadly flames approached, a mother called her daughters to say goodbye". (Definitely skip the comments on this one.)
This is how I die.

She is standing in the driveway of a sand-colored house — she doesn't know whose — and the air is choked with smoke.

The sky is a nuclear orange. Wind is hurling embers against her body and into her blond wavy hair.

She has just seen an ambulance melt. Transformers are blowing up around her. Homes are caving in and trees are bowing. Fleeing cars have jammed the roads, and flames dance on both sides of the asphalt….
[Thanks to Alan Baumler, Chip Hitchcock, Martin Morse Wooster, JJ, John King Tarpinian, Cat Eldridge, Carl Slaughter, Olav Rokne, BravoLimaPoppa3, Mike Kennedy, Frank Catalano, and Andrew Porter for some of these stories. Title credit goes to File 770 contributing editor of the day Kip W.]