(1) COLD TRUTH. Rudy Rucker was a Windycon 44 GoH – and he confesses what was going through his mind at the time.
…Despite the good moments, I did have a very strong flash of "What am I doing here?" when I awoke on each of my three mornings at the con. It's usually like that. And then I feel guilty and ungrateful for tiring of these dear and all-too-human souls. This annual event is their source of joy, their gay holiday of fun and magic, and they look forward to it, and work on it, and plan for it, and make all the pieces come together, and I, the aloof interloper, I have grave doubts. So I'm a horrible person. What a payoff.

"Why can't you just relax, Rudy?" says my wife's voice in my head. "Be happy for them that they're having fun. They're touching. Love them." Well, maybe my wife wouldn't go that far. Maybe that's Jesus's voice, or the Buddha's, or the White Light's…

…Well, okay, I was nice to everyone except for a fellow panelist on a "What are your fave books? panel. It was all the GoHs on the panel: GoHs for science, art, videogames, writing, cosplay, and signing (in the sense of translating talks into sign language in real time).

The panelist sitting next to me wouldn't shut up about some dipshit fantasy books, lavishing cliché praises upon them, trading heartfelt hosannahs with a another motor-mouthed fellow panelist, who claimed to be the "moderator." And they get onto William Goldman's Princess Bride (a fine work but, I would humbly submit, not the greatest novel ever written).

And I manage to break in and mention that Goldman wrote a good coming-of-age novel called The Temple of Gold and that it was, in a way, a bit like Catcher in the Rye. And the panelist next to me cries: "The Temple of Gold is SO much better than Catcher in the Rye!" And I'm like, "Well, they're different." And the panelist is like "No, Catcher in the Rye is whiny garbage!" And, without turning my head, I deliver what is, for me, the mild-mannered math prof / SF writer, a withering put-down. "And you're an…English teacher? Hm."
(2) SEEKING AUTHENTICITY. The Washington Post's Michael Cavna, in "How Pixar's 'Coco' became a huge box-office hit", looks at the ways that Disney/Pixar worked with Mexican consultants on Coco, which not only solved cultural sensitivity problems, but made for a better story.
The company was about two years into the making of "Coco" when it committed a significant PR blunder. For its marketing, Disney in 2013 applied to trademark "Día de los Muertos" — the Mexican holiday the movie centers on — sparking a backlash from prominent Latino voices.

Mexican American cartoonist Lalo Alcaraz ("La Cucaracha") helped give image to the outcry. Alcaraz, who had tweeted that trying to brand the holiday came across as "awful and crass," created the Mickey Mouse-spoofing cartoon "Muerto Mouse," with the caption: "It's coming to trademark your cultura."

According to Jason Katz, the story supervisor on "Coco," the backlash to the Southern California parent company's trademark attempt was tough to take in the Bay Area, where Pixar's Emeryville studio is located.

"Working at Pixar, you're in a little bit of a bubble. We're removed from the machine to a certain extent," Katz told The Post's Comic Riffs while in Washington. "[We were] trying to be as genuine and authentic as you can. It wasn't something we were expecting. We were all just disappointed and sad."

The incident, though, led to a realization. "We needed to make sure that even though we were reaching out to folks, we needed to make this movie differently than any other movie we'd made…"
(3) BY DESIGN. Ada Hoffman's series of tweets begins with a swing at Rocket Stack Rank, but it's also a thought experiment about building an sff review site:
So people smarter than me have already pointed out the problems with RSR. But it's gotten me thinking about what a general-purpose short story review/recommendation blog would look like if it was good.

— Ada Hoffmann (@xasymptote) November 27, 2017
Here's one of her thoughts:
I think, in my perfect world, the team that reviews everything would have a list of specialized people and would give them a heads-up when stuff relevant to them was published. The Everything Team would still review it, but the specialized people could too, in their own space.

— Ada Hoffmann (@xasymptote) November 27, 2017
(4) EVERYONE'S A CRITIC (OR COULD BE). Likewise, Vajra Chandrasekera — critic, author, fiction editor at Strange Horizons, and one of this year's Shadow Clarke jurors – blasts away at Rocket Stack Rank in a set of tweets you enter here. Apart from that, he is thought-provoking on the issue of awards-driven reviews and criticism.
This is almost too obvious a thing to have to say but: there is no such thing as "the best" stories in real life. Popular awards measure voters; juried awards measure juries. They are at most arguments, not facts.

— Vajra Chandrasekera (@_vajra) November 28, 2017
The role of a critic is not to choose on behalf of readers; a critic is not a person inefficiently standing in for a shopping algorithm. The role of critics is to read stories in public, to show how stories might be read. To offer insight. To think out loud.

— Vajra Chandrasekera (@_vajra) November 28, 2017
Anyway, the meaningfulness-or-otherwise of awards is what I like to think of as somebody else's problem. What I want to see: more individual critics who read well and read widely, and who pursue what matters to them rather than subordinate their reading to awards recommendations.

— Vajra Chandrasekera (@_vajra) November 28, 2017
(5) GONE GUY. New tech issues, new "solutions": "Foiled! Electrician Used A Snack Bag As A Faraday Cage To Sneak Off The Job".
For a while, Tom Colella had found his escape at the bottom of a bag of crunchy corn snacks. But it was not to last.

Earlier this month in western Australia, the Fair Work Commission, a workplace tribunal, found that the electrician — who was fired last year — had indeed been fired for good cause: He had been ditching work while on the clock, the commission concluded, and had hidden his whereabouts from his employer by MacGyvering a Faraday cage out of an empty bag of Twisties.

But let's back up a step: A Faraday cage, named for 19th century scientist Michael Faraday, blocks electromagnetic fields. Faraday found that an enclosure — or, in this case, the foil-lined interior of the cheesy corn snack bag — can keep these charges out if there's enough conductive material.

It appears Colella, 60, had slipped his company-mandated, GPS-enabled personal digital assistant into the bag to block the signals that enabled the device to track his movements.
(6) FROM CARD COUNTING TO GEIGER COUNTING. Another tech trick: "Berlin police find radioactive iodine on playing cards".
Police raiding a Berlin restaurant have discovered playing cards which had been laced with a radioactive substance.

Detectives believe players could wear a hidden detector on their bodies allowing them to recognise certain cards, giving them an advantage.

The scheme was discovered when a routine check at a waste treatment facility uncovered an increased level of radioactivity in a rubbish truck.

Police managed to trace the vehicle to a restaurant in Berlin.
(7) CONSPIRACY THEORY? Visit Ingolstadt, "The birthplace of the Illuminati".
The idea that clandestine Illuminati gatherings could be taking place in the small Bavarian city may seem far-fetched, but Ingolstadt does have a history of them. The city is the birthplace of the infamous secret society that has become part myth, part historical truth, and the foundation of countless conspiracy theories.
(8) GROUND SHORTAGE. "The buildings designed to house the dead" — Chip Hitchcock says, "Not exactly Silverberg's urban monads, but a vertical solution to a different kind of population problem."
In the last 50,000 years, it's been estimated that around 101 billion people have lived and died on planet Earth. Like it or not, everyone alive today – and that's more than seven billion of us – is likely to join them within the next century. So what will we do with all the bodies?

As human populations continue to expand and flood into crowded cities, traditional methods of handling bodies after death are coming unstuck. The issues range from a shortage of vultures in India – which has led the Zoroastrian community to abandon the ancient practice of sky burials in favour of dystopian "solar concentrators" instead – to the 40-year old corpses in Germany that remain mysteriously fresh after decades in the ground. In many European countries, it's normal to re-use graves after 15-20 years. But recently some of their inhabitants have been refusing to rot.
(9) LEGO IDEA. BrickBros UK's "Tron Legacy Light Cycle" has been selected as the next LEGO Ideas set.
The tron light cycle is based on the Disney : Tron Legacy film and consists of a tron light cycle with a user minifigure Sam Flynn it also comes with a Grid base to mount the light cycle on for display.

The light cycle allows a minifigure to easily fit into and clip onto the handles, the light cycle its self has a console in front of the user, two handle bars and detailing down the sides, there is also a power stream behind connected to the light cycle. The Sam Flynn minifigure comes in a tron suit with helmet and disc connected on the back of the minifigure for added detail. The light cycle can easily be mounted on to the Grid base with two connection points and the base has the Grid effect with black and trans-blue tiles creating a tron feel and has a medium azure trim for finish.
(10) POLITICAL FOOTBALL. Vox Day blogged something that reminded Camestros Felapton he hadn't finished critiquing the new anti-SJW book: "Reading Vox Day So You Don't Have To: I forgot this was a series".
Vox is engaged in a similar exercise in extreme ontology to divide each and every fuss about something into either an example of

whiny SJWs being whiny and destroying civilisation because they are so evil and lefty…or….
a valiant struggle of brave souls against the forces of SJWs even if it doesn't seem much to do with them.

Unhappy with how Marvel is directing it's comic books? Well, the great fascist sorting hat says that is an anti-SJW crusade regardless of what your opinion is or that you are objecting to how a major corporation is acting.

Unhappy with the choice of coach for a college football team because of his past association with a convicted child abuser? Well, the great fascist sorting hat says that is lunacy and you must be one of them evil SJWs.

You can retrospectively sort of work out why one and not the other but it is hard to spot in advance.
(11) THE NOT-SO-NEWBORN KING. The Bangor Daily News wants to simplify your shopping — "Eight holiday gifts for the Stephen King fanatic in your life".
Overlook Hotel keychains

You can let fellow Constant Readers know you're a fan in a low key kind of way (pun intended) with these cool, retro-looking keychains inspired by various locations in King's novels. Places like the Overlook Hotel in "The Shining," Room 1408 in the Dolphin Hotel in New York, and a keychain from Darnell's Auto Repair from "Christine." Speaking of "Christine," how about this fun replica of the famed 1958 Plymouth Fury from both the book and the movie?
(12) LEIVA. In 2010, Steven Paul Leiva created and organized Ray Bradbury Week in Los Angeles. Steven's novel Made on the Moon has just been published as an ebook by Crossroad Press. For $3.99 you, too, can be made on the moon. Find it on Amazon here.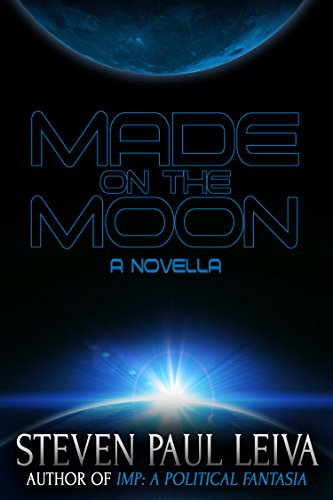 (13) BRADBURY PRESERVED. The Indiana University Foundation wants to crowdfund $5,000 for the work done by "Students Preserving the World of Ray Bradbury". They've raised $1,139, with 32 days left in the campaign.
Students help preserve over 100,000 papers of correspondence, documents, and photographs in the collection at the Center for Ray Bradbury Studies. Their work has just begun and we need your support.

…Graduate interns and research assistants are important to helping preserve Bradbury's collection of books, literary works, artifacts, correspondence, manuscripts, photographs, and so much more. Hear these students tell what they do in the Center for Ray Bradbury Studies and what this work means to them.
[Thanks to John King Tarpinian, Cat Eldridge, JJ, Carl Slaughter, Martin Morse Wooster, Chip Hitchcock, Hampus Eckerman, and Andrew Porter for some of these stories. Title credit goes to File 770 contributing editor of the day Steve Davidson.]