(1) UK LOCKDOWN BEGINS. "England is going into a month (at least) of hard lockdown," says Jonathan Cowie – see details at SF2 Concatenation. About that sff/science news publication Cowie reassures:
We have enough articles in and thirty or so book reviews in hand for a spring edition of  SF² Concatenation in January.

If lockdown ends as planned in December, then there'll also be a pre-Christmas Best of  'Futures' short story.  If not then we'll roll it into the Spring edition.
(2) ISS AT 20. [Item by Daniel Dern.] Today's (Tues Nov 3) Science section of the New York Times is mostly about the International Space Station, celebrating "20 years of…", including a two-page spread with like a dozen short items, three of which are by Mary Robinette Kowal. It looks like these are reprinted.
Here's the collective link.
And here's Kowal's trio:
Andrew Porter also sent a note:
If you can access this, gorgeous photos and historical background. Note to editors: the photos, being from NASA, can be used with credit. "How the Space Station Became a Base to Launch Humanity's Future " at the New York Times.
(3) NEW TAFF REPORT PUBLISHED. John Coxon's 2011 Trans-Atlantic Fan Fund trip report is now available. Covers his perambulations through Canada and the USA, and attending Renovation (the 69th World Science Fiction Convention).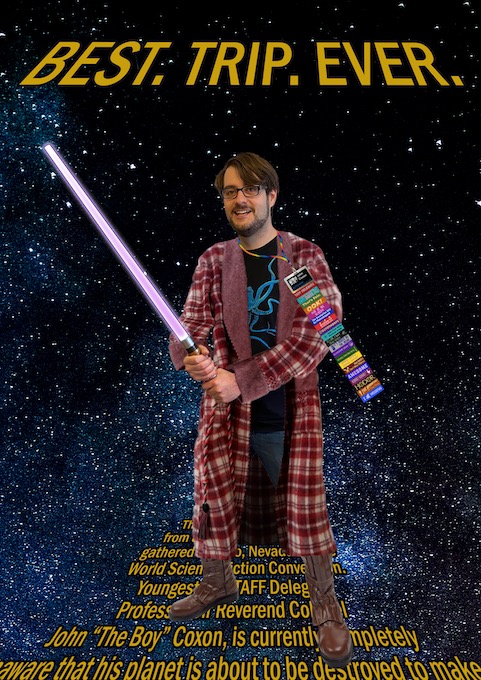 (4) FUTURE WALK. "Cory Doctorow on his drive to inspire positive futures" – an interview at Polygon.
We've been talking a lot at Polygon about whether it's possible for science fiction to model a positive future. Your earliest science fiction books felt utopian, but your recent books, especially the Little Brother series,is much more cynical and concerned about America. Has the way you think about technology and the possibility for a positive future changed since your early books?

I don't know, Down and Out in the Magic Kingdom is definitely a complicated utopia, because it supposes that a non-monetary mechanism for allocating resources would just become money again, right? That it would just turn into another unequal rich-get-richer society. So it is, in some ways, a critique of the utopian idea of reputation economics.

Walkaway is about utopianism, in the sense that it's a book in which crises are weathered. One of the things I recognized when I went out on tour with that book and started talking to people about it is that utopianism is not the assumption that nothing will go wrong. Being an engineer who builds a system on the assumption that it won't break doesn't make you an optimist, it makes you an asshole. That's the thing that makes you decide we don't need lifeboats for the Titanic.

Instead, being hopeful and utopian means believing that when things break down, we can rebuild them. One of the things we're living through right now is people acting as though we have lost, as a species, the ability to weather big global crises, like we want to build the pyramids with Egyptian technology or something. Like it's the practice of a lost civilization that we will never recover. To be an optimist, or to be utopian, is to believe that we can rise to challenges.

Not that challenges will be vanquished once and for all — even if you built a stable system where everything worked well, that system would be subjected to exogenous shocks….
(5) THE COMMONWEALTH, ER, FEDERATION OF PLANETS. The Royal Mail is taking pre-orders for their Star Trek Special Stamps.
Our Star Trek Special Stamps and limited edition collectibles celebrate classic characters from the ground-breaking TV series and big-screen blockbusters.
The Royal Mail blurb says of this panel —
Twelve new illustrations celebrate British actors who have boldly explored the final frontier as Starfleet captains or crew members.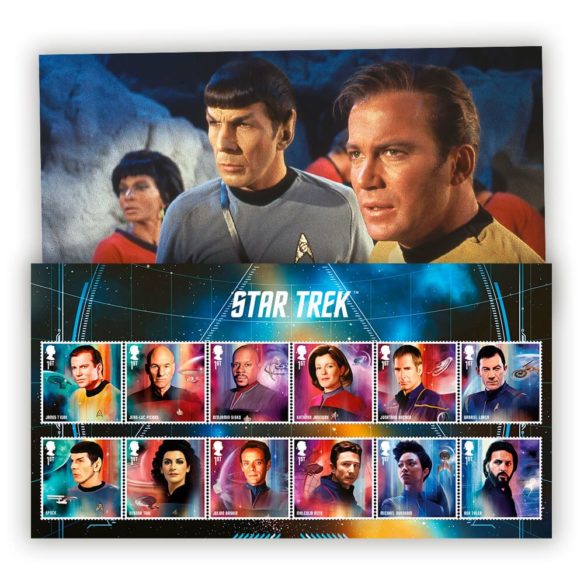 (6) HEARD THAT VOICE BEFORE. [Item by Martin Morse Wooster.] SNL alum Darrell Hammond, who does a GREAT impression of Sean Connery, sent out a tweet with a highlight reel of his Connery dueling on Jeopardy! with Will Farrell as Alex Trebek.
(7) SESSIONS OBIT. John Sessions, an English actor whose genre credits include Gormenghast, The Adventures of Pinocchio, Dr Who, Outlander, and the audiobook versions of Asterix, died November 2. He was 67.
In the 2014 Doctor Who episode "Mummy on the Orient Express," he provided the voice of Gus, a sentient computer controlling the titular train. He also co-created and starred in the cult '90s comedy series Stella Street and made TV appearances in Skins, Outlander, and Friday Night Dinner.

His impeccable impression of his late friend Alan Rickman, which you can watch here, proved especially popular over the years.
(8) MEDIA BIRTHDAY.
November 3, 1967 — "I, Mudd" first aired as the eighth episode of the second season of the original Trek series. Written by Stephen Kandel from a story by Gene Roddenberry, it was directed by Marc Daniels. It reprised the character of Harry Mudd as played Roger C. Carmel who first appeared in "Mudd's Women", a season one episode. Although Kandel is the credited writer on the episode, though David Gerrold performed an uncredited extensive rewrite. Carmel was rumored to have been planned to reprise the character on Star Trek: The Next Generation but died before that could happen. He did voice the character in "Mudd's Passion", an episode of the animated series. 
(9) TODAY'S BIRTHDAYS.
[Compiled by Cat Eldridge and John Hertz.]
Born November 3, 1921 — Charles Bronson. He didn't do he a lot of genre acting but I've got him in One Step Beyond as Yank Dawson in "The Last Round" and he's in The Twilight Zone in "Two" as The Man opposite Elizabeth Montgomery as The Women. He was also in Master of The World which is based on the Verne novels Robur the Conqueror and its sequel Master of the World. (Died 2003.) (CE) 
Born November 3, 1925 – Monica Hughes, O.C.  Twenty novels, half as many shorter stories, for us, not counting three dozen children's books of which some are SF; various others.  Dress designer in London and Bulawayo.  Codebreaker in the Women's Royal Naval Service.  Gardener.  Beachcomber.  Phoenix Award, Hal Clement Award, Vicky Metcalf Award, Alberta Ross Annett Award.  Order of Canada.  (Died 2003) [JH]
Born November 3, 1929 — Neal Barrett, Jr. Heavily nominated for many awards including a number of Hugos but he never won any. He was Toastmaster at LoneStarCon 2.  He was prolific writing over two dozen novels and some fifty pieces of short fiction including a novelization of the first Dredd film. As good much of his genre work was, I think his finest, best over the top work was the Wiley Moss series which led off with Pink Vodka Blues. He's generously available at usual digital suspects. (Died 2014.) (CE)
Born November 3, 1933 – Jack Harness.  Among much else he was the Fan With Too Many Names; Scribe JH, Jxtn Muir, Hawkman, the Golux; these bred variations, like "Wheet-wheet".  They all had origins.  He'd been Hawkman in the Chicon III (20th Worldcon) Masquerade.  Thurber's Golux in The Thirteen Clocks wore an indescribable hat, Jack wore indescribable shirts.  He dreamed up card games, fanart, cooking.  For a while LASFS (L.A. Science Fantasy Society) played strange poker; I believe he invented Soft Shoe, where you could shuffle off to bluff a low.  Once he sat staring upward so long that other players demanded to know what he was doing; he answered "I'm worshiping the ceiling"; this was put into song.  The LASFS Secretary has been the Scribe ever since his term; he wrote, not the minutes, but the Menace of the LASFS; this too stuck.  I could go on, but I won't.  (Died 2001) [JH]
Born November 3, 1933 — Jeremy Brett. Still my favorite Holmes of all time. He played him in four Granada TV series from 1984 to 1994 in a total of 41 stories. One web source said he was cast as Bond at one point, but turned the part down, feeling that playing 007 would harm his career. Lazenby was cast instead. (Died 1995.) (CE)
Born November 3, 1942 — Martin Cruz Smith, 78. Best remembered for Gorky Park, the Russian political thriller, but he's also done a number of  genre novels in The Indians Won (alternate history), Gypsy in Amber and Canto for a Gypsy (PI with psychic powers) and two wonderful pulpish novels, The Inca Death Squad and Code Name: Werewolf. 
Born November 3, 1946 – Kathryn Davis, 74.  Two novels, four shorter stories for us.  Six other novels.  Janet Heidinger Kafka Prize, Morton Dauwen Zaubel Award, Lannan Award for Fiction.  "When you are lost in the uncanny woods of this astonishing, double-hinged book [Duplex], just keep reading, and remember to look up.  Kathryn Davis knows right where you are", NY Times 20 Sep 13.  [JH]
Born November 3, 1956 — Kevin Murphy, 64. Best known as the voice and puppeteer of Tom Servo for nine years on the Mystery Science Theater 3000. He was also the writer for the show for eleven years. I'm surprised the series was never nominated for a Hugo in the Long Form or Shot Form. Does it not qualify? (CE) 
Born November 3, 1957 – Dan Hollifield, 63. Editor of Aphelion.  Two short stories there, collection Tales from the Mare Inebrium.  Has read The Past Through Tomorrow, Ishmael, Rainbow Mars, One Flew Over the Cuckoo's Nest, Jane Austen, and Dickens.  [JH]
Born November 3, 1963 — Brian Henson, 57. Son of Jim Henson, he co-owns and runs the Jim Henson Company. Can we all agree that The Happytime Murders should never have been done? Thought so. Wash it out of your consciousness with Muppet Treasure Island or perhaps The Muppet Christmas Carol. If you want something darker, he was a puppeteer on The Witches, and the chief puppeteer on Teenage Mutant Ninja Turtles. And he voices Hoggle in Labyrinth. (CE) 
Born November 3, 1968 – Janni Lee Simner, 52.  Seven novels, thirty shorter stories. "Five Reasons Not to Self-Publish" in Reflection's Edge, "Folkroots" about Icelandic folklore in Realms of Fantasy after Thief Eyes.  Judy Goddard Award.  Guest of Honor at CopperCon 31, TusCon 41.  [JH]
Born November 3, 1995 – Kendall Jenner, 25.  This top model and Kardashian relative wrote two SF novels (with a sister and ghostwriters).  The amazing astounding planetary startling thing is that she did it at all; hard even for us to imagine in 1939.  [JH]
(10) COMICS SECTION.
Wondermark's entry "In which Armageddon awaits" illustrates a plan to unite humanity. But we are dealing with humans, after all. [H/t to David Langford.]
The Far Side often has thoughts I've never thunk before – this one's about flying saucers.
(11) PHILADELPHIA FREEDOM. In "Honest Trailers: National Treasure" on YouTube, the Screen Junkies say if you like historical mysteries, National Treasure "places the setting on 'easy' for a scavenger hunt anyone can figure out –even kids and Americans!"
(12) PREFERRED FUTURE. Sf writer Ariel S. Winter's CrimeReads article "In A Pandemic World, We're All Engaging In Speculative Fiction" says the speculative future we're thinking about now is one where we can see our friends, not socially distance, and not wear face masks.
… "Wearing surgical face masks was [Laughton's] least favorite part of being in a hospital. He hated the warm, damp feeling of his own breath coating his cheeks and nose, but it was the law."

When I wrote that scene, the idea that I would be legally required to wear my own face mask in the months before the novel came out was impossible. The future I was writing towards was focused on humanoid, self-aware, artificial intelligences rather than the fictional pandemic that had given rise to the AI's power. Artificial intelligence was the part of my novel that I envisioned for the future, not a plague.

While all fiction writing could be called a thought experiment, writing about the future is a special kind of thought experiment that doesn't just ask how particular events affect particular people, but how collective historic events affect the way all people live. If one thing changes—technology, biology, history—what does life look like then?
(13) REACTIONS PREFERRED. In "Honest Game Trailers: Amnesia: Rebirth," Fandom Games says this is a game for gamers who like solving "puzzles prepared for learning-impaired monkeys" with characters who chug far too much laudanum.
[Thanks to SF Concatenation's Jonathan Cowie, John King Tarpinian, Mike Kennedy, Martin Morse Wooster, JJ. Cat Eldridge, John Hertz, Lise Andreasen, Daniel Dern, Michael Toman, John Coxon, and Andrew Porter for some of these stories. Title credit goes to File 770 contributing editor of the day johnstick.]