(1) PRIVACY. David Brin's Chasing Shadows, a collection of short stories and essays by other science fiction luminaries, was released today.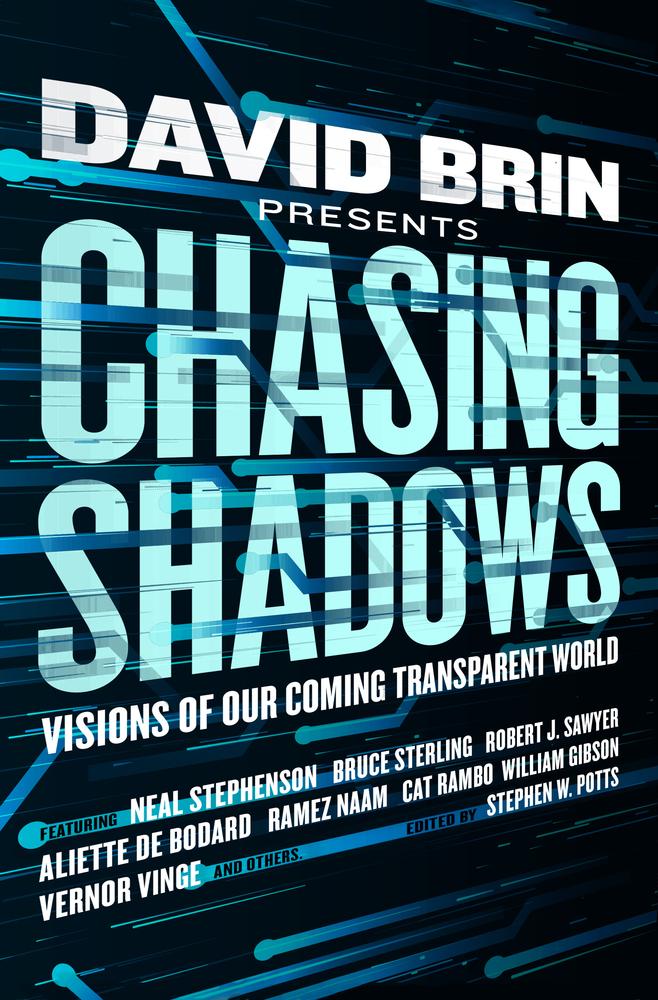 As we debate Internet privacy, revenge porn, the NSA, and Edward Snowden, cameras get smaller, faster, and more numerous. Has Orwell's Big Brother finally come to pass? Or have we become a global society of thousands of Little Brothers–watching, judging, and reporting on one another?

Partnering with the Arthur C. Clarke Center for Human Imagination, and inspired by Brin's nonfiction book The Transparent Society, noted author and futurist David Brin and scholar Stephen Potts (UC San Diego) have compiled essays and short stories from writers such as Neal Stephenson, Bruce Sterling, Robert J. Sawyer, Aliette de Bodard, James Morrow, Ramez Naam, William Gibson, Vernor Vinge and many others to examine the benefits and pitfalls of technologic transparency in all its permutations.
Read the introduction by James Gunn and a story by Vylar Kaftan here [Tor.com].
(2) JEANETTE EPPS: She was one of MidAmeriCon II's special NASA guests:
@NASA's Janette Epps (an actual astronaut) posing with my Hugo award for Binti. ???????? #HugoAwards pic.twitter.com/m5KGb2zsBH

— Nnedi Okorafor, PhD (@Nnedi) August 21, 2016
Next year she'll be crewing the International Space Station:
NASA is assigning veteran astronaut Andrew Feustel and first-flight astronaut Jeanette Epps to missions aboard the International Space Station in 2018.

Feustel will launch in March 2018 for his first long-duration mission, serving as a flight engineer on Expedition 55, and later as commander of Expedition 56. Epps will become the first African American space station crew member when she launches on her first spaceflight in May 2018. She'll join Feustel as a flight engineer on Expedition 56, and remain on board for Expedition 57.
Culmination of a great week of training in Star City. pic.twitter.com/gUU1y319fM

— Jeanette J. Epps (@Astro_Jeanette) December 10, 2016
(3) LIVE FREE. The UC San Diego Library is hosting a live event, Short Tales from the Mothership, on Thursday, January 19 from 7:30-8:30 p.m.in the Geisel Library's Seuss Room. Want to participate? Send in your entry by January 17.
If you enjoy creative writing or hearing original short stories, you won't want to miss this Flash-Fantasy-Sci-Fiction open mic event. Taken from the sci-fi aesthetics of UC San Diego's iconic Geisel Library building, the UC San Diego Library is hosting a written/spoken word event for the campus and San Diego communities…

Writers should send fantasy or science fiction pieces of no more than 250 words to student leader Amber Gallant, at [email protected], prior to the live reading. Early entries are due by Tuesday, January 17. At the event you will have the opportunity to read your entry or have it read aloud for you. All are welcome to come listen to these short stories from beyond!

…Otherworldly libations from our refreshment laboratory will be served along with live theremin & synthesizer musical interludes.
This event, hosted by the UC San Diego Library in partnership with The Writing + Critical Expression Hub at the Teaching + Learning Commons, is free and open to the public.
(4) HOLDING THE FUTURE AT BAY. Although a popular image of science fiction writers is people who predict the future, Connie Willis is distraught to find one of her predictions has happened. She learned the news from this Cory Doctorow article on BoingBoing.
Two employees at the East Lake County Library created a fictional patron called Chuck Finley — entering fake driver's license and address details into the library system — and then used the account to check out 2,361 books over nine months in 2016, in order to trick the system into believing that the books they loved were being circulated to the library's patrons, thus rescuing the books from automated purges of low-popularity titles
Willis had a character with the same motivation in her short novel Bellwether:
[My] heroine Sandra made a practice of checking out her favorite books and the classics to keep them from being summarily discarded by the public library. I did that because I'd had a terrible experience with my own library, who I caught throwing out their entire set of Beany Malone books.

"What are you doing?" I said, horrified. "Those are by Lenora Mattingly Weber, one of Colorado's best writers. A whole generation of girls grew up on the Beany Malone books. They're classics." "Nobody checked them out," the librarian explained. "If a book hasn't been checked out in a year, it gets discarded and put in the library book sale."

Where if it doesn't sell, it gets taken to the landfill, she should have added. And it doesn't matter if the book's a bestseller or a classic of literature. (If you don't believe me, go to your local library and try looking for MOBY DICK. Or Thornton Wilder's OUR TOWN. Or THREE MEN IN A BOAT.

Or a copy of Arthur Conan Doyle's THE COMING OF THE FAIRIES, with the original photos taken of the Cottingley fairies (or some fairy paper dolls) by the little girls. My library got rid of that, too, even though it sells for upwards of eight hundred dollars on AbeBooks. "Nobody wanted to read it," the librarian explained…..
(5) JEMISIN GOES INTO ORBIT. Good news for her readers: "Orbit Acquires Three Books by Hugo Award-Winning Author N.K. Jemisin".
Orbit has acquired three new novels by Hugo Award-winning author N.K. Jemisin. All three will be published by Orbit in both the United States and the United Kingdom, and as audio editions by Hachette Audio.

Acquiring editor Brit Hvide said, "N. K. Jemisin is one of the most creative, incisive, and important writers working in fantasy today, and her recent Hugo win only underlines that fact. We at Orbit are proud to continue publishing Jemisin's work and to amplify her remarkable voice."

…The first newly-acquired book, currently untitled, will be Jemisin's first set in our world, and is a contemporary fantasy dealing with themes of race and power in New York City. It has a projected publication date of April 2019.
(6) TODAY'S BIRTHDAY BOY
Born January 10, 1904 – Ray Bolger
(7) COMICS AUTHOR CHARGED. Comics/comics history writer Gerard Jones has been arrested, suspected of putting child porn on YouTube.
An accomplished San Francisco comic book and nonfiction author, who has been published in Marvel and a slew of other publications, was arrested on suspicion of possessing more than 600 child pornography files and uploading the graphic videos to YouTube, police said Friday.

Gerard Jones, 59, was arrested after a police investigation and ensuing search warrant at his residence in the 600 block of Long Bridge Street in San Francisco's Mission Bay neighborhood turned up a host of electronic devices storing more than 600 images and videos depicting child pornography, police said.

The longtime author has written screenplays for Warner Bros. and 20th Century Fox, served as a writing teacher for the San Francisco Writer's Grotto, and put together graphic novels for both DC Comics and Marvel Comics, according to his official website.
His works include Men of Tomorrow: Geeks, Gangster, and the Birth of the Comic Book.
(8)  CREEP FACTOR. Nerd & Tie has a well-researched post about a convention acting on its conduct policy, "Artist Scott Windorski Banned From Evercon For Harassment, Smears Event Organizer".
Artist Scott Windorski, who vends under the name "Knotty Cobbler," was ostensibly there to sell his wares, but began to make the rounds a few hours into the first day of the con, January 6th. As he did so, Windorski apparently began to interact with the other (mostly women) artists. For some, like Bal Flanagan, Windorski was at their booth to not only push his own wares aggressively, but made unwelcome comments that "made everyone uncomfortable."

For others, the line was crossed even further.

Windorski approached artist Brittany Smith (who previously vended as part of PinStripes Studio and currently sells as AcuteCastle). Smith had sold art to Windorski at a previous event and he was, initially very complimentary of her work and asking for a picture with her. However, as Smith posted to the Artist Alley Network International Facebook group, Windorski followed up questions about the artist's eczema by telling her "I would love to see you naked."

Smith immediately put Windorski in his place, telling him that she was uncomfortable and asked him to leave…
Unfortunately, that was only the beginning.
(9) GASLIGHT LOSES SPARK. Conrunner Anastasia Hunter announces she has left the board of the group that runs San Diego's Gaslight Gathering.
Due to irreconcilable and escalating differences between myself and members of the Board of Directors of CAASM, Inc. (Non-profit corporation that owns and oversees Gaslight Gathering), I have made the decision to resign as Chair and withdraw myself completely from their organization. A formal letter was mailed to CAASM late last week.

However, the Steampunk party we enjoy here in San Diego is far from over. I will be announcing a new project next week for those of you interested in future steampunk shenanigans!

To everyone on the Gaslight Gathering committee, thank you so very much for volunteering with me these past six years! You are the very best crew of Steampunks and con runners in town!
(10) PACKER OBIT. SF Site News reports Australian fanartist John Packer has died.
Australian fan artist John Packer died the weekend of January 7. Packer was a two-time Ditmar Award winner in 1983 and 1984. In 1983, he also won the Golden Caterpillar Award for services to "triffids" and for redefining the word "vermin." His cartoon appeared in numerous Australian fanzines. In 1984, he stood for DUFF.
(11) DEEP TWEET. While enjoying his latest Twitter brawl, John Scalzi cut loose with a multi-level bit of snark.
@AugustusBAP OH MY GOD IS SOMEONE FORCING YOU TO READ THIS RIGHT NOW THAT IS HORRIBLE BLINK TWICE FOR YES I'M SENDING HELP NOW BE STRONG

— John Scalzi (@scalzi) January 10, 2017
At least I counted it as multi-level, coming from the author of Lock In.
(12) ART ON THE CORNER. For several years a project of the city of Glendale, CA's arts commission has been having artists paint murals on streetside utility boxes. At the website you can see photos of them all. Many have fantasy, sf, or dinosaur imagery.
There's a parallel effort in Los Angeles City Councilman Jose Huizar's district. For example, this one's at Fletcher Avenue and San Fernando Road, photographed the other day by Tony Gleeson.
Councilman Huizar's website also has a gallery of utility box murals. (Incidentally, Councilman Huizar's district encompasses Ray Bradbury Square — he attended the dedication in 2012.)
(13) MIMEO MANIACS. Moshe Feder reports Fanac.org has put online the video from "a fannishly famous fanzine panel from 1976's Big MAC (MidAmericon 1) featuring moderator Linda Bushyager and panelists Victoria Vayne, Taral Wayne, Jon Singer, Patrick Nielsen Hayden, Gary Farber, and yours truly… Thanks to the late Scott Imes for recording this and David Dyer-Bennet for his restoration work."
This panel discusses what used to be the commonplace wisdom of mimeography, but today is an esoteric look at the fanzine production practices of 20th century fandom. Includes a wonderful segment early on where Jon imitates a mimeo, and a novel use for the New York Times. There is about a 20 minute period where the video is damaged, but the audio remains clear throughout.
[Thanks to Moshe Feder, Arnie Fenner, JJ, and John King Tarpinian for some of these stories. Title credit belongs to File 770 contributing editor of the day Soon Lee.]