(1) TURNOVER AT TOLKIEN ESTATE. Christopher Tolkien, 92, resigned as a director of the Tolkien Estate Limited on August 31, 2017 according to records at Companies House in the UK.
Despite this having occurred over two months ago, the information seems to have become public only recently, and there is rampant speculation what the timing of resignation implies, given Amazon's announcement this week of a new Lord of the Rings sourced TV production, and Christopher Tolkien's negative statements about the Peter Jackson adaptations.
While I searched, unsuccessfully, to find who broke the story, via Michael Martinez' blog I discovered Tolkien Brasil has a long and informative piece about the transition in the Estate's leadership (in Portuguese – a Google Translate English rendering is at this link, offered with the usual caveats about accuracy.)
The Tolkien Society's post on the topic clarified that Christopher Tolkien remains his late father's literary executor.
(2) INDIGENOUS AND BLACK SF. Canada's CBC Radio program The Current hosted a discussion of indigenous and black sf on November 14. A podcast of the segment is available.
Nov 14 | How Indigenous and black artists are using science fiction to imagine a better future As soon as you can dream about the future, you have hope as well instead of despair."
Download Nov 14 | How Indigenous and black artists are using science fiction to imagine a better future [mp3 file: runs 00:28:13]
(3) BRETT RATNER OUT. Wonder Woman star Gal Gadot said she would not sign for the sequel if he was still involved: "Gal Gadot confirms Brett Ratner won't be involved with Wonder Woman 2" – The Verge has the story.
Two weeks after a Los Angeles Times report detailed multiple allegations of sexual misconduct and harassment against director and producer Brett Ratner, the filmmaker seems to have been officially cut from the DC cinematic universe. This morning on Good Morning America, Gal Gadot reiterated earlier reports that Ratner's financing company RatPac-Dune Entertainment, which helped fund 2017's Wonder Woman, would not be involved with the upcoming sequel.

The confirmation comes a few days after a Page Six report claimed that Gadot threatened to drop out of the sequel if Ratner or his company was involved in any way. On Good Morning America, she says she didn't come close to leaving. "The truth is, there's so many people involved in making this movie — it's not just me — and they all echoed the same sentiments," she said.
(4) VANDERMEER. Variety reports: "Netflix Nabs 'Hummingbird Salamander' From 'Annihilation' Author Jeff VanderMeer".
Netflix is nearing a deal for rights to "Hummingbird Salamander" and plans to tap Sugar23 to produce the picture, Variety has learned.

The book is the latest from Jeff VanderMeer, the best-selling author of the "Southern Reach" trilogy and one of the foremost sci-fi writers working today.  The film will be produced by Michael Sugar and Ashley Zalta at Sugar 23.

… VanderMeer will also executive produce the project.
However, VanderMeer himself sounded uncertain in his Facebook comments about the Variety article –
Hmmm. I wonder if this is true. It'd be kind of a dream team to be with Netflix with the Oscar-winning producer of Spotlight producing. It'd be even more incredible if the rumor that it's a mega deal and I'll be an executive producer and creative consultant on the film were true…

As you can imagine, for someone who sometimes writes about mushroom people, it's surreal that every novel I've written or am under contract to write since Annihilation may have been optioned for the movies. If these rumors are true.
(5) WIZARD WORLD ON LIFE SUPPORT.  Although the company has 17 conventions planned for 2018, their money is running out: "WIZARD WORLD Warns Of 'Substantial Doubt' Of It Continuing Into 2019".
Wizard World. Inc.'s Q3 2017 quarterly report has been released, with a notice that due to recent operations loss there is "substantial doubt" that the company can continue operating as it is now past November 2018.

"The Company had a loss from operations of $4,454,857 and $1,182,246 for the nine months ended September 30, 2017 and the year ended December 31, 2016, respectively. As of September 30, 2017, we had cash and working capital deficit (excluding the derivative liability) of $1,176,034 and $1,514,182, respectively," the company stated. "We have evaluated the significance of these conditions in relation to our ability to meet our obligations and have concluded that, due to these conditions, there is substantial doubt about the Company's ability to continue as a going concern through November 2018."
(6) GOODREADS CHOICE. Matt Mitrovich analyzes an award contender in "Book Review: All Our Wrong Todays by Elan Mastai" at Amazing Stories.
I was informed that All Our Wrong Todays by Elan Mastain was nominated for the Goodreads Choice 2017 Best Science Fiction and Best Debut Author awards. Since I had a copy sitting in my to read pile since July, I figured now was as good a time as any to finally read it and see what all the fuss is about.

All Our Wrong Todays begins in an alternate timeline where a Lionel Goettreider invents his "Goettreider Engine" on July 11, 1965. This invention produces free energy and sparks the creation to the techo-utopia that 1950s sci-fi authors dreamed about. By 2016, all of those crazy predictions that never came true actually exist, like flying cars, jetpacks and space colonization. Anyone living in this post-scarcity world should be happy…but not Tom Barren.
(7) MONEY IS THE ROOT OF THIS EVIL. Dean E.S. Richard has seen the complaints and has issued "A (cranky) Casual Gamer's Manifesto (Updated)" at Nerds of a Feather.
The new one has a campaign, and it looks pretty awesome, but we're here for ground level troops dukeing it out on the best battlefields in the Star Wars galaxy.

At least, I thought that's why were all here. Apparently, I was wrong. It's all about getting the most powerful heroes and being able to wreck shop. If you pay attention to video games even a little bit (like, say, as little as i do), you've heard about this. It takes roughly 40 hours of gameplay (three years in Real Dean Time [RDT]) to unlock Luke or Vader. This I am fine with. Again, Battlefront is supposed to be about the troops, not the Jedi and Sith and whatnot.

The real problem comes in where the game has a micro transaction system wherein you can just buy credits outright, with your real monies, and thus unlock said heroes. All told, it costs about $800 to unlock all the heroes.

Eight. Hundred. Dollars.

In a sixty dollar game.

I have read comments such as: "that's like making me work a second job that pays less than minimum wage!" which, no. It's a game. No one is making you pay for heroes, players just want shortcuts. It's the same mentality that ruined the Old Republic MMORPG – players were so concerned with getting to level whatever as soon as possible, they never, you know, played the game. For me, and others like me, tagging along with our dinky lightsabers and level 12 or what have you, it got boring in a hurry – which is too bad, because the game itself was a delight.
(8) PANEL TITLE. Jim C. Hines' "Catching Up: That WindyCon Panel" excerpts the posts tracked here at File 770 and concludes with his own analysis:
Nobody was calling for WindyCon to be burnt at the stake. They were calling out a panel description which, intentional or not, came off as hurtful, insulting, and dismissive.

I'm glad it wasn't intentional. I would have been much more pissed if this had been a deliberate thing. But we've got to stop thinking "I didn't mean to hurt you" is some kind of magic eraser. "I told you I didn't intentionally run over your goat. How dare you continue to be upset!"

While I understand the convention was this weekend and everyone was hellabusy, I wish WindyCon had posted their apology sooner. I wish Barkley hadn't attacked people who were upset about the panel title/description.

I also feel like my tagging Barkley into the conversation on Twitter was one factor in this becoming a larger blow-up than it needed to be, and for that I apologize.
(9) PLANET STORIES. The Guardian says a "Potentially habitable world found just 11 light years away". So if our TV news signals travel there at the speed of light, they still think it's the middle of the Bush administration and that Trump is the executive producer of the Miss USA pageant?
A potentially habitable world, termed Ross 128 b, has been discovered just 11 light years away. It is roughly Earth-sized and orbits its parent star once every 9.9 days.

Astronomers calculate that its surface temperature could lie somewhere between –60° and 20°, making it temperate and possibly capable of supporting oceans, and life.

The world was found by a team of European and South American astronomers led by Xavier Bonfils (Institut de Planétologie et d'Astrophysique de Grenoble, France) who were using the European Southern Observatory's world-leading planet-hunting instrument, HARPS. They reported the discovery in Astronomy and Astrophysics.

HARPS identifies planets by the way their gravity forces their parent stars to wobble. It shows that Ross 128 b is more massive than the Earth, with at least 1.35 times our planet's bulk. So the planet would have a stronger pull of gravity at its surface.
(10) GALAXY QUEST. Writer/producer Paul Scheer doesn't want his efforts to revive the fan favorite to be overlooked: "'Galaxy Quest': Paul Scheer Plans to Blend Original and New Casts For Amazon Series".
Amazon first announced it was developing the 1999 film as an episodic series in 2015, but things escalated last August when Scheer came on board to work on the show. In a new interview with SlashFilm, he revealed that he's not only turned in his first script for the series, but has some big ideas on how to honor the original film while also updating the premise for the modern age of television.

"It's going to be so long before people get to see it, I don't want people to get too burnt out on me telling you what it's about before it gets to that point," he said. "But for me, it was really important to do service to a 'Galaxy Quest' story that gives you everything that you want and indoctrinates people who have never seen 'Galaxy Quest' into what the fun of that world is […] and also to continue the story of our original characters and have consequences from the first film."

…As Scheer told SlashFilm, it's still very early days for "Galaxy Quest: The Series" (officially, according to the final moments of the film, "The Journey Continues"). But this fall, Amazon has been on the hunt for "its own 'Game of Thrones,'" a need which was theoretically addressed by acquiring the rights to J.R.R. Tolkien's "Lord of the Rings" universe. What if the platform's actual breakthrough genre hit ends up being a very different adaptation?
(11) THE MARTIAN BOTANICALS. Would you like that with ranch? "Dubai Airshow: Why the UAE plans to grow lettuce on Mars".
One thing you can't accuse the United Arab Emirates of lacking is vision.

First they unveiled plans to launch a Mars probe. Then it was an ambition to colonise the Red Planet.

Now the UAE has a new aim – to grow palm trees and lettuce there.

The space sector is a huge feature of the Dubai Airshow, with exhibitions, conferences, and speakers that include former Nasa Apollo 15 astronaut, Al Worden.

But even before a UAE Mars probe leaves the ground in 2020 from Japan – UAE is working in partnership with Mitsubishi Heavy Industries – the Gulf state has now announced its space agriculture intentions.

"There are similarities between Mars and the desert," says Rashid Al Zaadi, senior strategic planner at the UAE Space Agency. "The landscape of the UAE, the soil, are similar."
(12) A LONG WAY FROM HECTO. Awhile ago the Scroll linked to a story about printing a prosthesis, with plastic; these guys are printing with cells: "The firm that can 3D print human body parts".
Erik Gatenholm grins widely as he presses the start button on a 3D printer, instructing it to print a life-size human nose.

It sparks a frenzied 30-minute burst of energy from the printer, as its thin metal needle buzzes around a Petri dish, distributing light blue ink in a carefully programmed order.

The process looks something like a hi-tech sewing machine weaving an emblem onto a garment.

But soon the pattern begins to rise and swell, and a nose, constructed using a bio-ink containing real human cells, grows upwards from the glass, glowing brightly under an ultraviolet light.

This is 3D bioprinting, and it's almost too obvious to point out that its potential reads like something from a science fiction novel.
(13) SHRINKING BOOK EXPO. Publishers Lunch says the floor plans for the next Book Expo betray that it is continuing to get smaller.
Book Expo has opened for registration for the 2018 show. The refreshed website lists Wednesday, May 30 as limited to the remainders pavilion, "premium B2B exhibitors," and the rights center, with two days of regular floor exhibits on May 31 and June 1.

More dramatic for now is the revised floor map* for the shrinking trade show. Though still early, the map shows the smaller southern hall of Javits closed to exhibits, reserved for autographing, shipping and Book Con lines. Even that reduced "show floor" has what looks to be less floor exhibit space: Meeting rooms, lounges, and a stage move to occupying a big chunk of the back two-fifths of the hall.
(14) THAT'S CAT! Congratulations to Richard Paolinelli, winner of "The First Annual Timothy The Talking Cat Award for Excellence in the field of Excellence". Award spokesbeing Camestros Felapton explains:
The book genuinely was a finalist for the Dragon Awards, so kudos to Richard. The claim for a Nebula nomination seems a bit thin but that's what all the grumpy stuff was about. However, it doesn't seem to be actually "award winning" as in the usual sense of "award winning" meaning "winning an award". Now, plenty of really good books never win awards and what matters deep down is whether readers like your book but sometimes…well sometimes the world of SF can be tough and a bit validation can help a soul along.

So let's make the claim TRUE. Tim and I got together and thought long and hard about this and we came up with a solution.
(15) THAT'S DOG! Suzy Byrne, in "Carrie Fisher's beloved bulldog Gary is 'doing great,' says 'Auntie Joely' Fisher" on Yahoo! Lifestyle, says that Carrie Fisher's goofy bulldog, Gary Fisher, has found a home with Corby McCown, the personal assistant to  Carrie Fisher's sister Joely.
The dog has become even more popular since Carrie died. He recently surpassed 150,000 Instagram followers with help from posts including a touching tribute to Carrie on what would have been her 61st birthday last month. He followed up his San Diego Comic-Con appearance with another one at L.A. Comic Con a couple weeks ago. Last weekend, he was at Kansas City Comic Con. (A portion of the money the dog gets for appearances goes to charity.)

Yup, we'd say that Gary is doing great, too.
The dog has a Twitter account at Realgaryfisher.
(16) GROTESQUE JOKE. Not all of the Christmas season advertising has been heartwarming: "Greggs sorry after replacing baby Jesus with sausage roll in advent calendar promotion".
Greggs has been forced to apologise for replacing the baby Jesus with a sausage roll in the launch of its advent calendar.

The bakers released a promotional image for its festive calendar that showed a sausage roll in a manger surrounded by the Three Wise Men.

But it was met with serious backlash online as offended fans accused the budget chain of religious insensitivity and vowed to boycott it.

Twitter users said that replacing Jesus, who was Jewish, with a pork product was "inappropriate"…
(17) ON JJ'S WISHLIST. JJ says, "Despite having a full collection of manual and power tools, I find myself itching to buy this." ThinkGeek is offering the "Marvel Thor Hammer Tool Set".
You must be worthy in order to wield Thor's hammer, but Marvel never mentioned any restrictions on Thor's screwdriver or his pliers. Wield them all with our Marvel Thor Hammer Tool Set! This 44-piece tool set, a ThinkGeek creation and exclusive, comes in a molded case that looks like Thor's hammer, Mjolnir. Inside it has all your basic tool needs, including a hammer (duh), a tape measure, a level, a screwdriver, a wrench, a ratcheting wrench, and a utility knife you can conveniently use to open your next box from ThinkGeek. It's perfect for someone worthy of their first place or a great extra set of everything to have around in case of emergencies (like having to replace your lock set because Loki got a copy of the key AGAIN). We predict it's a gift your recipient will return to repeatedly and get a chuckle out of every time.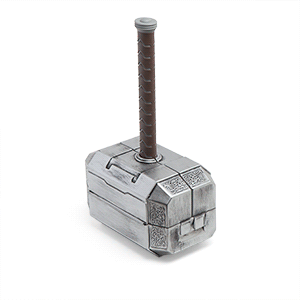 [Thanks to Cat Eldridge, Nigel, Chip Hitchcock, John King Tarpinian, JJ, Carl Slaughter, Martin Morse Wooster, StephenfromOttawa, and Andrew Porter for some of these stories. Title credit goes to File 770 contributing editor of the day Tom Becker.]