(1) RANTS AND RAVES. Three days ago S.T. Joshi ranted about an alleged Lovecraft hater in "The Multifarious Illiteracies of Brian Keene".
For the past two or three weeks I have been in misery. In short, I have been reading the novels of Brian Keene. Were I not driven by my sacred duty as a literary critic to assess the work of this grotesquely prolific blowhard for my treatise, 21st-Century Horror, I would have been relieved of this excruciating agony; but the job is done, as is my chapter on Keene, which can be found here.
…The only horror in Keene's work is that there is so much of it. Since 2000, Keene has published at least forty-three novels, twelve short story collections, and sundry other material—an impressive achievement if his books were of any substance or even bare competence, but quite otherwise if, as appears to be the case, the books in question are nothing but crude and slapdash hackwork. A fair number of his books have been published by Leisure Books, a firm that habitually churns out pablum of all sorts for the great unwashed. It seems to be a match made in hell….
Today Brian Keene answered with "The Ballad of S.T. Joshi, or, Saruman and Wormtongue Meet the Great Unwashed".
…With that being said, the probable origins of Lovecraft's work are, in my opinion, repugnant. Lovecraft was racist and xenophobic…. These beliefs fueled his fiction, and the creation of his mythos. So much of Lovecraft's work is driven by fear and disgust of "the other" or of genetic mutation. And in turn, so much of that work shaped and molded this field.

Despite their repugnance (or perhaps because of it) I think those origins are worth discussing. Joshi does not. He threatened to boycott a recent convention because the programming included a panel discussing the racist themes prevalent in Lovecraft's work (and then reportedly defied his own personal boycott by signing books in the dealer's room of that same convention). Because I wondered aloud on my podcast why he's against discussion of such things, it further inured me as a "Lovecraft Hater". Joshi also railed against the World Fantasy Awards discontinuing their bust of Lovecraft. When I stated on my podcast, "If I was a person of color, and I won that award — an award from my peers recognizing my work — I wouldn't want a man who thought I was sub-human glowering down at me from my brag shelf", this further fueled Joshi and Brock's insistence that I am, in fact, a Lovecraft Hater.

It's also important to note that Lovecraft's racism is not a new topic, brought up by some supposed younger, newer generation of political Progressives or SJWs. The great Robert Bloch himself discussed Lovecraft's racism in his seminal "Heritage of Horror" essay. Joshi doesn't seem to have a problem with that. Based on his actions, he seemingly only has a problem with people discussing it if they are women (Ellen Datlow), LGQBT (S.j. Bagley), persons of color (Daniel José Older and Nnedi Okorafor), or apolitical "white trash" Appalachians (myself). I find that interesting…

So, again, for the record, I am not a "Lovecraft Hater". I respect the man's work. I don't, however, respect the man.

…Which brings us to last Friday, and the reason why so many of you are asking me, "Who is S.T. Joshi?".

Why did Joshi turn his attention toward me? I don't know. Maybe it was our coverage of his antics on my podcast (where he is a recurring source of amusement). Perhaps he was offended that I sandwiched him between "Lovecraft Haters" Ellen Datlow and S.j. Bagley in the inaugural chapter of History of Horror Fiction. Or maybe he was driven half-mad by Jason Brock's incessant whining.

Regardless, I woke up at 5am Friday morning. Publisher and author Ross Lockhart had sent me the link to Joshi's tirade overnight. I clicked the link and read Joshi's Introduction, where he states that I am "A grotesquely prolific blowhard" and that my work left him in "excruciating agony." This pleased me. I thought it was funny enough to craft a cover blurb out of, so I did. Then some readers asked for it on a t-shirt, so I made this. And that was pretty much it….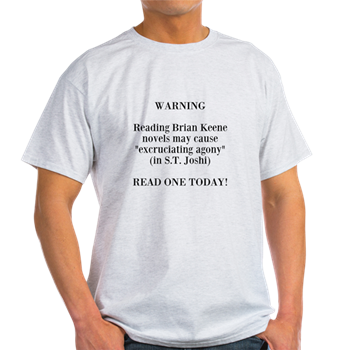 (2) AMBIFORCESTROUS. Continuing a thought from yesterday – this comes from Mark Hamill himself.
(3) THOR SCORE. Daniel Dern submitted his non-spoiler review of Thor: Ragnarok for today's Scroll:
("Non-spoiler" as in "assuming you've seen at least one of the trailers already, but IMHO no how-it-ends spoilers in any case)

My short-short summary: Way loads of fun! Go and enjoy.

Among the best snappy multi-character dialog, and lots of it.
Basically sticks to one plot from start to finish (unlike, say, Guardians of the Galaxy II).
Nice to NOT see Manhattan/NYC trashed/destroyed/etc for a change. Similarly, no S.H.I.E.L.D. helicarriers harmed (or even sighted) in this movie.
Lots of bright colors, great costumes/garb/accessories.
a good balance of talking, fighting/battling, and both-at-once.
It's contemporary fantasy and sci-fi. Thor pilots spaceships, etc.
prior knowledge needed of Marvel, any of the previous movies, etc. Yeah, knowing some can't hurt. E.g., Loki and Thor briefly mentioning the time L turned T into a frog was real — one of Walt Simonson's great arcs (a bunch of issues) in the Thor comic series.
In terms of "Marvel movie big picture," this is sequentially following the events of Avengers/Age of Ultron.
Best Stan Lee cameo to date, IMHO.
Mentions Avengers by name at times, etc., but only Hulk actually in the movie. Most of the action is off-Earth, so no need to explain why the other A's aren't putting in their oar, so to speak.
Lots of Jeff Goldblum! Lots!

Offhand I don't have any complaints or criticisms.
(4) REVIVAL MEETING, And everything considered, this seems a good time to ponder "The Norse gods' unlikely comeback" as Mark Peters does in the Boston Globe.
Part of why the Norse myths continue to compel so many readers, writers, and artists is their sheer entertainment value, featuring high adventure, low comedy, apocalyptic nightmares, and ample drinking. Karl E. H. Seigfried, adjunct professor and pagan chaplain at Illinois Institute of Technology and author of the Norse Mythology Blog, said by e-mail that the Norse myths resonate on three levels: dramatically, emotionally, and spiritually. Of the three, the spiritual element is often overlooked.

Underneath the troll-smiting mayhem, the Norse myths have an uplifting core, insists Seigfried, who is also a priest of Thor's Oak Kindred in Chicago. "In contrast to the gloomy Nordic worldview often portrayed in popular culture," he said, "the wandering god [Odin] never stops searching for knowledge and never ceases to rage against the dying of the light. The old gods may die at Ragnarök, but the myth is life-affirming. We will not live forever, but our children will survive us, and their children will survive them."
(5) HUBBARD. Alec Nevala-Lee, "author of Astounding, a forthcoming book on the history of science fiction, digs into the writing career of L. Ron Hubbard, gaining new insights into the life of the controversial founder of dianetics and the origins and nature of Scientology itself" in "Xenu's Paradox: The Fiction of L. Ron Hubbard and the Making of Scientology" at Longreads.
And it gets even stranger. When we turn to the stories themselves, we find that most of them have nothing in common with the tale of Xenu. In the pages of Astounding, Hubbard tended to write comic fantasies or adventures staged on a very modest scale, with situations lifted straight from the nautical or military fiction that he was publishing elsewhere. Aliens and galactic empires rarely played any significant role. When he employed these conventions, it was as a target for parody or as a kind of painted backdrop for the action. Yet when the time came to give Scientology a founding myth, he turned to space opera, referring to it explicitly in those terms, and the result didn't look or sound much like anything he had ever written before.
(6) ONE TOKE OVER THE LINE. Fran Wilde has a tip for convention attendees, idiots, and assholes:
Pro tip: even if you've just discovered an author's work, NOT okay to call their hotel room and ask them to sign a book. Esp. not at 10pm

— Fran Wilde (@fran_wilde) November 5, 2017
Other reactions:
::rants about people being raised in barns, check your stalker impulses, manners are your friend:: No, folks. DO NOT EVER DO THIS. No. https://t.co/ctYkzomkQ9

— N. K. Jemisin (@nkjemisin) November 5, 2017
RE that last RT: I (and most other writers I know) am deliriously happy to sign things if you run into me (or find me) on a convention floor or hallway, or a bookshop. Or send me a snailmail! Do not hunt down my hotel room number and call me in the middle of the night. SERIOUSLY.

— Ann Leckie ? (@ann_leckie) November 5, 2017
(7) PROBLEM WITH COMPLAINT-DRIVEN CON POLICIES. A New Mexico event promoter says complaints led him to change a policy — "Comic Con ditches free passes for military, first responders". How well do you think that worked?
An offer for local military and first responders to enjoy the Albuquerque and Santa Fe Comic Cons for free is about to end.

The promoter, Jim Burleson, said he was getting threats for giving free admission to only military, police and firemen.

Burleson took to Facebook this week with an announcement that's angered many, saying: "This will be the last year we are offering free admission to police, military and firefighters."

The decision stems from people — other than military and first responders — who complained about not getting a discount over the years, which, he says, led to threats.

"We actually got threatened at our Santa Fe Comic Con. Somebody threatened to call their dad who was a lawyer to prove that we were discriminating," he said.

Now, there's even more backlash from people who said he shouldn't have given into the criticism, with some claiming they won't be attending comic con anymore.
(8) COMICS SECTION.
Mike Kennedy found a scientific breakthrough in Monty.
John King Tarpinian passes on the Star Wars nutritional advice he found in Brevity.
(9) LEAF BY TOLKIEN. Glen Dixon of the Washington Post Magazine writes about the death of the Baltimore City Paper which just folded, in "Baltimore City Paper is closing after 40 years. Will it be missed?" The following scene is inside the City Paper's offices….
The wisdom of the crowd converged when Brandon Soderberg puzzled over the mysterious provenance of Gray Haven, the latest strain of marijuana to cross his palate. Soderberg is both the paper's editor and one of its pot critics. He knows his weed, but he hadn't been able to uncover the first thing about this particular variety. Perhaps the name held a clue? He read off some loopy texts from a helpful stoner friend, a Tolkien fan who said there is a place called Grey Havens in Middle-earth. The messages were pipe dreams billowing with head-spinning arcana. "I've read 'The Lord of the Rings,' " said art director Athena Towery, dryly. "I don't think that's in there." The room erupted with laughter, then settled on another Tolkien work — "The Silmarillion" — as the source. Photo editor J.M. "Joe" Giordano added that the bud shares its name with a neighborhood in Dundalk, Md.
(10) SPRING AHEAD, FALL OOPS. Joe Haldeman shared this on Facebook – pretty funny, even if the joke is about the wrong time change:
Another busy night at all the British henge sites as staff work all night to move the stones forward by an hour.
(11) FEDERATION POLITICAL SCIENCE. I don't remember if I've run this before but it sure is fun. And like some Tumblr posts, it needs to be read from the bottom up; the pivot is a Klingon asking the Vulcans why they let humans run the Federation; the answer includes because the last thing they did is " getting published in about six hundred scientific journals across two hundred different disciplines because of how many established theories their ridiculous little expedition has just called into question. also, they did turn that sun into a torus, and no one actually knows how"
(12) CREDENTIAL RENEWED. Kim Huett advises his article "Temple of the Sphinx", with some thoughts on the William F. Temple story, "The Smile Of the Sphinx," is now online.
In a fit of possibly misplaced enthusiasm I have created a website in order to post my Bill Temple article online for all the world to see. Those of you already familiar with this article might like to note that it has been rewritten here and there in order to fix a few errors and to add a little more depth to the story. In regards to the latter I would like to in particular thank Rob Hansen for all his hard work on THEN as that history made my job so much easier. The website in question can be found here at the URL below. Feel free to pass the URL on if you want as I think this is a story well worth sharing. This is especially true since it allows us to increase our count of times the word "cat" has appeared on this blog.

For all this Gillings did publish one story that I find absolutely fascinating, though perhaps not for the usual reasons. The story in question is a novelette by William F. Temple, his third published story. The Smile of the Sphinx appeared in Tales of Wonder #4 (Autumn 1938). In the introduction Gillings wrote:

'…in the light of his logical reasoning, his fanciful notion loses its air of incredibility, and you will find yourself seriously considering whether it might not easily be fact…'

The story was well regarded at the time of publication. For example noted science fiction fan of the day (and later editor of New Worlds), Ted Carnell was so taken by The Smile of the Sphinx that in Novae Terrae #28 (December 1938) he was moved to claim:

'For just as Bill Temple's yarn in TOW will long be remembered as the cat story…'

Now at first glance all this makes very little sense as The Smile of the Sphinx is a rather absurd tale about an intelligent race of cats from the Moon who secretly rule the Earth.
(13) CHOCOLATE EMERGENCY. Adweek shares the laughs — "Snickers Got a Whole TV Channel to Act Weird When It Was Hungry in Great Media Stunt".
The network is called Dave, and it normally features a millennial-focused grab bag of fun-loving programs. But one day recently, at exactly 3:28 p.m. (which Snickers says is "the hungriest time of day"), Dave suddenly and inexplicably turned into Rupert—a network showing boring and nonsensical shows including chess championships, vintage film noir and an art appraisal program.

Frankly, it seemed like Dave had become PBS.
[Thanks to JJ, DMS, Daniel Dern, Martin Morse Wooster, Cat Eldridge, Carl Slaughter, Mike Kennedy, and John King Tarpinian for some of these stories. Title credit goes to File 770 contributing editor of the day Jon Meltzer.]