(1) DRAGON AWARD NOMINATIONS OPEN. Camestros Felapton found that the "Dragon Award Nominations Are Open Sort Of" — the "sort of" meaning Camestros experienced the same thing that I did before I tried it out — the actual nominations page is updated for the 2019 awards, but the supporting pages (rules,etc.) are still loaded with last year's information. They'll inevitably fix that when they get around to it, I'm sure. No hurry.
(2) ANOTHER LOOK AT SFWA V. WOTF. Keffy R.M. Kehrli responded to Eric James Stone's criticism of SFWA's handling of the Writers of the Future Contest (linked the other day in Scroll item #1.) Kehrli's thread begins here.
(3) A FEW WEE IMPROVEMENTS. In that alternate universe where Camestros Felapton is Doctor Who's showrunner, here's what he would have done differently — "Doctor Who: Changing Season 11".
There are lots of good things to say about the 2018 season of Doctor Who: Jodie Whittaker was great, it was often visually lovely, it took historical episodes seriously and to top it all Alan Cumming deftly eating the scenery.

In my list of least liked Doctor Who episode there is not a single one from the 2018 season but…
…the best episodes weren't on the same level as the best episodes from previous seasons. What the season gained in consistency it lost in excellence.

I'm going to suggest some changes that I think would have given it a bit more oomph.
(4) SMELLIER ON THE INSIDE. TARDIS versus trashcan? Olav Rokne labeled his link, "The dumbest thing I have ever tweeted, And yet…I'm shockingly proud." Thread starts here.
(5) SIXTIES SFF. The Library of America's Fall 2019 offeringsinclude these volumes of genre interest:
American Science Fiction: Eight Classic Novels of the 1960s(two volumes)
Gary K. Wolfe, editor
Volume 1: Four Classic Novels1960–1966
Poul Anderson, TheHigh Crusade • Clifford D. Simak, Way Station • Daniel Keyes, Flowers for Algernon • Roger Zelazny, . . . And Call Me Conrad [This Immortal]
Library of America #321 / ISBN 978-159853-501-3
Volume 2: Four Classic Novels 1968–1969
R. A. Lafferty, PastMaster • Joanna Russ, Picnic on Paradise • Samuel R. Delany, Nova • Jack Vance, Emphyrio
Library of America #322 / ISBN 978-159853-502-0
Boxed set: ISBN 978-159853-635-5
September 2019

The tumultuous 1960s was a watershed decade forAmerican science fiction. As the nation raced to the moon, acknowledged masters from the genre's "golden age" reached the height of their powers. As it confronted calls for civil rights and countercultural revolution, a "new wave"of brilliant young voices emerged, upending the genre's "pulp" conventions with newfound literary sophistication—and female, queer, and non white authors broke into the ranks of SF writers, introducing provocative new protagonists and themes. In American Science Fiction: Eight Classic Novels of the 1960s, editor Gary K. Wolfe gathers eight wildly inventive novels in a deluxe, two-volume collector's set: Daniel Keyes's heartbreaking Flowers for Algernon and Poul Anderson's madcap time-travel novel The High Crusade; Clifford D. Simak's Hugo Award-winning Way Station; Roger Zelazny's Hugo Award–winning . . . And Call Me Conrad (published in bookform as My Immortal), restored to a version that most closely approximates Zelazny's original text; Joanna Russ's Picnic on Paradise, a pioneering work of feminist SF, and Samuel R. Delany's proto-cyberpunk space opera Nova; R. A. Lafferty's quirky, neglected, utterly original Past Master; and Jack Vance's haunting Emphyrio. Wolfe's introduction offers a new view of the genre's best, and a discussion of his selections, that ought to provoke rethinking and debate among fans and critics. (Wolfe's new collection is a successor to American Science Fiction: Nine Classic Novels of the 1950s, the two-volume set he edited for us in 2012.)
(6) RICHARD LUPOFF INTERVIEW. This is the intro to the Richard A. Lupoff: Master of Xero! Interview at Alter Ego #156 – text starts on page 20.
(7) TODAY IN HISTORY
December 13, 1961 – The Phantom Planet premiered.
December 13, 1996 — Tim Burton's Mars Attacks! premiered.
(8) TODAY'S BIRTHDAYS.
[Compiled by Cat Eldridge.]
December 13, 1925 – Dick Van Dyke, 93. Seriously you think I wouldn't write him up? Bert/Mr. Dawes Sr. in Mary Poppins followed shortly by being Caractacus Pott in the film adaptation in Ian Fleming's novel Chitty-Chitty-Bang-Bang.(No it's not the same character as he is in the book.)  He voices the lead character in the animated Tubby the Tuba film and plays D.A.Fletcher in Dick Tracy.  He narrates Walt: The Man Behind the Myth whose subject matter you can guess. Played Commissioner Gordon in Batman: New Times as well. Shows up in both of the Night at the Museum films which sort of interest me. And yes he has a role as Mr.Dawes Jr. in Mary Poppins Returns.
Born December 13, 1929 – Christopher Plummer, 89. Let's see… Does Rudyard Kipling in The Man Who Would Be King count? If not, The Return of the Pink Panther does.That was followed by Starcrash, a space opera I suspect hardly no one saw which was also the case with Somewhere in Time. Now Dreamscape was fun and well received. Skipping now to General Chang in Star Trek VI: The Undiscovered Country. Opinions everyone? I know I've mixed feelings on Chang. I saw he's in Twelve Monkeys but I think I've deliberately forgotten that film and I've not seen The Imaginarium of Doctor Parnassus yet. 
Born December 13, 1949 – R.A.MacAvoy, 69. She won the John W. Campbell Award for Best New Writer in 1984.  Loved her Black Dragon series. Other series include the Damiano, Lens of the World and Albatross. If memory serves me right, I read The Grey Horse at a time when I was obsessively into Irish myth and liked it a lot for its storytelling. 
Born December 13, 1954 – Emma Bull, 64. Writer of three of the best genre novels ever, Bone Dance: A Fantasy for Technophiles, Finder: A Novel of The Borderlands and War for The Oaks. Will Shetterly, her husband and author of a lot of really cool genre works, decided to make a trailer for the latter.  You can see it here. Oh, and the Faerie Queen is Emma herself.
She's also been in in a number of neat bands, one that has genre significance that being Cats Laughing which has Stephen Brust, Adam Stemple, son of Jane Yolen, and John M. Ford either as musicians or lyricists. They came back together after a long hiatus at MiniCon 50 and you can read the Green Man review of the CD / DVD combo they put out here.
Born December 13, 1954 – Tamora Pierce, 64. Her first book series, The Song of the Lioness, taking her character Alanna through the trials training as a knight, sold very well and was well received by readers.That Erie's, like most of work, is set is in Tortall, world akin to European Middle Ages. What I've seen of it I like a lot. She would win in 2005 the Edward E. Smith Memorial Award for Imaginative Fiction, a rare honor indeed. 
(9) PREVIEW OF COMING ATTRACTIONS. Jonathan Cowie writes: "SF2 Concatenation is gearing up now (before the Seasonal festive distractions) for its next seasonal edition to be posted mid-January.But the science part of its content will include…" —
A fuller figure has oft (rightly/or wrongly) been associated with US citizens and even SF fans. But it seems as if the rest of the world is catching up and, indeed, over-taking!

Research just published today in the BMJ suggests that a number of countries' restaurant meals have more calories than their counterparts in the US…

Modelling indicated that, except in China, consuming current servings of a full service and a fast food meal daily would supply between 70% and 120% of the daily energy requirements for a sedentary woman, without additional meals, drinks, snacks, appetizers, or desserts.

CONCLUSION
Very high dietary energy content of both full service and fast food restaurant meals is a widespread phenomenon that is probably supporting global obesity. This arguably needs to be addressed.

Stanley Robinson's Icehenge now a mathematical formula

Kim Stanley Robinson's 1984 novel Icehenge depicts a long-lived future human society that forgets its recent past… Now research published in Nature has revealed that in reallife events, concerns, music etc, decays from our cultural memory mathematically.

In addition to science, the forthcoming seasonal edition of SF2Concatenation will have SF news (relating to publishing, TV and film), forthcoming SF as well as fantasy book titles, and convention reports including this year's Worldcon, plus another in a series of articles of scientist SF authors favourite scientists.
(10) STAN LEE CAMEO. [Item by Mike Kennedy. Vanity Fair: "Behind the Scenes of Stan Lee's Spider-Man: Into the Spider-Verse Cameo". Fair Warning: THE VANITY FAIR ARTICLE CONTAINS SPOILERS, though none are (intentionally) included below. (Their spoiler warning appears immediately after the paragraphs quoted below.)
It won't be his last, but it may be his best.
Though he died last month, Marvel Comics legend and Spider-Man co-creator Stan Lee pre-recorded several cameos for upcoming films before he passed—including a touching, animated appearance in Spider-Man: Into the Spider-Verse. Loaded with a heavy significance that resonates independent of his death, this emotionally resonant appearance is nothing like the zippy, superficial live-action and animated appearances Lee made in the past. That's because the Spider-Verse filmmakers were determined to honor Lee's legacy by breaking open narrow definitions of what it means to be a hero—and because of some personal events in Lee's life that made his Into the Spider-Verse cameo particularly weighty. (The cameo also happens to be wickedly funny, which is part of Lee's legacy as well.) The filmmakers—including Into the Spider-Verse's three directors—took Vanity Fair behind the scenes of Lee's appearance, as well as the in memoriam title card that closes out the film.
(11) A SPACE FIRST. BBC says they made it: "Branson's Virgin Galactic successfully reaches space".
The latest test flight by Sir Richard Branson's Virgin Galactic successfully rocketed to space and back.

The firm's SpaceShip Two passenger rocket ship reached a height of 82.7km, beyond the altitude at which space is said to begin.

It marked the plane's fourth test flight and followed earlier setbacks in the firm's space programme.

Sir Richard is in a race with Elon Musk and Jeff Bezos to send the first fee-paying passengers into space.


(12) BACK IN THE AREA CODE. It can be called a success once the data's sent back — "Parker Solar Probe: Sun-skimming mission starts calling home".
Just weeks after making the closest ever flyby of the Sun, Nasa's Parker Solar Probe is sending back its data.

Included in the observations is this remarkable image of the energetic gas, or plasma, flowing out from the star.

The bright dot is actually far-distant Jupiter. The black dots are repeats that occur simply because of the way the picture is constructed.

Parker's WISPR instrument acquired the vista just 27.2 million km from the surface of the Sun on 8 November.
(13) BOGUS BOT. Reminds me of the 19th-century chess-playing automaton. From the BBC: "Robot turns out to be man in suit".
A robot on show at a Russian state-sponsored event has turned out to be a man dressed in a costume.

Robot Boris featured on Russian TV and was apparently able to walk, talk and dance.

But soon after its appearance journalists began to question the bot's authenticity.

In a picture published afterwards on social media, the neck of a person was clearly visible
(14) HISTORY BELOW THE WATERLINE. "Lake Titicaca: Underwater museum brings hope to shores".
…The 9,360-sq-m building will have two parts, one located on the shore where pieces salvaged from the lake will be exhibited and another semi-submerged part which will allow visitors to see some of the underwater structures, dubbed "hidden city", through glass walls.
(15) SEASONS' EATINGS. Visitors to the UK will have noticed their strangely-flavored potato chips, but the strangeness is spreading to pizza, croissants, and ham: "Marmite sprouts? Why retailers are pushing the boundaries with festive food".
Many readers will find the thought of Christmas tree-flavoured crisps revolting, but Iceland is betting its customers will feel the opposite this festive season.

The crisps are part of the supermarket chain's festive food range, and have a distinct pine-like taste thanks to their pine salt seasoning, which is made with pine tree oil.

It is part of a wider trend for novel, sometimes bizarre fusion foods that has swept the UK over the last few years as retailers vie for our attention and our cash.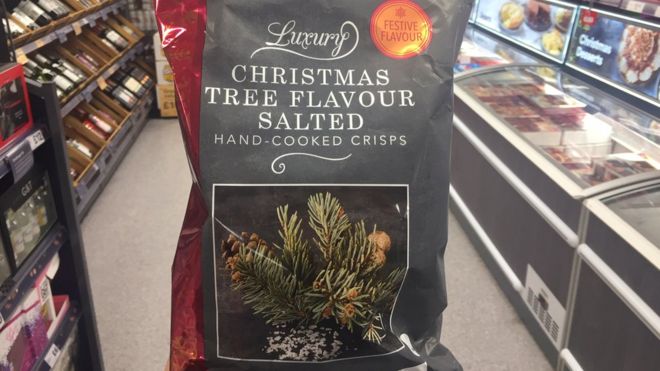 (16) WELL, SHEET. "Nasa's IceSat space laser makes height maps of Earth" – BBC has the story.
One of the most powerful Earth observation tools ever put in orbit is now gathering data about the planet.

IceSat-2 was launched just under three months ago to measure the shape of the ice sheets to a precision of 2cm.

But the Nasa spacecraft's laser instrument is also now returning a whole raft of other information.

It is mapping the height of the land, of rivers, lakes, forests; and in a remarkable demonstration of capability – even the depth of the seafloor.

"We can see down to 30m in really clear waters," said Lori Magruder, the science team leader on the IceSat mission. "We saw one IceSat track just recently that covers 300km in the Caribbean and you see the ocean floor the entire way," the University of Texas researcher told BBC News.
[Thanks to Martin Morse Wooster, Andrew Porter, JJ, Carl Slaughter, John King Tarpinian, Mike Kennedy, Cat Eldridge, StephenfromOttawa, and Chip Hitchcock for some of these stories. Title credit goes to File 770 contributing editor of the day Daniel Dern.]