(1) ADVANCED CREATURE ACCOUNTING. If there had been a test I would not have passed…
Lesson of the Day: Know Your Cephalopods https://t.co/lYT7A8osmW pic.twitter.com/zduDHg7Gvy

— Nnedi Okorafor, PhD (@Nnedi) December 2, 2017
(2) LIGHTING UP THE NIGHT SKY. Excitement this evening in California caused by the SpaceX Iridium 4 launch out of Vandenberg. Per Gregory Hart:
Successful orbital insertion for deployment of the fourth set of Iridium communication satisfied l satellites. First stage was maneuvered to crash into the ocean safely and it looked like controlled burn backs helped in positioning. They did not want to recover the first stage this time as it had been previously flown in June.
What did I just witness?? pic.twitter.com/JsHfqTsxm0

— Danny United (@dannyunited) December 23, 2017
We caught Space X Iridium 4 over the 10 going west, or as we called it at the time OH MY GOD OH MY GOD WHAT IS THAT WHAT IS WHAT DOES IT WANT?!? #SpaceX pic.twitter.com/YnHmEGCY2t

— Charley Feldman (@charley_feldman) December 23, 2017
(3) KGB. See all the photos taken by Ellen Datlow at N.K. Jemisin and Christopher Brown's Fantastic Fiction at KGB reading on December 20 — here.
(4) DOWNSIZING, BRIGHT REVIEWS. Rush and watch these productions before critics talk you out of it. Oops, too late….
NPR's Andrew Lapin calls "Downsizing: A Tone-Deaf, Less-Than-Incredible Shrinking Satire":
It's the rare movie that seems to execute every part of its concept absolutely wrong; a narrative, tonal, visual and sociopolitical fiasco the likes of which haven't been seen in many moons.
And Chris Klimek says Bright (from Netflix) is "perfectly, stubbornly mediocre" in "Will Smith Plays Cops-And-Monsters In Unremarkable 'Bright'" –
…the scenes of Smith and Edgerton driving around on patrol, bickering like all the Murtaughs and Riggses and Crocketts and Tubbses and Cagneys and Laceys who've sat in cars together on stakeout since the First Age of Middle-Earth — lo, they cast a mighty spell of pure adequacy.
The Daily Beast is even more brutal: "Netflix's 'Bright' Is a $90 Million Steaming Pile of Orc Sh*t":
Bright is a misnomer on two levels. First of all, the majority of Netflix's new $90 million original movie takes place at night and in fairly dingy rooms, and that, in combination with how the whole production is lit, means that most of the action is obscured and visually unintelligible. Secondly, there's nothing about this movie that's an inherently good idea—or rather, very generously speaking, maybe the story could have made some valid points about the state of race relations in America with a little more thought. But as things stand, Bright plays like the kind of movie a kid might make up ("And then this happens! And then this happens!") if they were given a very rough overview of American history and then told to write a script about it. It's almost worse that that's not the case—scratch that, it is worse—but we'll get to that.
(5) THEIR MILEAGE VARIED. On the other hand, the BBC lists Downsizing as one of the year's 10 best (along with 3.5 other genre films):
Downsizing

Despite its title, Downsizing sees Alexander Payne's ambition growing to vertiginous heights. His specialism is wistful comedies (Sideways, Nebraska) set in a recognisable contemporary US, but his latest film is an apocalyptic science-fiction mind-bender set at some unspecified point in the future, in the US and beyond. Matt Damon and Kristen Wiig play the Midwestern couple who wonder whether they should cut their living costs by being shrunk to the size of Barbie dolls but this droll premise is just the beginning. As soon as you think you can see where it's going, Downsizing ventures somewhere startlingly new instead.
(6) THE BOMB. Talking about his novel The Berlin Project, Gregory Benford describes where alternate history branches off in "Making A Better World War II".
Everybody loves success, so historians have papered over the fact that when we developed the atomic bomb we made a decisive bad judgment that cost over half a billion dollars of 1940s dollars and delayed the war's end by about a year.

The bad decision came in 1942 from General Leslie Groves, who directed the Manhattan Project, which was the U.S. R&D program to develop the first nuclear weapons. To make uranium suitable for an atomic bomb, you must enrich it up to weapons-grade, so that it is almost pure U-235, the element's most fissile isotope. Groves chose to pursue gaseous diffusion over an alternate concept—Karl Cohen and Nobel Prize in Chemistry winner Harold Urey's centrifugal separation—to enrich uranium up to weapons-grade.

We now know that was a huge mistake. Karl and Harold Urey said so then.

If we had stuck with centrifugal separation for another six months we would've solved its engineering problems, without question.
(7) IT'S A BASEBALL THING. Surely all Filers in Philadelphia would enjoy the excitement of science fiction and the wacky hijinks of the Phillie Phanatic together in one memorable film! MLB.com identifies "The weirdest and best National League gifts you can buy this holiday season", and one is genre —
The material is only as good as the teacher. Fortunately for all of us, this Christmas the teacher can be … the Phillie Phanatic. Yes, underneath all that green fur is a creature that wants to show us history. Move over, Bill and Ted: This is the movie for me.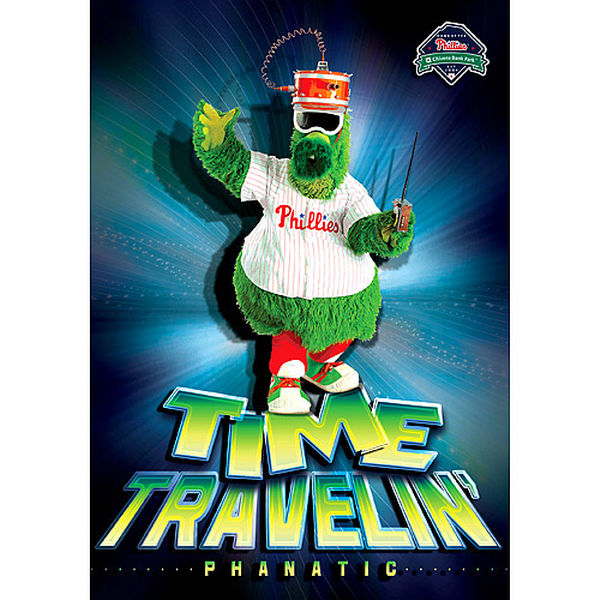 The Phillie Phanatic loves the Phillies, but he loves world history, too. When his new time travel helmet arrives in the mail, the Phanatic doesn't just learn about history, he lives it! With the help of his friend, Larry, the Phanatic goes back in time to help cavemen invent the wheel, becomes king for a day, outduels an evil knight, signs the Declaration of Independence, cracks the Liberty Bell and stumbles into many other wacky adventures with his time travel helmet. What time period is his favorite? Only real Phillies fans know the answer!
(8) FOR SOME VALUES OF RUINED. How can we expect anybody to "have yourself a merry little Christmas" now? "'Christmas is ruined': Outrage as Cadbury drops old favourite Fudge from selection boxes" — Evening Standard has the story.
Chocolate fans have reacted with fury after Cadbury dropped the beloved fudge bar from its festive selection box.

The old favourite has been replaced by a dairy milk oreo bar, leading some to claim that "Christmas is ruined".

The biscuit-based newcomer joins the wispa, crunchie, double decker, dairy milk and chocolate buttons in the selection box, which costs £2.99.

Fans of the boxes, which are a popular Christmas gift, have taken to Twitter to lambast Cadbury over the controversial move.
(9) JINGLE HELL. What is Adam Roberts thinking?
"Marley was Dredd, to begin with. 'I AM THE LAW' he bellowed, gunning down carol singers with his Lawgiver and sending Tiny Tim to the isocubes for being in breach of megacity regulations regarding leg functionality."

— Adam Roberts (@arrroberts) December 22, 2017
(10) BARKS' FAMILY PORTRAIT. A painting by one of the most famous Walt Disney Studios artists of all time helped Heritage Auctions' Dec. 9-10 Animation Art Auction in Beverly Hills, California clear more than $1.5 million.
More than a dozen bidders pursued a Carl Barks "Family Portrait" Uncle Scrooge and Disney Ducks Painting #73-15 with Handwritten Letter (1973) until it finally hammered at $68,712.50. The entire Duck family "posed" for the legendary Disney artist, with Donald Duck surrounded by Uncle Scrooge McDuck (a Barks creation), Grandma Duck, Daisy Duck, Gladstone Gander, and in front, Donald's nephews Huey, Dewey and Louie.
(11) TWO COMICS ARTISTS DIE. The ranks of women comics artists have been depleted by two recent deaths. Vu Nguyen reports —
One of the few women in comics, Annie Goetzinger, has died today (20 December 2017).  She was 66, according to la-croix.com.

Goetzinger is a French illustrator, known for her research and attention to detail. Her  earliest works were illustrations for short comic stories published in French comic magazines like Pilote, Charlie Mensuel and Fluide Glacial. Goetzinger's first graphic novel, Casque d'Or, won her two awards at the 1977 Angoulême International Comics Festival.

"When I started, I did not know there were so few girls making comics. … I didn't care; I always felt like kind of a maverick."

Also, another woman artist: Lona Rietschel, from Germany, passed away at the age of 84 on 19 December 2017 (as mentioned by tagesspiegel.de).  Rietschel started her career as a fashion artist and animator at DEFA studios, before relocating to Berlin.  There, she applied to work for the long-running German/Europe's monthly comic book Mosaik.  She was originally hired as only an illustrator, but she eventually started creating characters for the magazine, including  The Digedags.

In May 2013, Rietschel won the PENG! Prize for her work at the Comicfestival München.
(12) ASTRONAUT OBIT. NASA astronaut Bruce McCandless, the first person to fly freely and untethered in space, died December 22. He was 80.
He was famously photographed in 1984 flying with a hefty spacewalker's jetpack, alone in the cosmic blackness above a blue Earth. He traveled more than 300 feet away from the space shuttle Challenger during the spacewalk.
(13) TODAY IN HISTORY
December 22, 1932 – The Mummy seen for the first time in theaters.
December 22, 1933 – Son of Kong premiered.
(14) TODAY'S BIRTHDAY BOY
Born December 22, 1951 – Charles de Lint
(15) NOT TO BE MISSED. See a canvass of top titles in "Starburst's Books of 2017":
As 2018 and all its potential looms ever closer, it's about this time of year that we have a quick look back at some of the more interesting books that came out in 2017. We aren't going to stand on ceremony here.  This is a mixed list of stuff that caught our eye over the year, each one chosen because it delighted us in some way. To start off with, let's mention Jeanette Ng's Under the Pendulum Sun, a notably dense yet utterly absorbing tale of two Victorian Era Christian Missionaries head into the land of fairies to bring god to godless. It's wonderfully bleak and though it's hardly poolside holiday reading, it's rather fun. Speaking of light reading is Andy Weir's Artemis. Weir is best known for his book The Martian, which got turned into a movie featuring Matt Damon. Artemis is more of the same; believable science fiction (this time set in a moon base), slight less believable characters and lots of friendly science to go with the fiction. Bubblegum it may be, but it's delicious bubblegum that feeds your brain.
(16) MEMORIES AND EXPECTATIONS. Adam Troy-Castro launched a Facebook discussion of Jon Del Arroz' tweets about applying for SFWA membership and plans to wear a bodycam in the SFWA Suite:
If you're a reasonably normal person who happens to earn professional credits as a science fiction writer — two subsets which may sound mutually exclusive, but which are not — then your dream, if attending Worldcon, *should* be, normally is, getting to meet and befriend all the iconic writers whose imaginations informed yours.

"Oh my God! I can be in the same room with David Gerrold or Robert Silverberg or George R.R. Martin or Raymond E. Feist or Ursula K. Le Guin or Steve Barnes or (in treasured memory), Octavia Butler, Daniel Keyes, Harry Harrison, Kit Reed, Richard Matheson and Hal Clement!"

You can name the younger names, too, but if you care, there's a certain generation of writers, young or old, who are icons to you, and it matters to you, and that is one reason you want to go.

This guy looks forward to walking into the SFWA Suite and knowing that they couldn't lock him out, and indeed he looks forward to wearing a bodycam to entrap people into treating him like shit so he can prove they're all a bunch of assholes.

A year out…this is what he anticipates with glee.

This is what gives him the tinglies….
Several writers answered with sentimental reminiscences about their first visit to the SFWA Suite at a Worldcon, including a long one by Jim Wright about Sasquan.
(17) JDA AND SFWA. A. Merc Rustad wrote a series of tweets about JDA's SFWA application, which starts here.
I do not believe a private organization such as the SFWA needs to be "fair" in allowing in known bigoted trolls who seek to harm others for personal gain/notoriety.

Should JDA be allowed to join, this will be a huge step backwards & a detriment to gaining new, diverse members.

— A. Merc Rustad (@Merc_Rustad) December 22, 2017
(18) RESIGNS FROM THE EMPIRE. T.R. Napper says no more Star Wars for him – "Glory to the Empire".
George Lucas, on the other hand, was like Vader. When he started out, young and idealistic, he did some amazing things. As he got older, and the call of his own hubris became too strong, he turned to the dark side. We got Ewoks. Then Gungans. And Midichlorians. And: "NOOOOOOOOOO!" But even then, at his worst – and his worst was terrible – at least he was still capable of originality. Lucas, like Vader, and unlike the Empire, could be redeemed. Just stick him in his toy room in Skywalker Ranch, pew pew pew! And let someone else write and direct his intellectual property. You know, like they did with Empire Strikes Back.

No more. I've given up on Star Wars because my people, the Rebellion, are making independent movies like Moonlight, or Whiplash, or The Rover, or Eternal Sunshine of the Spotless Mind, or Memento, or Animal Kingdom. At the bigger end of the scale, they're taking risks with movies like Blade Runner 2049.

There will be no more risks taken with Star Wars. There's just the brand and its components, rearranged by filmmaking algorithm, once per year, forever. Kinda takes the magic out of it all.
(19) THE EMPIRE STRIKES OUT. "Stalking, First Order style," says JJ.
*stands apologetically beneath your window with a boombox playing the Imperial March*

— Emo Kylo Ren (@KyloR3n) January 21, 2016
(20) ANOTHER RASH OF ONLINE BIGOTRY. Newsweek reports "Racist Attacks Against Kelly Marie Tran Posted to Rose Tico's 'Wookieepedia' Page". Examples of the attacks are at the link.
Writer Bryan Young, who posted a screenshot of the racist attacks on Twitter, told Newsweek that he was alerted to the changes by a friend on Tuesday.

Wookieepedia admins have removed the vandalism, closing off Rose's page for editing. A history of the edits to the page, with attached IP addresses, is still publicly available, though the edit in question has been removed. Young told Newsweek the IP address attached to the edit in the screenshot is 64.203.14.213. The user has been blocked from using Wookieepedia or any other FANDOM wikis.

"FANDOM has a zero tolerance policy for vandalism, inclusive of racism and harassment," the company said in a statement provided to Newsweek. "The wiki admins take this very seriously and took the steps to resolve this situation as quickly as possible, including escalation to our team, and subsequent lockdown. This lockdown will remain for the foreseeable future and we will be closely monitoring activity on this wiki."
(21) PUT A CORK IN IT. Vintages are swirled together in these Middle-Earth mixes — "You shall not pass (on a glass)! Warner Brothers collaborates with winemaker on a limited-edition collection of four Lord of the Rings-themed WINES". Here's an excerpt from the Daily Mail's description of these concoctions.
The 2015 Aragorn Appellation Lussac – St. Émilion Contrôlée is $25 and features a blend of 80 per cent Merlot, 15 per cent Cabernet Franc, and 5 per cent Malbec. It is described as 'rich, concentrated and built to last,' while the site boasts, 'If ever there was a wine fit for a king as mighty and honorable as Aragorn, this is it.'

The 2016 Galadriel Bordeaux Blanc white wine is $18 and has flavors of grapefruit, lemon, and lemongrass.

'The most noble and powerful of the Elves is honored by this high-toned wine, a Bordeaux Blanc with piercing citrus flavors and remarkable concentration.

'Just as Galadriel is revered by all those graced by her presence, this impressive white is a true testament to her strength and wisdom, imbuing an immediate sense of devotion with its graceful palate. Take a sip and fall under its ethereal spell,' the site states.
(22) KITSCHIES. These are the 2017 Kitschies judges who have been announced so far:
RED TENTACLE & GOLDEN TENTACLE

Leila Abu El Hawa

Leila runs the Post Apocalyptic Book Club… She was a judge for the Clarke Awards in 2015-16 and in her spare time works in the fashion industry. @dystocalypse

Jon Courtenay Grimwood

Jon Courtenay Grimwood was born in Malta and baptised in the up-turned bell of a ship. …He also, for 5 years, wrote a monthly SF&Fantasy column for the Guardian. Two times winner of the BSFA Award for Best Novel, with Felaheen and End of the World Blues. …Moskva, written as Jack Grimwood, was his most recent. Its sequel, Nightfall Berlin, is due Autumn 2017. @joncg

Joshua Idehen

Joshua Idehen is a poet, teacher and musician. A British born Nigerian, Joshua was the founder of one of the most successful poetry events in London, Poejazzi. …He is premiering a live show with Band City, 'Last Night', about London's closed clubs. @benincitizen

Ewa Scibor-Rilka

…With a degree in English & Philosophy, she's previously spent her time running a sci fi & fantasy section of a central London bookshop, working on conventions, surviving said conventions, and writing about popular nerd culture for The Mirror's UsVsThem project. …@EwaSR.

Alasdair Stuart

Alasdair Stuart is the owner of Escape Artists, the digital publishing company behind Escape Pod, Pseudopod, Podcastle and Cast of Wonders.  …Read his work at alasdairstuart.com, or follow him at @AlasdairStuart on Twitter for professional enthusiasm, film analysis, the occasional food blog and more.
(23) WATCHING BY NIGHT. No need for any theological arguments about Die Hard's place in the holiday pantheon when you just admit what you're doing. Tor.com contributors came up with this list of "Our Favorite Non-Holiday Films to Watch Over the Holidays", one that concludes with Leah's preference for doing trilogy marathons —
We began with the obvious and tackled the Star Wars Trilogy. And lo! The 27th dawned, and I felt better than I had in any previous year. And thus a new tradition was born, and we tried Back to the Future, the first three Thin Man movies (those are the good ones) and then the one that stuck: The Lord of the Rings. Obviously, LOTR was already something of a holiday tradition anyway since the movies came out in December, but in a purely shallow way, watching all three movies while stuffing yourself with leftovers is the perfect way to ease back into regular, non-Christmas time. On a more serious note, since Christmas, at its heart, is about celebrating light in the darkness, what better scene to watch than the lighting of the beacons?
(24) FOR SOME VALUES OF "SAFETY." There's an app for that? "Reindeer hunted by wolverines get safety app".
Reindeer, who fall prey to wolverines, wolves and lynx, are being fitted with sensors to protect them.

It makes it easier for herders to track the animals across the remote Lapland forests where they roam.

Sensors around the necks of the female reindeer are linked to the herders' smartphones, allowing them to rescue hurt animals more quickly and identify the cause of death for those killed.
(25) NEVER TELL ME THE ODDS. In response to complaints, "Apple changes rules on app 'loot boxes'".
In the updated guidelines, Apple said any in-game mechanism that rewards players with "randomised virtual items" must list the odds of receiving each type of item. In addition, it said, customers must be informed of these odds before they buy the boxes or rewards.

Many games offer extras to players that can change the appearance of the game, introduce new characters or bestow power-ups that help people as they play.

Some titles let people buy loot boxes with in-game funds they generate by playing or by spending real money to purchase the game's virtual cash.

The controversy over the crates was thrown into sharp focus last month with the release of the Star Wars Battlefront II game, which used them extensively.
[Thanks to John King Tarpinian, Cat Eldridge, JJ, Ed Fortune, Carl Slaughter, Martin Morse Wooster, and Andrew Porter for some of these stories, Title credit belongs to File 770 contributing editor of the day Camestros Felapton.]