(1) EXTRA EXPANSE. The Verge warns, "PSA: You'll miss 25 minutes of The Expanse's final season if you don't pause it", and tells you where to find it.
If you're a fan of The Expanse, like me, you're probably wondering whether its final six episodes — currently airing each Friday through January 14th — are enough to wrap up its epic story. What you're probably not wondering: whether Amazon has buried nearly one-tenth of the show's final season in a place you might not think to look, and can't even find on your TV.

But it's true. The Expanse's production company filmed an additional 25 minutes of story across five vignettes, which you can only access through Amazon's X-Ray service by pausing the show and scrolling through otherwise hidden menus. (They're under Bonus Content.) But I couldn't find them on Apple TV or Google TV, and the showrunners have confirmed that's because Amazon hasn't made them available there yet. They're only on phones, tablets, and computers for now….
(2) WEBB TELESCOPE ON ITS WAY. The James Webb Space Telescope was successfully launched on December 25.
Before the JWST left the pad, the New York Times looked back on "How NASA's Biggest Telescope Beat Loose Screws, Loose Budgets and Loose Clamps".
… The Webb telescope is the biggest observatory built for launch into space. Its 18 gold-plated mirrors make for a system that is far more sensitive than the Hubble Space Telescope, which it will succeed as humanity's most powerful scientific instrument for studying the formation of our universe and distant worlds in our galaxy.

But the Webb, with a price tag of some $10 billion, has trudged through one of the most fraught development timelines of any space program, lasting over two decades and costing billions more than its original estimate.

"The stuff they faced was what a lot of space programs face, because everything has to be perfect on a spacecraft like that — you can't go fix it after launch," said Cristina Chaplain, who for roughly a decade led audits of the James Webb Space Telescope at the Government Accountability Office, Congress' watchdog agency….
(3) JRR AND JK GO TO THE MOVIES. The Guardian's Guy Lodge doesn't really long for the old days, but it would never do to be too pleased with the present: "Fellowship of the Ring at 20: the film that revitalised and ruined Hollywood".
…It might be unfair to draw a straight causal line between Jackson's project and the glumly corporatised franchise culture that overwhelms Hollywood cinema culture today. For one thing, it shares either the credit or the blame with Christmas 2001's other colossal fantasy-film event: Chris Columbus' pedestrian but immediately obsession-inspiring Harry Potter and the Philosopher's Stone, the first move in a more conservative strategy – only one film made at a time, at least to begin with – that nonetheless worked like gangbusters. Columbus' film might not have had its follow-ups ready to go the way Jackson's did, but its scene-setting narrative and ellipsis of an ending as good as promised them, pending the audience's thumbs-up….
(4) EATING THE FANTASTIC. Scott Edelman invites listeners to nibble Neapolitan pizza with José Pablo Iriarte in Episode 161 of his Eating the Fantastic podcast.
My dinner companion the first night of the D.C. Worldcon was José Pablo Iriarte, a Cuban American author of science fiction, fantasy, and children's fiction. Their novelette, "The Substance of My Lives, the Accidents of Our Births," was a finalist for the Nebula Award and was long-listed for the James Tiptree, Jr. Literary Award. Their short fiction has appeared in Lightspeed, Strange Horizons, Fireside Fiction, Daily Science Fiction, Escape Pod, and many other venues, stories which have then been spotlighted on best-of lists assembled by Tangent Online, iO9, and others.

When Jose told me one of his favorite foods was pizza, I knew I had to feed them D.C.'s best, leading me to 2Amys, which Thrillist says prepares "near-perfect, delicate pies with bubbly crusts, fresh mozzarella, and fragrant basil. The Margherita is the baseline against which all Neapolitan pies in DC are judged."

We discussed their go-to karaoke song, why being a math teacher makes it even harder to write about math, what they learned from Speaker for the Dead, how their feelings about Orson Scott Card help them empathize with those struggling over J.K. Rowling today, why they trunked their favorite story until a friend convinced them to send it out, their method for writing successful flash fiction, why they had no problem keeping their Nebula nomination a secret, how to create a good elevator pitch, and much more.
(5) DORIS PISERCHIA (1928-2021.) Author of thirteen science fiction novels and multiple short stories, Doris Piserchia died September 15 at the age of 92. The family obituary is here.
She published her first short story, the humorous "Rocket to Gehenna," in 1966. In Orbit 12, in which her story "Half the Kingdom" was reprinted, she wrote, "I live in a madhouse and my nerves are shot. Perhaps this is the reason why I rarely attempt a serious story. Such an attempt would be very easy for me, but I'm afraid to tap the vein right now." An unpublished story of hers was acquired for Last Dangerous Visions.
(6) MARK TAYLOR OBIT. Toy designer Mark Taylor died December 24 reports Bleeding Cool: "Legendary Toy Designer Mark Taylor Passes Away at Age 80".
…Mark Taylor was one of the biggest reasons that Masters of the Universe has become what it is, with his incredible designs that came to life right off the paper. Even in 2021, Mattel is still dishing out some absolutely fantastic Masters of the Universe collectibles, including their highly recommended Origins line. He-Man has only expanded his reach outside of Eternia, and it was Mark who helped him get there, and we will continue to admire all the work he has done. Be sure to keep your eyes out for the Lord of Power lines coming from Formo Toys that will give us some original MOTU designs that Mark Taylor has created….
(7) MEDIA BIRTHDAY.
2001 — [Item by Cat Eldridge.] Twenty years ago, Gosford Park premiered. It was directed by Robert Altman from the script by Julian Fellowes, who went on to be the driving force behind the Downton Abbey series. It came together when Director Balaban suggested an Agatha Christie-style whodunit to Altman and introduced him to Julian Fellowes, with whom Balaban had been working on a different project. It is a country manor house mystery in the style that Hercule Poirot's Christmas was, and in keeping with that kind of mystery had a very large ensemble case: Eileen Atkins, Bob Balaban, Alan Bates, Charles Dance, Stephen Fry, Michael Gambon, Richard E. Grant, Derek Jacobi, Kelly Macdonald, Helen Mirren, Jeremy Northam, Clive Owen, Ryan Phillippe, Maggie Smith, Kristin Scott Thomas, and Emily Watson.
It was filmed mostly on location using three different manor houses, though sound stages were built to film the scenes of the manor's downstairs area. Apparently it was also filmed in three different countries — the United Kingdom, the United States and Italy with production costs of nearly twenty million in total. It did very well at the box office with it bringing in nearly ninety million. It was Altman's second most successful film after M*A*S*H.
Critics truly loved it with Roger Ebert wringing for the Chicago Sun-Times said it was "such a joyous and audacious achievement it deserves comparison with his very best movies." And Nell Murray at the Verge summed it up perfectly noting that "For a film about homicide and class conflict, Gosford Park is surprisingly congenial." Audience reviewers at Rotten Tomatoes currently give it a most excellent rating of eighty-eight percent.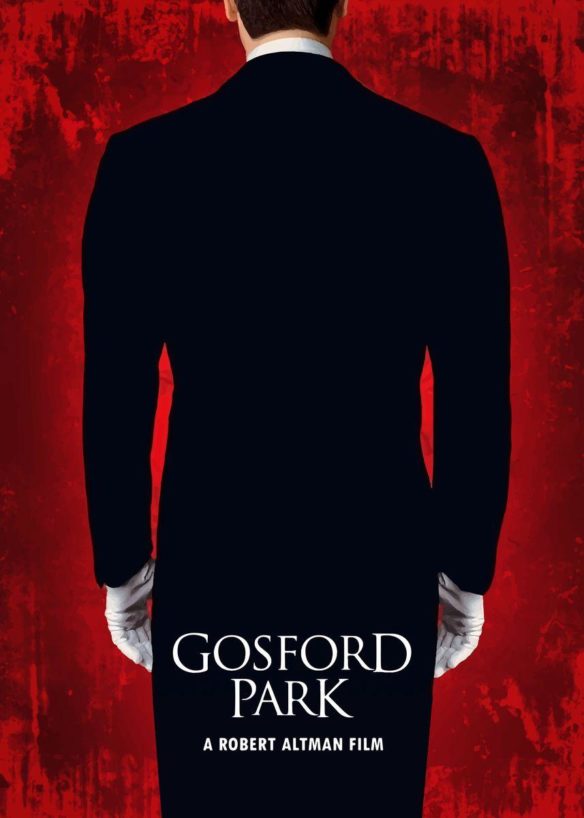 (8) TODAY'S BIRTHDAYS.
[Compiled by Cat Eldridge.]
Born December 26, 1903 — Elisha Cook Jr. On the Trek side, he shows up as playing lawyer Samuel T. Cogley in the "Court Martial" episode. Elsewhere he had long association with the genre starting with Voodoo Island and including House on a Haunted Hill, Rosemary's Baby, Wild Wild West, The Night Stalker and Twilight Zone. (Died 1995.)
Born December 26, 1911 — Milton Luros. Illustrator during the Golden Age of pulp magazines from 1942 to 1954 (yes I'm expansive on what I consider to be to the Golden Age). His work graced Science Fiction Quarterly, Astounding Stories, Future Combined with Science Fiction Stories, Future Science Fiction Stories, Dynamic Science Fiction and Science Fiction Quarterly. He had an amazing ability to illustrate women in outfits in hostile environments that simply were impractical such as one for Science Fiction Quarterly (UK), October 1952 cover had a cut out in her spacesuit so her décolletage was bare. (Died 1999.)
Born December 26, 1951 — Priscilla Olson, 70. She and her husband have been involved with NESFA Press's efforts to put neglected SF writers back into print and has edited myriad writers such by Chad Oliver and Charles Harness, plus better known ones like Jane Yolen. She's chaired a number of Boskones, and created the term "prosucker" which I must admit is both elegant and really ugly at the same time.
Born December 26, 1953 — Clayton Emery, 68. Somewhere there's a bookstore that exist of nothing but the franchise novels and collections that exist within a given franchise. No original fiction whatsoever. This author has novels in the Forgotten Realms, Shadow World, The Burning Goddess, City of Assassins, The Secret World of Alex Mack, Magic: The Gathering and Runesworld franchises, plus several genre works including surprisingly Tales of Robin Hood on Baen Books. Must not be your granddaddy's Hood.
Born December 26, 1960 — Temuera Morrison, 61. Ahhhh clones. In Attack of the Clones, he plays Jango Fett and a whole bunch of his clone troopers, and in Revenge of the Sith, he came back in the guise of Commander Cody. He goes on to play him in the second season of The Mandalorian. Crossing over, he plays Arthur Curry's father Thomas in Aquaman.
Born December 26, 1961 — Tahnee Welch, 60. Yes, the daughter of that actress. She's in both Cocoon films, as well in Sleeping Beauty which was filmed at the same time. Black Light and Johnny 2.0 in which she's in might qualify as genre in the way some horror does. She stopped acting twenty years ago.
Born December 26, 1970 — Danielle Cormack, 51. If it's fantasy and it was produced in New Zealand, she's might have been in it. She was in Xena and Hercules as Ephiny on a recurring role, Hercules again as Lady Marie DeValle, in Jack of All Trades, one of Kage Baker's favorite series because, well, Bruce Campbell was the lead. She was Raina in a recurring role, and Samsara on Xena in another one-off and Margaret Sparrow in Perfect Creature, an alternate universe horror film.
(9) LEGO BEATS INFLATION. "Those Legos under the tree might be worth more than gold one day" – so long as you don't take them out and play with them. NPR tells why.
Researchers from the Higher School of Economics in Moscow found that select unopened Lego sets on the secondary market saw an average annual return of 11% — that's higher than gold and shares of some large companies….
(10) HAPPY BOXING DAY. This gift was under somebody's tree in the Sixties.
(11) NOW YOU KNOW. There are some interesting background stories to seasonal music: "How a French Atheist and an American Abolitionist Ended Up Creating a Christmas Classic" at Yahoo!
…For example, did you know the guy who wrote 1857's "Jingle Bells," James Pierpont, despite being from a well-known family of Boston-based Unitarian abolitionists, grew up to become an ardent secessionist and Confederate soldier—and that the first live performance of "Jingle Bells" may have been by a white performer in blackface? (Also, Pierpont's nephew was J.P. Morgan, so he's also kinda-sorta to blame for your checking late fees.) Contrast that guy with Ohio's Benjamin Hanby, also the offspring of abolitionists, who was active alongside his family in the Underground Railroad, and who penned "Up on the Housetop" in 1864….
(12) DEATH AND TAXIDERMY. Somewhere here in Los Angeles County is Bigfoot Lodge.
Bigfoot Lodge Billows With Mountainous Roadhouse Comforts That Remind You Of A Simpler Time And Place. Truly, A Retreat Chock-Full Of Fireside Pleasures Like Heavy Drinking, Bingo, Trivia, Live Music, And More. Bigfoot Lodge Has Poured For Its Community And Partied Like It's 1999 Since 1999. It Invites City-Dwellers To Snuggle Up Next To Bigfoot, Smokey The Bear, Other Charming, Yet Sometimes Frightening Taxidermy, And Of Course, Their Favorite Bartender. Bigfoot Lodge Is Always Smiling.
[Thanks to JJ, John King Tarpinian, Andrew Porter, Olav Rokne, Steven H Silver, Rich Lynch, Michael Toman, Cat Eldridge, Mike Kennedy, and Martin Morse Wooster for some of these stories. Title credit belongs to File 770 contributing editor of the day Daniel Dern.]