(1) DARK MARK WALKED BACK? Christine Feehan tweeted another update, saying that she "asked my trademark lawyer to withdraw all of the current single word applications that have been filed and are causing so much distress." The statement, screencapped below, has been greeted with a mix of approval and skepticism – see comments in the thread which starts here.
(2) MULAN. A second trailer for Disney's Mulan dropped today.
When the Emperor of China issues a decree that one man per family must serve in the Imperial Army to defend the country from Northern invaders, Hua Mulan, the eldest daughter of an honored warrior, steps in to take the place of her ailing father. Masquerading as a man, Hua Jun, she is tested every step of the way and must harness her inner-strength and embrace her true potential. It is an epic journey that will transform her into an honored warrior and earn her the respect of a grateful nation…and a proud father.
(3) TAKING A SPIN. Deadline reveals "David Tennant To Play Phileas Fogg In Slim Film + Television's 'Around The World In 80 Days' Adaptation".
… The Doctor Who and Broadchurch star is fronting the eight-part drama, which is produced by Slim Film + Television.

Following an outrageous bet, Fogg and his valet, Passepartout, played by rising French actor Ibrahim Koma, take on the legendary journey of circumnavigating the globe in just 80 days, swiftly joined by aspiring journalist Abigail Fix, played by The Crown's Leonie Benesch, who seizes the chance to report on this extraordinary story.
(4) POE SLEPT HERE. "Baltimore knows its Poe House is a treasure, but now it's officially Maryland's first 'Literary Landmark'" — the Baltimore Sun has the story.
Baltimore's Edgar Allan Poe House & Museum, where the famed 19th-century author and literary critic lived during the 1830s, has been named a Literary Landmark by United for Libraries, a nationwide advocacy group and division of the American Library Association.

The Poe House will be Maryland's first Literary Landmark, but not the first involving Poe. Philadelphia's Edgar Allan Poe House, one of several places the author called home while living in Philly, was added to the list in 1988. And a stuffed Grip, Charles Dickens' pet raven and the inspiration (so many believe) for Poe's poem (the one Baltimore named its NFL team after), resides in the Rare Books Department of the Free Library of Philadelphia. It was named to the list in 1999.

The national registry of Literary Landmarks, begun in 1986, singles out sites and objects with special literary significance….
(5) EREWHON LIT SALON. Carlos Hernandez and C.S.E. Cooney will be the readers at the Erewhon Literary Salon on December 12. The event takes place in the office of Erewhon Books in the Flatiron/NoMad district of Manhattan. For full information and policies, and to RSVP, click here. Event address and information will be emailed to those who have RSVPed a few days before the event.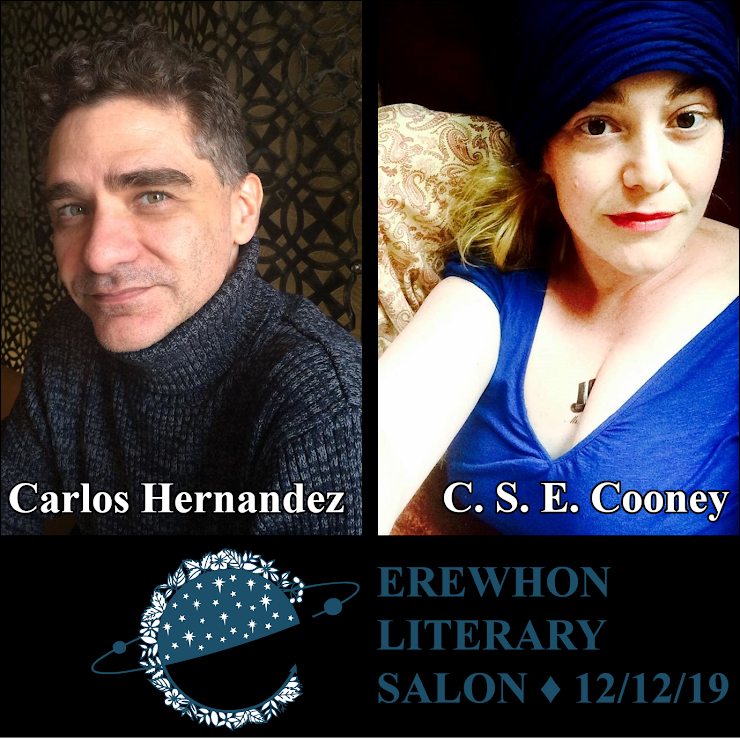 CARLOS HERNANDEZ is the author of over 40 SFF short stories, poems, and works of drama. His critically acclaimed short story collection The Assimilated Cuban's Guide to Quantum Santeria came out in 2016 from Rosarium, and his middle-grade novel Sal and Gabi Break the Universe was published by Disney Hyperion in 2019. Carlos is a CUNY professor of English and a game designer and enthusiast. Look for Sal and Gabi Fix the Universe in May 5, 2020.

C.S.E. COONEY is an audiobook narrator, the singer/songwriter Brimstone Rhine, and author of World Fantasy Award-winning Bone Swans: Stories. Her work includes the Tor novella Desdemona and the Deep, three albums: Alecto! Alecto!, The Headless Bride, and Corbeau Blanc, Corbeau Noir, and a poetry collection: How to Flirt in Faerieland and Other Wild Rhymes, which features her Rhysling Award-winning "The Sea King's Second Bride." Her short fiction can be found in Ellen Datlow's Mad Hatters and March Hares: All-New Stories from the World of Lewis Carroll's Alice in Wonderland, the Sword and Sonnet anthology, Rich Horton's Year's Best Science Fiction and Fantasy, Jonathan Strahan's The Best Science Fiction and Fantasy of the Year, and elsewhere.
(6) IT'S A MYSTERY. Tyler Hayes, in "Tips for Writing Speculative Detective Fiction" on CrimeReads offers tips for writers interested in writing sf mysteries about how to keep their plots logical and interesting.
…There are more tricks available, but every solution boils down to three things: make sense, make it matter, and make it clear.

"Make sense" means that whatever you do needs to feel true. The disruption to the available speculative elements needs to be either baked into the world, or clearly explained, so that it doesn't feel like the exception is just there to allow the story to be told (even though that's totally why you did it)…
(7) RETRO LANDS IN HOUSTON. The late Fritz Leiber won a Retro Hugo at Dublin 2019 – it's now safely ensiled at the University of Houston Libraries:
(8) WEINER OBIT. Canadian sff writer Andrew Weiner, whose first published story was "Empire of the Sun" in Again, Dangerous Visions (1972), died December 3. The family obituary is here.
He wrote three novels, Station Gehenna (1987), Getting Near the End (2000), Among the Missing (2002), and many shorter works. The first of his several short story collections was Distant Signals and Other Stories (1990)
The Encyclopedia of Science Fiction's John Clute says, " Craftsmanlike, witty and quietly substantial, Weiner never gained a reputation befitting his skills."
(9) TODAY IN HISTORY.
December 5, 1954 – The Shadow radio show aired "Murder by Proxy". Starring Bret Morrison as The Shadow (Lamont Cranston) Gertrude Warner as Margot Lane. The script was by Judith Bublick and David Bublick, who contributed many scripts during the last two years it was on the air. (This "Murder by Proxy" is not the same script as an earlier show of the same name.)
December 5, 1956 — Man Beast premiered. It was directed and produced by Jerry Warren. It starred Rock Madison and Asa Maynor. The film was distributed in the States as a double feature with Prehistoric Women. Critics generally intensely disliked, and it has no ratings at Rotten Tomatoes.
December 5, 1980 — Flash Gordon premiered. Directed by Mike Hodges and produced by Dino De Laurentiis of Dune fame, it starred Sam Jones, Max von Sydow and Melody Anderson. Most critics sort of liked it although Clute at ESF definitely did not. It holds an 80% rating among viewers at Rotten Tomatoes and it did exceedingly well at the Box Office.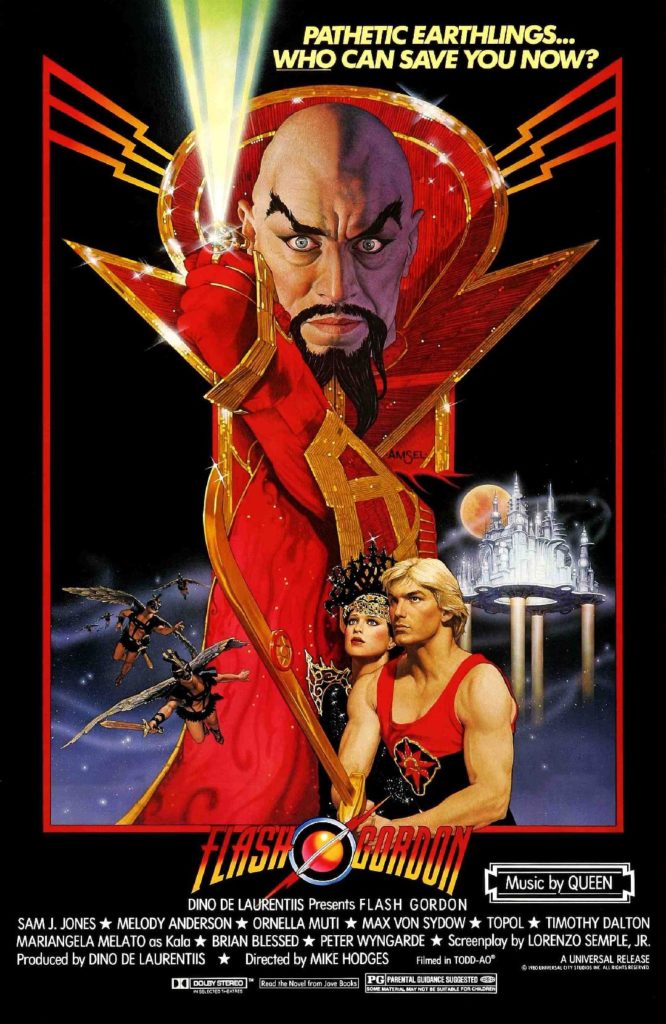 (10) TODAY'S BIRTHDAYS.
[Compiled by Cat Eldridge.]
Born December 5, 1890 — Fritz Lang. Metropolis of course, but also Woman in the Moon (German Frau im Mond) considered to be one of the first "serious" SF films. (Died 1976.)
Born December 5, 1901 — Walt Disney . With Ub Iwerks, he developed the character Mickey Mouse in 1928; he also provided the voice for his creation in the early years. During Disney's lifetime his studio produced features such as Snow White and the Seven Dwarfs (1937), Pinocchio, Fantasia (both 1940), Dumbo (1941), and Bambi (1942), Cinderella (1950) and Mary Poppins (1964), the latter of which received five Academy Awards. In 1955 he opened Disneyland. In the Fifties he also launched television programs, such as Walt Disney's Disneyland and The Mickey Mouse Club. In 1965, he began development of another theme park, Disney World, and the "Experimental Prototype Community of Tomorrow" (EPCOT). (Died 1966.)
Born December 5, 1921 — Alvy Moore. He shows up first in a genre role uncredited as Zippy in The War of the Worlds. (He was also uncredited in The Girls of Pleasure Island that same year.) He's again uncredited, as a scientist this time, in The Invisible Boy (aka S.O.S Spaceship) and The Gnome-Mobile saw his continue that streak as a Gas Mechanic. The Brotherhood of Satan saw him get a credit role as did The Witchmaker, both all budget horror films. He's listed as having co-written and produced, along with LQ Jones, A Boy and His Dog, the Ellison originated film. (Died 1997.)
Born December 5, 1936 — James Lee Burke, 83. This is one of the listings by ISFDB that has me going "Eh?" as to it being genre. The Dave Robicheaux series has no SFF elements in it and despite the title, In the Electric Mist with Confederate Dead, neither does that novel. The character makes it clear that it's likely he's hallucinating. Great novel.
Born December 5, 1943 — Roger Robinson, 76. Owner of Beccon publications, a British small-press publisher specializing in SF and filk. He's looked at filk (On the Filk Road), reviews (Soundings: Reviews 1992-1996 by Gary K Wolfe), fiction (Elizabeth Hand's Chip Crockett's Christmas Carol) and Fred Smith's Once There was a Magazine ~~, a look at Unknown Magazine).
Born December 5, 1951 — Susan Palermo-Piscatello. SF Site in its obit said that she was "was active in fandom in the early 1970s, taking pictures that appeared in The Monster Times and working for the company that brought Japanese monster films, including Battle for the Planets and Time of the Apes to the US. She was among the first bartenders at CBGB and was in the band Cheap Perfume. She had recently returned to fandom after several years of gafiation." (Died 2011.)
Born December 5, 1954 — Elizabeth R. Wollheim, 65. President, co-Publisher and co-Editor-in-Chief of DAW Books. Winner, along with her co-Publisher and co-Editor-in-Chief Sheila E. Gilbert, of a Hugo Award for Long Form Editing. In the early Nineties, they won two Chesley Awards for best art direction. DAW is, despite being headquartered at Penguin Random House, a small private company, owned exclusively by its publishers.
Born December 5, 1971 — Kali Rocha, 48. She is best remembered for her recurring role on Buffy as Anya's vengeance demon friend, Halfrek, and as William the Bloody's love interest, Cecily. She appeared with fellow Buffy alum Emma Caulfield in TiMER. And she's in Space Station 76 which has remarkably good reviews.
Born December 5, 1973 — Christine Stephen-Daly, 46. Her fate as Lt. Teeg on Farscape literally at the hands of her commanding officer Crais was proof if you still need it that this series wasn't afraid to push boundaries. She was also Miss Meyers in the two part "Sky" story on The Sarah Jane Adventures.
Born December 5, 1980 — Gabriel Luna, 39. He plays Robbie Reyes who is the Ghost Rider rather perfectly in the Agents of S.H.I.E.L.D. series. Much better I'd say than Nick Cage did in the films. He was also Terminator Rev-9 in Terminator: Dark Fate, and he did voice work for the BlackSite: Area 51 video game.
(11) COMICS SECTION.
Lio finds it impossible to escape the long reach of Disney.
(12) PULLING OUT ALL THE STOPS. In "A Tube Map of SF&F Genres" Camestros Felapton has designed an irresistibly amusing representation of the field.
As with any London Tube style map, distance on the map has no connection with distance in reality. Position is about how to make everything fit. I feel like it needs more stops on the big pink Fantasy circle line. Green stops allow you to change services to mainstream rail lines. Purple stops allow you to change to the horror tram services.

There is a foot tunnel between Cyber Punk and Steam Punk.
(13) A CHRISTMAS SUGGESTION. [Item by SF Concatenation's Jonathan Cowie.] What to get the SF fan who has nearly everything? SF²; Concatenation has a seasonal suggestion in their advance-post (ahead of their spring edition) — Joel Levy's latest non-fiction: From Science Fiction to Science Fact: How writers of the past invented our present, a colorful exploration of the science fiction visions that came to be technological realities.
Confusingly, this has recently been published under two different titles, one for each side of the Pond. It is published in N. America as Reality Ahead of Schedule: How Science Fiction Inspires Science Fact.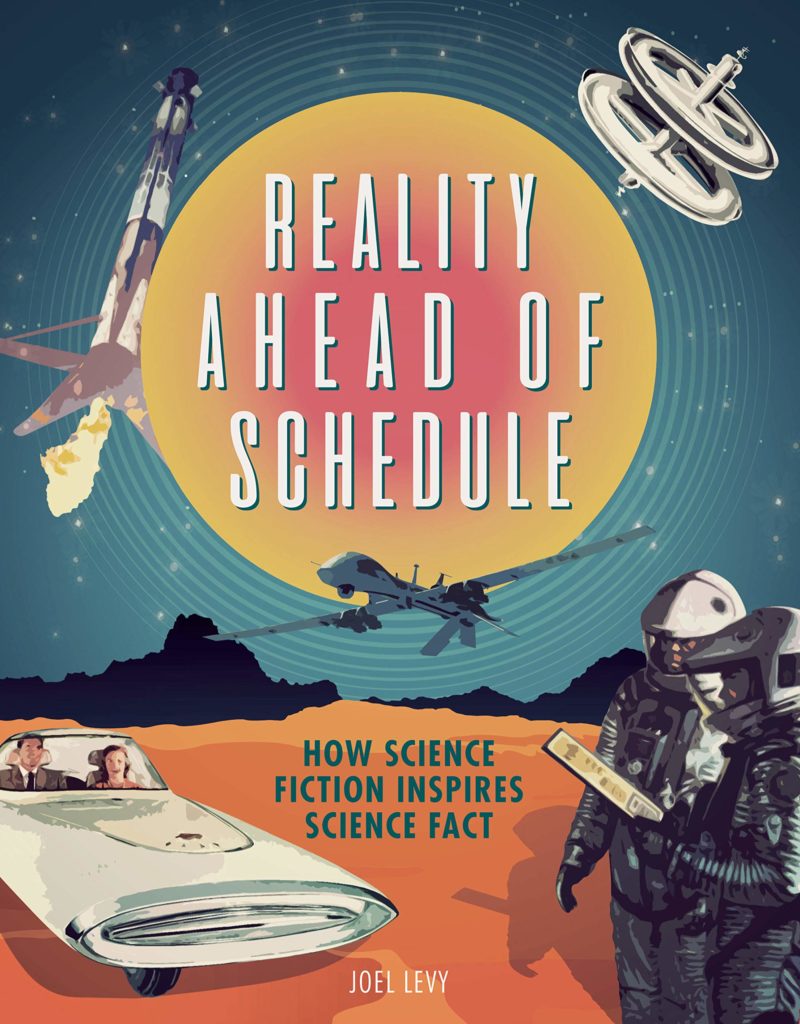 Packed with full color illustrations and well researched, it is an ideal gift for fans of all persuasion (or even a Christmas present to themselves). SF²; Concatenation says:
From Science Fiction to Science Fact may not be an encyclopaedic work, but there is sufficient here (and it is structured to be navigable) that those who personally like to study SF, as opposed to simply consuming it, will find this quite useful as a reference work of pointers. It will also be a welcome addition to any SF aficionado's bookshelf if not coffee table. Here, the production values are high.
(14) IT'S A BEAUTIFUL DAY IN THE CW. [Item by Daniel Dern.] Why (some of us) love the WB tv series DC's Legends of Tomorrow…
…because they do goofy great.
(15) GAHAN WILSON ON NPR. A nice snippet from a 1986 interview with Gahan Wilson from Fresh Air on NPR was replayed December 2 to commemorate Gahan after his recent passing. "The linked webpage has a transcript for those who do not wish to listen to the audio," says Tom Boswell-Healey. "I think the audio is worthwhile as it contains Gahan's verbal effects."
GROSS: When you came to New York with your portfolio of cartoons and tried to sell them to magazines, was it hard to get in initially?

WILSON: Very. Very, yeah because I'm still regarded as sort of far-out in some circles, and at that point, I was really, really far out. And I mean, I was really bizarre. They – what I'd – what had happened to me was this singularly frustrating scene where the editors would say, look at this stuff, and they'd laugh at it hysterically and just think it was marvelous and compliment me on – this is – kid, you're really great. This is great stuff, kid, but our readers would never understand it. And then they would hand it back to me. And that was my big block, was that they figured that I was beyond the – those jerks out there.

GROSS: Could you maybe describe a couple of those early cartoons?

WILSON: Oh, sure. Let's see. There's this fellow, and he's in a cannibal pot. He's being cooked. And he has a evil look on his face, and he has a bottle of poison, and he's pouring the poison, and the water is being cooked in. And that was one. And then let me see – oh, they were – there was one where there's this little kid, and he's with his father, and they're in a snowstorm. And there's this dead bird on the snowbank with his feet in the air, and the little kid's pointing at it. And he says look, Daddy – the first robin.
(16) STORMY WEATHER. NPR reports: "Probe Gets Close To The Sun — Finds Rogue Plasma Waves And Flipping Magnetic Fields".
An unprecedented mission to venture close to the sun has revealed a strange region of space filled with rapidly flipping magnetic fields and rogue plasma waves.

These surprises are among just some of the first observations by NASA's Parker Solar Probe, which blasted off last year to get up-close-and-personal with our nearest star.

Scientists say the findings, described in a series of reports in the journal Nature, could help explain long-standing mysteries — like why the sun's extended atmosphere is hotter than its surface.

They also could help scientists better understand and predict solar storms that might disrupt vital artificial satellites that orbit our planet.

…From Earth, during a total solar eclipse, it's easy to see the sun's corona, an aura of plasma that is the sun's outer atmosphere. The Parker Solar Probe is designed to plow through the corona with instruments that measure magnetic fields, plasma, and energetic particles.

All of this lets researchers explore the origin of the solar wind, charged particles that continually spew out of the sun.

It turns out that close to the sun, the wind seems to get sped up by powerful, rogue waves that move through the magnetic field, says Kasper.

"We'd see suddenly a spike in flow, where in just a couple seconds the solar wind would start flowing 300,000 miles an hour faster," he says.
(17) FETCH! Of course – that's what rovers do… "Mars rover aims to grab a piece of history".
British engineers have begun testing technologies that will be needed to bring samples of Martian rock to Earth.

The Airbus team is training a prototype rover to recognise and pick up small cylinders off the ground.

It's a rehearsal for a key part of a multi-billion-dollar project now being put together by the US and European space agencies – Nasa and Esa.

Returning rock and dust materials to Earth laboratories will be the best way to confirm if life exists on Mars.

It is, though, going to take more than a decade to achieve.
(18) ANTICIPATION. We aren't going to be around to see it anyway, so no spoiler warning here: "Distant star's vision of our Sun's future 'death'".
A newly discovered planet offers new insights into the Solar System after the Sun reaches the end of its life in 5-6 billion years.

Astronomers observed a giant planet orbiting a white dwarf, the small, dense objects some stars become once they have exhausted their nuclear fuel.

It's the first direct evidence planets can survive the cataclysmic process that creates a white dwarf.

Details of the discovery appear in the journal Nature.

The Solar System as we know it won't be around forever. In about six billion years, the Sun, a medium-size yellow star, will have puffed up to about two hundred times its current size. In this phase, our parent star will be known as a Red Giant.

As it expands, it will swallow and destroy the Earth before collapsing into a small core – the white dwarf.

Researchers discovered a white dwarf that lies 2,000 light-years away had a giant planet thought to be about the size of Neptune (though it could be larger) in orbit around it.

"The white dwarf we're looking at is about 30,000 Kelvin, or 30,000C. So if we compare the Sun, the Sun is 6,000 – almost five times as hot. This means it's going to be producing a lot more UV radiation than the Sun," said Dr Christopher Manser, from the University of Warwick.
(19) BIG BROTHER IS STILL WATCHING. So be good for goodness sake! "Apple iPhone 11 Pro 'can override location settings'".
Apple's flagship iPhone 11 Pro tracks users' locations even when they have set it not to, a security researcher has discovered.

Brian Krebs found that the phone collects data about a user's position even if location sharing has been turned off in every individual app.

However, the user could avoid being tracked if the entire system was set to never share location.

Apple said it was "expected behaviour" and denied it was a security problem.

The company has made big play of the fact that it allows users granular control over sharing their location – so for instance they can have location switched on for Maps but off for everything else.

Mr Krebs found users could disable all location services entirely via Settings>Privacy>Location Services, but if they chose the individual controls, they might still be tracked.
(20) MAKE IT SNOW. From Destructoid we learned that "Sir Patrick Stewart kicks off Feastivus in Plants vs. Zombies: Battle for Neighborville".
Plants vs. Zombies: Battle for Neighborville is getting into the spirit with a snowy present-filled makeover of Giddy Park, a social hub where plant and zombie players can mingle and duke it out. Alongside update 1.03, PopCap went ahead and booked Sir Patrick Stewart to recite a festive poem.
[Thanks to Daniel Dern, Mike Kennedy, Martin Morse Wooster, John King Tarpinian, JJ, Cat Eldridge, Chip Hitchcock, SF Concatenation's Jonathan Cowie, Tom Boswell- Healey, and Andrew Porter for some of these stories. Title credit goes to File 770 contributing editor of the day Camestros Felapton.]