(1) HATCHED BEFORE YOUR EYES. Mashable reveals "All the 'Harry Potter' Easter eggs you missed in the 'Fantastic Beasts' opening".
Fantastic Beasts is the type of film that has so much going on it's all too easy to miss the little things — particularly when you realise how much effort goes into every single prop.

From the posters that pop up along the streets of New York to the books that line the shelves in people's houses, everything has been carefully considered and crafted to slot neatly in to J.K. Rowling's wizarding world.

The company behind these details — or "hero props", as they're known in the industry — is a graphic design studio called MinaLima. If you've ever seen a Harry Potter film, you've seen their work.

"Anything that's scripted — in this case say the Marauder's Map; The Daily Prophet; any of the books or letters or magazines — so anything that's scripted that helps tell the story and keep it moving along, we would have to design them and usually make them as well," Miraphora Mina, a graphic designer at MinaLima, told Mashable.
(2) YOU WON'T BELIEVE NUMBER 4. MeTV lists "8 mean, green facts about 'How the Grinch Stole Christmas'".
3. Boris Karloff is the narrator.

One of horror's most respected actors voiced the children's special. Originally, Geisel didn't like Karloff's casting because he feared it would make the program too scary.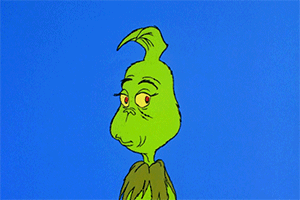 (3) THE MUSIC MAN. Theater-goers are hearing someone else's music in a Star Wars movie this month, but the maestro will be back on the podium soon. ScreenRant reports "Star Wars: John Williams Begins Recording Episode 8 Score This Month".
Series spinoff, Rogue One: A Star Wars Story, releases later this month and will be the first film in the series not scored by Williams. That distinction will instead go to Michael Giacchino (Doctor Strange), who took over for Alexandre Desplat (Harry Potter and the Deathly Hallows) after reshoots delayed the start of the process. Unfortunately, this left Giacchino with only four weeks to finish the score.

In a recent discussion with John Williams for a piece in Variety, it was revealed that Williams will begin the process of scoring Star Wars: Episode VIII this December, and expects to continue the process through March-April of 2017. That leaves a 4 to 5-month time span for Williams to make the score really shine and potentially more time to spare since the film doesn't release until December.
(4) TAOS TOOLBOX. Walter Jon Williams says applications started coming in on the first day.
December 1 is the first day to receive submissions for Taos Toolbox, the master class for writers of science fiction and fantasy, taught this year by Nancy Kress and Walter Jon Williams, along with guests George RR Martin, Steven Gould, and Emily Mah Tippetts.

And in fact applications have started to arrive right on schedule.

If you think you want to do this professionally, you can do yourself no bigger favor than to send us your application.
(5) HINES BENEFIT AUCTION #8. The eighth of Jim C. Hines' 24 Transgender Michigan Fundraiser auctions is for an Autographed Book (Print or Audio) by Nicole Kornher-Stace.
Today's auction is for an autographed copy of either the paperback or audio CD (your choice) of Kornher-Stace's Norton-nominated YA novel ARCHIVIST WASP.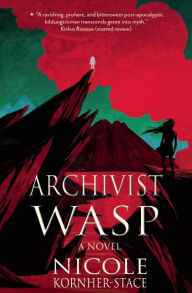 About the Book:

Wasp's job is simple. Hunt ghosts. And every year she has to fight to remain Archivist. Desperate and alone, she strikes a bargain with the ghost of a supersoldier. She will go with him on his underworld hunt for the long-lost ghost of his partner and in exchange she will find out more about his pre-apocalyptic world than any Archivist before her. And there is much to know. After all, Archivists are marked from birth to do the holy work of a goddess. They're chosen. They're special. Or so they've been told for four hundred years.

Archivist Wasp fears she is not the chosen one, that she won't survive the trip to the underworld, that the brutal life she has escaped might be better than where she is going. There is only one way to find out.
(6) A GOOD START ON RECOVERY. Sarah A. Hoyt phrased her health update like this:
So, for the record, I'm still not dead.

While I did have some sort of a heart event, with continuing irregularities after, it is not in any way a "conventional heart attack."  Those are the good news….
And she provides more diagnostic details in the post.
(7) FLINT NOT WELL. Eric Flint shared alarming health news of his own in a public post on Facebook today.
I've been quite sick for the past three months, with the kind of symptoms that are not easy to sort out. The main ones were: constant fatigue, getting tired easily, occasional dizziness, frequent shortness of breath.

I finally went to the doctor earlier this week, and he did some blood work that showed that my hemoglobin and iron had dropped through the floor. So, he send me to a gastrointestinal specialist and yesterday he did an upper endoscopy on me. (Which they call an EG…D for reasons that escape me.)

Anyway, great news! I have a bleeding ulcer in my stomach!

Well… okay, it's not technically an ulcer because the stomach lining hasn't been completely perforated. They're calling it something like "erosion," But what it means is that I've been losing blood internally, probably over a long period of time until the symptoms became noticeable.

Why do I call this "good news"? Because the alternative was a hell of a lot worse. I do have heart disease — quite mild, but it's there –. and those same symptoms (fatigue, getting tired easily, shortness of breath, dizziness) are the classic symptoms that your heart's starting to fly south for the winter.

I'll take a little blood loss, thank you. My Viking ancestors would have spit the blood into their mead cups and kept partying. (One of their few saving graces.)

Tomorrow, Lu and I are going on the Sail to Success cruise for which I'm one of the instructors. (Yes, the doctor told me it was okay.)
(8) TODAY IN HISTORY
December 3, 1973 — Christopher Lee, Peter Cushing, and Telly Savalas star in Horror Express.
December 3, 1993 — Guillermo Del Toro's Cronos opens in Del Toro's native Mexico.
(9) TODAY'S BIRTHDAYS
Born December 3, 1960 — Daryl Hannah
Born December 3, 1968 — Brendan Fraser
(10) THESE AREN'T THE ROOKIES THEY'RE LOOKING FOR. The Fort Worth Police Department is using a Star Wars theme in its recruiting videos. Applicant Darth Vader takes an interview in the first video.
And from Facebook, here's FWPD's introduction to the follow-up video:
The Galactic Empire's second attempt at getting into a Fort Worth Police Academy class. The next civil service exam dates are Jan.10-11, 2017. We are accepting applications until Dec.12, 2016.

Visit http://fortworthtexas.gov/hr/PoliceRecruitment/ for more information. "Good luck and may the "force" be with you."
(11) THE EXPECTED FANNISH INQUISITION. Representatives of three seated WSFS conventions gave updates and responded to questions at SMOFCon 34, the annual SF/F genre conrunners conference, December 3, in Rosemont (Chicago area), Illinois.
SMOFCon 34 Fannish Inquisition: 2017 NASFiC San Juan (16:00)
SMOFCon 34 Fannish Inquisition: 2017 Worldcon Helsinki (17:29)
SMOFCon 34 Fannish Inquisition: 2018 Worldcon San Jose (13:41)
(12) BABY IT'S COLD OUTSIDE. Gotta love that Finnish sense of humor. Wonder if they'll do something special for Worldcon travelers?
(13) SUSPICIOUS PUPPY VOTING TREND. A post on the Merriam-Webster blog caught my eye — "In a Time of Uncertainty, a Divided Nation Searches for Puppies. So many puppies. But none of them will be Word of the Year".
Words that trended this year: Fascism. Misogyny. Acrimonious. Nasty. Bigot. Puppy?

…But people didn't just suddenly begin searching for puppies. Both puppies and flummadiddle began to trend after we observed that our top lookup has been fascism for the past several weeks.
[Thanks to JJ, and John King Tarpinian for some of these stories. Title credit goes to File 770 contributing editor of the day Rob Thornton.]