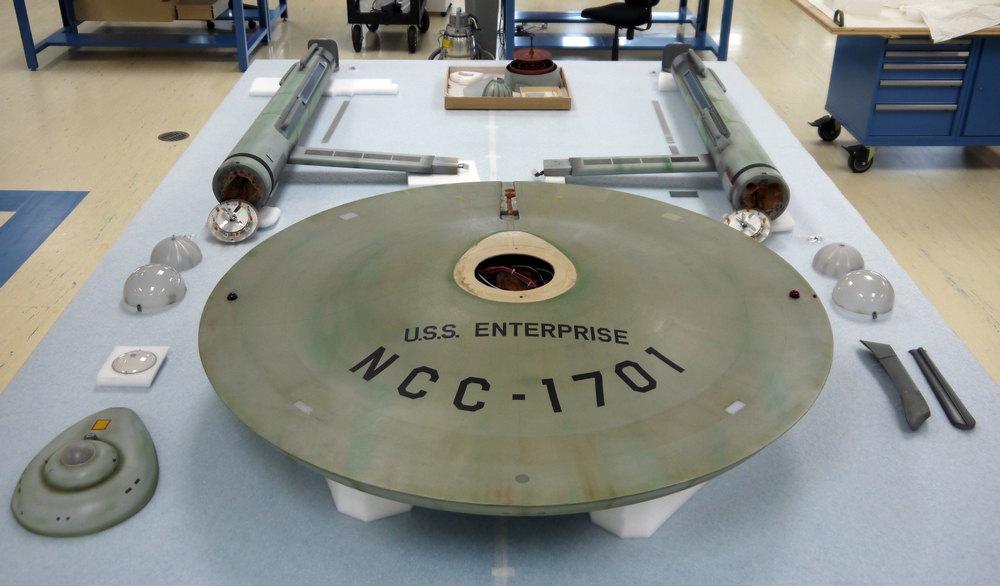 (1) QUITE THE MODEL KIT. "USS Enterprise Conservation Begins Phase II" at The Smithsonian's Airspace Blog gives full details.
The final painting of the Enterprise model will begin in April, using newly discovered reference photos from our appeal to Trek fans in the fall. The team will also build new nacelle domes with LED lights to mimic the spinning effect seen on television. For reference, they will first build a 1:1 mock-up of the original mechanism, which utilized mirrors, motors, nails, and Christmas lights. Conservator Ariel O'Connor explains, "Although the original nacelle dome lights did not survive, we can replicate the original effect in a way that is safe to install on the model.  The LED lights can be programmed to match the original VFX footage while eliminating the burnt-out bulbs, extreme heat, and motor problems that troubled the original lights. It is a wonderful solution to re-light the nacelles while ensuring the model's safety and longevity."
(2) OCTAVIA BUTLER. Radio Imagination celebrates the life and work of Pasadena science fiction writer Octavia E. Butler (1947–2006). Organized by Los Angeles-based arts nonprofit Clockshop, the program centers on ten contemporary art and literary commissions that explore Butler's archive at the Huntington Library. New work will premiere alongside performances, film screenings, and literary events throughout the year.
(3) THERE IS NO NUMBER THREE. The Guardian link to a news item about 500 new fairytales being discovered in a German archive proved to be infested with some kind of code that could not be seen with the text editing tools at my disposal, but overwrote the rest of the post with a busted survey question….! After deducing which entry was causing the problem, I chopped it out. And I'm ready to be done for the night!
(4) WALTON SEMINAR. Out of the Crooked Timber is hosting a "Jo Walton Seminar" using her books The Just City and The Philosopher Kings. (A third book in the sequence, Necessity, comes out in June).
Several posts are already online.
One of the great appeals of the Thessaly series is the implicit invitation: join us in Socratic dialogue beneath the lemon tree, arguing practical philosophy with the best company from all of history.  But I am not a philosopher king, and definitely not a Gold of the Just City. As evidence, between the first and second sentences of this paragraph, I took ten minutes to reassure a baby who'd pinched her finger in a dresser drawer. Over the past couple of days I've engaged in crafts and cleaning, cooking and political argument and snarky write-ups of old horror stories.

All of which speak to my soul, and all of which feel like part of The Good Life even if I sometimes wish the temporal ratios were different.
"It was the most real thing that had ever happened." – Jo Walton, The Just City

Thanks to Jo Walton for writing an SF novel in which people, including a pair of gods, try to realize Plato's Republic. (I've only read the first Thessaly novel, The Just City. So if what follows is premature? That sort of thing happens.)

This is an experimental novel. Succeed or fail, you learn from an experiment. But even well-constructed experiments can be failures. That's the risk.

Logically such a thing should exist. A novelization of Plato's Republic, I mean. How can no one have written this already? But can such a damn thing be written ? Surely it will fail as a novel, somewhat, at some point. But how? Only one way to find out.

So Walton's literary endeavor might be said to parallel Athene's serene, mortal-bothering, bookish Utopian progress, in the novel. Like Athene, Walton doesn't crack a smile. (There are some cracks at the end – in Athene's exterior – but let's leave those out. Don't want to spoil the ending.)
Walton's work is a mash-up: of genres, most obviously, with elements of science fiction (time travel and robots), fantasy (gods), historical fiction (recreation of past society) and the novel of ideas – but also of temporalities. Time-travelling Athene gathers together a bunch of dedicated Platonists from across the following 2500-odd years, helps them collect children and works of art from a more restricted period (unaccountably, no one bothers collecting some Canova or Alma-Tadema), gives them some robots from the future for the heavy work, and dumps the whole lot back in the bronze age, where (in theory) they're not going to disturb anyone else. In theory (again), this farrago will be held together by a shared dedication to the ideals of Plato's Republic, whether voluntary (the generation of Masters brought together from across time and space) or instilled (the Children and their descendents). In practice…

One of the reasons this is a neat trick from the novelist's point of view is that it side-steps most of the boring questions of authenticity that bedevil most fictional engagements with the classical world.
More to come from  Ada Palmer, Leah Schnelbach, Sumana Harihareswara, and Crooked Timber bloggers Maria Farrell, Henry Farrell, and Belle Waring.
Crooked Timber's past seminars on genre literature have been —
And in May 2015, Crooked Timber organized a seminar on the work of Ken MacLeod with contributions from Farah Mendlesohn, Cosma Shalizi, Sumana Harihareswara, Jo Walton, and Henry Farrell, with a response by Ken MacLeod.
(5) MINI INTEGRAL TREES. Have you seen the Air Bonsai?
Great if you're wanting to recreate The Hallelujah Mountains from "Avatar" (or a Roger Dean painting) as a diorama.
(6) THE FUTURE IS BACK. Following years of waiting, the DeLorean car made memorable by Back to the Future has returned to production.
After more than 30 years, the DeLorean Motor Company will resume production of the iconic 1982 model DeLorean, made famous by the "Back to the Future" film trilogy.

This marks the first time that the car will be manufactured in America, according to an NBC affiliate.

The car company was previously prohibited from producing the famed model because the futuristic designs belonged to John DeLorean's estate and not the auto business, which went bankrupt in 1982.

The company was revitalized by CEO Stephen Wynne and moved to Humble, Texas, in 1987. The company operated as a refurbishment facility, repairing and replacing parts for older DeLorean models for consumers around the world.
(7) ZICREE CLASS. Marc Scott Zicree, is running a one-day Supermentors Class – Life Lessons from Rod Serling, Ray Bradbury & Guillermo Del Toro.
Many of you know that with my books The Twilight Zone Companion and Guillermo del Toro's Cabinet of Curiosities and my friendship with Ray Bradbury, I've had some of the greatest mentors who ever worked in film, TV and books.

Life Lessons From Rod Serling, Ray Bradbury & Guillermo Del Toro — a One-Day Class I'll be teaching Sunday, February 21st, both in person here in L.A. and via Skype and audio download, drawn from what I've learned from my great mentors. Just $99 (normally $199) if you sign up by the end of the month. Log onto www.paypal.com and indicate you want to pay [email protected] Here's a video describing the class.
(8) MUMY OUT AS OSCAR VOTER. Actor Billy Mumy says he has been purged as an Academy Awards voter under the new rules, and his "to whom it may concern" protest letter has been posted online.
Like so many other Academy members who have a long history in the film industry, you are now punishing me for a lack of consistent employment, when it is beyond my own ability to cast myself or even find representation who can get me into the meetings and auditions these days for quality roles and films in the first place.

I have careers in music and writing and I chose to stay home for several years when my two children, who have both worked as actors in major studio feature films, were young. I don't see why that should now render my vote unworthy.

I'm deeply saddened and disappointed by the actions the Academy has taken, without any discussion first amongst the members, to capitulate to a handful of whiners who threaten to "boycott" by not dressing up, walk the red carpet and sit in the audience because they feel the actors branch didn't do our jobs of nominating candidates for Oscars this year to their personal satisfaction.

The nomination process is not racist. Surely you realize that members of the Academy don't get together in clandestine meetings to discuss who they're going to nominate or not nominate. Personally, I was shocked that neither Michael Caine or Harvey Keitel received a nomination for their excellent work in "Youth", but I certainly don't consider it a deliberate slight because they're senior citizen Caucasians.
(9) TODAY IN HISTORY
January 28, 1813 – Pride and Prejudice by Jane Austen was published.
January 28, 1977 – Stephen King's The Shining is published.
January 28, 1986 – The space shuttle Challenger blew up shortly after launch, killing all seven crew members: Christa McAuliffe, a New Hampshire high school teacher, Ronald McNair, Hughes Aircraft Co. satellite engineer Gregory Jarvis, commander Francis "Dick" Scobee, pilot Michael Smith, flight engineer Judy Resnik and Ellison Onizuka.
Soon afterwards, Ray Bradbury discussed the disaster with Nightline host Ted Koppel.
Neil deGrasse Tyson tweeted a poetic memorial.
https://twitter.com/neiltyson/status/692776305411096577/photo/1?ref_src=twsrc%5Etfw
A memorial service was held today at the Kennedy Space Center. The "Time of Remembrance" will mark the 49th anniversary of the 1967 Apollo launch pad fire that killed Virgil "Gus" Grissom, Ed White and Roger Chaffee on Jan. 27, 1967; the 30th anniversary of Challenger's loss on Jan. 28, 1986; and the 13th anniversary of the Columbia shuttle disaster on Feb. 1, 2003, that killed commander Rick Husband, pilot William McCool, Kalpana Chawla, Laurel Clark, David Brown, Michael Anderson and Israeli flier Illan Ramon.
(10) NEITHER SNOW NOR SLEET. "How 'Arrow' Actor Stephen Amell And His Costars Handled A Canceled Convention" —
The "Arrow" cast knows how to make the best out of a bad situation. The snowstorm forced Heroes and Villains Fan Fest to cancel the Saturday portion of their event, but many people were already at hotels near the Meadowlands Convention Center in Secaucus, New Jersey — including several celebrity guests. Cast members from "Arrow" and "The Flash" were nearby, so they didn't let the snow stop them from meeting with fans.

In the afternoon, the stars wandered down to the lobbies of their hotels to meet their snowed in fans. John Barrowman (Malcolm Merlyn on "Arrow") posted a video on Facebook with fans in his hotel and said that he and Stephen Amell (Oliver Queen on "Arrow") were doing the same thing at separate hotels.
(11) WHO SAID THAT? "The Voice Actors of The Force Awakens" identifies the actors' specific contributions. SPOILERS PROBABLE.
You may have seen a section in the credits of The Force Awakens titled "Additional Voices," with some familiar names listed. But who or what did all those familiar names play? I'm happy to finally reveal everyone below, running through the film chronologically. (There are also a couple of actor cameos in there that shall remain nameless (for now).)
(12) BE ON THE LOOKOUT. Kate Paulk told Mad Genius Club readers "The List" will be out in March. She also previewed a coming attraction:
Tune in tomorrow for a guest post by the fascinating Ben Yalow with more information about the history of the Hugo categories.
(13) KNOW THE SHADOW. Ricky Whittle of "The 100" has been cast as Shadow in Starz TV's adaptation of Neil Gaiman's American Gods.
Gaiman said in a statement, "I'm thrilled that Ricky has been cast as Shadow. His auditions were remarkable. The process of taking a world out of the pages of a book, and putting it onto the screen has begun. 'American Gods' is, at its heart, a book about immigrants, and it seems perfectly appropriate that Shadow will, like so much else, be Coming to America. I'm delighted Ricky will get to embody Shadow. Now the fun starts."
(14) HOLY CERTIORI! "Supreme Court asked to consider Batmobile copyright case" reports Comic Book Resources.
A manufacturer of unlicensed Batmobile replicas has petitioned the U.S. Supreme Court to determine whether Batman's signature vehicle is indeed protected by copyright.

According to The Hollywood Reporter, Mark Towle of Gotham Garage filed a writ of certiorari today asking the justices to review his nearly five-year-old dispute with DC Comics.

Towle, who produced replicas of  the 1966 and 1989 Batmobiles that sold for as much as $90,000 each, was sued in 2011 by DC, which claimed copyright and trademark infringement, trademark counterfeiting and unfair competition.
[Thanks to Brian Z., Martin Morse Wooster, John King Tarpinian, JJ, Soon Lee, and Steven H Silver for some of these stories. Title credit goes to File 770 contributing editor of the day Will R.]