(1) THEATER OF BOOM. Not just the popcorn, but the whole theater — "One Plus Partnership's cinema interior resembles the aftermath of an explosion".
One Plus Partnership's Exploded cinema in Wuhan, China, won the Civic, Culture and Transport category at Inside Festival 2015.

The Hong Kong-based interior design firm arranged angular blocks in different sizes and materials to create the impression that a huge explosion had taken place in the space.

…Lung says that the idea was to create a space that feels like it could be from a science-fiction film.
(2) THE BOMBS OF OTHER DAYS. The "10 Least Successful Science Fiction TV Spinoffs" at ScreenRant. Number 10 is one I've never even heard of before –
The sci-fi series Total Recall 2070 was Canadian-German co-production that, in theory, sounded wildly ambitious. It drew inspiration from not just one, but two of the most successful Philip K. Dick movie adaptations. Similar to Paul Verhoeven's darkly humorous blockbuster Total Recall, the story revolved around modified memories and took place on a futuristic version of Earth as well as the newly-colonized Mars. But Total Recall 2070 also followed policemen hunting renegade androids in a neo-noir megalopolis akin to the one in Ridley Scott's Blade Runner. Philip K. Dick wasn't mentioned in the show's credits though, as the series barely resembled original stories these movies were based on.

Total Recall 2070 premiered on Canadian TV channel CHCH in January of 1999. It also aired on Showtime, where network executives toned down show's violence, nudity and strong language considerably for an American audience. Total Recall 2070 aired for one 22-episode season before being canceled.
Unlike most of these other bombs, both characters in the #1 worst show have rebounded from failure and are currently quite popular.
(3) RELEASE THE PRISONER MOVIE! Ridley Scott is in negotiations to direct The Prisoner reports Deadline Hollywood.
I hear that Scott is in early negotiations on a deal to come aboard and direct The Prisoner, the screen version of the 1968 Patrick McGoohan British TV series. This has been a plum project at Universal for some time with numerous A-list scribes including Christopher McQuarrie writing drafts. The most recent version was by The Departed scribe William Monahan. The film is being produced by Bluegrass Films Scott Stuber and Dylan Clark. Scott's Scott Free team will likely become part of it as they get the script that makes the director happy.
(4) BBC HAS A CLUE. Dirk Gently's Holistic Detective Agency has been ordered to series at BBC America. The Hollywood Reporter has the news.
BBC America is getting its graphic novel on.

Drama Dirk Gently's Holistic Detective Agency has been picked up straight to series with an eight-episode order, the cable network announced Friday ahead of its time at the Television Critics Association's winter press tour.

Based on Douglas Adams' graphic novels first published in 1987, the story centers on the titular holistic detective who investigates cases involving the supernatural. Chronicle's Max Landis will pen the series, which is a co-production between AMC Studios, Ideate Media and comics powerhouse IDW Entertainment as well as Circle of Confusion (The Walking Dead).
(5) BRUCE SHIPPED TO MUSEUM. The shark from Jaws has a date with destiny as a museum exhibit.
Bruce the shark, the famous seafaring predator from Jaws, has found a new home at the Academy of Motion Picture Arts and Sciences' museum.

The Academy announced Thursday that a full-scale model of the shark, the last surviving one from the 1975 movie, has been donated to the museum by Nathan Adlen. During filming of Jaws, director Steven Spielberg nicknamed the shark Bruce after his lawyer Bruce Ramer.

The Fiberglas model is the fourth and final version made from the original mold. Created for display at the Universal Studios Hollywood at the time of the film's release, the prop remained a popular backdrop for photos until 1990, when it was moved to the yard of Aadlen Brothers Auto Wrecking, a firm in Sun Valley, Calif., that regularly bought or hauled used vehicles from Universal Studios. With the business slated to close this month, owner Nathan Adlen is giving the historic prop to the Academy Museum, which is set to open in 2018.
(6) IT WAS A VERY GOOD YEAR. Jo Lindsay Walton's "My favorite looks back at 2015 of 2015" is a compilation of links to around 30 different writers' year-end posts.
Come home 2015, you're drunk. Please come home. We need you. We need you.
(7) TODAY'S BIRTHDAY BOYS
Mathews, of course, was the star of two Ray Harryhausen fantasy movies,The Seventh Voyage of Sinbad and Gulliver's Travels, as well as the similarly-themed Jack the Giant Killer (the latter, one of my all-time favorite fantasy films, in fact!).

Mathews was a classic leading man, who had the unusual ability — still too easily overlooked when contemplating actors — to be believable in the wildest of celluloid special effects situations.
(8) TODAY'S BIRTHDAY REPLICANT
It's a boy! It's a Roy! For Blade Runner fans, 8 January 2016 is a date of major significance. It's the "day of activation" for Roy Batty, one of the most charismatic and significant characters in this landmark movie. He's a replicant, or android – and, although he might not be flesh and blood, he certainly makes us think about what it is to be human. He's arguably the heart and soul of the movie, even more than its putative hero, played by Harrison Ford

Blade Runner, directed by Ridley Scott, is one of the most influential films of the 1980s, a philosophical science fiction-action work set in the near future that's steeped in a sense of the past, a reflection on memory, identity, emotion, creation and invention that takes place in a dazzling yet downbeat neo-noir urban landscape. Loosely based on Philip K. Dick's novel Do Androids Dream Of Electric Sheep?, its events begin to unfold in November 2019, in a world in which highly realistic androids, known as replicants, have been built by a company called the Tyrell Corporation.

Batty (brilliantly played by Rutger Hauer) is a replicant from the Nexus-6 class, and he's looking for answers to questions about his own past and future: how he was made, and how he can prolong his life and that of his  Nexus-6 comrades. Ford plays a character called Rick Deckard, a bounty hunter. His job is to hunt down and kill replicants, who are illegal on Earth.
(9) TODAY'S BIRTHDAY BLOGS
…And a brand new anthology: Tales of First Contact collects the five short stories from our First Contact series and is available now from your retailer of choice. Or you know, via a review copy – all you have to do is ask. We are also happy to offer giveaway copies – just let us know.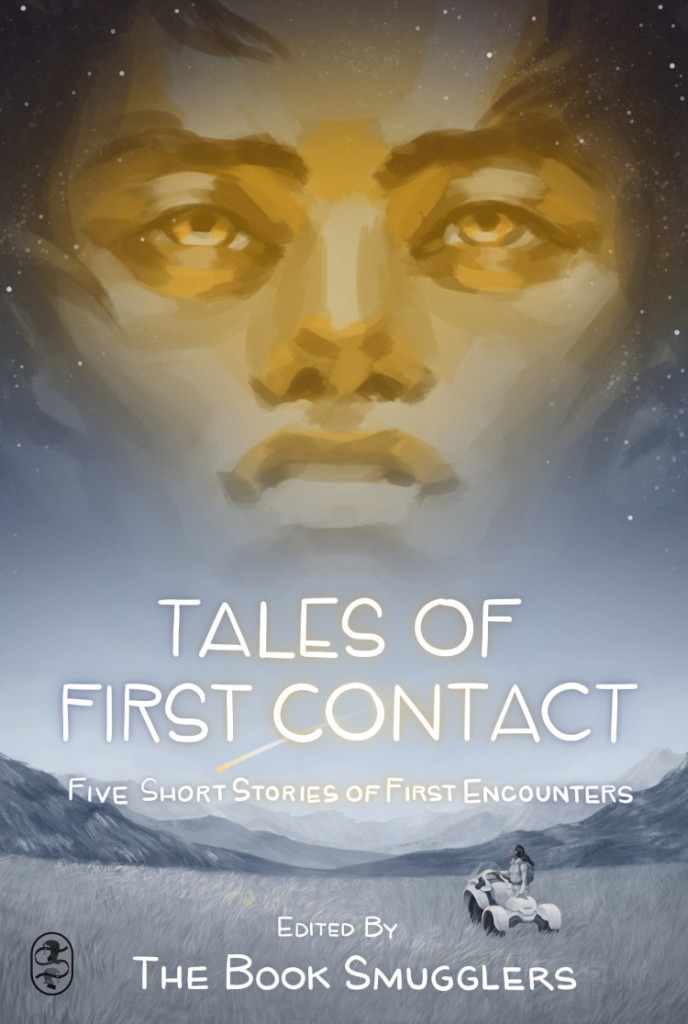 (10) A REVIEW FOR MILLENNIALS. Austin Walker at Giant Bomb interprets The Force Awakens for his particular generation — "Off the Clock: Space Opera Millennials and Their Grand Narratives". BEWARE SPOILERS.
Like most of us in our own lives, each of these characters has a limited understanding of the universe, and especially of the past. What do other worlds look like? What was "the Galactic Empire" really? Is the Force real, and if so how does it work? Nowhere is this difference in understanding illustrated better than in how these characters view Han Solo: For Ren, he's an uncaring father, for Finn, he's a brilliant war hero, and for Rey he's a legendary smuggler. Each finds their understanding challenged by a more complicated truth: Han was an absent dad because he cared so much; the great Rebellion war hero is a scoundrel without a plan…
(11) DS9 +1. Maxistentialism makes the argument in "Star Trek: Deep Space Nine In 82.5 Hours" that it is the best series in the franchise.
But some time between fifth grade and now, I've come to recognize that while Star Trek: The Next Generation holds a special place in my heart, it is not the best incarnation of Star Trek. That title belongs to what writer Ronald D. Moore called Next Generation's "bastard stepchild," Star Trek: Deep Space Nine.

Deep Space Nine is a remarkable show. It is unfairly overlooked as one of the foundational programs (like Buffy, The Sopranos, and Hill Street Blues) of our current golden age of television. DS9 introduced long, serialized stories about morally ambiguous characters to network television ten years before Battlestar Galactica, Breaking Bad, and Game of Thrones.
(12) DEL TORO. Guillermo del Toro is in talks to take over the Fantastic Voyage remake.
John King Tarpinian has little to say about the remake, but he remembers the year the original version came out:
When the original movie was in theaters my parents decided that summer vacation would be on Catalina Island.  Being parents they decided the best place for a kid to be on the island was inland at a resort with a pool so he could go swimming…but I digress.  One of the guests at the hotel was a Mr. Goff, who was some sort of designer of the sets.  The thing I remember that impressed my parent was he also worked on an old black and white movie, Casablanca.
(13) LEVERAGING YOUR WORK. Luna Lindsey at the SFWA Blog has an impressive, multilayered strategy for "Tackling the Dreaded Bio" – a writing chore that's not as simple as it looks.
 What a Bio Accomplishes

Bios seem like such a chore, perhaps because we think of them as an obnoxious necessity rather than an opportunity. As writers, we also tend to dislike telling our own stories. And that's exactly what a bio does.

When a reader bothers to check the bio, it's because your story (or blog post, or appearance on a panel) has captured their interest. They want to know more and that's awesome! A catchy bio will help them remember you, and they may even be inspired to seek out your other creations. That's exactly what you want. Your bio will propel them into your other worlds. So make it good!
(14) AGAIN AND AGAIN. A Radio Times video identifies "18 actors who have travelled between the universes of Harry Potter and Doctor Who."(This was posted a year ago. Have there been any more crossovers since then?)
[Thanks to John King Tarpinian, Alan Baumler, James H. Burns, and Will R. for some of these stories. Title credit goes to File 770 contributing editor of the day Will R.]