(1) WANDAVISION VIEWS. Camestros Felapton gives plenty of spoiler warning before starting his analysis: "WandaVision: Episode 6 – All-New Halloween Spooktacular! (spoilers)".
Safe to assume that all WandaVision reviews are spoiler filled. Before the fold, I'll say that in terms of TV history, the town of Westview (huh…only just noticed that's WV) has lurched not so much to the 1990s as the 2000's. I guess the sitcoms of the 1990s are tougher to fit into the model. Roseanne would be the most iconic family-orientated sitcom other than The Simpsons (oh, but a nod to The Simpsons with a Halloween episode and I would have loved a cartoon episode of WandaVision). When I think of 1990s US sitcoms, Friends is the most obvious but that wouldn't make any sense. Instead the vibe is a bit closer to Malcolm in the Middle with some fourth wall breaking asides to the camera from the kids….
(2) ALTERNATE MOON. A featurette has dropped for Season 2 of For All Mankind.
Leap into the alternate universe of 1983. Go behind the scenes of For All Mankind Season 2. Premieres February 19 on the Apple TV app with an Apple TV+ subscription.
(3) FOUND: A BIG FAN OF SEVENEVES. "Bill Gates Has Always Sought Out New Reading Recommendations – a New York Times Q&A.
What books are on your night stand?

"Infinite Jest." I'm on a mission to read everything David Foster Wallace wrote, and I'm slowly working my way through everything else before I get to that one. I've also got a copy of "The Three-Body Problem," by Liu Cixin, which I've been meaning to read for a while.

What kind of reader were you as a child? Which childhood books and authors stick with you most?

I've always liked getting recommendations from other people, even when I was a little kid. I used to ask my teachers what their favorite books were and make my way through the lists they gave me. Our school librarian used to suggest things for me to read, too. She'd often give me books that were supposed to be for kids older than I was, which was very exciting for me. The book I probably read the most growing up was "The Moon Is a Harsh Mistress," a great science fiction book by Robert Heinlein.

How have your reading tastes changed over time?

I used to read a lot of science fiction when I was a kid, but not so much as an adult (although I rediscovered my love for the genre through Neal Stephenson's incredible "Seveneves" a few years ago). …
(4) COSMOTECHNICS. In "From Tech Critique to Ways of Living" at The New Atlantis, Alan Jacobs, a humanities professor at Baylor University, analyzes Ursula Le Guin's Always Coming Home about two-thirds of the way through the piece as part of his essay-review of books critiquing technology.
…Always Coming Home illustrates cosmotechnics in a hundred ways. Consider, for instance, information storage and retrieval. At one point we meet the archivist of the Library of the Madrone Lodge in the village of Wakwaha-na. A visitor from our world is horrified to learn that while the library gives certain texts and recordings to the City of Mind, some of their documents they simply destroy. "But that's the point of information storage and retrieval systems! The material is kept for anyone who wants or needs it. Information is passed on — the central act of human culture." But that is not how the librarian thinks about it. "Tangible or intangible, either you keep a thing or you give it. We find it safer to give it" — to practice "unhoarding." She continues,

Giving involves a good deal of discrimination; as a business it requires a more disciplined intelligence than keeping, perhaps. Disciplined people come here … historians, learned people, scribes and reciters and writers, they're always here, like those four, you see, going through the books, copying out what they want, annotating. Books no one reads go; books people read go after a while. But they all go. Books are mortal. They die. A book is an act; it takes place in time, not just in space. It is not information, but relation.

It is not information, but relation. This too is cosmotechnics….
(5) IT IS GOOD TO BE KING. "Stephen King is helping a group of elementary students publish a pandemic-themed book" – Literary Hub has the story.
It may not be the least bit spooky, but it's true. The Stephen and Tabitha King Foundation, the non-profit founded by King and his wife to support community projects in Maine, is funding the publication of a manuscript written by group of young students enrolled in the Farwell Elementary School's Author Studies Program.

The students initially planned to fund their project through a Kickstarter campaign, but when King's foundation caught wind of it, they stepped in to cover the $6,500 cost of publishing the 290-page manuscript….
(6) CHANGE OF ADDRESS. Steven H Silver's website has moved. The new URL is: http://www.stevenhsilver.com,
After 25 years at SF Site, my website has moved to a new url, including Silver Reviews, the Harry Turtledove website, the Murray Leinster website, my various bibliographies (Pluto, Chicago, Baseball, and Jewish SF). The new url is http://www.stevenhsilver.com. If people have links to any pages on my old website, they can replace the string sfsite.com/~silverag with stevenhsilver.com and the new link should work.
(7) RINGING IN YOUR EARS. "The Fellowship of the Bands: Nine Artists Inspired By 'Lord of the Rings'". Bandcamp Daily scrys the palantir to bring you the best.
… The series resonated with readers of all backgrounds, but especially the artists. Indeed, before Bad Taste was a twinkle in Jackson's eye, bands were springing up all over the globe who drew on Tolkien's books for inspiration. By the '70s, rockers like Led Zeppelin and Rush, jazz musicians like John Sangster, and folkies like Sally Oldfield had all composed music directly inspired by The Lord of the Rings. Ever since, bands have continued to spring up who root their iconography in Tolkien's works, especially in heavy metal, where acts like Blind Guardian and Summoning have made long careers singing about the trials and tribulations of hobbits and dwarves.

A rigorous exploration of all those bands could fill the Book of Mazarbul, so this piece will have a slightly narrower—and less serious—focus. Consider this a Bandcamp Fellowship of the Bands, made up of artists who take their names from the nine members of the fellowship. How well do these projects line up with their namesakes, and can they complement each other as well as Tolkien's nine did in ultimately destroying the One Ring in the fires of Mount Doom? Settle down in your hobbit hole with a nice cup of tea and find out….
(8) EYEWITNESS MEMORIES. Cora Buhlert has another article up at Galactic Journey. "This one is about a plane crash that happened in January 1966 approx. 5 kilometres from my home. My Dad actually was an eye witness at the time and I used his memories as well as reports from other witnesses and first responders as the basis for this article. I also Googled every single name on the memorial to find out more about the people who died, because most reports only focus on the celebrity passengers/" "[February 2, 1966] Death in the Fields: The Lufthansa Flight 005 Crash".
… By daylight, the sight was so horrible that even hardened veteran fire fighters who had lived through World War II were shocked. But the grim work was particularly hard on the young fire fighters and the teenaged volunteers of the West German federal disaster relief organisation THW who had been tasked with recovering the bodies. Even the ladies of the Delmenhorst Red Cross station who had been sent to Bremen to provide the helpers with coffee and sandwiches were not spared the horrible sights, because they had to pass through the makeshift morgue to deliver food to the helpers….
(9) MEDIA ANNIVERSARY.
February 13, 2002 — Special Unit 2 ends its run. Special Unit 2 was a Chicago-based unit charged with policing the city's large population of mythological beings which were known as Links. It ran on UPN for two seasons and nineteen episodes. It was created by Evan Katz, and starring Michael Landes, Alexondra Lee and Danny Woodburn. If you're interested, the first episode is watchable here. (CE)
(10) TODAY'S BIRTHDAYS.
[Compiled by Cat Eldridge and John Hertz.]
Born February 13, 1908 — Patrick Barr. He appeared in Doctor Who as Hobson in the Second Doctor story, "The Moonbase", in the Seventies Randall & Hopkirk (Deceased) "You Can Always Find a Fall Guy" episode and also in The Avengers as Stonehouse in the "Take me to Your Leader" episode. His last genre role was as the British Ambassador in Octopussy. (Died 1985.) (CE)
Born February 13, 1933 — Patrick Godfrey, 88. His very first acting was as Tor in a First Doctor story, "The Savages. He'd be in a Third Doctor story, "Mind of Evil", as Major Cotsworth. His last two acting roles have both been genre — one being the voice of a Wolf Elder in Mowgli: Legend of the Jungle; the other Butler in His Dark Materials. (CE)
Born February 13, 1935 – John Holmes. Twoscore covers for us; thousands of images all told. Here is The Door Into Summer. Here is The Man Who Had No Idea. Here is Nabokov's Despair. The Guardian noted his "visual puns … intellectual debates … disturbing, provocative, witty or lyrical … layered with meaning…. art director at … Ogilvy & Mather…. Detective novels, drama, sociology, astrology books and women's liberation ["I don't know if my insensitivity is any worse than their iconoclasm"]…. humming-birds fill the red halo of Beethoven's deafness…. Laurel and Hardy, together or singly, were favourite subjects." (Died 2011) [JH]
Born February 13, 1938 — Oliver Reed. He first shows up in a genre film uncredited in The Two Faces of Dr. Jekyll. His first credited role is Leon in The Curse of the Werewolf. He was King in The Damned, an SF despite its title, and Z.P.G. saw him cast as Russ McNeil. Next up was him as Athos in the very charming Three Musketeers, a role he reprised in Four Musketeers and Return of the Musketeers. And can we skip past him as Sarm in Gor please? Does Royal Flash count as genre? Kage Baker loved that rogue. Kage also loved The Adventures of Baron Munchausen in which he played Vulcan. Orpheus & Eurydice has him as Narrator, his final film role. (Died 1999.) (CE)
Born February 13, 1938 – Joanne Burger. Active in the N3F (Nat'l Fantasy Fan Fed'n), reviewed fanzines for TNFF (The Nat'l Fantasy Fan), then edited it; produced annual SF Published in – 1967-1979. Kaymar Award. Fan Guest of Honor at LoneStarCon the 3rd NASFiC (North America SF Con, since 1975 held when the Worldcon is overseas; LSC II and LSC III were Worldcons). More here. (Died 1999) [JH]
Born February 13, 1943 — Leo Frankowski. Probably best known for his Conrad Stargard series featuring the Polish time travelling engineer Conrad Schwartz, but I'm more fond of his stand-alone novels Fata Morgana and Copernick's Rebellion. (Died 2008.) (CE)
Born February 13, 1954 – Mary GrandPré, age 67. Two dozen covers, a dozen interiors, for us, many Harry Potter, where she's most known; this one made the cover of Newsweek. Here is Fair Peril. Here is The Eye of the Heron. Here is A Dragon's Guide to the Care and Feeding of Humans. Fine-art paintings too, like this. Website here. [JH]
Born February 13, 1958 – Alexandra Honigsberg, age 63. Thomist, violist. Nine short stories, five poems. Here she is at MagiCon the 50th Worldcon (Lenny Provenzano photo). Here she is in 2007 (Scott Edelman photo). Here is her 2009 review of Logicomix (A. Doxiades, C. Papadimitriou, A. Papadatos, A. DiDonna). Here (p. 7) she is in 2017 for the Long Island Philosophical Society. Here are ratings of a 2020 course she taught at St. John's Univ., Jamaica, NY. [JH]
Born February 13, 1959 — Maureen F. McHugh, 62. Her first novel, China Mountain Zhang was nominated for both the Hugo and the Nebula Award, and won the Otherwise Award, impressive indeed. Her other novels are Half the Day Is Night, Mission Child and Nekropolis. Both her novel and impressive short story collections are readily available at the usual digital sources. (CE)
Born February 13, 1960 — Matt Salinger, 61. ?Captain America in the 1990 Yugoslavian film of that name which was directed by Albert Pyun as written by Stephen Tolkin and Lawrence J. Block. It's got a 16% rating among reviewers at Rotten Tomatoes which matches what critics thought of it. As near as I can tell this is only genre role. You can watch the film here.
Born February 13, 1960 – Kate Banks, age 61. Twoscore books, many for us – opinions differ about books said to be children's. Boston Globe – Horn Book Award. Zolotow Award. Wellesley woman. Likes "the way in which words and illustrations … create a whole new world in which sometimes real and other times magical and unexpected things … happen." [JH]
Born February 13, 1972 – Jarvis Sheffield, age 49. Active with the Black SF Society and Genesis (i.e. the prozine). Edited the Genesis anthology with Milton Davis; one story of his own in it; here is his cover for G11. Game design, animation. Director of the Diversity track at Dragon*Con. Media Center Co-ordinator at Tennessee State Univ. One of this year's winners of SFWA's Kate Wilhelm Solstice Award. [JH]
(11) COMICS SECTION.
(12) NO WONDER. Peter White, in "'Wonder Girl' TV Series Not Going Forward At The CW" at Deadline, says the CW has decided not to greenlight "Wonder Girl," which would have been the first Latina superhero series.
…The drama, based on DC characters created by Joëlle Jones, centered on Yara Flor, a Latina Dreamer who was born of an Amazonian Warrior and a Brazilian River God, learns that she is Wonder Girl. With her newfound power must fight the evil forces that would seek to destroy the world…
(13) A TED TALK THAT TURNS INTO AN INTERACTIVE ADVENTURE. "Chaos Theory – A digital experience" will be performed by the Curious Theatre Company in a special two-week digital run Feb. 25 through March 7. Tickets sold at the link.
CHAOS THEORY is a comedic, immersive experience exploring the underlying chaos in our lives. A lecture about chaos theory devolves into a series of interactive games inspired by the science of chaos theory, reality dating shows, middle school crushes, and the butterfly effect to end all butterfly effects: COVID-19. The audience is guided by mathematical scientist, Dr. Genevieve Saoch, whose personal life continually interferes with her ability to be objective about her research as a Chaologist. Through a series of participatory experiments, audience members are invited to embrace their inner chaos agent as they embody facets of chaos theory including deterministic chaos, fractals, self-organization, and strange attractors.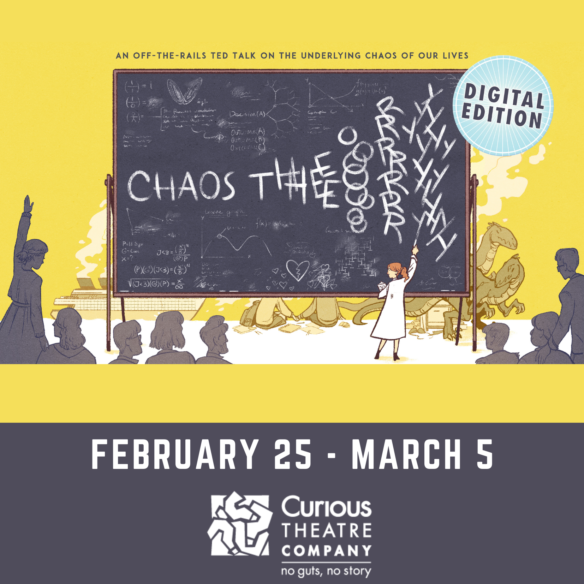 (14) ANOTHER VALUABLE FANZINE. Cora Buhlert interviewed Rachel Cordasco for her continuing series: "Fanzine Spotlight: Speculative Fiction in Translation".
Tell us about your site or zine.

I started SFinTranslation.com in 2016 when I couldn't find any websites that focused on tracking speculative fiction in English translation. Having reviewed a few works of SFT for SF Signal (before it closed a few years ago), I decided to learn more about the science fiction, fantasy, and horror that was being written around the world and then translated for Anglophone readers. Since 2016, I've reviewed several dozen works of short- and long-form SFT (both for my site and for World Literature Today, Strange Horizons, and other publications), written essays spotlighting regional SFT, and used social media to bring SFT to the attention of more readers. Among other things, I publish a regular "Out this Month" post to help readers find new SFT releases and I update a linked list of SFT that's freely-available on the web.
(15) WHAT'S THE MATTER? "Scientists have finally studied einsteinium like never before" reports SYFY Wire.
… Unlike its genius namesake, einsteinium has a difficult temperament. Nuclear reactors can only produce microscopic amounts. Artificially created and at the edge of the periodic table, the 99th element is extremely radioactive and has a half-life (the time it takes for half of it to decay) of barely over 20 days. Getting a better look at it has always been just out of reach. Scientists from UC Berkeley and Georgetown University were finally able to create a more stable isotope of it, which stuck around long enough to demystify some of its hidden properties.

Einsteinium is invisible without a microscope, but one of the heaviest elements that exists — or at least can be made to exist. It is an actinide, part of a group of elements that includes uranium, though anything heavier than uranium is not naturally occurring. It's also the type of radioactive poison that is often portrayed as glowing green sludge in comics and movies. So what would anyone want with this stuff? While it can't be put to much use outside a research lab yet, it could eventually be used to make advances in technology and radiopharmaceuticals….
(16) THE NEXT CONJUNCTION. Keep watching the skies. Mental Floss says "The Conjunction of Jupiter and Mercury Is Coming in March 2021".
One of last year's astronomical highlights occurred on the winter solstice 2020, when Jupiter and Saturn appeared exceptionally close in a historic conjunction. Just a few months after that event, Jupiter will be getting cozy with a different planet in the night sky. Here's everything you need to know about the conjunction of Jupiter and Mercury on March 5, 2021.

WHAT IS THE JUPITER-MERCURY CONJUNCTION?

A conjunction happens when two celestial bodies appear close together when viewed from Earth. On the morning of March 5, the largest planet in the solar system and the smallest (at least as of 2006) will come within 19.4 arcminutes of each other in the sky's dome. That distance is roughly two-thirds the width of the moon….
(17) DINO ACHIEVEMENT UNLOCKED. AV Club says "Sad: Only 13 states have voted on an official state dinosaur" – however, Massachusetts has settled on theirs:
…After a month-long online (tax-funded) poll conducted by Massachusetts officials, over 60% of concerned, participating citizens opted for Podokesaurus holyokensis over Anchisaurus polyzelus to be ratified as the commonwealth's official dinosaur. Last week, stalwart patriot and Massachusetts House Representative, Jack Patrick Lewis, introduced a pair of bills to certify the fair and democratic election of P. holyokensis to join the other dozen dinosaurs on record as official state ambassadors….
(18) ROAMING CHARGES. In "Animal Planet" in the January 17 New York Times Magazine, Sonia Shah notes that ICARUS, developed by the Germans space agency DLR, tracks the movement of thousands of animals through receivers they carry that transmit signals to the International Space Station. The study shows that animals migrate far more than has been commonly believed.
… By doing so, ICARUS could fundamentally reshape the way we understand the role of mobility on our changing planet. The scale and meaning of animal movements has been underestimated for decades. Although we share the landscape with wild species, their movements are mostly obscure to us, glimpsed episodically if at all. They leave behind only faint physical traces — a few paw prints in the hardening mud of a jungle path, a quickly fading arc of displaced air in the sky, a dissipating ripple under the water's surface. But unlike, say, the sequence of the human genome, or the nature of black holes, our lack of knowledge about where our fellow creatures go has not historically been regarded as a particularly pressing gap in scientific understanding. The assumption that animal movements are circumscribed and rare tended to limit scientific interest in the question. The 18th-century Swedish naturalist Carl Linnaeus, imagining nature as an expression of God's perfection, presumed each species belonged in its own singular locale, a notion embedded in his taxonomic system, which forms the foundation of a wide array of biological sciences to this day. Two centuries later, the zoologist Charles Elton, hailed as the "father of animal ecology," fixed species into place with his theory that each species nestles into its own peculiar "niche," like a pearl in a shell. Such concepts, like modern notions of "home ranges" and "territories," presumed an underlying stationariness in undisturbed ecosystems.
But over the last few decades, new evidence has emerged suggesting that animals move farther, more readily and in more complex ways than previously imagined….
[Thanks to John King Tarpinian, Cat Eldridge, Rob Thornton, Martin Morse Wooster, Steven H Silver, Cora Buhlert, Michael Toman, Mike Kennedy, JJ, John Hertz, Daniel Dern, and Andrew Porter for some of these stories. Title credit belongs to File 770 contributing editor of the day Acoustic Rob.]