(1) GET READY FOR VALENTINE'S DAY. Cora Buhlert rolls out "Love Through Space and Time 2022 – A Round-up of Indie Valentine's Day Speculative Fiction".
…These Valentine's Day stories cover the broad spectrum of speculative fiction. We have urban fantasy, a lot of paranormal romance, paranormal mysteries, science fiction mysteries, science fiction romance, space opera, space colonisation, horror, alternate history, time travel, dragons, werewolves, wizards, ghosts, demons, aliens, robots, magical greeting card writers, crime-fighting witches, crime-fighting ghosts, Viking ghosts, dinners with demons, grumpy cupids, love potions, Valentine's Day in space and much more. But one thing unites all of those very different books. They're all set on or around Valentine's Day….
(2) EVEN BEFORE COVID. [Item by Martin Morse Wooster.] Fans who had to deal with Covid restrictions coming to DisCon III should be interested in June Moffatt's account of the preparations she and her husband Len Moffatt had to do before travelling to the UK and Germany as 1973 TAFF delegates, as recounted in their report The Moffatt House Abroad.
Then there was the matter of shots for overseas travel. We thought of smallpox vaccinations immediately, but our doctor said they were hardly necessary where we were going, and said we'd do better with protection against cholera and typhoid, which we might be exposed to in crowded international air terminals.

It was a remarkably warm winter and it seemed as if we took turns having colds, so we never did get to the doctor for the necessary shots…The Friday before we were supposed to leave, I was driving home and listening to the radio when I heard a bit of news that startled me considerably. There had been an outbreak of smallpox in London. Only three known cases so far, but the authorities were watching carefully.(It seems that a lab worker had been working with smallpox virus without having been immunized. When she got sick, she was hospitalized in a regular ward, while her doctor worked to find out what she had. Two people visiting the person sitting on the bed next to hers had caught it from her. They subsequently died. She recovered.)

The next day we were at our doctor's office, sans appointment. When we explained the problem, he subsequently immunized us and had a few remarks to make on people who disapprove of smallpox vaccinations. (The remarks were not particularly complementary, in case you were wondering.) He gave us our yellow health certificates and advised us to get them stamped by a local health department, which we did on Monday.
Copies of the Moffatts' trip report may still be available as advertised last November on the Unofficial Trans-Atlantic Fan Fund site.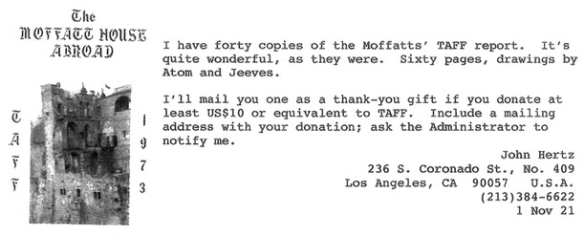 (3) PAINT GETS THEM HIGH. Dreams of Space revisits "Books and Ephemera: Danny Dunn and the Anti-gravity Paint (1956)". See the cover and interior art at the link.
Danny Dunn and the Anti-gravity Paint was a 1956 fictional book. Part of a 15 book series about Danny Dunn written by by Jay Williams and Raymond Abrashkin. In 1967 they reprinted "…and the Anti-Gravity Paint." It had a new painted cover making it seem modern to young space-age children. Danny Dunn books were loosely science-based so the problems were solved with scientific ideas. I thought the 1956 space race setting of the book connects it with others of the time like Rocket Ship Galileo.
(4) BERYL VERTUE (1931-2022). Beryl Vertue, a writers' agent who became a television producer with credits including Sherlock, has died at the age of 90. The Guardian noted some of her achievements.
Beryl Vertue, who has died aged 90, played an important role in the history of British television comedy. She began as an agent for writers such as Spike Milligan and Eric Sykes, as well as the performers Tony Hancock and Frankie Howerd, before pioneering the sale of hit UK TV formats to American television.

The Moffat-Vertues partnership had further success with two drama series transposing Victorian literary figures to the present day. Jekyll (2007) starred James Nesbitt as Robert Louis Stevenson's doctor with a split personality, while Sherlock (2010-17) was an irreverent take on Arthur Conan Doyle's detective, co-created by Moffat and Mark Gatiss, with Benedict Cumberbatch as Holmes and Martin Freeman as Dr Watson. Cumberbatch dubbed Vertue "Sherlock's godmother".

From typing scripts for The Goon Show (1951-60) and other radio and TV sitcoms, Vertue became the company's business manager – later managing director – and negotiated deals with broadcasters. This made her an agent for some of the most respected writers in the country, who also included Barry Took, Dick Vosburgh, Marty Feldman, John Junkin and Johnny Speight.

Outside comedy circles, Vertue sealed a deal for Terry Nation that gave him partial copyright on the Daleks when he introduced them in Doctor Who's second story shortly after the sci-fi series began in 1963.

She also blazed a trail by persuading the BBC to venture into programme-related merchandise, resulting in Daleks memorabilia, a Hancock's Half Hour board game and Steptoe and Son jigsaws.

Alongside film production, Vertue negotiated the sale of British sitcom remake rights to American and European channels. In the US, Till Death Us Do Part became All in the Family (1971-79) and Steptoe and Son was retitled Sanford and Son (1972-77).

She was also executive producer of Tommy (1975), the film of the Who's rock opera…

Vertue was made an OBE in 2000 and a CBE in 2016, and presented with the Royal Television Society's lifetime achievement award in 2012.
(5) MEDIA BIRTHDAY.
1972 — [Item by Cat Eldridge] Fifty years ago today, Cabaret premiered as directed by Bob Fosse and produced by Cy Feuer. It would be Fosse's first film success, after Sweet Charity, his first film, failed badly. 
Set in Berlin in obviously a cabaret during the Weimar Republic, the film is based on the 1966 Broadway Cabaret musical by John Kander and Fred Ebb, which was adapted from Christopher Isherwood's The Berlin Stories novel and the 1951 play I Am a Camera by John Van Druten adapted from that work.
It had a stellar cast of Liza Minnelli, Michael York, Helmut Griem, Marisa Berenson. Fritz Wepper and Joel Grey. The film would bring Minnelli, daughter of Judy Garland and Vincente Minnelli, her own first chance to sing on screen, and she won the Academy Award for Best Actress.
It goes without saying that the critics loved it with Roger Ebert being effusive when he said in his later critical review of it that "Instead of cheapening the movie version by lightening its load of despair, director Bob Fosse has gone right to the bleak heart of the material and stayed there well enough to win an Academy Award for Best Director." And Emanuel Levy on his review website says that "After a decade of stagnant musicals, Fosse reenergized the genre with a dazzling, socially conscious musical, which was more reflective of the 1970s zeitgeist than the Nazi era. Liza Minnelli is brilliant in what's the best role of her career."
Box office wise, it did fantastic earning forty-three million against just five million in production costs. It was a Good Thing that it did considering that Sweet Charity, his first film based off the musical by him of the same name had lost twelve million dollars after costing only eight million to produce. Though even that disputed with the Studio saying it only made four million.
Audience reviewers at Rotten Tomatoes currently give a seventy two percent rating. Cabaret is available for watching on HBO Max. Pretty much every other service has it for rent.
(6) TODAY'S BIRTHDAYS.
[Compiled by Cat Eldridge.]
Born February 13, 1908 — Patrick Barr. He appeared in Doctor Who as Hobson in the Second Doctor story, "The Moonbase", in the Seventies Randall & Hopkirk (Deceased) "You Can Always Find a Fall Guy" episode and appeared once in The Avengers as Stonehouse in the "Take me to Your Leader" episode. His last genre role was as the British Ambassador in Octopussy. (Died 1985.)
Born February 13, 1932 — Susan Oliver. She shows up in the original Trek pilot, "The Cage" as Vina, the Orion slave girl. She had a number of one-offs in genre television including Wild Wild West, Twilight Zone, Alfred Hitchcock Hour, The Man from U.N.C.L.E., Tarzan, The Invaders, Night Gallery and Freddy's Nightmares. (Died 1990.)
Born February 13, 1932 — David Neal. He had a number of genre roles including showing up on the 1980 Flash Gordon as Captain of Ming's Air Force. He would be on Doctor Who during the time of The Fifth Doctor for the "The Caves of Androzani" story". And he played, and I kid you not, the Dish of the Day in The Hitchhiker's Guide to the Galaxy series. (Died 2000.)
Born February 13, 1938 — Oliver Reed. He first shows up in a genre film uncredited in The Two Faces of Dr. Jekyll, with his first credited role being Leon in The Curse of the Werewolf. He was King in The Damned, an SF despite its title, and Z.P.G. saw him cast as Russ McNeil. Next up was him as Athos in the very charming Three Musketeers, a role he reprised in Four Musketeers and Return of the Musketeers. And can we skip past him as Sarm in Gor please? Does Royal Flash count as genre? Kage Baker loved that rogue. Kage also loved The Adventures of Baron Munchausen in which he played Vulcan. Orpheus & Eurydice has him as Narrator, his final film role. At least I'm reasonably sure it is. (Died 1999.)
Born February 13, 1943 — Leo Frankowski. Probably best known for his Conrad Stargard series featuring the Polish time travelling engineer Conrad Schwartz, but I'm more fond of his stand-alone novels Fata Morgana (most superb) and Copernick's Rebellion. (Died 2008.)
Born February 13, 1944 — Michael Ensign, 78. One of these performers whose showed up in multiple Trek series, to wit The Next Generation where he played a Malcorian, on Deep Space Nine where he was a Vulcan, on Voyager where he was a Takarian and Enterprise where he's another Vulcan. Impressive indeed!
Born February 13, 1959 — Maureen F. McHugh, 63. Her first novel, China Mountain Zhang, was nominated for the Hugo at ConFrancisco and the Nebula Award as well, and won the Otherwise Award, impressive indeed. Her other novels are Half the Day Is Night, Mission Child and Nekropolis. She has an excellent collection of short stories.
(7) COMICS SECTION.
Thatababy has an improbably science fictional gag compared to its usual fare.
Sarah Andersen dropped in for a visit.
(8) EYE SPY. Paul Weimer shares his impressions of a long-awaited John M. Ford reissue in "Microreview: Scholars of Night" at Nerds of a Feather.
…But as far as what to expect, and maybe have a hope of staying ahead of Ford in reading it for the first time, you need to know which espionage writers influenced Ford.

In his introduction, Charles Stross, whose Laundry Files and Merchant Princes novels have borrowed, if not been nearly pastiches of, various espionage novel authors, provides a Rosetta Stone, a cryptography key, to what Ford was doing here. Ford's inspiration, model, and some might even say passion is Anthony Price. Anthony Price's Dr David Audley/Colonel Jack Butler novels are counter espionage thrillers and highly regarded in that genre. I've never read any of them, but I know enough about espionage thrillers, both novels and movies, to fit into the plot, characters and story quite well. It is no coincidence that George Smiley (of Tinker Tailor Soldier Spy) gets invoked on more than one occasion….
(9) INCRYPTID SERIES. Also at Nerds of a Feather, Joe Sherry calls this Seanan McGuire book "The culmination of a long and satisfying journey" — "Microreview [book]: Spelunking Through Hell, by Seanan McGuire".
…You *could* go into this book cold and enjoy and appreciate Spelunking Through Hell. Seanan McGuire is really, really good at setting up the beginning of a novel with just enough recap and context to pull the reader along. I just wouldn't know what that looks like because I've hooked on this series since book one and I've read all of McGuire's Incryptid stories on Patreon that's been filling in the family history up through Alice and Thomas. I can't get my mind in the place to understand what cold reading would look like. I'm invested….
(10) AT 90. The New York Times profiles the composer in "John Williams, Hollywood's Maestro, Looks Beyond the Movies".
…George Lucas, the creator of "Star Wars," said Williams was the "secret sauce" of the franchise. While the two sometimes disagreed, he said Williams did not hesitate to try out new material, including when Lucas initially rejected his scoring of a well-known scene in which Luke Skywalker gazes at a desert sunset.

"You normally have, with a composer, giant egos, and wanting to argue about everything, and 'I want it to be my score, not your score,'" Lucas said. "None of that existed with John."…
(11) NEBULA WINNER. Screen Rant tells how "Karen Gillan Trolls James Gunn Over Adding More GOTG 3 Nebula Scenes".
…As production continues on the film, James Gunn took to Twitter to share a behind-the-scenes Guardians of the Galaxy Vol. 3 image. The writer/director revealed Gillan has been trolling him on the set of the film by sneaking in drawings to his shot plans in an effort to get more Nebula scenes, to which the actress hilariously and seemingly confirmed her hijinks in a follow-up post. Check out the funny posts below:
(12) THE CROWN JOULES. BBC News says there's a "Major breakthrough on nuclear fusion energy".
European scientists say they have made a major breakthrough in their quest to develop practical nuclear fusion – the energy process that powers the stars.

The UK-based JET laboratory has smashed its own world record for the amount of energy it can extract by squeezing together two forms of hydrogen.

If nuclear fusion can be successfully recreated on Earth it holds out the potential of virtually unlimited supplies of low-carbon, low-radiation energy.

The experiments produced 59 megajoules of energy over five seconds (11 megawatts of power).

This is more than double what was achieved in similar tests back in 1997.

It's not a massive energy output – only enough to boil about 60 kettles' worth of water. But the significance is that it validates design choices that have been made for an even bigger fusion reactor now being constructed in France….
(13) NUKES. Mental Floss reminds readers "When The Day After Terrorized 100 Million Viewers With a Vision of Nuclear War" in this 2018 post.
…Preempting Hardcastle and McCormick on ABC, the 8 p.m. telefilm drew a staggering 100 million viewers, an audience that at the time was second only in non-sports programming to the series finale of M*A*S*H. According to Nielsen, 62 percent of all televisions in use that night were tuned in.

What they watched didn't really qualify as entertainment; Meyer stated he had no desire to make a "good" movie with stirring performances or rousing music, but a deeply affecting public service announcement on the horrors of a nuclear fallout. He succeeded … perhaps a little too well….
(14) VIDEOS OF THE DAY. YouTube's Broadway Classixs praises a famous sff movie sequence:"Things To Come 1936 – Stereo – Building The New World – Arthur Bliss".
I've always loved this sequence – the gorgeous miniatures, amazing effects, and perfect score – so I synched Ramon Gamba's recording to the film.
And if the music hooks you, then here's another excerpt: "March from 'Things to Come' – Sir Arthur Bliss conducts".
Bliss composed one of the most famous British film scores for the 1936 production of H. G. Wells' "Things to Come." Here he conducts its March on a Reader's Digest LP with the New Philharmonia Orchestra (recorded 1967). Note: This has now been released on a 'Classic Recordings Quarterly' CD entitled "A Tribute Sir Arthur Bliss" (CRQ Editions CRQ CD 283) which also features Bliss conducting the music of Rossini, Borodin, Handel, Elgar, Holst, Vaughan Williams, Parry and Arne.
[Thanks to Martin Morse Wooster, JJ, John King Tarpinian, Andrew Porter, Daniel Dern, Hampus Eckerman, Michael Toman, Cat Eldridge, and Mike Kennedy for some of these stories. Title credit belongs to File 770 contributing editor of the day Andrew (not Werdna).]