(1) NOT FAR FROM THE TREE. Apple TV+ has dropped the Amazing Stories — Official Trailer. The show debuts March 6 on the Apple TV app – if you have an Apple TV+ subscription: Amazing Stories.
From visionary executive producers Steven Spielberg and Edward Kitsis & Adam Horowitz, this reimagining of the classic anthology series transports everyday characters into worlds of wonder, possibility, and imagination
(2) IN THE AUDIENCE AT BOSKONE. Filer Mlex posted a report about the sessions he attended at this weekend's "Boskone 2020".
Fairy Tales from the Dark Side

Theodora Goss started off this session by noting that she spent some years of her childhood in Budapest and that she takes particular interest in the fairy tales of Hungary, with their typical strong heroines. She went on to say that fairies vary quite a lot, not only in different cultural traditions, but depending on the date and conditions where they were formed. Victorians had their small flower fairies, for example, and subtle messages could be presented in the form of fairy tales about feminism or other social and political movements. Think of the women brewing eels, bats, herbs, and potions. The fairy represents the human encounter with the magical other.

Isabel Yap noted that Fillipino fairies do not play by human rules. They are not so clearly anthropomorphized and might often turn into fish, or other creatures. These fairy tales might be quite violent, and the fairies are not on our side.
(3) LISTENING TO A CULTURE. [Item by SF Concatenation's Jonathan Cowie.] There is something of a theme taking place in British culture this spring.
First we had The Second Sleep by Robert Harris which then became BBC Radio 4's book at bed time last month (and still downloadable in 15 minute episodes. Here the end of the world was IT related (not really a spoiler as it is hypothesized in first few chapters).
Then on the non-fiction front a vaguely respected Brit senior politician (i.e. pre-Boris /Trump) is to have a book published next month warning that our IT society has no fall-back back-up system in place. This book uses an SF novelette interspersed with factual comment and explanation to elucidate such things as Black Swan events among much else.
And finally, back at the BBC, Radio 4 has just launched another season of its SFnal Dangerous Visions the first episode of 4 is 'Blackout' and concerns what happens when the internet (hence power as the grid is web managed) crashes…
Be thankful you can still read this post….
(4) VISUALIZING THE CULTURE. I don't know how I missed this — The Culture: Notes and Drawings by Iain M. Banks and Ken MacLeod is set for a November 26 release date.
Iain M. Banks, the modern master of SF, created many original drawings detailing the universe of his bestselling Culture novels. Now these illustrations – many of them annotated – are being published for the very first time in a book that celebrates Banks's grand vision, with additional notes and material by Banks's longtime friend and fellow SF author Ken MacLeod. It is an essential addition to the collection of any Iain M. Banks fan.
(5) CROWDFUNDING. Apex Publications has launched a Kickstarter to raise $20,000 to publish Invisible Threads: Cutting the Binds That Hold Us edited by Jason Sizemore and Lesley Conner.
No matter who you are or where you come from, there are boundaries and barriers that dictate what you can do, where you can go, and who you can become. Invisible threads running through society, pulling you this way or that, tripping you when you try to better yourself, ensnaring and holding you back.  Invisible Threads is an anthology of dark sci-fi, fantasy, and horror stories that examine these barriers.

Confirmed authors include Alix Harrow, Andi Buchanan, Maurice Broaddus, Fran Wilde, Chesya Burke, Merc Fenn Wolfmoor, Stephanie Malia Morris, Jordan Kurella, K.T. Bryski, ZZ Claybourne, A.C. Buchanan, Damien Angelica Walters, Beth Dawkins, Geoffrey Girard, Sabrina Vourvoulias, A.C. Wise, and Michael Wehunt. We plan to hold an open submissions call should we fund.
(6) EVEN IF IT IS JOSHI. The John Hay Library at Brown University invites applications for its 2020-2021 S.T. Joshi Endowed Research Fellowship for research relating to H.P. Lovecraft, his associates, and literary heirs. The application deadline is March 13, 2020.
The Hay Library is home to the largest collection of H. P. Lovecraft materials in the world, and also holds the archives of Clark Ashton Smith, Karl Edward Wagner, Manly Wade Wellman, Analog magazine, Caitlín Kiernan, and others. The Joshi Fellowship, established by The Aeroflex Foundation and Hippocampus Press, is intended to promote scholarly research using the world-renowned resources on H. P. Lovecraft, science fiction, and horror at the John Hay Library (projects do not need to relate to Lovecraft directly). The Fellowship provides a monthly stipend of $2,500 for up to two months of research at the library between July 2020 and June 2021. The fellowship is open to students, faculty, librarians, artists, and independent scholars.
(7) DOOM IN BLOOM. In "The Pleasure (Reading) of Impending Doom" at CrimeReads, Tosca Lee recommends novels by Ben H. Winters, William Fortschen, A.G. Riddle if you want to read novels about global apocalypses.
As a lifelong lover of a good doomsday story, I've always considered the tenacity and resourcefulness of the human spirit to be the category's major appeal—along with the it-could-really-happen scary plausibility and ingenious "prepping" specifics, of course. But it wasn't until I started writing my apocalyptic thriller, The Line Between, that the real charm of the genre became apparent to me. 

I'd recently married a single father and become an insta-mom to four. Life was busy and crowded with details. But as I began to plot my literary cataclysm, the chaos of daily life—work, bills, school schedules, errands, house stuff, holidays, political noise, grocery lists, social media, bucket lists, and those ever-elusive last ten pounds—fell away in the face of a story with a single goal: survival. Suddenly, that looming list of to-dos doesn't seem so insurmountable—or even important—compared to savoring time with those we love while we're all here on earth together.
(8) NAKAHARA OBIT. Kellye Nakahara, best known for her work on M*A*S*H but who also had several genre roles, died February 17. Consequence of Sound paid tribute: "R.I.P. Kellye Nakahara, M*A*S*H Actress Dies at 72".
…Nakahara portrayed Nurse Kellye Yamato for 167 episodes of the hit show (according to IMDb). It would go on to be her largest and most memorable role. She followed it up with bit parts in television series such as At Ease, Hunter, Sabrina the Teenage Witch, and with film roles in Clue (the cook, Mrs. Ho), Black Day Blue Night (as Fat Mama), and Eddie Murphy's version of Doctor Dolittle (credited as Beagle Woman).
(9) TODAY IN HISTORY.
February 17, 1959 — The Cosmic Man premiered. It produced by Robert A. Terry and directed by Herbert S. Greene. The film stars John Carradine, Bruce Bennett and Angela Greene. The film was shot quickly, primarily on a hotel lobby set, and in Griffith Park in L.A., where the Griffith Observatory was used as stand-in for the Pacific Institute of Technology. At least in Los Angeles, it played on a double bill with House on Haunted Hill. With the notable exception of Variety who really didn't like it, most critics at the time found it to be a pleasant, fun experience. The audience rating at Rotten Tomatoes does not reflect that — it has a 0% rating from the very few, only thirty four, who've given it a score. You can see it here.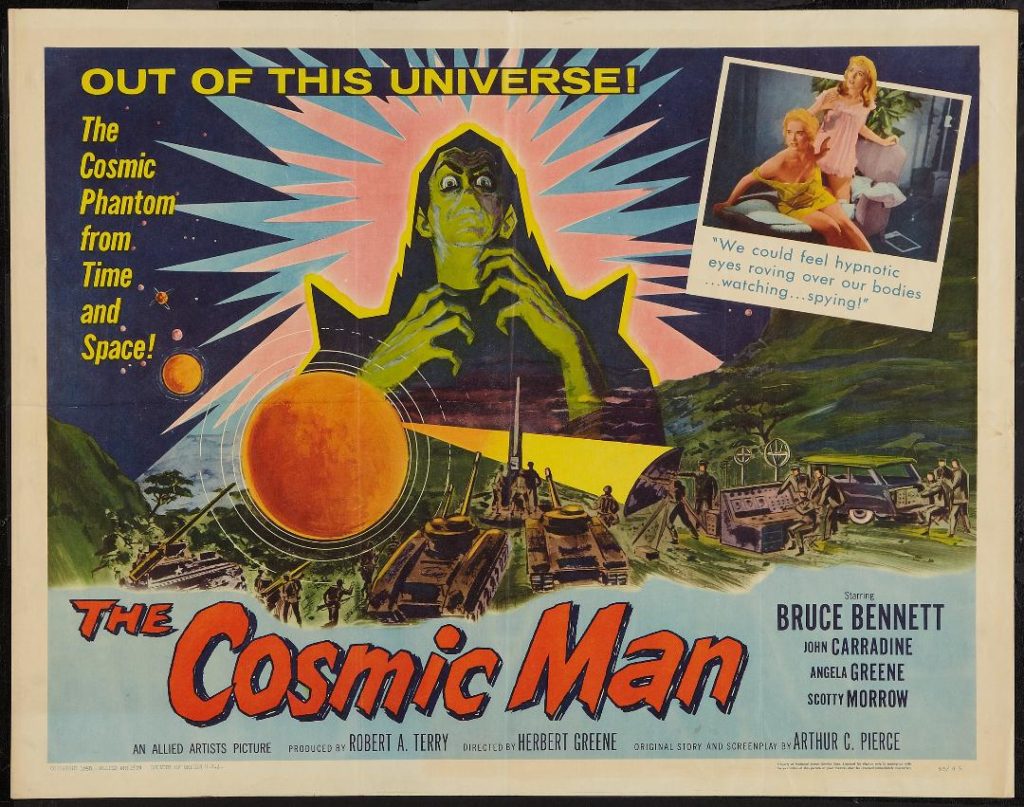 February 17, 1966 — On this day in Dublin, The Projected Man premiered. It was directed by Ian Curteis from a script by Peter Bryan, John C. Cooper, and Frank Quattrocchi, and starred Bryant Haliday, Mary Peach, Norman Wooland, Ronald Allen, and Derek Farr. Universal Studios released it on a double bill with Terror Island. Critics noted the monster's resemblance to that of one in The Fly but those involved here denied that film inspired the look of the creature in this movie. It was featured in a ninth season episode of  Mystery Science Theater 3000, and currently the audience over at Rotten Tomatoes gives it a 3% rating. You can see it here.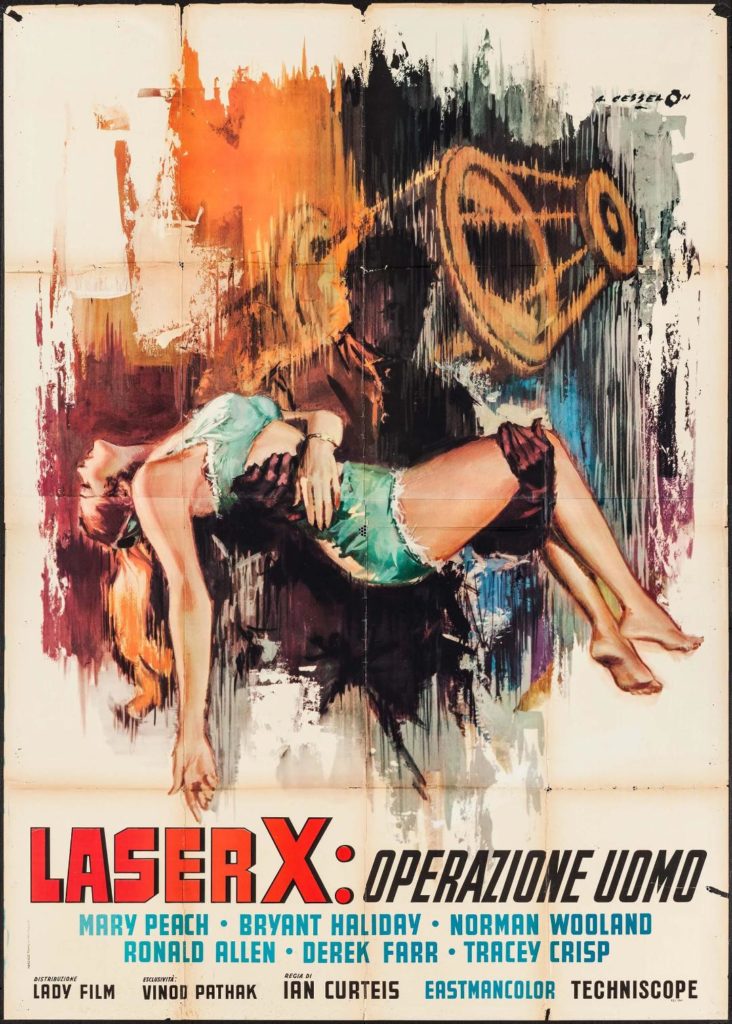 February 17, 1966 — In the United Kingdom, Episode Twenty-one of the first season of The Thunderbirds, "The Duchess Assignment", aired. Created by Gerry and Sylvia Anderson, and. filmed by their production company. The electronic marionette puppetry which they called Supermarionation was combined with scale-model special effects sequences. It was the fifth such project by their company. You can see this episode of the Thunderbirds here.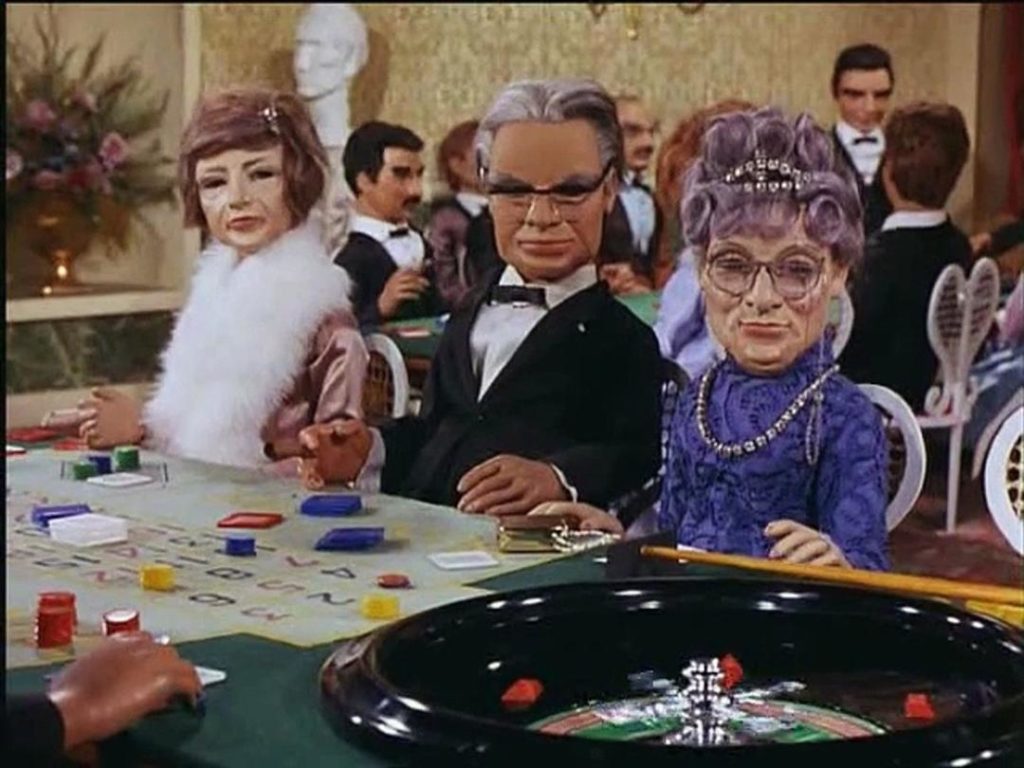 (10) TODAY'S BIRTHDAYS.
[Compiled by Cat Eldridge.]
Born February 17, 1903 — Kenne Duncan. He's got a number of genre credits starting with the 1938 Flash Gordon's Trip to Mars serial where he was the Airdrome Captain. He'd play Ram Singh, the butler to the Spider, in The Spider's Web and The Spider Returns serials, and he'd be Lt. Lacy in the 1939 Buck Rogers serial. Several years later, he'd be Cheney Hencheman Barnett in The Adventures of Captain Marvel serial. You can see him in the first chapter of Spider's Web serial here. (Died 1972.)
Born February 17, 1912 — Andre  Norton. She penned well over a dozen series, but her major series was Witch World which began rather appropriately with Witch World in 1963. The first six novels in that series were Ace Books paperback originals published in the Sixties. I remember them with some fondness quite some decades after reading them. (Died 2005.)
Born February 17, 1920 — Curt Swan. He's the artist most associated with Superman during the Silver Age, and he produced hundreds of covers and stories from the Fifties through the Eighties. He would be let go in the DC reorganization of the Eighties with his last work as a regular artist on Superman being the 1986 story "Whatever Happened to the Man of Tomorrow?" that was written by Alan Moore. (Died 1996.)
Born February 17, 1930 — Ruth Rendell. I've read and enjoyed some of her mysteries down the decade but am not familiar at all with the three listed as genre by ISFDB (The Killing Doll, The Tree of Hands and The Bridesmaid). Who of you is familiar with these? (Died 2015.)
Born February 17, 1931 — Johnny Hart. The creator of B.C. and The Wizard of Id. (Brant Pant was the other creator of the latter strip.)  He certainly wasn't without controversy as this strip attests. (Died 2007.)
Born February 17, 1954 — Don Coscarelli, 66. A film director, producer, and screenwriter best known for horror films. His credits include the Phantasm series, The Beastmaster, and Bubba Ho-Tep, the latter based on a novella by Joe R. Lansdale whom I've met and who is a really nice person
Born February 17, 1971 — Denise Richards, 49. Her first genre role was as Tammy in Tammy and the T-Rex (really don't ask). Her next role was the one she's known for as Carmen Ibañez in Starship Troopers. She'll be a few years later Dr. Christmas Jones in The World Is Not Enough, the eighteenth Bond film. She's been announced as playing Victoria Darw in the still to be scheduled Timecrafters: The Treasure of Pirate's Cove.
Born February 17, 1974 — Jerry O'Connell, 46. Quinn Mallory on Sliders, a series whose behind the broadcast politics is too tangled to detail here. His first SF role was on Mission to Mars as Phil Ohlmyer with the SF dark comedy Space Space Station 76 with him as Steve being his next role. He's done a lot of of DCU voice work, Captain Marvel in Superman/Shazam!: The Return of Black Adam, Clark Kent / Superman in Justice League vs. Teen Titans and Justice League: Throne of Atlantis, Justice League Dark, The Death of Superman and Reign of the Supermen where he also plays Cyborg Superman to great, chilling effect. The latter film is kickass excellent. 
(11) SH-BOOM. High Seas Trading Co. has reason to brag about its "Outer Space" design:
The Hawaiian Shirt that the Astronauts wore on Aloha Friday on the International Space Station.This space themed Hawaiian shirt is out of this world.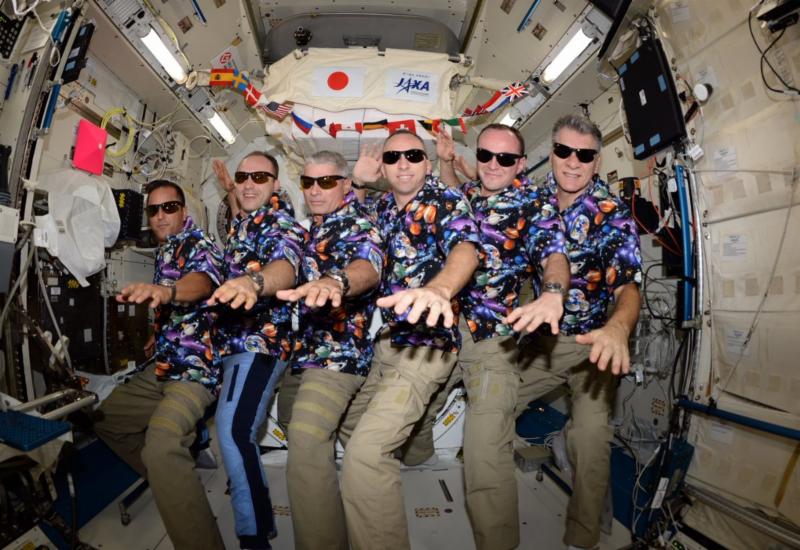 (12) FRESH LID. Alasdair Stuart's "The Full Lid for 14th February 2020" maps the abstractions of nautical horror with Underwater and The Lighthouse, take a look at the amazing Parasite and shows him learning to Hack the Panic!
Signal Boost this week is Mockery Manor ,Mike Underwood, Kevin Petker's Princess World is live on Kickstarter from next week. Be sure to check it out, Rosarium are currently crowdfunding 'Hellraiser meets Black History Month' graphic novel, Box of Bones.. Gordon B. White's splendidly titled anthology As Summer's Mask Slips, and Other Disruptions just got a starred PW review!!

Finally Tracacy Barnett's current project, This Thing We Started is crowdfunding now. They've also recommended Descent into Midnight, launching on Saturday and VERY much my sort of thing.
(13) SPATIAL DELIVERY. James Davis Nicoll found copies of "Five SF Stories About Teleportation Systems Gone Awry" at Tor.com. At least.
In Thomas Disch's 1967 novel Echo Round His Bones, Nathan Hansard is transmitted to America's Camp Jackson Mars via teleporter. This is a routine operation…or so it is believed. Wrongly. Hansard is surprised to discover himself somewhere other than Mars. Teleportation creates phantom duplicates on Earth, living ghosts dependent on the phantom duplicates of supplies sent to Mars. Food is in short supply, but no matter. Some of Hansard's predecessors have solved the problem in a straightforward manner: by eating their fellow phantoms….
But if they eat The Phantom, who will remain to leave comments on Lela Buis' blog?
(14) EASY DOES IT. So, more like smushing together mudpies? "New Horizons spacecraft 'alters theory of planet formation'".
Scientists say they have "decisively" overturned the prevailing theory for how planets in our Solar System formed.

The established view is that material violently crashed together to form ever larger clumps until they became worlds.

New results suggest the process was less catastrophic – with matter gently clumping together instead.

The study appears in Science journal and has been presented at the American Association for the Advancement of Science meeting in Seattle.

…The claim arises from detailed study of an object in the outer reaches of the Solar System. Named Arrokoth, the object is more than six billion km from the Sun in a region called the Kuiper belt. It is a pristine remnant of planet formation in action as the Solar System emerged 4.6 billion years ago, with two bodies combining to form a larger one.

Scientists obtained high-resolution pictures of Arrokoth when Nasa's New Horizons spacecraft flew close to it just over a year ago. It gave scientists their first opportunity to test which of the two competing theories was correct: did the two components crash together or was there gentle contact?

The analysis by Dr Stern and his team could find no evidence of violent impact. The researchers found no stress fractures, nor was there any flattening, indicating that the objects were squashed together gently.
(15) HIGH FLIGHT. BBC is there: "Virgin Galactic: Unity rocket ship moves to operational base".
Sir Richard Branson has moved his rocket plane from its development base in California to what will be its operational centre in New Mexico.

The transfer of the Unity vehicle and its mothership, Eve, to the Spaceport America complex signals the start of final testing.

Sir Richard's Virgin Galactic company is now close to beginning commercial service.

More than 600 individuals have paid deposits to ride Unity to over 80km.

The trip will enable them to experience a few minutes of weightlessness around the top of the rocket ship's climb.

Already almost 100 Virgin Galactic staff have moved to the southern New Mexico spaceport to prepare it – and themselves – for operations.

Unity will now perform a series of test flights above the desert.

Some of these will see it dropped from altitude to simply glide back to the runway. Others will involve firing its rocket motor to power skyward.
(16) WHAT A CAST. Does a show about Skeletor and He-Man deserve this array of talent? "Mark Hamill and Lena Heady Lead Expansive Voice Cast for Kevin Smith's 'Masters of the Universe' Series".
Netflix and Mattel TV announced an expansive voice cast for its upcoming "Masters of the Universe" series from Kevin Smith. The cast is led by Mark Hamill as Skeletor, Lena Headey as Evil-Lyn and Chris Wood as Prince Adam aka He-Man.

The new series, "Masters of the Universe: Revelations," will focus on the unresolved storylines of the original 1982 TV series, picking up many of the characters' journeys where they left off decades ago.

In addition to those three, the cast also includes Sarah Michelle Gellar (Teela), Liam Cunningham (Man-At-Arms), Stephen Root (Cringer), Diedrich Bader (King Randor/Trap Jaw), Griffin Newman (Orko), Tiffany Smith (Andra), Henry Rollins (Tri-Klops), Susan Eisenberg (Sorceress), Alicia Silverstone (Queen Marlena), Justin Long (Roboto), Jason Mewes (Stinkor), Phil LaMarr (He-Ro), Tony Todd (Scare Glow), Cree Summer (Priestess), Kevin Michael Richardson (Beast Man), Kevin Conroy (Mer-Man) and Harley Quinn Smith (Ileena).
(17) INSPECTOR SPOT-ET. [Item by Mike Kennedy.] Spot may not be designed to follow the Three Laws (yet?), but it is starting to protect humans by taking over certain hazardous and/or mind-numbingly repetitive jobs. Of course, some people would argue that it's also starting to threaten humans by taking over certain hazardous and/or mind-numbingly repetitive jobs. SYFY Wire: "Boston Dynamics' robotic dog gets a job working an offshore oil rig".
See Spot walk. See Spot sit. See Spot roll over. See Spot run onto a Norwegian oil rig to sniff out lethal gas leaks!
Boston Dynamics' next-generation robotic device, affectionately nicknamed Spot, will soon be embarking on a new test mission aboard an offshore oil rig for petroleum product producer Aker BP and AI software company Cognite. The newly announced project will be rolled out to test a number of advanced robots and drones on Aker BP's Skarv installation in the Norwegian Sea later this year.

[…] "Our vision is to digitalize all our operations from cradle to grave in order to increase productivity, enhance quality, and improve the safety of our employees," Aker BP's CEO Karl Johnny Hersvik said in a press release. "Exploring the potential of robotics offshore underpin our digital journey."
(18) COLLECTIBLE ROBOT. Michael Crawford provides a review and photos of Wal-Mart's "Robby the Robot Forbidden Planet action figure" at Captain Toy.
Sculpting – ****
The sculpt isn't particularly detailed, but the original robot had a lot of smooth surfaces.

What sets this guy apart is all the individual pieces that went into making him, particularly inside and attached to the dome. Check out the levers and doo-dads which would spin and turn and clack along as he spoke and moved, demonstrating the very analog way we looked at robots back then. You could almost see the zeroes and ones flitting through his mechanical brain. Of course none of the interior dome pieces on this figure move, but the detail work is quite impressive for this price point.

The body recreates the original look quite well, although the proportions are a smidge off. Still, at a solid 14″ tall, he's about the right height and scale to fit in great with other sixth scale figures, including the old Lost In Space characters.
(19) FRENCH VIDEO OF THE DAY. (A) Vous Regardez Un Film on Vimeo is a cartoon by Jon Boutin about the drudgery of going to the office.
[Thanks to Cat Eldridge, John King Tarpinian, JJ, Mike Kennedy, Martin Morse Wooster, Chip Hitchcock, Michael Toman, Daniel Dern, Mlex, and Andrew Porter for some of these stories. Title credit goes to File 770 contributing editor of the day Daniel Dern, who scores a Rishathra hat trick.]