(1) #METOO. On February 12, attorney and former Weller colleague Cara Dehnert published an essay detailing her previous relationship with Bradbury biographer Sam Weller. The piece alleges mental, emotional, and sexual abuse from Weller, including rape. "What Happened To Me. By: Cara Dehnert" at Medium.
(2) TRUTHS ABOUT TRAUMA. Sarah Gailey sets the bar "On Trauma-Informed Writing" at the SFWA Blog.
… "A difficult or unpleasant experience that changes a person in a lasting way" is a descriptor that applies to most stories. In spite of the promises of a recent literary movement that strives to elide unpleasantness in storytelling, it's difficult to make a narrative compelling when characters aren't changed as a result of struggle. Further, a story in which characters endure traumatic experiences without changing in response to them is a story that can cause immense harm.

Narratives help us to understand ourselves and the world around us, and stories that depict trauma as a temporary inconvenience reinforce the idea that ongoing trauma-responses are unusual, or even a sign of weakness. This real-world impact bears out in the way many people process—or are unable to process—their own real-life traumas. Many trauma survivors find themselves questioning why they're unable to move on from traumatic events. They've consumed narratives in which scary things happen, but when the scary things are over . . . everyone stops being scared. So why shouldn't the same be true in real life?

Treating a character's trauma as though it can be resolved along with the plot is disingenuous. Treating a character's trauma as though it must be resolved along with the plot is dangerous. Both are profoundly disrespectful to the story being told….
(3) FEDERAL PREEMPTION. Publishers Weekly explains why "Court Blocks Maryland's Library E-book Law".
In a rebuke to Maryland state legislators, a federal judge has granted the Association of American Publishers' motion for a preliminary injunction, blocking Maryland officials from enforcing the state's new library e-book law.

"It is clear the Maryland Act likely stands as an obstacle to the accomplishment of the purposes and objectives of the Copyright Act," concluded federal judge Deborah L. Boardman, in a 28-page opinion. Although the judge noted that the Maryland Act only requires an 'offer' to license and does not 'explicitly require' publishers to grant licenses to libraries, "this is a distinction without a difference," Boardman concluded (lifting directly from the AAP's brief), holding that the threat of civil and criminal penalties for non-compliance amounts to "a forced transaction" that "effectively strips publishers of their exclusive right to distribute."

In enjoining the law, Boardman found that the AAP cleared all four factors necessary to grant a preliminary injunction—a likelihood of success on the merits; irreparable harm; winning the balance of equities, and that the injunction was in the public interest. But while the court entertained—and largely accepted the AAP's arguments on each factor—the court's decision ultimately came down to one simple finding (which the AAP also argued): the Maryland law is fatally flawed because it is preempted by federal copyright law….
(4) POKEMON. [Item by Martin Morse Wooster.] In the Financial Times behind a paywall, Tom Faber reviews Pokemon Legends; Arceus.
The game "comes as something of a shock. There is rarely a surprise in a mainline Pokemon game–if you've played one, you've played them all. While The Pokemon Company has spun its IP into the highest-grossing media franchise of all time, encompassing movies, merchandise and trading cards, there has always been an uncomfortable tension in the video games: that they are supposedly about the joy of adventure, yet have been proven remarkably unwilling to tread new ground for 25 years…

…Like Harry Potter and all the most successful franchises for younger children, Pokemon sells a dream, a world that children desperately want to be real. As a kid I yearned to make life-long friends with magical creatures. Arceus is not the Poikemon game I dreamt of, but it gets close. Game Freak has swapped the series' aging skeleton for a promising new set of bones, creating a Pokemon game that feels fresh for the first time in over a decade. It achieved this by finally taking a leaf out of its own book–to make like a Pokemon and evolve."
(5) IT MIGHT BE SFF. [Item by Mike Kennedy.] Legendary Director Francis Ford Coppola has announced he will be dipping deep into his own pocket to fund a passion project: Megalopolis. Coppola wrote the script around 40 years ago (though one guesses there may have been revisions since). IMDb gives this succinct description,"An architect wants to rebuild New York City as a utopia following a devastating disaster." GQ described it as, "A love story that is also a philosophical investigation of the nature of man." Variety interviewed him about it: "Francis Ford Coppola to Spend His Own $120 Million on New Film: I Don't Care 'About the Financial Impact'".
… Speaking to GQ magazine, Coppola said that major Hollywood executives reacted to his "Megalopolis" pitch the "same way they did when I had won five Oscars and was the hottest film director in town and walked in with 'Apocalypse Now' and said, 'I'd like to make this next.' I own 'Apocalypse Now.' Do you know why I own 'Apocalypse Now?' Because no one else wanted it."

Coppola added, "So imagine, if that was the case when I was 33 or whatever the age and I had won every award and had broken every record and still absolutely no one wanted to join me, [then how do you think they're reacting now?] I know that 'Megalopolis,' the more personal I make it, and the more like a dream in me that I do it, the harder it will be to finance."

…When GQ asked if self-funding "Megalopolis" could mirror his experience on "One From the Heart," a massive flop that Coppola spent years paying back the bank for, the director responded, "I couldn't care less about the financial impact whatsoever. It means nothing to me."
(6) BRENNER OBIT. Film editor David Brenner died February 18 at the age of 59 reports Variety. In 1990, Brenner won the Academy Award for film editing with director Oliver Stone's Born on the Fourth of July, sharing the award with editor John Hutshing. His genre film credits include Independence Day (1996), What Dreams May Come (1998), The Day After Tomorrow (2004), 2012 (2009), Pirates of the Carribean: On Stranger Tides (2011), Man of Steel (2013), Batman vs. Superman: Dawn of Justice (2016), Justice League (2017), and Zack Snyder's Justice League (2021).
(7) MEDIA BIRTHDAY.
2005 — [Item by Cat Eldridge] On this day in 2005, Constantine was released in the U.S. Based off DC's Hellblazer series, it starred dark haired Keanu Reeves as the much blonder-haired John Constantine, a decision that of course drew much criticism. It was, to put it mildly, produced by committee. The screenplay by Kevin Brodbin and Frank Cappello off a story by Kevin Brodbin.
Its impressive cast included Keanu Reeves, Rachel Weisz, Shia LaBeouf, Tilda Swinton, Pruitt Taylor Vince, Djimon Hounsou, Gavin Rossdale, and Peter Stormare. I really Tilda Swinton's role.
Reception among critics was mostly negative with Roger Ebert saying Reeves that he "has a deliberately morose energy level in the movie, as befits one who has seen Hell, walks among half-demons, and is dying. He keeps on smoking." The film made his most hated list.
Box office wise, it made nearly a 25 million dollars off a budget that was maybe a hundred million dollars. The studio has declined to admit how much the production costs were. 
Over the years, its rating among audience reviewers at Rotten Tomatoes has steadily climbed now standing at an excellent seventy-two percent. Huh.
(8) TODAY'S BIRTHDAYS.
[Compiled by Cat Eldridge.]
Born February 18, 1908 — Angelo Rossitto. A dwarf actor and voice artist, with his first genre role being in 1929's The Mysterious Island as an uncredited Underwater Creature. His last major role was as The Master in Mad Max Beyond Thunderdome. He showed up in Galaxina, The Incredible Hulk, Jason of Star Command, Bakshi's Lord of The Rings, Adult Fairytales, Clones, Dracula v. Frankenstein and a lot more. (Died 1991.)
Born February 18, 1919 — Jack Palance. His first SF film is H. G. Wells' The Shape of Things to Come which bears little resemblance to that novel. (He plays Omus.) Next up he's Voltan in Hawk the Slayer followed by being Xenos in two Gor films. (Oh the horror!) He played Carl Grissom in Burton's Batman, and Travis in Solar Crisis along with being Mercy in Cyborg 2. ABC in the Sixties did The Strange Case of Dr. Jekyll and Mr. Hyde in which he played the lead dual roles, and he had a nice turn as Louis Strago in The Man from U.N.C.L.E. which is worth seeing. (Died 2006.)
Born February 18, 1929 — Len Deighton, 93. Author of possibly the most brilliant alternative novel in which Germany won the Second World War, SS-GB. It deals with the occupation of Britain. A BBC One series based off the novel was broadcast several years back.
Born February 18, 1968 — Molly Ringwald, 54. One of her was first acting roles was Nikki in Spacehunter: Adventures in the Forbidden Zone. She'll later have the lead role of Frannie Goldsmith in Stephen King' The Stand series. And does the Riverdale series count at least as genre adjacent? If so, she's got the recurring role of Mary Andrews there.
(9) COMICS SECTION.
(10) WILD CARDS COMICS. Paul Cornell and Mike Hawthorne retell the foundational Wild Cards stories in new comic series, Wild Cards: The Drawing Of Cards #1 coming June 1.
Based on stories by Harold Waldrop, Roger Zelazny and series master-mind and editor, George R.R. Martin, Wild Cards is a fascinating saga set in a whole new world reshaped by the emergence of superpowers. The limited series, titled The Drawing Of Cards, will be written by a team of comic superstars, writer Paul Cornell and artist Mike Hawthorne, and serve as a perfect entry point for Wild Cards newcomers and a must-have new reimagining for Wild Cards aficionados!

Spanning more than 25 novels, 20 short stories, and written by more than 40 authors over three decades, the Wild Cards series tells the story of an alternate history where Earth is home to super-powered individuals. When a human is infected with the alien "Wild Card" virus, the odds are that they will be killed… which is referred to as "drawing the black queen". Of those that survive, the bulk of them become "jokers", left with some strange mutated form. A lucky few are called "aces", those gifted with super powers they can put to use towards heroic goals… or villainous ones….

"As my fans may already know, the Wild Cards World holds a special place in my heart, so to have the privilege of announcing that an industry titan like MARVEL is going to produce the narrative from the beginning as a comic book brings me no end of joy," [George R.R. Martin] added.
(11) ONE DOES NOT SIMPLY WALK INTO MORDLE. [Item by Jennifer Hawthorne.] You know that word game, Wordle, that's burning up Twitter?
Well, variants are popping up like mushrooms after a rainstorm, and someone came up with "Lordle of the Rings." It's Wordle, but you can only use five letter words found in "The Lord of the Rings." (Mind you, given how long the books are, that covers a lot of ground.) Find it here: "Lordle of the Rings".
(12) THE PRICE DOESN'T SUCK THAT MUCH. A "Scarce First Edition, First Issue of 'Dracula' by Bram Stoker from 1897" is being auctioned by Nate D. Sanders. The binding is a little banged up, but surely it's a bargain at $22,500?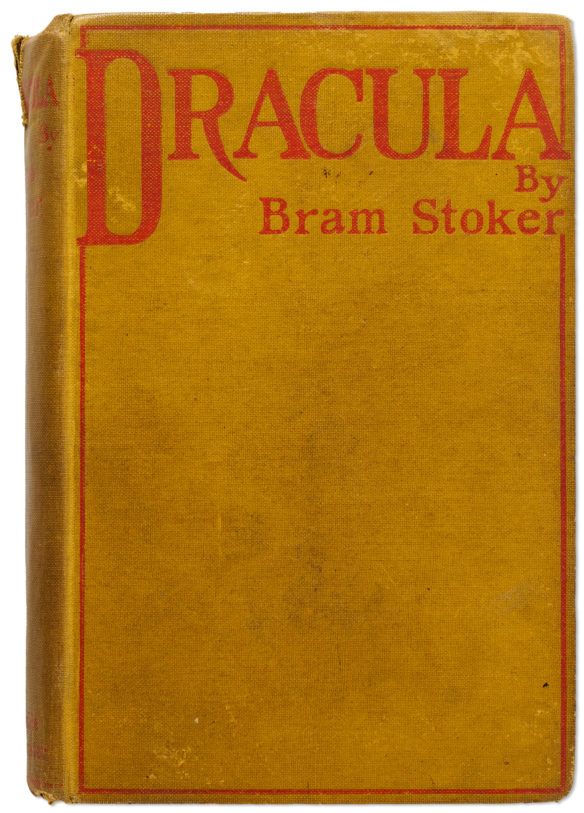 (13) NASA NEWS. SF is discussed in this interview with NASA's chief economist: "Astronomy, sci-fi, and the roots of the space economy: My long-read Q&A with Alex MacDonald" at the American Enterprise Institute.
… In the Industrial Revolution, a lot of the technologies that allow you to think about space flight come online, the most obvious one being pressure vessels, the other relevant ones being, essentially, large armaments. It's not a coincidence that when Jules Verne talks about the technology for traveling to the Moon in his very well-known book "From the Earth to the Moon," he essentially has the protagonists being underemployed armaments makers in the United States after the Civil War, who had incredible capabilities for developing large cannons, and they thought they might put them to a different use, a type of swords-into-plowshares initiative in the United States in the 19th century.

This results in a real explosion of stories about traveling into space. Jules Verne's "From the Earth to the Moon" is written in the 1860s, but also written in the 1860s is the story "The Brick Moon" by Massachusetts pastor and writer Edward Everett Hale. He writes the first story about living on a space station. He and his brother, while they're students at Harvard, basically come up with a concept for what today we would call a GPS system. All of these things are in the culture and in the literature.

Perhaps the most striking combination of these two themes of science fiction and astronomy is the story of Percival Lowell. Percival Lowell builds a little observatory, at which, later in the 20th century, the planet Pluto is discovered. I should say the dwarf planet Pluto. He is motivated by this idea of canals on Mars, which had been essentially emerging as a culture topic because of a mistranslation of Giovanni Schiaparelli's Italian word canale, by which he meant channels, and which gets translated into English as canals. But Lowell sees these things, and he writes these books like "Mars as the Abode of Life." And all of these popular culture works that expound the idea of a purported hypothetical Martian civilization, which, of course, gives further energy to the space flight movement overall.

That intertwining of astronomy and space flight ambition really is there in the 19th century, and of course, it continues up to the present day. The James Webb Space Telescope, of course, is one of the most exciting projects of our time. I was fortunate enough to take off some time from work and actually go down to French Guiana to watch the launch, and it was an amazing moment….
(14) HUMAN RESOURCES. This Netflix series isn't about an HR department, but about aliens assigned to deal with humans. Airs March 18.
Life on Earth is pretty complicated. That's why people need them. Welcome to Human Resources.
(15) VIDEO OF THE DAY. [Item by Mike Kennedy.] Apple, Inc. has turned their Signal Boost dial to 11 to promote a new Korean short film shot entirely on an Apple iPhone 13 Pro. Editing was done on Apple Macintosh computers. Director Park Chan-wook's 21-minute fantasy Life is But a Dream—plus a short "making of" doc—are both available on YouTube. The soundtrack is available on Apple Music. 9to5mac has the story: "Apple shares film shot on iPhone 13 Pro by Park Chan-wook".
An undertaker who needs woods to build a coffin for the savior of his village digs up an abandoned grave. But while doing so, he accidentally awakens the ghost of an ancient swordsman. Now the ghost tries to take back his coffin.
[Thanks to Cat Eldridge, Mike Kennedy, Martin Morse Wooster, JJ, Jennifer Hawthorne,.John King Tarpinian, Andrew Porter, and Michael Toman for some of these stories. Title credit belongs to File 770 contributing editor of the day Ingvar.]