(1) THAT LITTLE VOICE. Publishers Weekly's Antonia Saxon does a "Q & A with Diane Dillon" about her new children's book. Diane and the late Leo Dillon had a long history as sff cover artists.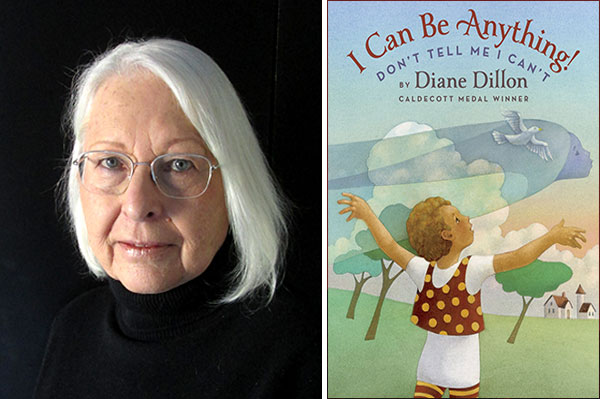 How hard was it to tackle the project on your own?

That was one of the fears in doing this book. Even if we had done something separately, we always signed everything Leo and Diane. Now Leo is gone and that little voice in my head says, "What if they say this is not up to our standard?" It was hard getting started. I kept thinking, "I'm going to be judged separately now." It was uncomfortable.

So you have a little voice, too. What does it say?

The voice just says the same things over and over. But you don't have to listen to it! The story is autobigraphical, that's for sure.

Having Leo to bounce something off of, an extra pair of eyes to see something, that worked very well. A lot of people asked, "How can you work with someone else? Don't you think, 'This is your work, this is his work?' " But early on we realized we needed to join forces. We said, "We are one artist. We do something that neither one of us can do individually."

It sounds as if you took your own doubts and made them into a book.

Yeah! I think it's important that children know that that little voice can be stilled if you ask it questions. They can have courage to be anything they want to be. When I started this, it was before the Women's March, and this new awareness of women's self-image and strength, and the #MeToo movement—it was serendipitous that it's come out at this time. I hope it has a long life.
(2) "WAITING TO WORSHIP A RAT." February 2 — "Groundhog Day 2018: Punxsutawney Phil predicts 6 more weeks of winter".
They reported that Phil communicated in "groundhogese" that he had cast a shadow.  According to legend, that means the weather will be wintry for the next six weeks.

That's his typical prediction: It has happened more than 100 other times in the 132-year history of the tradition.

Even so, there's some good news: Phil is usually wrong.

…Since 1887, the groundhog has seen his shadow 103 times, to forecast a longer winter, and not seen it 18 times, to predict an early spring. (There is no record of the prediction for 10 times in the late 19th century.)
(3) BASKERVILLE. Europa SF reports the winner of the 2017 Guillermo de Baskerville Award in the anthology category is Dark Fantasies, edited by Mariano Villarreal.
The award is named for the protagonist in Umberto Eco's The Name of the Rose, and is given for the best indie books of the year that has been reviewed on the Spanish-language Libros Prohibidos (Prohibited Books) website. (The other categories were won by non-genre works.)

A jury composed of the writer, bookseller and blogger, David Pierre, the writers Sonia Rico, Javier Font and Diego Marcapáginas chose Dark Fantasies., from Sportula, a Spanish science-fiction and fantasy publishing house.
(4) IT'LL HOLD YOU TO YOUR DEADLINE. I haven't seen one of these before! "1938 Underwood 14″ Tentacle Typewriter":
(5) CASE IN POINT. The Traveler from Galactic Journey tells us what he thinks about the opening episodes of The Twilight Zone's fourth season: "[February 2, 1963] Whither the Prodigal Son?  (Twilight Zone, Season 4, Episodes 1-4)".
In His Image, by Charles Beaumont

A young man is plagued by blackouts and half-memories of murder.  When he takes his fiancee (who has known for all of four days) back to his home town that he left just a week before, he finds twenty years appear to have elapsed — and his family has no trace of existence at all.  Who is this man?  Where did he come from?  And what is the cause of his manic episodes?

George Grizzard gives a fine turn as the afflicted protagonist in a story that has more than one reveal.  While the pacing is a little slow, the course of the characters and the nuanced storytelling keeps it going for the expanded length of the show.  Four stars.
(6) YOU, TOO, CAN VISIT 1963. Some sort of time dialation will allow San Diego's Mysterious Galaxy bookstore to host "Galactic Journey: Interview with a Time Traveler (1963 edition)" on February 17 at 2 p.m. (Full details at the link.)
Blast back to February 1963, three years before the Five Year Mission, nine months before the blue Police Box, when the Fantastic Four were on issue eleven — that "Mad Men" time that set the stage for everything that came after.

Hugo Nominee-Runner up and Serling Award-winning Galactic Journey, portal to 55 years ago, presents a window on sci-fi and the Space Race, comics and pop culture, in that fascinating, tumultuous era of change. Visit galacticjourney.org to see what we're all about — we are a time-shifted blog living the fan's life, 55 years in the past, day-by-day. This panel is the blog's road show: always new, always different. Completely free of charge.

…Come to Mysterious Galaxy for a most unique engagement: a question-driven panel presented by a host of entertaining time travelers. YOU, the audience, determine the course of the event as they take you on a literary tour of the early 60s. Prizes will be given out for the best questions: See if YOU can stump the Traveler team!

…So don your skinny tie and/or cocktail dress, strap your slide-rule to your belt, and come see the event that has electrified congoers across the Western United States!
(7) STAN LEE IN, OUT OF HOSPITAL. The comics icon intends to be at a con in St. Louis this weekend: "STAN LEE Released From Hospital Early, Plans To Keep Weekend Convention Plans".
Stan Lee has been released from the hospital following an overnight stay, and the 95-year-old writer plans on making his weekend convention plans. In an interview with Los Angeles' KABC, Lee said was "feeling good" and appreciated the public outpouring of concern.

"All I really want to do is tell you that I'm feeling great," Lee said. "I figured a little check-up wouldn't be bad for me. And in fact it turned out to be pretty good, it got me a lot of publicity. I'm feeling good now and I can't wait to get in there and tangle with all the competition."

Lee was taken to Cedars-Sinai Medical Center in Los Angeles on Wednesday evening after experiencing shortness of breath and an irregular heartbeat. At that time, a spokesperson for Lee said the writer would remain hospitalized "for a few days for some check-ups as a safety precaution."
(8) COMICS SECTION.
John King Tarpinian finds puberty hit this monster hard, in Bliss.
John also passed on a horrible horror pun in Brevity.
(9) NOW IT CAN BE DONE. BYU only just announced this–the Princess Leia Projector. Ultra-kewl!
(10) SO LET'S CELEBRATE. New from Palette-Swap Ninja: "Leia Organa," their latest Star Wars/Beatles parody.
(11) PURE TOMATOES. The Hollywood Reporter's Pamela McClintock in "Rotten Tomatoes Denounces Group Taking Aim at Black Panther Audience Score", says that Rotten Tomatoes has denounced a Facebook group called "Down With Disney's Treatment of Franchises And Their Fanboys," which says that it is going to flood Rotten Tomatoes with bad reviews of Black Panther as retaliation for what it claims is a Disney attempt to push bad reviews of DC franchises.
Not long after Rotten Tomatoes issued its statement, the group's Facebook page was no longer available and appeared to have been deactivated. Facebook could not immediately be reached for comment. After the deadly white supremacist rally in Charlottesville, Virginia, in summer 2017, Facebook founder and CEO Mark Zuckerberg vowed to curb hate speech on his social media platform.
(12) LIDAR DISCOVERIES. A new application of technology is revolutionizing Mayan archeology: "Sprawling Maya network discovered under Guatemala jungle".
Researchers have found more than 60,000 hidden Maya ruins in Guatemala in a major archaeological breakthrough.

Laser technology was used to survey digitally beneath the forest canopy, revealing houses, palaces, elevated highways, and defensive fortifications.

The landscape, near already-known Maya cities, is thought to have been home to millions more people than other research had previously suggested.

The researchers mapped over 810 square miles (2,100 sq km) in northern Peten.

Archaeologists believe the cutting-edge technology will change the way the world will see the Maya civilisation.
(13) ARCHEOLOGICAL FINDS TAKEN. The Guardian reports: "Thieves steal hundreds of priceless artefacts from Canterbury charity".
Priceless artefacts including 850 Anglo-Saxon beads have been stolen from an archaeological charity in Canterbury during a series of break-ins.

Thieves broke into the store of the Canterbury Archaeological Trust, which undertakes excavations and research and educates the public about archaeology, twice last week and once over the weekend.

As well as the beads, large quantities of coins and metal artefacts, and an assortment of bone objects have been stolen.

The charity has put on an appeal asking the public to look out for the historical items being offered for sale.
A very large photo gallery of missing items has been posted by the group on Facebook.
(14) HONOR TO THOMAS. SF Site News reports Lynne M. Thomas will be named to a University of Illinois endowed professorship.
Hugo Award winner Lynne M. Thomas will be named Juanita J. and Robert E. Simpson Rare Book & Manuscript Professor on April 6 at the University of Illinois…. Thomas is also one of the co-editors and publishers of Uncanny.
(15) REWRITING HISTORY. Another thing everybody knows that's wrong — " What's The Real Story About The Milkmaid And The Smallpox Vaccine?"
The Trend: Inoculate Yourself

To understand what really happened, Boylston, whose research interest is the history of smallpox inoculation, explored letters, medical notes and research papers, going back to about 1720. He has self-published a book about it, Defying Providence: Smallpox and the Forgotten 18th Century Medical Revolution. At that time, he says, doctors were attempting to prevent smallpox through a process called variolation, in which oozing matter was taken directly from the smallpox sores of sick people and scratched onto the skin of healthy people "There are records of women inoculating their own children with smallpox," says Boylston. "People got a mild case of smallpox, but then they were immune."

They were immune, that is, if they survived. Using actual smallpox virus to induce the disease in healthy people was risky. If people naturally caught smallpox during an epidemic, the chance of dying from the disease was 1 in 5 or 6. When they got smallpox after being inoculated, they generally developed a mild form of the disease, and the risk of dying dropped to about 1 in 50, Boylston says. Whether they got the disease naturally or from deliberate inoculation with the smallpox virus, survivors were immune for the rest of their lives. Historical records show that many people were willing to take the risk by exposing themselves — even their children — to smallpox.

But then Jenner showed that people could become immune to smallpox by being vaccinated with cowpox. It was safer because cowpox rarely kills.

But was the milkmaid really Jenner's muse? Boylston thinks not.
(16) LOVE IT TO DEATH. NPR's Mark Jenkins has mixed feelings about Before We Vanish: "Before The Invasion, A Crash Course In Sensitivity Training: 'Before We Vanish'".
What is love?

That query proves even more complicated than usual in Before We Vanish, Japanese director Kiyoshi Kurosawa's engaging if messy, and overstuffed, 20th feature. It's a riff on Invasion of the Body Snatchers that meanders from action to satire to romantic affirmation.

The man who poses the question is Shinji (Ryuhei Matsuda) — or, rather, the alien who just seized control of Shinji's form. This new but physically unchanged man is suddenly clinical, inquisitive, and physically wobbly, so his bewildered wife takes him to a doctor. Narumi (Masami Nagasawa) doesn't especially want her old husband back. Their marriage has rotted, and as Shinji learns more about being human, Narumi begins to like the new model more than the previous one.

Shinji is one of three advance scouts for the extraterrestrials' conquest of mankind, a "run-of-the-mill species." Introduced first is Akira (Yuri Tsunematsu), the most violent of the contingent. After an initial miscalculation, Akira grabs the body of schoolgirl and commits a brutal crime. This opening sequence, which invokes Kurosawa's past as a horror-flick director, is a gory bit of misdirection.
[Thanks to John King Tarpinian, Dave Doering, JJ, Robin Reid, Cat Eldridge, Martin Morse Wooster, Chip Hitchcock, Will R., ULTRAGOTHA, Francis Hamit, Andrew Porter, Daniel Dern, and Carl Slaughter. Title credit belongs to File 770 contributing editor of the day Paul Weimer.]