(1) FANTASY LIST. ReedsyDiscovery offers its list of "The 100 Best Fantasy Series Ever". It's in alphabetical order by title – I was briefly worried, because if somebody wanted to put A Song of Ice and Fire in first place for some reason that could make sense, but it took me a moment to understand why Lord of the Rings was down around number 60.
I've read a dozen of these – you're bound to do better!
(2) NEW BOOKS OUT. Vulture features "A Conversation With Marlon James and Victor LaValle".
The other day, Victor LaValle, a Queens-born author who employs the form of the fairy tale as a barbed hook to lure readers into serious treatments of race, parenting, and the internet, ordered dim sum with Marlon James, a Jamaican author of sweeping social epics that delight in challenging all the conventions of narrative. Both have book projects out this week. Black Leopard, Red Wolf is James's highly anticipated follow-up to the Man Booker Prize–winning A Brief History of Seven Killings. LaValle has co-edited a new speculative anthology, A People's Future of the United States, prompting 25 of today's biggest SFF writers to contemplate the future — and dark present — of the country….

MJ: I gotta say, that's maybe the first time anybody's ever mentioned that I write about sex. I actually kinda screamed.

VL: Did you feel all right with me talking about that aspect of it?

MJ: Absolutely! I don't mind people writing about the violence, but it tends to be all they write about.

VL: For a black writer writing about gangsters, violence is almost the go-to. But sex is absolutely a part of your work in such a big and vital way, as another form of — not just violence but as communion, communication. I was talking about this with my wife, and she pointed out that none of the reviews of your last book mentioned sex at all. So as I was reading this one, I was like, It's here, too. I just need to say, people should talk about sex.

MJ: Literary realism has this sort of indie-film attitude toward sex. Violence is violent, but sex isn't sexy. It's compulsive; nobody's happy; they enjoy the cigarette way more than the sex. Sometimes I read these novels, none of which I'll name, and I go, It's not that hard to enjoy sex, people.
(3) KLAGES INTERVIEW. Juliette Wade and her team take another Dive Into Worldbuilding with "Ellen Klages and Passing Strange". See the interview in video (below) or read the synopsis at the link.
I asked Ellen what had been the initial seed of this novella. As it turns out, the novella has a very long history! Ellen told us that she started writing a novel or a short story or something in 1977 when she was 22 or 23, and had just moved to San Francisco, and just figured out that she was queer. She ended up wandering around a lot, learning about Mona's and many of the other locations that appear in the novella. She did a lot of research and did what she described as cosplaying Haskel and Netterfield with her love of the time. She told us she thought it would be a novel. She had four scenes typed, and would read the scenes every few years and say to herself, "Damn, I should do something with that."

Then, years later, Jonathan Strand asked her for a novella for Tor.com. By that point, Ellen says, she had four or five folders full of notes and photographs put together from all her years of research. At that point she did 3 1/2 more months of research before writing. She read about a dozen books on Chinatown. She said she started there because it was "the thing I knew I had to get right." She filled eighty pages with notes, most of which didn't get used. One page, which she showed us on video, was filled with Haskel's signature. She explored the gay and lesbian historical archives about Mona's.

Three of the characters in the story, Babs, Polly, and Franny, have appeared in other works of Ellen's fiction. In "Out of Left Field," Babs and Franny appear as relatives of the main characters. Polly appears in "Hey, Presto!" and Franny in "Caligo Lane."
(4) EARLY MERLIN. Text of a source probably used by Malory when writing his Arthurian legends has been found: "Centuries lost 'Bristol Merlin' uncovered at city's Central Library"
A chance discovery, hidden away in a series of 16th-century books deep in the archive of Bristol Central Library, has revealed original manuscript fragments from the Middle Ages which tell part of the story of Merlin the magician, one of the most famous characters from Arthurian legend.  

Academics from the Universities of Bristol and Durham are now analysing the seven parchment fragments which are thought to come from the Old French sequence of texts known as the Vulgate Cycle or Lancelot-Grail Cycle, dating back to the 13th century.

Parts of the Vulgate Cycle were probably used by Sir Thomas Malory (1415-1471) as a source for his Le Morte D'Arthur (published in 1485 by William Caxton) which is itself the main source text for many modern retellings of the Arthurian legend in English, but no one version known so far has proven to be exactly alike with what he appears to have used.
(5) ONE FOR THE FILES. Colette H. Fozard, Co-Chair of the DC in 2021 Worldcon bid, writes:
I wanted to let you know that we made our bid filing with Dublin 2019 Site Selection and it has been accepted as complete by the Site Selection Administrator.
(6) ANNIE BELLET 10 YEARS IN SFF. Celebratory thread starts here.
(7) EMSHWILLER OBIT. Author Carol Emshwiller (1921-2019), winner of World Fantasy Con's Lifetime Achievement Award (2005) has died. The SFWA Blog has an obituary:
Author Carol Emshwiller (b.Carol Fries, April 12, 1921) died on February 2nd, 2019.   Ms. Emshwiller began publishing science fiction in 1954, with the story "Built for Pleasure."  Emshwiller built a reputation as a short fiction author and Ursula Le Guin said that she had "one of the strongest, most complex, most consistently feminist voices in fiction."

…SFWA President Cat Rambo remembers,

Carol Emshwiller was one of the greats of short story writing, right up there with Grace Paley, James Tiptree Jr., Ursula K. Le Guin, and R.A. Lafferty, and she pushed its edges in order to do amazing, delightful, and illuminating things–just as she did with her longer work. As a short story lover, I am gutted by this loss to the writing community and plan to spend part of today re-reading Report to the Men's Club and Other Stories, with its beautifully incisive and unflinching stories.
This photo from Melissa C. Beckman shows the author in front of a portrait of her painted by her late husband Ed Emshwiller.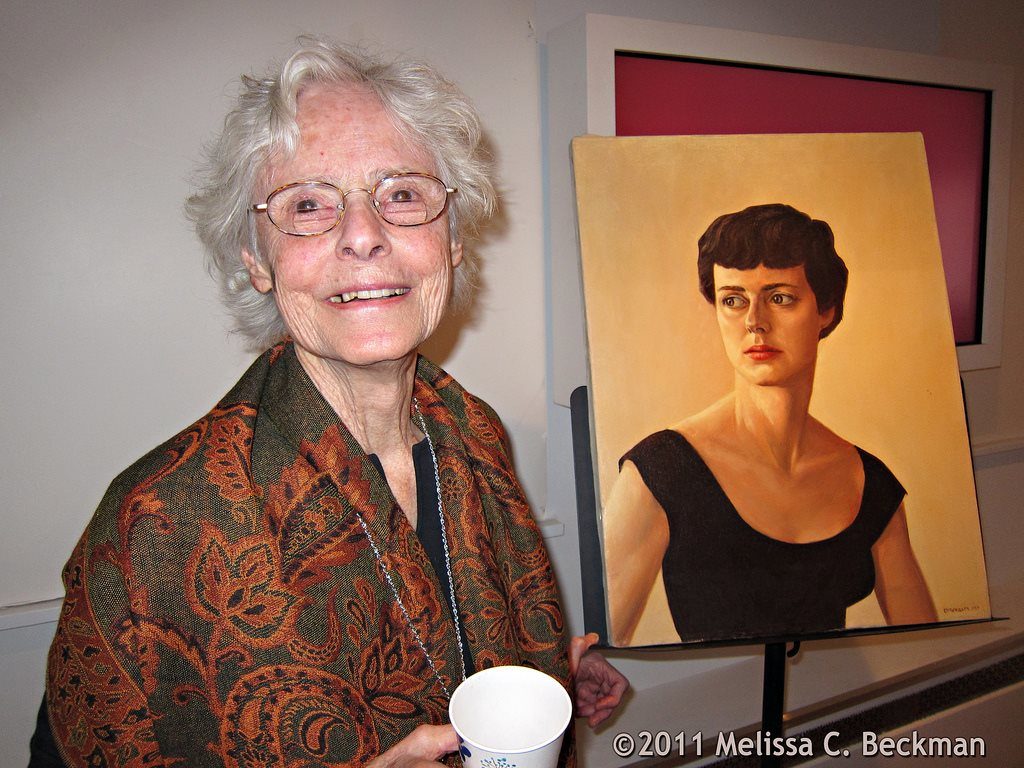 (8) TODAY'S BIRTHDAYS.
[Compiled by Cat Eldridge.]
Born February 5, 1904 – William S. Burroughs. I'm going to confess that I've read nothing by him so everything I know about I've absorbed by reading about him and seeing his fiction turned into films. So though ISFDB lists a number of his works as SF, I've not a clue what they're like. So educate me please. (Died 1997.)
Born February 5, 1922 – Peter Leslie. Writer in a number of media franchises including The Avengers, The New Avengers (and yes they are different franchises), The Man from U.N.C.L.E., The Girl from U.N.C.L.E. and The Invaders. ISFDB also lists has writing in the Father Hayes series but I don't recognize that series. (Died 2007.)
Born February 5, 1934 – Malcolm Willits, 95. Author of The Wonderful Edison Time Machine: A Celebration of Life and Shakespeare's Cat: A Play in Three Acts which he filmed as Shakespeare's Cat. He also co-edited Destiny, an early Fifties fanzine with Jim Bradley.
Born February 5, 1940 – H.R. Giger. Conceptual designer in whole or part for Aliens, Alien³, Species and Alien: Resurrection to name a few films he's been involved in. Did you know there are two Giger Bars designed by him, both in Switzerland? And yes they're really weird. (Died 2014.)
Born February 5, 1964 – Laura Linney, 55. She first shows up in our corner of the Universe as Meryl Burbank/Hannah Gill on The Truman Show before playing Officer Connie Mills in The Mothman Prophecies (BARF!) and then Erin Bruner in The Exorcism of Emily Rose. She plays Mrs. Munro In Mr. Holmes, a film best described as stink, stank and stunk when it comes to all things Holmesian. Her last SF was as Rebecca Vincent in Teenage Mutant Ninja Turtles: Out of the Shadows.
(9) LEAPING V. LOOKING BEFORE. Jason Heller tells other dreamers not to wait. His thread starts here.
A bunch of sff authors begged to differ.
(10) ON THE RADIO. Genre was shut out at the BBC Audio Drama Awards 2019 but there's the link in case you want to see the results. However, the winner in the Best Actress category is known to fans from her work on Torchwood.
BEST ACTRESS

WINNER: Eve Myles, 19 Weeks, director Helen Perry, BBC Cymru Wales, BBC Radio 4
(11) KLINGON CUTLERY. Police in Northwest England raided the home of a teenager and seized a cache of weapons including one that was … more esoteric. The BBC reports "A replica of a weapon wielded by a race of alien warriors in the sci-fi TV show Star Trek has been seized by police from a 17-year-old boy's bedroom." They did not, however find a ChonnaQ or D'k tahg. "Star Trek Klingon blade seized from Widnes teen's bedroom"
The Widnes Police also posted about the raid on their Facebook page — some of the comments are quite amusing:
Nina : This is what happens when you remove Kahless from schools and everything else! Thoughts and prayers.

Michael Z. Williamson: Remember when young British males were REQUIRED to have a longbow? Pepperidge Farm remembers.
(12) OH, THE HUMANITIES. "Ursula K. Le Guin Was a Creator of Worlds" by Julie Philips is the cover story on the new issue of Humanities, published by the National Endowment for the Humanities.
When she found her way into science fiction and fantasy, those genres turned out to be well suited to her imagination, her curiosity, and her subversive suspicion that man was not the measure of all things. From the very beginning, in interviews and essays, Le Guin championed science fiction's literary value. She did it most memorably in a 2014 speech when she accepted the National Book Foundation's Medal for Distinguished Contribution to American Letters (or what writer China Miéville in the documentary calls "the welcome-to-the-canon award"). In that speech, she described herself and her colleagues as "realists of a larger reality."
(13) I FEEL PRETTY. Call it a more modern take on the Island of Misfit Toys (SYFY Wire: "Second trailer for musical UglyDolls movie feels like a mix of Trolls, Toy Story, and Inside Out").
STX Entertainment has unveiled the second trailer for its animated UglyDolls movie via The Ellen Show, and the message of what looks to be a Trolls redo is actually very resonant for us all: Don't shy away from what makes you different; embrace it.

The new trailer also explains where the singing UglyDolls come from — they're factory rejects compared to the "normal" dolls of our world, and are left discarded in a town all their own. They're all pretty much happy until a renegade by the name of Moxy (voiced by Kelly Clarkson) wants to explore the wider world and find the kid who will love her. Along with her friends, Moxy will travel to the Institute of Perfection, which pairs dolls with humans.
[Thanks to JJ, Chip Hitchcock, Juliette Wade, Cat Eldridge, Olav Rokne, John King Tarpinian, Alan Baumler, rcade, Mike Kennedy, Martin Morse Wooster, Carl Slaughter, and Andrew Porter for some of these stories. Title credit goes to File 770 contributing editor of the day microtherion.]