(1) DRAGON HATCHERY. Naomi Novik is interviewed on NPR, "A Writer-Engineer's Historical Fiction Hack: Add Dragons".
Almost a decade after she first went online, she says she was working as a programmer for a computer game "and something about that whole process of building the structure of that game turned into a real kind of light-bulb moment for me as a writer." At the time, her fan fiction at was inspired by swashbuckling adventure novels set in the Napoleonic era. But something started happening to her stories — they were getting longer and more complex.

"Then all of a sudden I sort of started to feel that I was constrained by the characters, as opposed to enjoying them," she says. "And that remains for me to this day the line … where it's like: OK, you're not writing fan fiction anymore."

She also had an idea she wanted to run with: "What could make the Napoleonic wars more exciting? Dragons!" And one dragon in particular: Temeraire. He's central in her 9-book "Temeraire" series, which opens with the dragon becoming the responsibility of Will Laurence, a naval captain fighting for the British against Napoleon. Laurence is chivalrous with a keen sense of duty, but he embraces the 19th-century conventions that Novik paints in faithful detail — even some that are distasteful to 21st-century readers, like class hierarchies and the roles of women. Temeraire, on the other hand, is newly hatched; he provides a more critical, modern voice.
(2) SUIT & NERD & TIE. AnimeCon.org CEO Ryan Kopf sued Nerd & Tie blogger Trae Dorn in December, claiming Dorn had defamed him. Now Dorn has amended his suit to include Dorn's podcast co-host Pher Sturz.
So many of you already know that in December AnimeCon.org CEO Ryan Kopf filed a lawsuit in the state of Iowa against me for articles I published here on Nerd & Tie about his organization. After I was served, I quickly went public — starting a GoFundMe campaign to raise money for my legal defense (because, y'know, lawyers are expensive).

Pher Sturz, who co-hosts the podcast with me (and came up with the name for it — which is where the name of this site comes from), was very vocal in his public support for me. Pher did this because he's a good friend, and wasn't really any more inflammatory (and in most cases significantly less so) than most other people sharing the link.

….To make this worse, Pher, frankly, doesn't make a lot of money. And I know he won't point this out himself, but he has a young daughter as well. Lawyers are really, really expensive and he needs to hire one fast. His original attempt to secure aid fell through, so now we're reaching out to you — the Nerd & Tie readers.

Pher has launched a GoFundMe campaign (Titled 'The Ryan Kopf is Suing Me Too! Fund') to try and get money together to hire someone, and I hope you'll consider contributing. He's asking for $3000 right now because (after fees) that's effectively what he'll need to get started.
(3) BITES THE DUST. SF Site News reports "Samhain Publishing Closing".
Samhain Publishing has announced that they will be closing. According to Samhain, the main cause of their decision is changes with their terms with Amazon. They are planning a controlled shut down and will continue to pay royalties to their authors and will be returning rights on a schedule.
More here.
(4) OUTRAGEOUS FORTUNE. Deborah J. Ross knows about "Rejection, Discouragement, and How a Few Loyal Readers Can Save an Author".
Being discouraged is part and parcel of a working writer's life. Negative reviews, ditto. Some of us are naturally more thick-skinned about them than others, and most of us develop coping strategies over the years. This is where networking with other writers can be very helpful.

…. Reviews, ah reviews, and in this category I include feedback from critique groups and beta readers. So much has already been said about the power of a caustic review or harsh feedback of a work in progress that I won't belabor the point here. Suffice it to say that the natural human desire for praise (for our creative "children") leaves us vulnerable to interpreting criticism of the work with condemnation of ourselves. Or, having torn off our emotional armor to write from the heart, we've also ripped off any defenses against sarcasm, etc. I'm among those who, having received scathing feedback, went home, and cried. I never considered giving up (although on more than one occasion, I contemplated getting even and thankfully resisted the temptation). But some writers have.

Negative feedback, if consistent and prolonged, can have a devastating effect on a writer's self-confidence and ability to work. Support and encouragement from our fellow writers can be our greatest asset in setting aside the nasty things people have written about our stories. A hiatus from reading reviews is highly recommended.
(5) THANKS FOR THE MEMORIES. Since Steve Davidson found a stash of mimeographed File 770's on a freebie table at Boskone he's been thinking how Ye Olden Times in fandom compare with Today. Steve distills those thoughts in "Ode to File 770 (and a note on our changing culture)":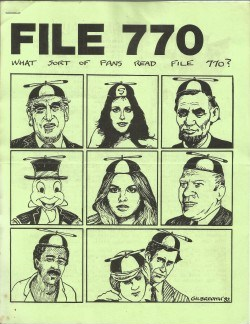 I then met Mike in person for the first (and last) time at Iguanacon in 1978.  Where I had the disappointing task of having to inform him that the only part of Contact:SF (which by then had gone semi-pro) that I could show him was a tear sheet of the cover.  (American Airlines lost every single copy I was shipping to the con, which ended up financially killing it.)  Mike had offered to spread the news within the pages of his own (eventual Hugo Award winning) zine (after having a look of course) and I had been looking forward to a rapid climb within the world of fanzine fandom.  A Hugo award was not that far away in my mind at the time.  (Still isn't, but I've got a warped sense of time.)
(6) MAGAZINE KICKSTARTER. Three days left in Richard Thomas' Kickstarter appeal to fund "Gamut Magazine: Neo-noir, speculative, literary fiction". It's raised $45,764 of its $52,000 goal to date.
Gamut will be a website (and eBook) with a wide range of voices—genre-bending stories utilizing the best of genre and literary fiction….

So I'm open to:

Fantasy
Science fiction
Horror
Neo-noir, crime, mystery, thrillers
Magical realism
Transgressive
Southern gothic
Literary fiction
Weird / bizarro
Poetry

Anything done with innovation, heart and emotion—that's what I want. Everything I enjoy reading and writing typically leans toward the dark side, but I have been known to embrace lighter work, and humor, now and then.
(7) GOING VIRAL. Ernest Hogan's High Aztech sounds intriguing. It's available on Amazon.
High Aztech takes place in 21st century Mexico, Tenochtitlán, the metropolis formerly known as Mexico City, is the most exciting place on Earth. Stainless steel pyramids pierce the smoggy sky. Human sacrifice is coming back into fashion, especially on the new Aztechan TV channels, and everyone wants an artificial heart. Xolotl Zapata, celebrated poet, skeptic and journalist, starts receiving death threats from a cult he's lampooned in a comic book. But soon he will have much worse problems and be running for his life. The government, the Mafia, street gangs, cults, terrorists, even garbage collectors will be after him. Why? He has been infected with a technological development that will changing human life as we know it Zapata is carrying a virus that can download religious beliefs into the human brain – a highly contagious virus that is converting everyone he meets, and everyone they meet, to the Aztec religion. This is Witnessing with a PUNCH! Since he's a virulent carrier he infects a large part of the city all by himself, and the masses, filled with visions and portents, await the End of the World.
Decide how it sounds to you – Hogan's reading of the first chapter can be heard on this video:
(8) HOMELESS GNOMES. NPR reports "Popular Gnomes Seek New Home" —
Officials at Little Buffalo State Park in Pennsylvania decided that dozens of tiny gnome homes tucked in trees around the park were a nuisance. The gnome homes were too popular, so they were evicted.

….Steve Hoke, with permission from the park, crafted teeny-weeny doors on hollow logs and built pint-size cottages on mossy tree stumps to the delight of children in the area, not to mention the families who drove hours to see them. The idea was to get kids out of the house, away from the electronics and go for a walk, Mr. Hoke told the media. But with so many visitors, state officials declared the itsy-bitsy abodes a nuisance and ordered them banished. So earlier this week, Steve Hoke carted off his Lilliputian village in his garden wagon. The evictions have angered many, hundreds have signed petitions to bring back the magic, and it appears there has been a reprieve for the homeless elves. Two neighboring towns have offered to take in the gnomes and their homes.
Full story in the New York Times
Little Buffalo told Mr. Hoke he had until Monday to clear out the gnome houses. Four days ago, he went to the park with a wagon and collected the dwellings scattered along about two and a half miles of trails.

"It was very emotional," he said.

As he was leaving, he encountered a man and his daughter. They told him the girl had just finished her final round of chemotherapy and that her father had asked her what she wanted to do.

She said she wanted to go see the gnome houses.

"If I wasn't so cold and wet, I probably would have stood there and wept," Mr. Hoke said.

"That's the part that the people who made this decision don't get to see," he added. "It was a mystery for the kids. It was magical."
(9) THE CUSTOMERS MUST BE CRAZY. Gods Of Egypt received the not-especially-coveted "I've seen worse" rating from this reviewer at Birth. Movies. Death.
The most surprising thing about Gods Of Egypt was that I didn't outright hate it. I have already seen worse movies this year, and I may yet see something even more abominable in the near future. The conceptual insanity of the movie could be the one selling point to it all, but the truth is unless you haven't played a modern action-adventure game in the past ten years or so, this overbearing maelstrom of CGI bombast is rote and played out. I felt neither disdain nor schadenfreude during it, only boredom and a slight headache afterwards. I can't even recommend "hate watching" this or checking it out for the morbid curiosity, since instead of being mesmerized by cinematic atrocity, you'll be constantly reminded of fonder experiences you've had with other games and movies.
(10) SOME SATURN AWARDS COVERAGE. Blastr had this comment –
As usual, the Saturns are so expansive and inclusive that we have to wonder at some of the nominees — like financial drama 99 Homes
India media reacts: "Baahubali to compete with Hollywood biggies" at Wishesh.
It is really a proud moment for the Indian movie audience, to know that even Baahubali was part of the nominations of these awards, that too in five categories – Best Fantasy Film, Best Supporting Actress (Tamannaah), Best Music (Keeravani), Best Production Design (Sabu Cyril) and Best Costume Design (Rama Rajamouli and Prashanthi Tipirineni).

India's proudest epic and blockbuster, Baahubali-The beginning will compete with the popular Hollywood big films like Jurrasic World, Mad Max: Fury Road, Star Wars: The Force Awakens, The Hateful Eight and Avengers: Age of Ultron.

On the other side, Baahubali – The conclusion, is currently in the shooting stage and aiming the next Sankranthi release. After that, the makers are even planning for Baahubali 3, which does not include Prabhas, Satya Raj and most of the key cast of Baahubali 1 and 2 parts, as declared earlier.
[Thanks to John King Tarpinian, Will R., Brian Z., and Andrew Porter for some of these stories. Title credit goes to File 770 contributing editor of the day IanP.]