(1) MORE SFF EVENTS AFFECTED BY CORONAVIRUS.
The annual L. Ron Hubbard Writers and Illustrators of the Future awards ceremony, planned for April 3 in Hollywood, has been cancelled.
The 2020 Williamson Lectureship, scheduled for April 3 at Eastern New Mexico University has been postponed.
(2) WORLDCON 2020 STILL ON. The CoNZealand chairs gave this status as of March 13 (NZ date): "Covid-19: Update from the Chairs".
We understand your concerns and that you want as much notice as possible if CoNZealand were to be cancelled. We are extremely keen to see CoNZealand go ahead and bring Worldcon to New Zealand for the first time ever. Our Executive have discussed the situation and unanimously agreed that we are not cancelling the convention. Please be assured that we are closely monitoring the situation and will make a further statement if the situation changes. We do note that the convention could possibly be cancelled by the New Zealand Government or the venues, but we see no sign of that happening.

Kelly Buehler, Norman Cates – CoNZealand Chairs
(3) SFWA ON UNFIT/UNREAL. SFWA has issued a statement on Facebook warning about the practices of Unreal and Unfit magazines posting lists of rejected stories and author names on Thinkerbeat (reported here in February). However, the Thinkerbeat page seems to have been taken down.
The Board of the Science Fiction and Fantasy Writers of America is issuing a warning regarding short fiction publisher Thinkerbeat, which publishes the semi-pro magazines "Unfit" and "Unreal." The publisher publicly posts lists of rejected stories along with the author's name and a numeric score.

This publisher's behavior is far outside of industry standards and is contrary to the interests of writers. Humiliating writers, betraying their trust, and violating their privacy is not acceptable.
(4) FROM BACK IN THE DAY. At Dogpatch Press, Patch O'Furr connects with some furry history: "Unearthing a cool fossil — A 1980's letter shows furry fandom before the net."
…We arranged mailing to Summercat (news writer, furry historian, and curator of the Furry Library), who received four huge binders. There were copies of parts of 1980's zines someone liked and kept. A binder of misc anime stuff, a binder of (colloquial) furry anime stuff, and a binder each that looked like a collection of work from artists Jerry Collins and Juan Alfonso. Among the photocopies, there was a hand written artifact.
(5) MY BABY, THE CAR. [Item by Daniel Dern.] Gizmodo says "Supernatural Is Crossing Over With Legends of Tomorrow…via Car". So (ignoring backstory as not essential for this), the March 24 episode of Legends of Tomorrow brings (some of) our intrepid Legends to where the Supernatural TV series is being shot, so (we) get Baby (which is, I gather, a car) from Supernatural, along with a few other elements of Supn'l (tho no characters, I gather).
So it's not quite a crossover, depending on your definition of things.
There's some multiverse precedent, at least from the (paper) comic book PoV, IIRC, where, pre-Crisis (on Infinite Earths), Earth-Prime was "our" universe. Per https://dc.fandom.com/wiki/Earth-Prime: "where the readers lived, DC Comics operated as a publisher and all superheroes are fictional. However, Earth-Prime is shown to be an alternate reality when the Flash (Barry Allen) accidentally travels there from Earth-One."
(I'm still just a teeny bit sad that the recent CW 5-episode crossover didn't include a Muppets-style montage that included a few seconds also from Riverdale, the Warner Brothers cartooniverse, Nancy Drew, and Penn & Teller. Ah well.)
(6) BOSKONE ON TV. Boston's WCVB aired a segment shot at Boskone: "The growth in popularity of science fiction literature". GoHs Holly Black, Kim Stanley Robinson, and artist Eric Wilkerson get extended facetime, but Fanac.org's Joe Siclari and Mark Olson are onscreen for a split second, too. Video at the link.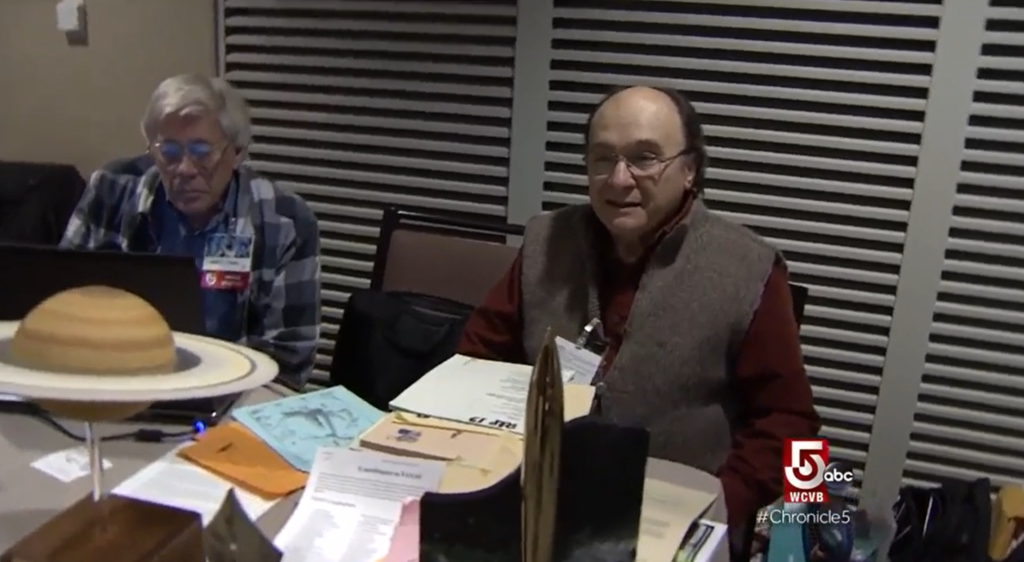 (7) GATE SHOW. The station's "Chronicle" also ran a video report about the Boston Fan Expo: "Going behind the scenes of the Boston Convention and Expo Center."
(8) LIU ADAPTATION. [Item by Joel Zakem.] Last night, I saw a screening of a film entitled La Verite (The Truth), directed by Hirokazu Kore-ede and starring Catherine Deneuve, Juliette Binoche and Ethan Hawke. While it is not a genre film, Deneuve plays an aging actor who is appearing in a F film entitled "Memories of My Mother," which is based on the Ken Liu story of the same name. "Memories of My Mother" was initially published on the Daily Science Fiction web site and appears in Liu's latest collection "The Hiden Girl and Other Stories" (Saga Press, 2020). Liu is also listed as an Associate Producer of La Verite.
A 26-minute short film based on "Memories of My Mother" and entitled Beautiful Dreamer was released in 2016, but I have not seen it.
(9) HERSTORY. CrimeReads' Jan Eliasberg solves the case — "Dr. Lise Meitner: The Mystery of the Disappearing Physicist". Tagline: "She split the atom and fled the Nazis. History tried to erase her."
Otto Hahn remained in Berlin and was named interim head of the Kaiser Wilhelm Institute "until a loyal Nazi could be found to take over." But Hahn was so dependent on Meitner that he continued to collaborate with her, even after she'd fled to Sweden. He met with her in secret and sent her, on postcards via courier, the results of experiments they'd designed together. It was Meitner not Hahn, who analyzed the results and recognized that they had split the atom. The notion that a nucleus can split and be transformed into another element was radical; no one had fathomed it before. Meitner provided the first understanding of how and why this had happened.

Because Meitner was Jewish, the paper Hahn published in Germany did not have her name on it. Hahn might have been motivated by the fact that, if they paper had had borne her name, it would have been discredited as "Jewish Physics," and he certainly was aware that including a Jewish woman on the paper would cost him his career in Germany. So, he published without Meitner, falsely claiming that the discovery was based solely on insights gleaned from his own chemical purification work, and that any insight contributed by Meitner played an insignificant role.
(10) TODAY IN HISTORY.
March 12, 1999 — Wing Commander premiered. It was based rather loosely based on the Wing Commander series. It was directed by Chris Roberts, who created the video game series. It starred Freddie Prinze, Jr., Saffron Burrows, Jürgen Prochnow, David Suchet, and David Warner. Critical reaction to it was overwhelmingly negative. It has an audience rating of 10% on Rotten Tomatoes. It however spawned at least three sequels. You can see it here.
March 12, 2015 – Terry Pratchett dies. Cat Eldridge writes –
We lost Him five years ago today and even though I knew it was coming, it still was a horrible shock. Of all the losses we've suffered in the genre, this one and the loss of Iain Banks are the ones I've felt the deepest. I'm going to offer up the toast that Hob Gadling gives in Neil Gaiman's The Sandman: Season of Mists as an expression of my feelings:
To absent friends, lost loves, old gods, and the season of mists; and may each and every one of us always give the devil his due.
To mark the occasion, Steven H Silver sent out links to his 2000 SF SIte interview with Pratchett.
In any event, the Discworld has changed over time as Pratchett honed his skills as a writer. In early books, Pratchett referred to several characters only by their title. The Archchancellor of Unseen University or the Patrician of Ankh-Morpork. As time progressed, the characters acquired names and more definable personalities.

"In those days, the Archchancellor would change at least once per book. I'm a little uncertain about [whether the Patrician changed or has always been Lord Vetinari]. Sourcery actually marked the boundary line. The books before that were 'Old Discworld'; the books after that were 'New Discworld." They are the same place, but written by a better writer.

"Because the early ones were written in the fantasy tradition. You populate, apart from your heroes, with rogues, beggars, vagabonds, lords, whores… you don't think of them as characters. But I find it much more fun to bring them forward as characters."
Pratchett's fans are legion and they are very vocal about their favourite novels and characters. This causes slight problems since everyone tells Pratchett which characters to focus on, but the suggestions are usually contradictory. Pratchett has taken to ignoring the advice.

"The problem is that I get requests from people who want more of the witches or don't like the witches and want more guards. You'll get what you're given, but everyone is cheering for the party of choice.

"I get a lot of e-mail on the subject [of combining series]. But the fact is that if you like pickles and you like chocolate, but chocolate pickles may not be a good idea. If you put them all together, its sort of like a super-hero league where Batman can only have adventures because Superman happens to be out of town. What a lot of people want is to see a face-off between Granny and the Patrician. It may happen, but I don't want to do it just to have the fun of doing it. I almost had Vimes and Lady Sybil meeting Verence and Magrat in The Fifth Elephant, but it got edited out because I was doing it as 'series glue' rather than because it was necessary for the book."
(11) TODAY'S BIRTHDAYS.
[Compiled by Cat Eldridge.]
Born March 12, 1879 — Alfred Abel. His best-known performance was as Joh Fredersen in Fritz Lang's Metropolis. It wasn't his only genre as Phantom, a 1922 German film, was fantasy, and my German is just good enough to see that much of work could be considered genre or genre adjacent. (Died 1937.)
Born March 12, 1886 — Kay Nielsen. He's best-known for his work with Disney for whom he did many story sketches and illustrations, not least for Fantasia. He was also the Visual Development Artist on The Little Mermaid. (Died 1957.)
Born March 12, 1914 — John Symonds. Critic of Alistair Crowley who published four, yes four, books on him over a fifty-year period starting in the Fifties: The Great Beast, The Magic of Aleister Crowley, The King of the Shadow Realm and The Beast 666. Needless to say, the advocates of Crowley aren't at all happy with him. Lest I leave you with the impression that his only connection to our community, he was a writer of fantasy literature for children including the feline magical fantasy, Isle of Cats  with illustrations by Gerard Hoffnung. (Died 2006.)
Born March 12, 1925 — Harry Harrison. Best-known first I'd say for his Stainless Steel Rat and Bill, the Galactic Hero series which were just plain fun, plus his novel Make Room! Make Room! which was the genesis of Soylent Green. I just realized I've never read the Deathworld series. So how are these? (Died 2012.)
Born March 12, 1933 — Barbara Feldon, 87. Agent 99 on the Get Smart series. Other genre credits include The Man from U.N.C.L.E. and reprising her character on the short-lived follow-up to this series, Get Smart, done twenty years later. She didn't have that much of an acting career. 
Born March 12, 1933 — Myrna Fahey. Though best-known for her recurring role as Maria Crespo in Walt Disney's Zorro, which I'll admit is at best genre adjacent, she did have some genre roles in her brief life including playing Blaze in the Batman episodes of "True or False-Face" and "Holy Rat Race". Her other genre appearances were only on The Time Tunnel and Adventures of Superman.
Born March 12, 1952 — Julius Carry. His one truly great genre role was as the bounty hunter Lord Bowler in The Adventures of Brisco County, Jr. oh but what a role it it was! Over the course of the series, he was the perfect companion and foil to Bruce Campbell's Brisco County, Jr. character. He did have one-offs in The Misfits of Science, Earth 2, Tales from the Crypt and voiced a character on Henson's Dinosaurs.
(12) COMICS SECTION.
(13) UNDER THE LID. Alasdair Stuart has refilled from the endless banquet of popular culture: "The Full Lid for 6th March 2020".
This week's lead story is a look at the startlingly audacious Doctor Who season finale and it's connections to Moorcock's The Eternal Champion, the Creative Commons Licensing movement and Wildstorm Comics. Backing that up are my adventures attempting to replicate the breakfast sandwich from Birds of Prey, with a recipe from the always excellent Binging with Babish.

In Signal Boost, we've got details of the Null & Void.podcast's crowdfunding campaign, Find them on Twitter here and have a trailer. We've also got the amazing Premee Mohamed's longform debut, Julian Jarboe releasing the brilliantly titled Everyone on the Moon is Essential Personnel and the magic (literally) of Sarah Gailey. It's rounded off with a Beth Elderkin piece that's typically eloquent, perceptive and deeply brave.
(14) FAMILIAR PLOT. Daniel Fienberg reviews HBO's production for The Hollywood Reporter: "'The Plot Against America': TV Review".
Philip Roth's 2004 novel The Plot Against America was a cautionary tale about anti-Semitism in the United States and the dangers of a cult-of-personality presidency in which a politically unseasoned celebrity favored for his "America First!" nationalism forges questionable international alliances and enables the worst instincts of his partners and supporters, setting off a wave of hate crimes further emboldened by "But the economy is booming!" platitudes.

Terrifying fantasy. Right?

So what do you do when speculative fiction no longer feels so speculative? That's the challenge facing The Wire collaborators David Simon and Ed Burns in their HBO limited-series adaptation of The Plot Against America. Simon and Burns aren't always able to conquer the challenges of Roth's text — it's a great book, if not the most fluidly transferrable story to the small screen — but they've certainly crafted a six-hour nightmare with an insidious creep. Some viewers are likely to complain that nothing sufficiently dramatic or awful is happening — and they'll surely be wrong — before the series twists the narrative knife by the end.
(15) IS LESS BETTER? Sean Kelly finds some internal contradictions in the ways Star Trek's crews amuse themselves. Thread starts here.
(16) KONG'S INSPIRATION. I didn't know this. I'm not sure I know it now. "How King Kong came out of a real-life scrapped Komodo dragon vs. gorilla fight" at SYFY Wire.
Ever seen an actual gorilla fighting a Komodo dragon? Well, unfortunately (or fortunately, depending on how you feel about animal cruelty) that fight fell through back in the 1920s, as the Depression sent potential investors running for the jungle. But, hoping to get at least some traction from this defunct battle royale, the hopeful promoter of the epic showdown, Merian C. Cooper, dreamed up King Kong instead — which, thanks to Fathom Events, you'll be able to catch on the big screen for the first time nationally in more than six decades.
(17) COBBLED TOGETHER. "Ancient rock bears isotopic fingerprints of Earth's origins" – Nature has the story.
Identifying Earth's building blocks from terrestrial rocks is challenging because these ingredients have become mixed as the planet evolved. Evidence of an unknown building block in ancient rocks provides fresh insight.

The Earth formed from an unknown selection of meteoritic material. New research finds that the composition of ruthenium isotopes in ancient rocks from southwest Greenland contains evidence of a previously unrecognized building block of Earth. Surprisingly, the inferred isotopic composition of ruthenium in the material does not match known meteorite compositions. The authors' findings suggest that Earth's volatile components, such as water and organic compounds, could have arrived during the final stages of the planet's growth…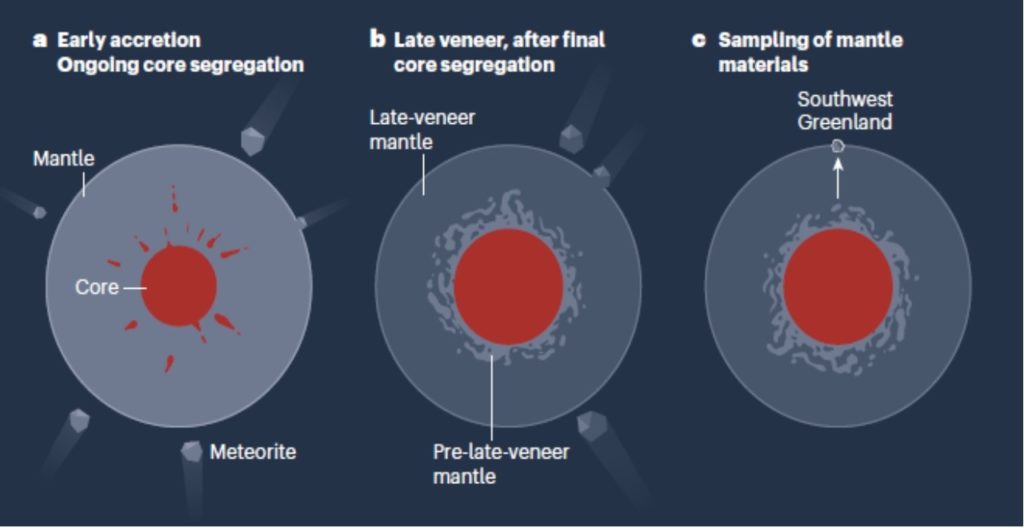 [Thanks to John King Tarpinian, JJ, Mike Kennedy, Martin Morse Wooster, Michael Toman, Cat Eldridge, Chip Hitchcock, SF Concatenation's Jonathan Cowie, Daniel Dern, and Andrew Porter for some of these stories. Title credit goes to File 770 contributing editor of the day OGH. Hey, every now and then…]