(1) THINGS FALL APART. T.J. Martinson, in "The Death of the Superhero: The Crime of Killing Off Good & Evil" at Crimereads, notes that comic book publishers periodically kill off superheroes to boost sales of titles, but "when superheroes die, we are left without a moral compass." He sees similar problems happening in crime novels where a private eye dies."
…The death and resurrection of Superman engendered what might be considered a comic book renaissance, one that hasn't yet run out of steam—for example, in Captain America #25 (2007), Captain America was assassinated in only to later reappear after it was revealed he'd merely been stuck in a time loop involving, you guessed it, an ancient Inuit tribe. Ever since Superman paved the way into and out from the grave, the superhero's death and resurrection has become an almost-ubiquitous plot-line in otherwise faltering and overstretched narrative arcs. Superheroes are practically falling from the sky like house flies (Infinity Wars, anyone?). The superhero's death and return has reached such a critical mass that comic books themselves present a meta-commentary on the phenomenon; In DC's Infinite Crisis (2005-2006), Batman quips to Superman, "the last time you really inspired anyone…was when you were dead."

But what is it about superheroes that we—readers living outside of Metropolis' city limits—are so desperate to see resurrected time and time again that we're willing to weave our suspension of disbelief into tantric knots in order to welcome superheroes from the dead? One answer would be that, in a world of uncertainty and complexity, we yearn for simplified categories (e.g., good and evil) that superheroes boldly represent. But how are to make sense of a world in which the binary logic the superhero embodies is questioned?
(2) REMEMBER THE SPARTANS. Myke Cole analyzes "How the Far Right Perverts Ancient History—And Why It Matters" at Daily Beast.
It may seem silly to argue about the interpretation of events that unfolded thousands of years ago, to fret and hand-wring over people millennia in their graves. Some may argue it is harmless for the likes of Hanson to strut his toxic revision of ancient history across the stage. Just another blowhard shouting at the ocean, after all.

But this notion is having life-and-death consequences in America today. I worked at the NYPD during and following the white supremacist "Unite the Right" rally in Charlottesville, VA where Heather Heyer was killed and more than two dozen other people were injured. In August 2017, the Southern Poverty Law Center sent us its report on the flags and symbols used during the rally, including the vexillum of the Roman Republic (SPQR for "Sen?tus Populusque R?m?nus," "The Senate and the People of Rome"), the ancient sun wheels of Germanic tribes, the Greek lambda ("?" or "L" for "Lakedaimon," the Spartans called themselves "Lakedaimonians") falsely believed to have been painted on ancient Spartan shields, and now used by the far-right Identitarian movement.

Last of all was the flag of the American Guard, violent hardcore nationalists who sport crossed meat-cleavers as a rallying symbol. Above them stretched a black cannon blazoned with the clarion call of pro-gun advocates from the NRA to militia groups across the country—"Come and take it." The phrase is from the Greek "molon labe," (????? ????), Plutarch's words put in the mouth of the Spartan king Leonidas in 480 BC, when he defied the Persian king Xerxes' demand that he lay down his arms. Senator Ted Cruz has repeatedly invoked the same phrase
(3) HOPEPUNK. Behind the Wall Street Journal paywall, Ellen Gamerman's article "'Hopepunk' and 'Up Lit' Help Readers Shake Off the Dystopian Blues" quotes Becky Chambers and mentions one of Cat Rambo's classes.
Cat Rambo, in "Hopepunk Thoughts Plus A Reading List", blogged her own thoughts on the subgenre and told readers where to find examples.
Hopepunk is a reaction to our times, an insistence that a hollow world built of hatred and financial ambition is NOT the norm. It is stories of resistance, stories that celebrate friendship and truth and the things that make us human. In today's world, being kind is one of the most radical things you can do, and you can see society trying to quash it by prosecuting those who offer food to the hungry, water to the thirsty, and shelter to those in need.

Is it something new? No, it's something that we've always celebrated in stories. Think about the moment in the Lord of the Rings when acts of kindness — first on Bilbo's part, then on Frodo's — lead to the moment where Gollum enables the ring's destruction when Frodo falters and is on the brink of giving up his quest. Or go even further back, to Ovid's Baucis and Philemon, who are rewarded for offering hospitality to strangers who turn out to be gods
(4) FREE DOWNLOAD. Arizona State University has published The Weight of Light, a collection of short science fiction, art, and essays about human futures powered by solar energy, with an upbeat, solarpunk twist. The book features four original short stories, by Cat Rambo, Brenda Cooper, Corey S. Pressman, and Andrew Dana Hudson. It can be downloaded in HTML, EPUB, MOBI, and via Apple Books.
The Weight of Light emphasizes that the design of solar energy matters just as much as the shift away from fossil fuels. Solar technologies can be planned, governed, and marketed in many different ways. The choices we make will profoundly shape the futures we inhabit. The collection features stories by award-winning science fiction authors, working in collaboration with illustrators, graphic designers, and experts in policy, ethics, climate science, and electrical, environmental, civil, and aerospace engineering.
Stories by: Brenda Cooper, Andrew Dana Hudson, Corey S. Pressman, Cat Rambo
Essays by: Stuart Bowden, Ed Finn, Wesley Herche, Christiana Honsberg, Samantha Janko, Darshan M.A. Karwat, Lauren Withycombe Keeler, Joshua Loughman, Clark A. Miller, Esmerelda Parker, Dwarak Ravikumar, Ruth Wylie
(5) SLADEK COLLECTION. David Langford told readers New Maps: More Uncollected John Sladek is on course for launch at the UK Eastercon in April.
Chris Priest, in his awesome capacity as agent for the Sladek estate, is very pleased with the early proof copy he's seen; I hope to have a big pile of trade paperbacks in good time for Easter. Paperbacks and ebooks will also be available for order online, from Lulu.com and Ansible Editions respectively.
(6) FINAL BATTLE. Gail Gygax says her life is in danger: "Fantasy's Widow: The Fight Over The Legacy Of Dungeons & Dragons" .
In December of last year, Gail Gygax contacted Kotaku through her agent. She wanted to tell us about all of the many dangers—both physical and psychological—she says she's been dealing with since the death of her husband Gary Gygax, who is widely considered to be the father of the tabletop role-playing game, in 2008. Break-ins. Death threats. Estranged children. Visitations from her late husband's spirit. Predatory businesspeople. And lawsuits—five of them in total, with one brought by Hollywood producer Tom DeSanto for $30 million. Eleven years after the death of Gary Gygax, there are still battles over who will control his legacy—the rights to his name, his biography, his memorial, his intellectual property, and the future of countless other priceless artifacts, among them Gary Gygax's original dungeon, the maps to an 11-level magical castle where he prototyped a fantasy role-playing game that 8 million people play every year.
(7) NOT A BLANK SLATE. Andrew Liptak's "Wordplay: This year's awards scuffle and influence in the SF/F world" compares the motives behind the 20BooksTo50K slate and the Sad/Rabid Puppies slates, among other things, and how hard it is for groups administering the top sff awards to keep pace with change.
There has been a lot of commentary from all sides about how this is a war of old-verses-new, but I don't really think that that's the case. I think it's more that established institutions like SFWA and the Hugo Awards simply aren't equipped to handle some of the rapid changes that we're seeing in the publishing industry and how fandom organizes itself, with the help of platforms like Facebook or Twitter. I think it's also less "old man yells at cloud," and more not recognizing potential issues or reacting quickly before they become a problem. The traditional "Fan" community doesn't really turn and adapt quickly.
(8) TODAY IN HISTORY.
March 13, 1781 — The planet Uranus was discovered by English astronomer Sir William Herschel.
March 13, 1855 — Percival Lowell was born
(9) TODAY'S BIRTHDAYS.
[Except for Pluto's discoverer, above, birthdays are on hiatus. Cat Eldridge is having the elbow surgery he mentioned in comments.]
(10) COMICS SECTION.
(11) RETRO REPORT. While researching an article I rediscovered Peter Watts' account of the 2010 Worldcon "Worth the Price". One of the many good bits —
…and the sheer joy of dealing with Australian border guards.

I am not being ironic. I would almost be tempted to purchase an Expedia vacation package that consisted entirely of going back and forth through Australian Customs for a few days straight. Yes, I got rerouted to Secondary (they pretty much had to, given the check mark in that little "Are you a felon?" box), but the whole lot of them were friendly and welcoming even so. Mostly they spent my wait time chatting with me about the kind of books they liked to read. (I mean, just imagine: literate border guards. Not a species you're gonna find anywhere in the US, I'm betting.) And finally, when they waved me through and I pointed to the big sign saying Your Luggage WILL be X-rayed and wondered why they weren't doing that to mine, the nice lady's response was "Would you like me to?" She was willing to go out of her way to be extra intrusive, just to make me feel at home.
(12) LEGO IDEA. Sort of like looking for a much richer version of Waldo.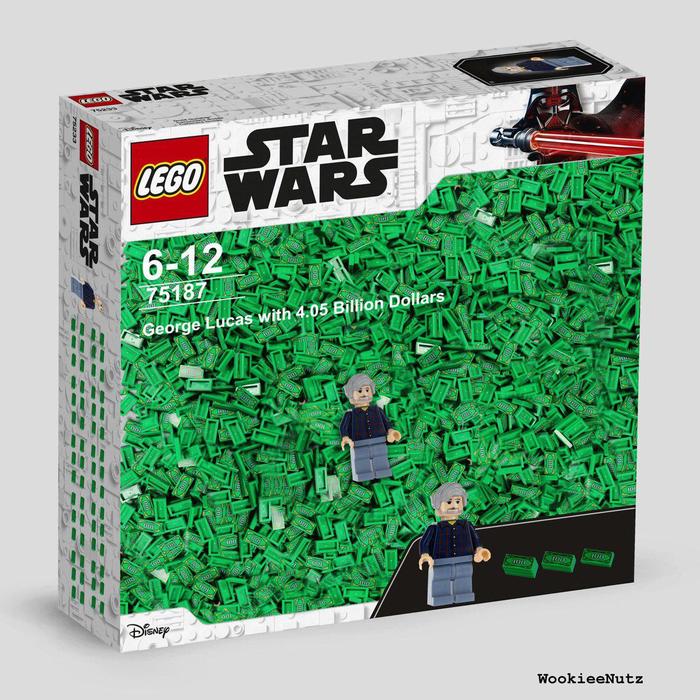 (13) BRITNEY GOES GENRE? That's what BBC heard: "Britney Spears' feminist jukebox musical is going to Broadway".
The hits of pop icon Britney Spears are heading to Broadway in a new jukebox musical with a feminist message.

Titled Once Upon A One More Time, the comedy will tell the story of a book club attended by fairytale princesses.

Their lives are changed when a "rogue fairy godmother" brings them a copy of The Feminine Mystique, the landmark feminist book by Betty Friedan.

It makes them question whether there's more to life than marrying Prince Charming and singing with animals.

Scriptwriter Jon Hartmere told The New York Times: "Cinderella is having an existential crisis, and she has a posse of famous princesses, and her stepmother is the main antagonist.
(14) LAST PAGES. Associated Press gives perspective on how a "Decline in readers, ads leads hundreds of newspapers to fold".
…Last September, Waynesville became a statistic. With the shutdown of its newspaper, the Daily Guide, this town of 5,200 people in central Missouri's Ozark hills joined more than 1,400 other cities and towns across the U.S. to lose a newspaper over the past 15 years, according to an Associated Press analysis of data compiled by the University of North Carolina.

Blame revenue siphoned by online competition, cost-cutting ownership, a death spiral in quality, sheer disinterest among readers or reasons peculiar to given locales for that development. While national outlets worry about a president who calls the press an enemy of the people, many Americans no longer have someone watching the city council for them, chronicling the soccer exploits of their children or reporting on the kindly neighbor who died of cancer.
(15) TOLKIEN RESOURCE. You have to join to have access, but they're available now: "Earliest issues of Tolkien Society publications digitised".
The Tolkien Society's earliest publications have been digitised and are now available for members to download.

Last year, through the British Library, the Society completed the first stage of its digitisation project, resulting in the digitisation of the majority of back issues of Amon Hen and Mallorn, respectively the bulletin and journal of The Tolkien Society. Not all back issues were digitised at the time due to gaps in the British Library's collection.

Members now have access to the Society's earliest publications, dating back to 1969 (the year the Society was founded) and the 1970s. This not only includes the missing issues of Amon Hen, but its forerunner publications, The Tolkien Society Bulletin and Anduril. All issues of Belladonna's Broadsheet, the Society's oldest publication, has also been digitised.
(16) ON THE MENU AT CHEZ RAMBO. Guest posts on Cat Rambo's blog in recent weeks include:
What if prose were written like music? What if, instead, of a common world, stories in an anthology were steps on a share emotional path? Those are the questions the upcoming anthology Score is attempting to answer.
GOURMET RECIPE: VERMIH IN PLABOS SAUCE

There are three complementary sides that determine a phril personality: gastronomy, politics, and romance. The rest represents salads or pickles to fill the mundane.
I will start naturally, with food for the gourmet side of the phrilic spirit, presenting to you, my dear reader, an absolutely genuine Recipe….
(17) WHERE HAVE YOU GONE JOE DIMAGGIO JACK KIRBY?WhatCulture Comics remembers "8 Times The Marvel Vs. DC Rivalry Turned Ugly."
[Thanks to Cat Eldridge, Cat Rambo, John King Tarpinian, Daniel Dern, Chip Hitchcock, JJ, Andrew Liptak, Martin Morse Wooster, Mike Kennedy, Carl Slaughter, and Andrew Porter for some of these stories. Title credit goes to File 770 contributing editor of the day Andrew.]